No Bake Oreo Cheesecake is perfect for when you are craving the silky smooth delightfulness of Cheesecake but don't want to turn on your oven! Creamy and delicious velvety cheesecake filling, with the perfect Oreo Cookie Crust. If you love cheesecakes, make sure to check out my traditional cheesecake recipe and no-bake cheesecake recipe!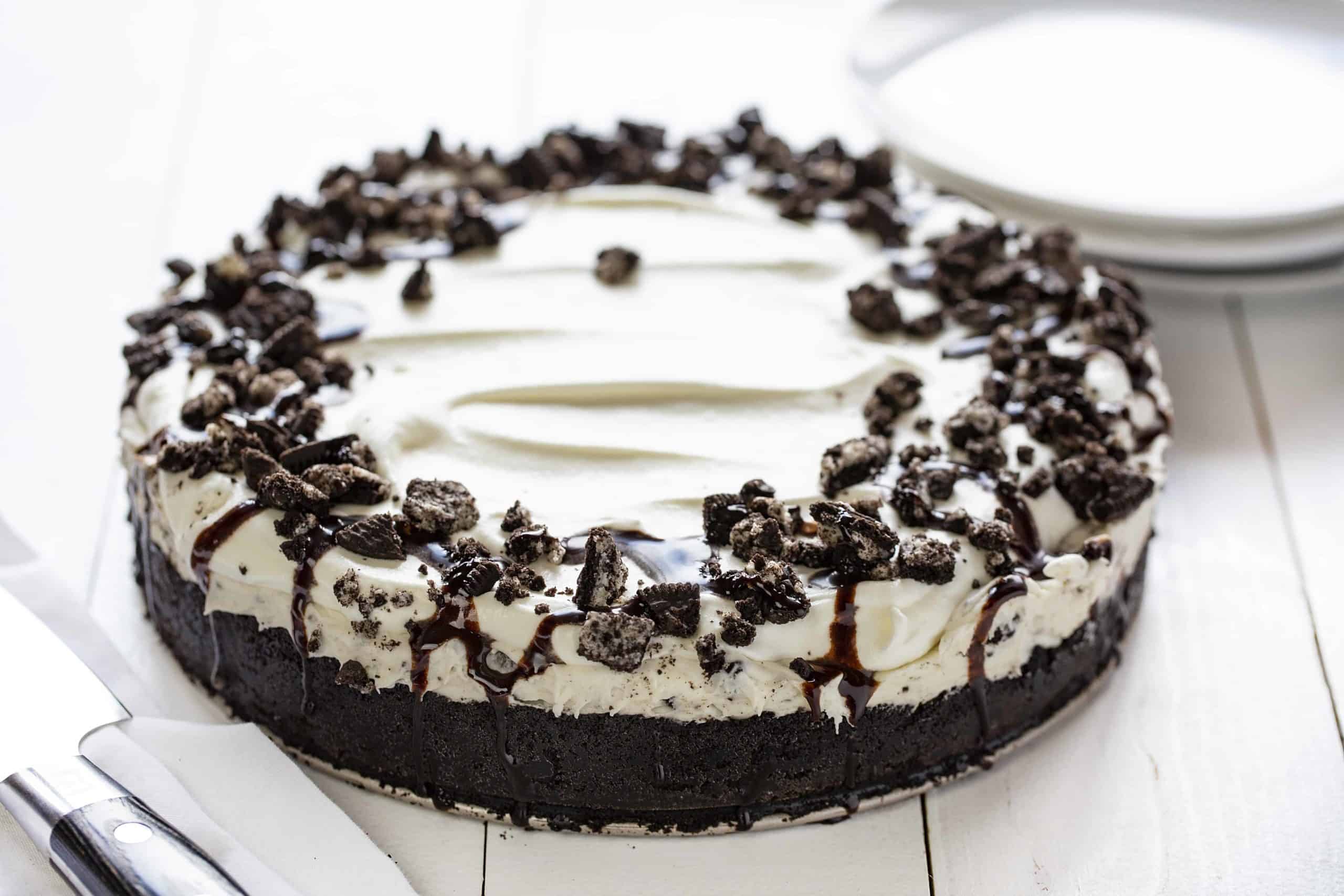 No Bake Oreo Cheesecake
So what exactly is a no-bake cheesecake? Simply put it's a cheesecake that's never seen the inside of an oven. Neither the crust nor the filling is baked, making it truly a no-bake dessert. The filling for this no-bake cheesecake recipe has a special ingredient, the Oreo filling itself! I also use heavy whipping cream instead of condensed milk. I have made several no-bake cheesecakes with the traditional sweetened condensed milk and always find that it tastes a bit different, or noticeable. So I went on the search for a recipe that would not use sweetened condensed milk and that would stand up to a classic baked cheesecake. Heavy whipping cream seems to be the winning ingredient!
The Key to the Perfect Crust
Since this is a no-bake Oreo crust, just a few small tips on how to get it right the first time. Butter and pressure.
Butter: Make sure that all of the Oreo crumbles are completely covered in butter. The butter helps them solidify and stick together. Obviously, you don't want too much butter, that would result in a bad tasting and liquidy crust, but too little butter will result in a crumbly crust.
Pressure: Another trick to getting this crust to hold together nicely is pressure. I typically will take the bottom of a drinking glass and use that to create a flat and level crust. Don't be shy when you do it, but don't use all of your might either. If you push too hard you will lift up the crust a bit. It's ok if you do, just put it back in place and start again.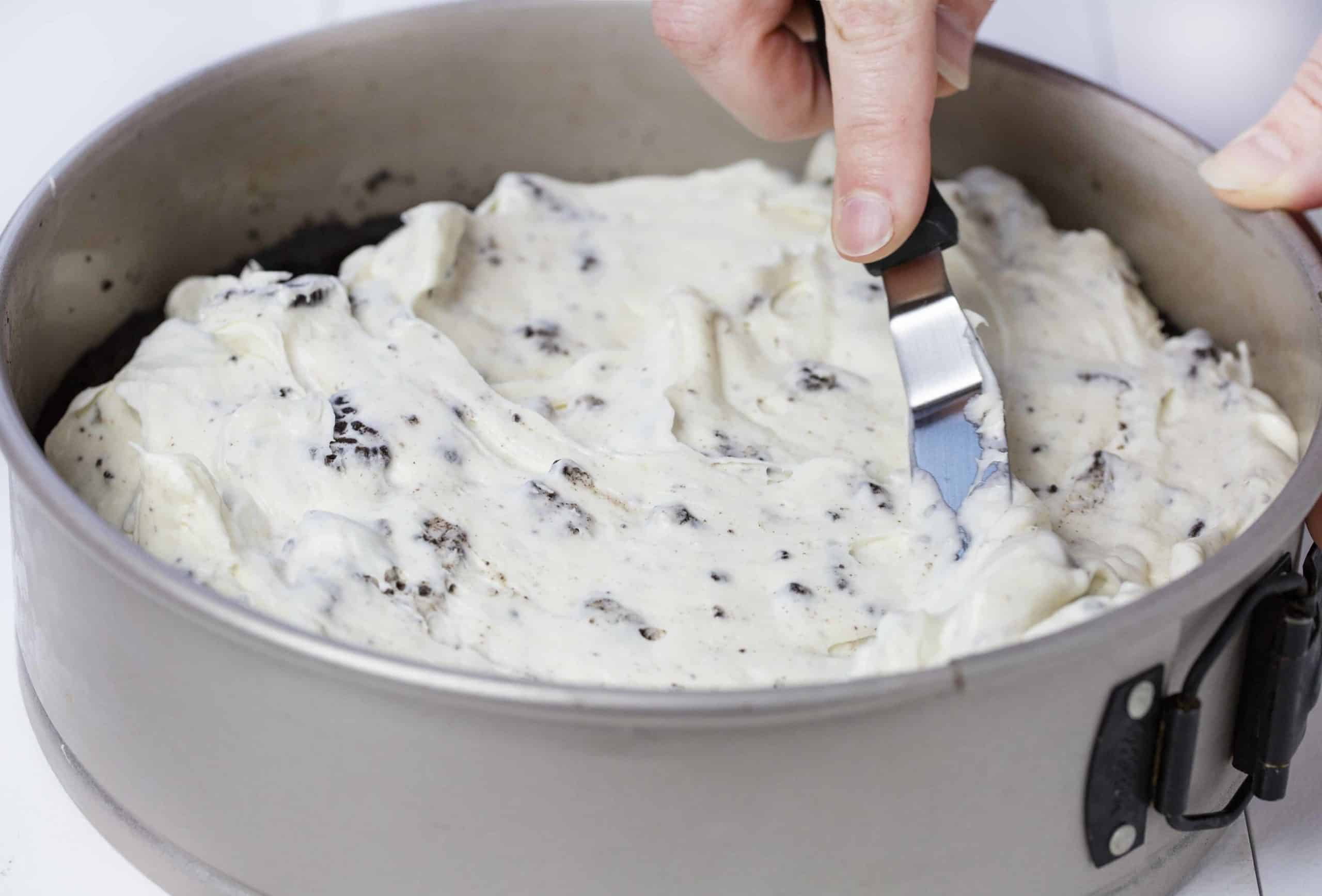 How to Make No Bake Oreo Cheesecake
Making a No Bake Oreo Cheesecake is really simple, especially since you don't have to bake this. The trick is to make sure to chill the cheesecake for at least 4 hours. Overnight is best! The longer this cheesecake has to chill, the easier it will be to cut and the better it will hold together. There are a few steps involved, making the Crust and making the filling.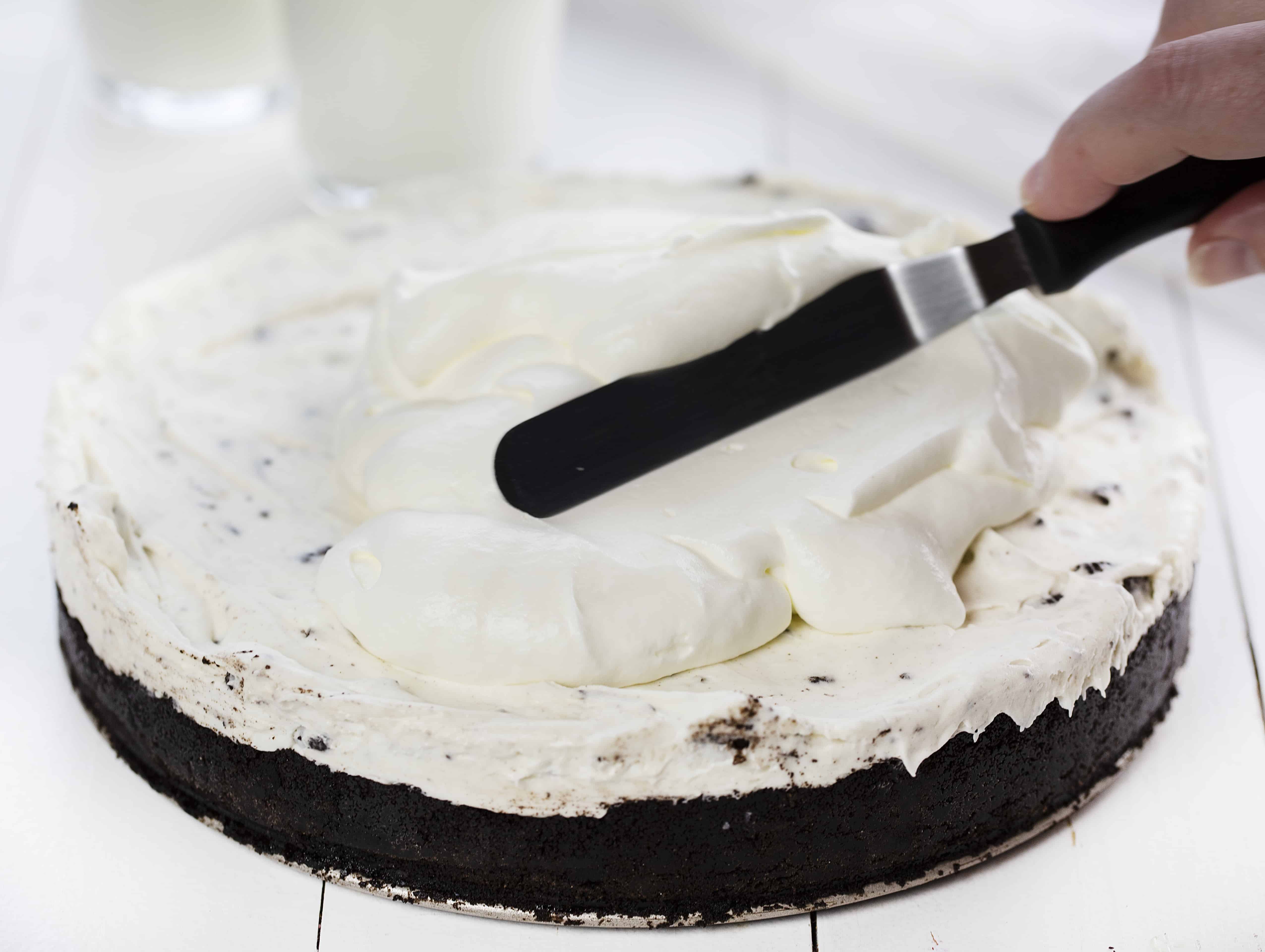 How to Make an Oreo Crust
Start with the cookies. One for you, one for the crust, repeat. Kidding, of course! You will get enough of the sweet Oreo Cookies when the cheesecake is done. 🙂
For this recipe, I like to remove the filling, and as I mentioned, we will use it later! Once you have removed all of the fillings, you can transfer the cookies to a food processor. This recipe calls for 24 Oreos, so to be specific, that means once the filling is removed you will be adding 48 individual chocolate cookies into the processor. Grind them up to a fine crumble. Try to get out as many of the bigger cookie chunks as you can. These can really compromise the integrity of the crust, and you do NOT want a crumbly crust. Once those are finely ground, add them to a bowl, and add in the melted butter. It is really important to cover each and every crumble of cookie with butter. If you need to add more, go ahead! Press the mixture into the base and up the sides of a springform pan and chill while you prepare the rest.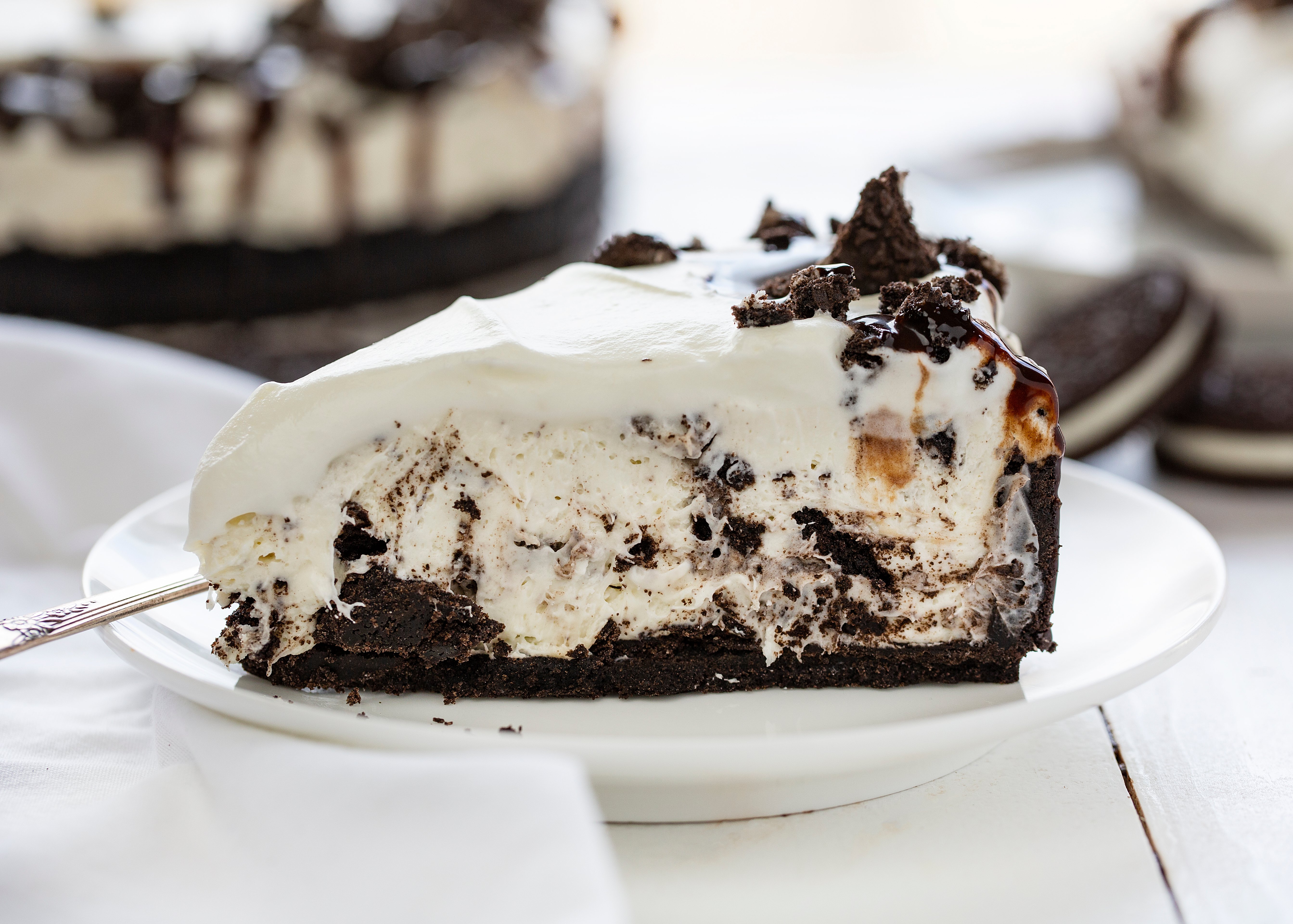 How to Make the No-Bake Filling
Use a hand mixer to beat the cream cheese until it is light and fluffy. Then, add in the sugar, vanilla, and the cookie filling that you reserved earlier. Blend this all up until it is creamy and smooth. In a separate bowl (make sure it is a large one) add in the heavy whipping cream. It doesn't look like much, but after a few minutes of whipping, it will fluff up nicely. Once it starts to thicken up, add in the powdered sugar and continue to beat it until it forms stiff peaks. Remove two cups of this whipped topping and fold it into the cream cheese mixture. The rest will be used as a topping later so cover it up and chill it while the rest of the work is completed. Pour the cream cheese mixture into the oreo crust and smooth out the top. Pop this in the refrigerator and patiently wait for the next 4-6 hours. Once it is fully chilled you can top it with the remaining whipped topping and crumbled Oreos. I love to drizzle hot fudge over the top as well!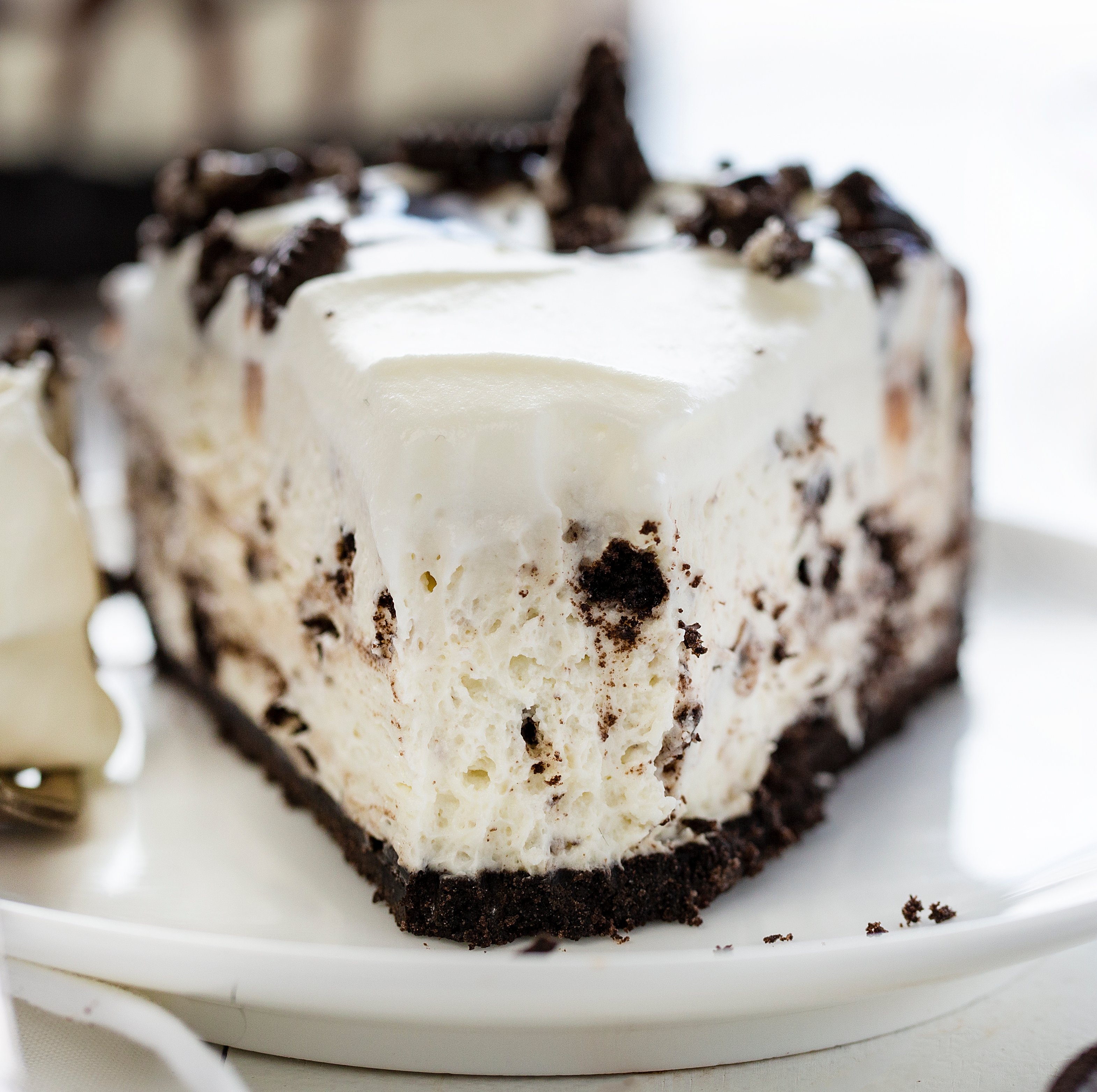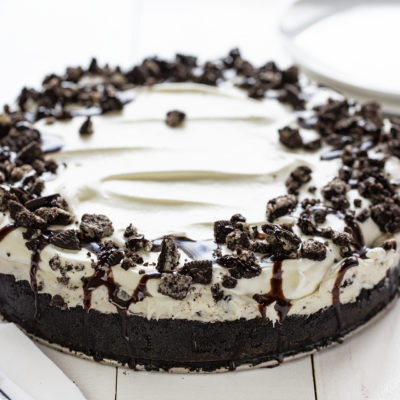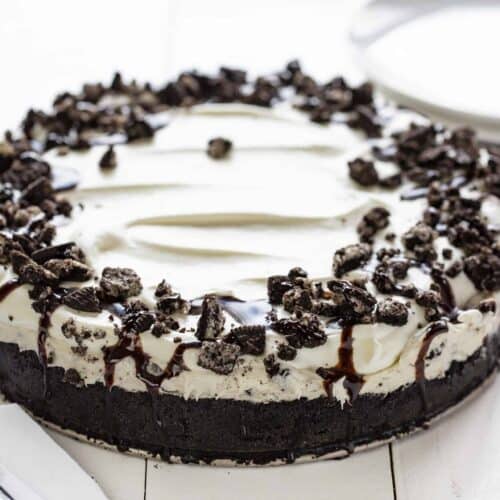 No Bake Oreo Cheesecake
No Bake Oreo Cheesecake is perfect for when you are craving the silky smooth delightfulness of Cheesecake but don't want to turn on your oven! Creamy and delicious velvety cheesecake filling, with the perfect Oreo Cookie Crust.
Ingredients
Oreo Crust
24 

Oreo

cookies,

(about 1½ cups of crushed cookies), filling removed and reserved

6 

tablespoons 

(85g) butter,

melted
Cheesecake Filling
16 

ounces 

(454g) cream cheese

½ 

cup 

(100g) granulated sugar

1 

teaspoon

vanilla

2½

cups 

(595g) heavy whipping cream

1½ 

cups 

(188g) confectioners' sugar

15 

cookies

(about a cup),

crushed and divided

Hot Fudge
Instructions
OREO CRUST
Add 24 Oreos (filling removed and set aside) to a food processor and process until the Oreos are finely crushed. This will yield approximately 1½ cups of crushed cookies.

In a large bowl, add the processed cookies and the melted butter. Stir to combine.

Pour the cookie mixture into the bottom of a prepared 9-inch springform pan and press into the bottom and up the sides to form a foundation for the cheesecake.

Place in refrigerator to chill.
FILLING
In a large bowl using a hand mixer, beat the cream cheese until it is light and fluffy. Add in the sugar, vanilla, and reserved cookie filing.

In a separate bowl, whip the heavy whipping cream with a hand mixer until it beings to thicken. Add in confectioners sugar, and beat until stiff peaks form.

Fold 2 cups whipped cream mixture and crushed Oreos (reserve 1/4 cup for garnish) into the cream cheese.

Pour mixture on top of the Oreo Crust and spread evenly.

Place in the refrigerator to chill for at least 3-4 hours. (Preferably overnight)

Garnish with remaining whipped cream, remaining crushed Oreos and hot fudge.
Did you make this recipe?
Thank you for making my recipe! You took pictures, right? Well go ahead and post them on Instagram! Be sure to mention me @iambaker and use the hashtag #YouAreBaker.
Looking for More Cheesecake Recipes?
Strawberry Cheesecake (No Bake)
Chocolate Caramel Cheesecake (No Bake)
Lemon Cheesecake Cream Pie (No Bake)