Peach Turnovers are squares of puff pastry filled with spiced canned peaches, baked to a golden brown, and drizzled with a sweet glaze. The flaky texture and fruity goodness will surely leave you craving more, and they are so easy to make! Enjoy a turnover as a breakfast treat, with a cup of coffee, or as a dessert. And, you can even make them in an air fryer! If preferred, I also have Apple Turnovers you will love!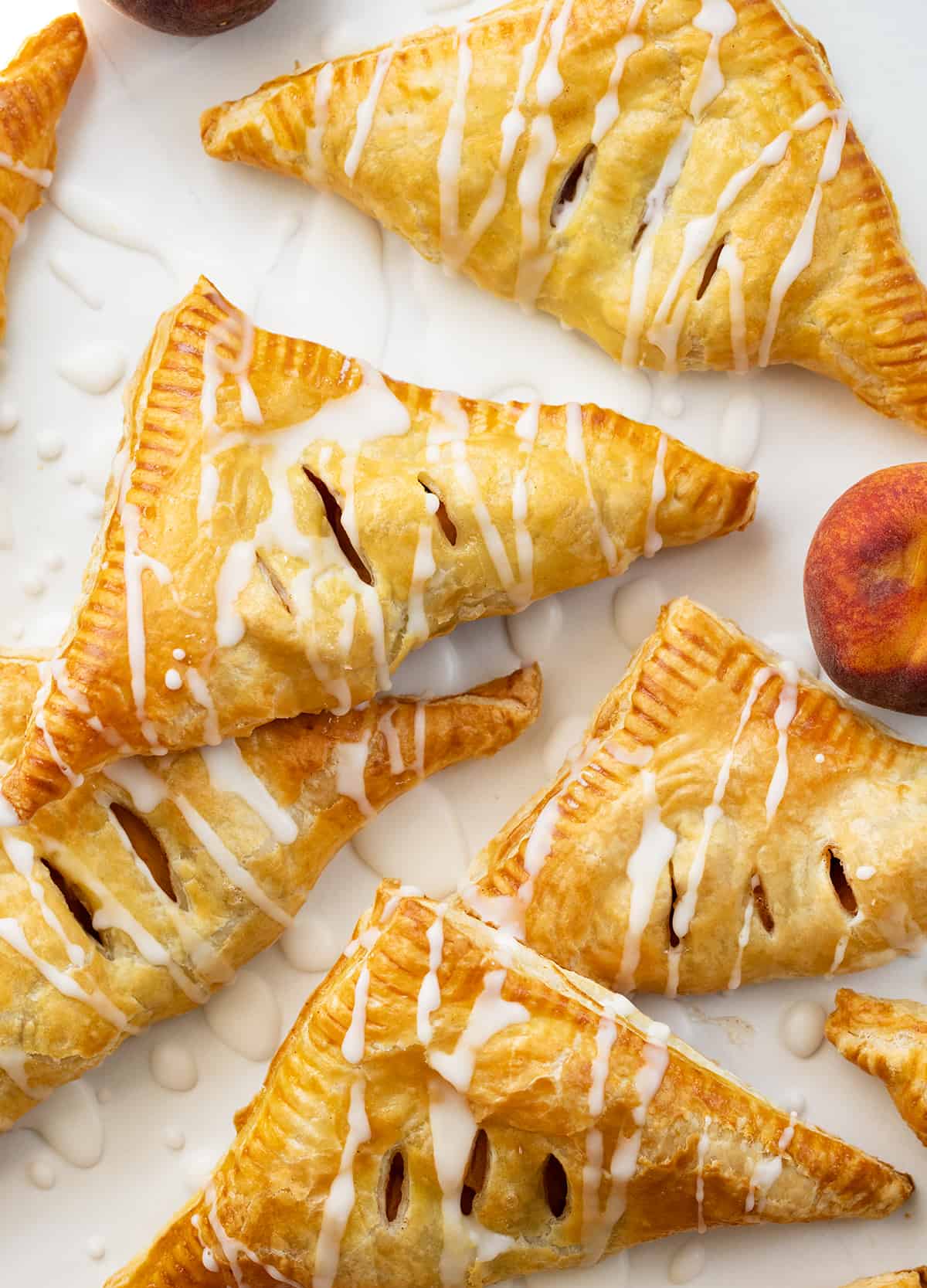 Ingredients & Substitutions
Puff Pastries: You will need a box of puff pastries (2 sheets), thawed according to package instructions. If you want to make homemade puff pastries, use my recipe from my Pumpkin Puff Pastry (without the cinnamon).
Peaches: Look for two cans of sliced peaches in syrup. Once drained, add cinnamon, cornstarch, and salt. Easy peasy!
Egg Wash: The egg wash will be brushed over the edges of the squares before being folded. Then, more will be brushed over the tops of the turnovers for a lovely golden brown color when baked.
Glaze: The glaze is made with confectioners' sugar and whole milk, drizzled over the peach turnovers. The turnovers are still delicious without the glaze, too!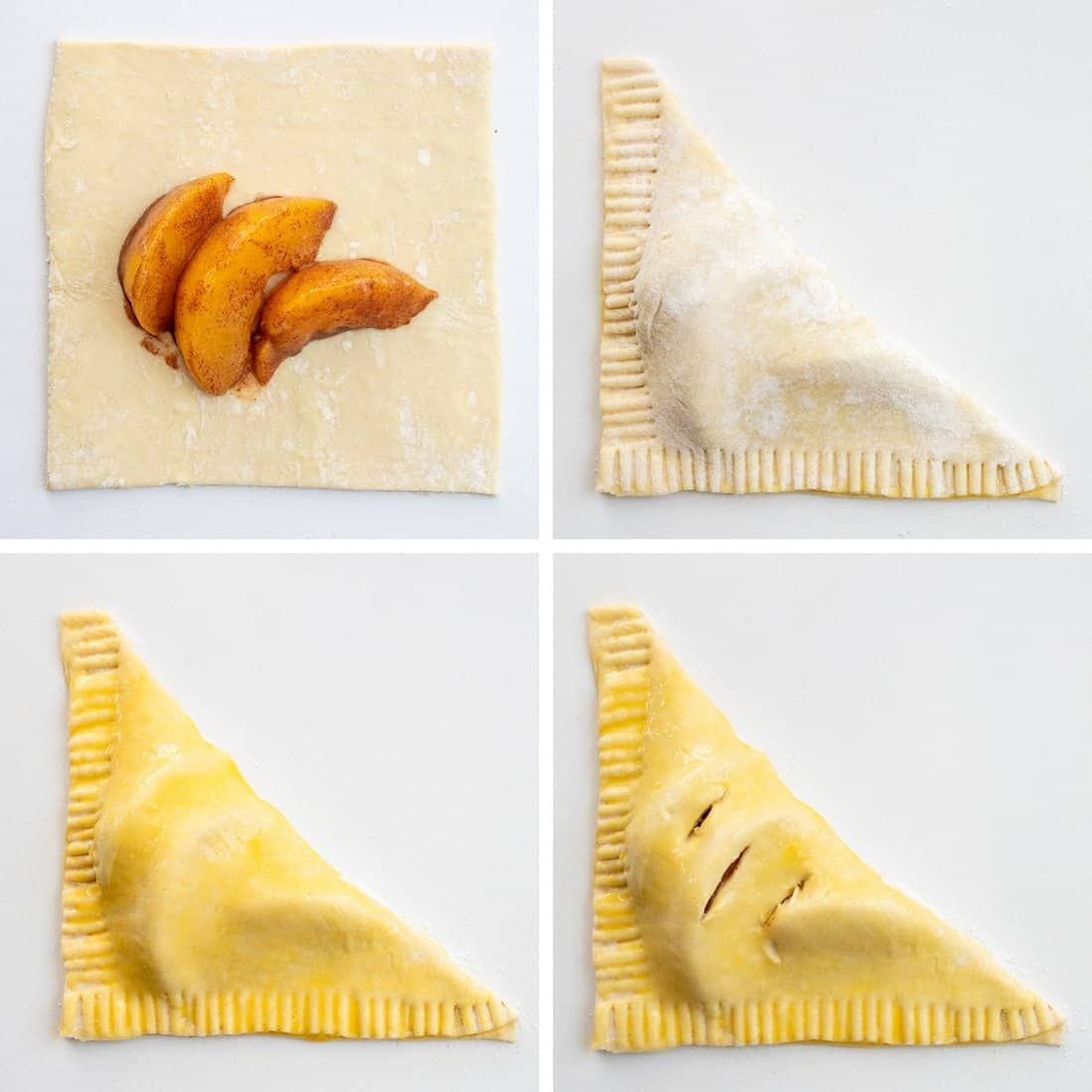 Can I Use Fresh Peaches?
Sure! If using fresh peaches, you will need to make a peach filling by cooking down about 3 medium peaches. Here is how to make the filling:
Peel, core, and slice the peaches.
To a medium saucepan over low heat, add the peaches, 1 tablespoon lemon juice, 1/2 cup granulated sugar, 1 teaspoon cinnamon, 1 tablespoon cornstarch, and 1/4 teaspoon kosher salt.
Cook the mixture for 10-12 minutes, until peaches start to break down and the mixture thickens.
Set aside to cool completely before filling each pastry square.
When ready to fill each pastry, add about 2 1/2 tablespoons of filling to each square.
Continue with the assembly and baking instructions.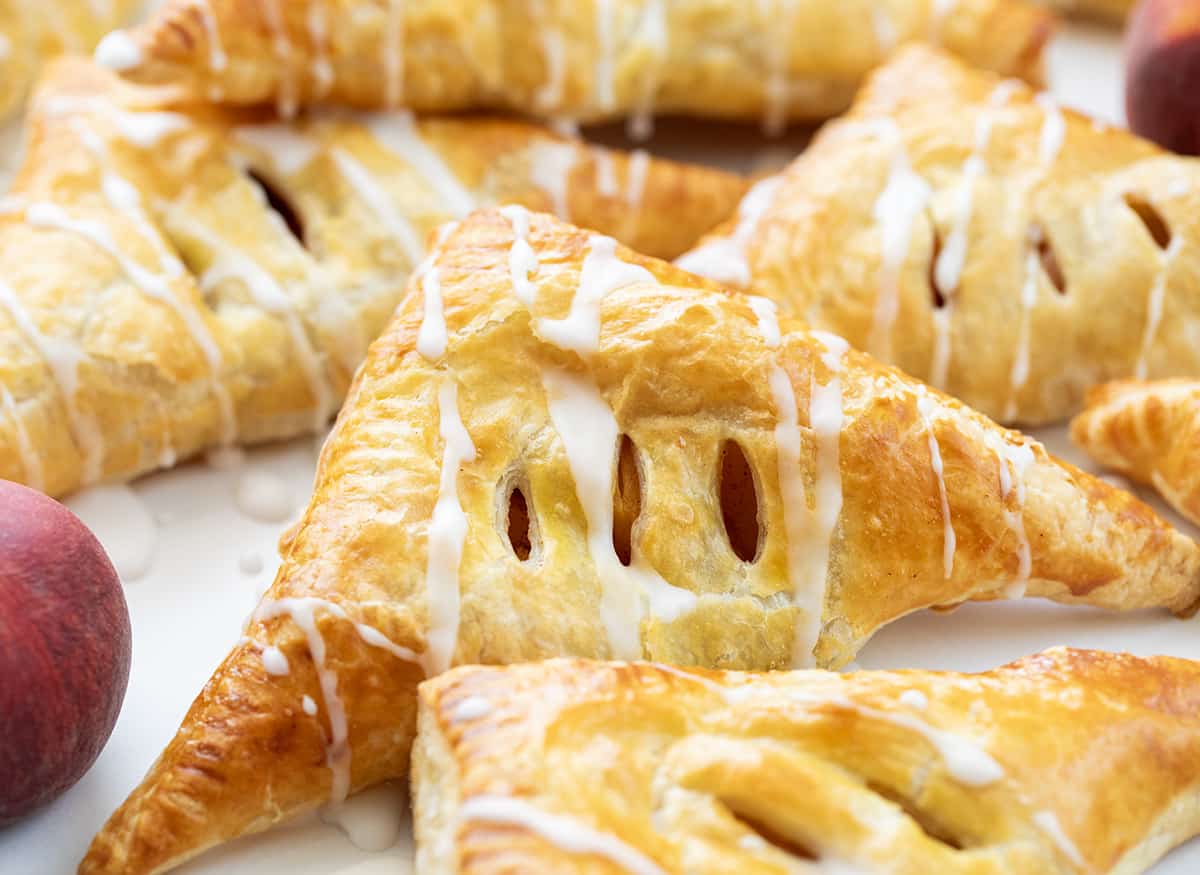 Can I Make Peach Turnovers Ahead Of Time?
Yes. You can get the turnovers assembled, cover them with plastic wrap, and keep them in the refrigerator overnight. Then, they are ready to bake the next morning! You can also assemble the turnovers and freeze them for up to 2-3 months. First, freeze the assembled turnovers for an hour or two, or until solid. Then, store them in freezer-safe containers. When ready to bake, simply add a few minutes to the baking time (no need to thaw first).
Mini Turnovers
For a cute and tasty presentation, make these peach turnovers into mini turnovers. All it takes is cutting the puff pastry sheets into smaller squares or rectangles. Then, add 1-2 spiced peaches in the center, leaving room around the edges. Use egg wash to help seal the turnovers and brush over the tops of the mini turnovers. When baking, watch them closely as you may need to lessen the amount of baking time. Let them cool and then drizzle the glaze.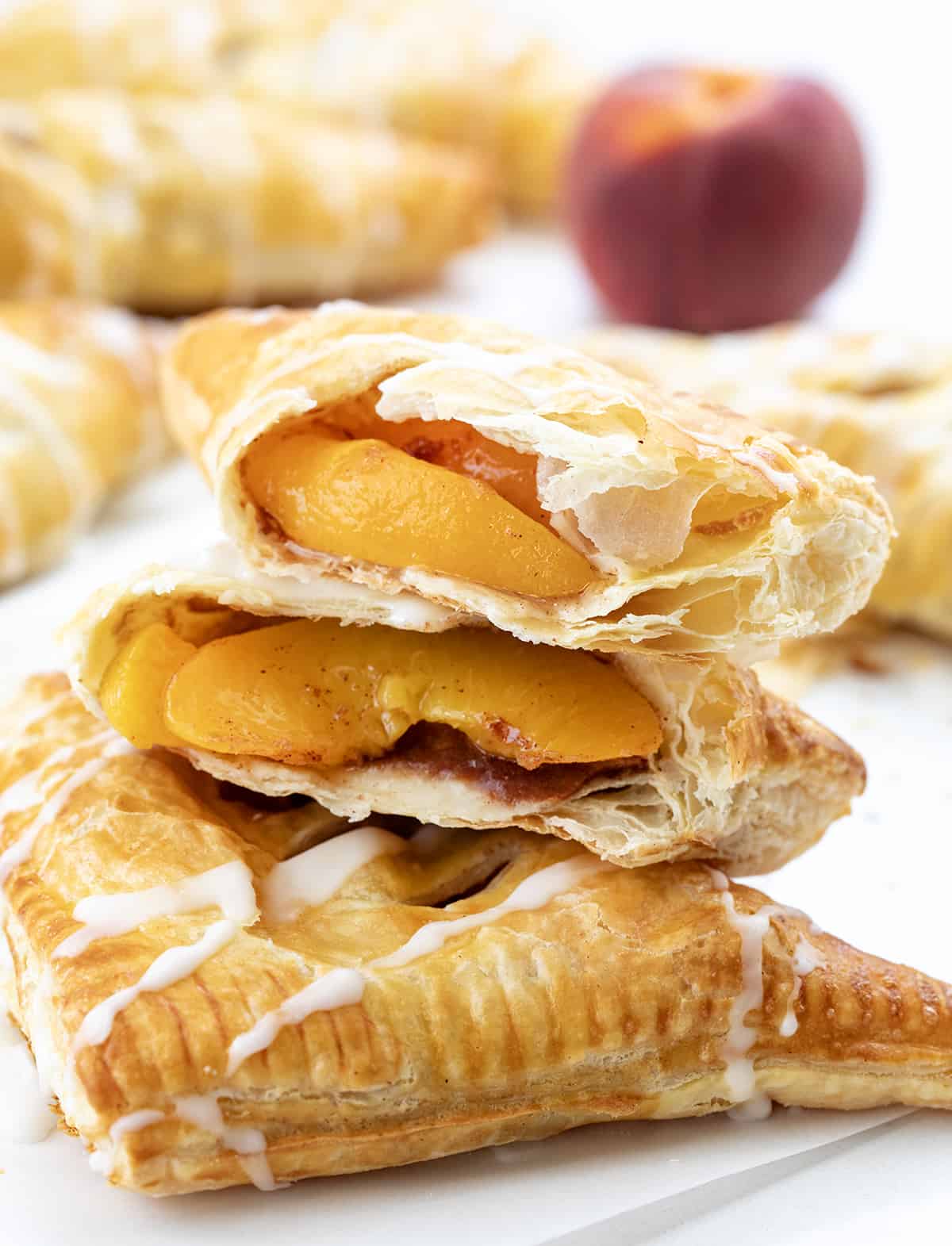 How To Store Peach Turnovers
Once baked, peach turnovers can be stored in the refrigerator for 4-5 days. You can reheat them in the microwave or in the oven when ready to enjoy. To freeze the turnovers after being baked, first, let them cool completely; then, they can be frozen for up to 2 months. I recommend waiting to add the glaze until ready to serve.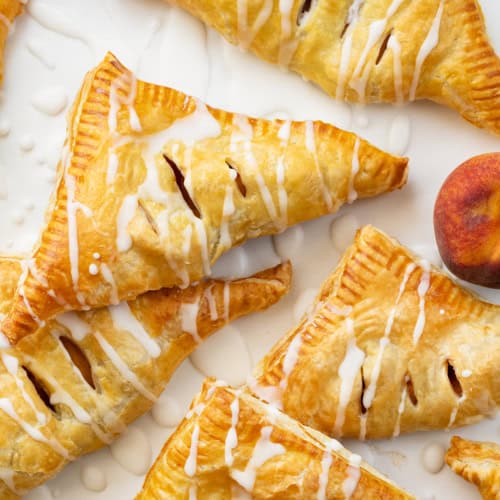 Peach Turnovers
Peach Turnovers are squares of puff pastry filled and folded with spiced fresh peaches, baked to a golden brown, and drizzled with a sweet glaze. The flaky texture and fruity goodness will surely leave you craving more!
Ingredients
2

sheets

puff pastry,

thawed according to package instructions

2

cans

(15 ounces each) sliced canned peaches,

in syrup, drained

2

teaspoons

ground cinnamon

2

tablespoons

cornstarch

½

teaspoon

kosher salt
Egg Wash
1

large

egg,

room temperature

1

tablespoon

water
Glaze
1

cup

(125 g) confectioners' sugar

1-2

tablespoons

whole milk
Instructions
Preheat the oven to 400°F.* Line two large baking sheets with parchment paper.

To a large bowl, add the drained peaches, cinnamon, cornstarch, and salt. Mix to coat the peaches.
Assembly & Baking
Roll out each pastry sheet into a 12-inch square. Cut each square into 4 squares for a total of 8 puff pastry squares.

To the middle of each square, add 3-4 peaches.

In a small dish, whisk together the egg and water. Brush the egg mixture over the edges of the squares, reserving the rest for the tops of the pastries.

Fold each pastry over from one corner to another, forming a triangle shape. Use a fork to press and seal the edges.

Brush the tops of each pastry with the remaining egg wash.

Place four pastries onto each prepared baking sheet. Using a sharp knife, cut three slits on the top, making sure to cut all of the way through the pastry dough.

Bake for 20-22 minutes or until golden brown. Let the turnovers cool before adding glaze.
Glaze
In a small bowl, whisk together the confectioners' sugar and one tablespoon of milk. Add more milk, one tablespoon at a time, until a pourable consistency is reached.

Drizzle glaze over cooled turnovers.
Notes
*Air Fryer Instructions:
Assemble the turnovers as instructed.
Working in batches, place the turnovers in the basket of your air fryer in a single layer.
Air fry at 350°F for 13-15 minutes, or until golden brown.
Let cool before drizzling with glaze.
Did you make this recipe?
Thank you for making my recipe! You took pictures, right? Well go ahead and post them on Instagram! Be sure to mention me @iambaker and use the hashtag #YouAreBaker.
What the Test Kitchen had to say about this recipe: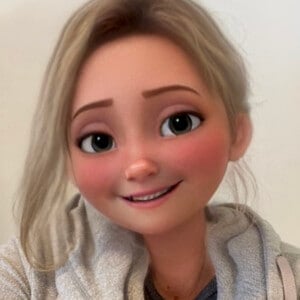 Autumn
We tested these peach turnovers with both canned peaches and fresh. Personally, I thought they were so different in flavor, but I loved both versions. We went with canned peaches due to the simplicity of the recipe, but you won't be disappointed either way!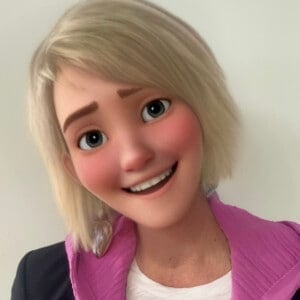 Elizabeth
I like these peach turnovers because they were just as good with canned peaches as using fresh ones! So, if you need a quick dessert or treat, go with canned. They will not disappoint!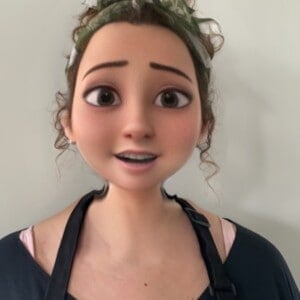 Rachael
Love it! The canned peaches tasted the same as the fresh ones to me but were so much quicker to make. This is a fantastic quick dessert! Serve it with some ice cream or some whipped cream!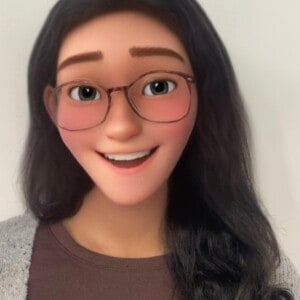 Bella
These are incredible! The warm peaches inside the flaky puff pastry is delightful. Surprisingly, canned peaches work just as well as fresh peaches, and they are easier to prepare!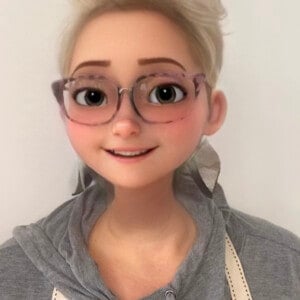 Selena
I love peaches when they are in season! The treat makes it nice for any time of the year since it uses canned peaches. You can't go wrong with puff pastry and fruit!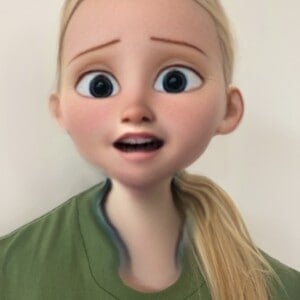 Annabelle
Flaky and peachy! I liked these turnovers!