This is not your average Pineapple Dessert. It is big, loaded with pineapple flavor, and beyond light and fluffy! And the best part? It's completely NO BAKE! If you love this dessert (and I know you will), don't miss my Piggy Pie Dessert!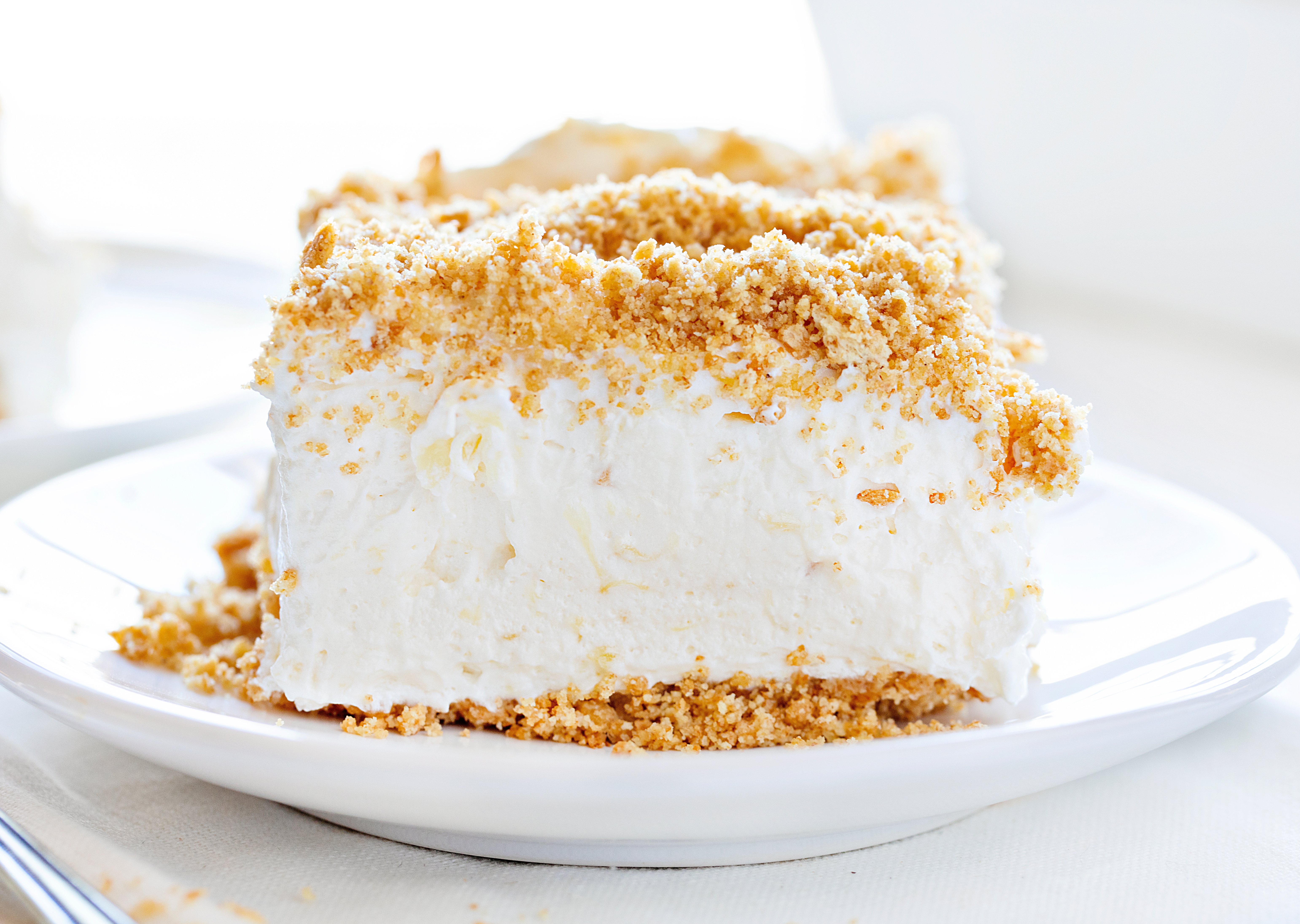 Pineapple Dessert
If you love EASY desserts that just happen to taste great, this is the dessert for you. I saw this on Amanda's Cooking (what a great name!😉) and had to give it a try. The biggest changes I made were adding a bit more butter to the crust so that it would stay together better and double the filling ingredients. I like a nice big slice of this dessert and found that by increasing the filling (but not the sugar!)  it fit just perfectly into a 10×15 pan. It also fits into a 9×13 pan, but the ingredients come right up to the top which can mean random graham crackers crumbs in your refrigerator. My refrigerator has seen worse, so no complaints from me!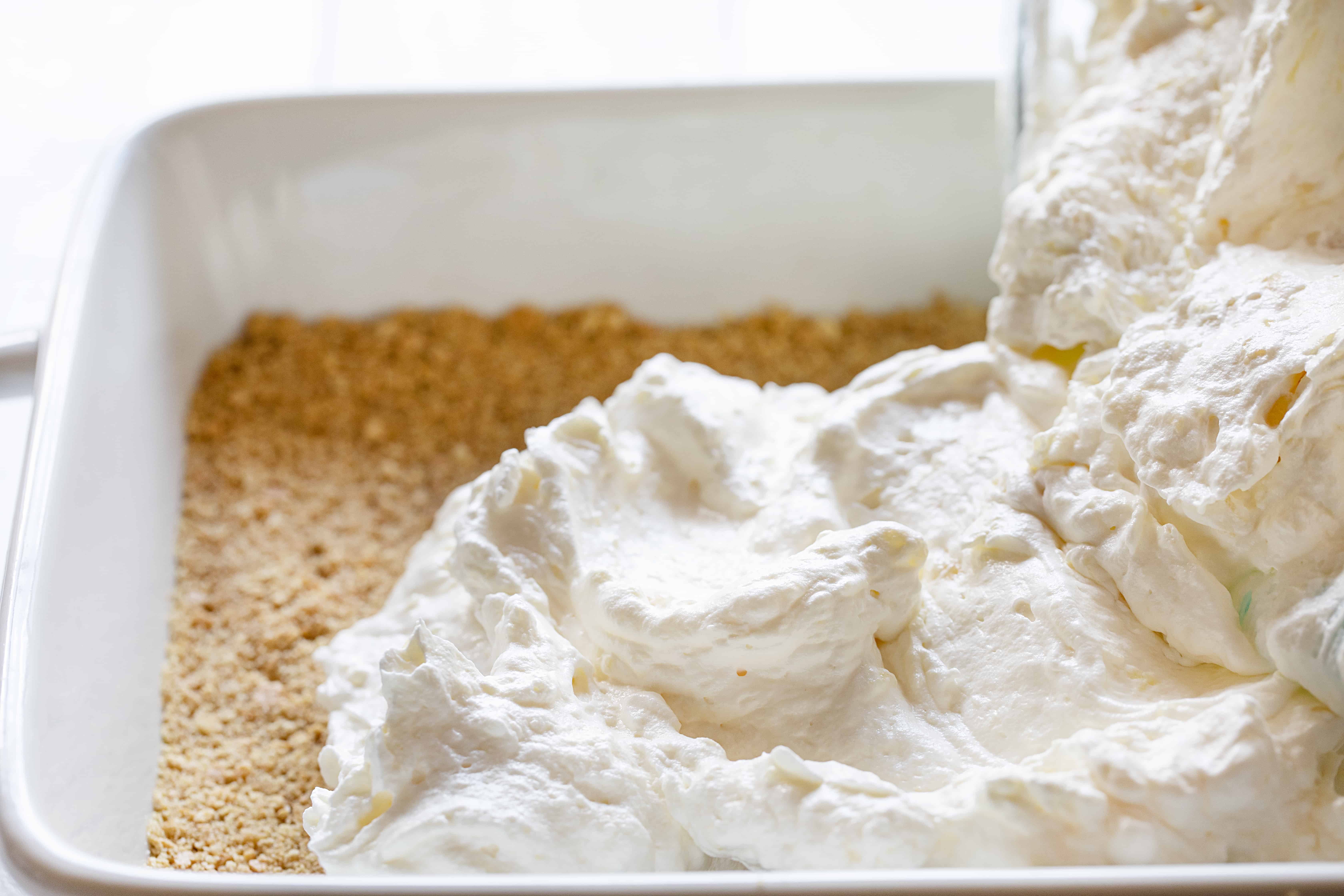 How to Make Pineapple Dessert
Make sure your butter and cream cheese are room temperature. In a large bowl, add the butter and cream cheese and mix with a hand-held mixer until smooth. Add in the confectioner's sugar and mix again, starting on low so that you don't end up in a cloud of sugar.
Now add in the 2 cans of crushed pineapple. Here is where you should taste test though… start with 1 can. Some of my kids much preferred this dessert with only 1 can of pineapple, but my husband and I liked 2 better. It honestly isn't a huge difference, but if you have someone who is on the fence about pineapple desserts, 1 can might be a great place to start.
After the pineapple has been mixed in (I do this with a spatula) you can fold in the whipped topping. Whether you make your whipped topping or use store-bought (cool whip) is up to you.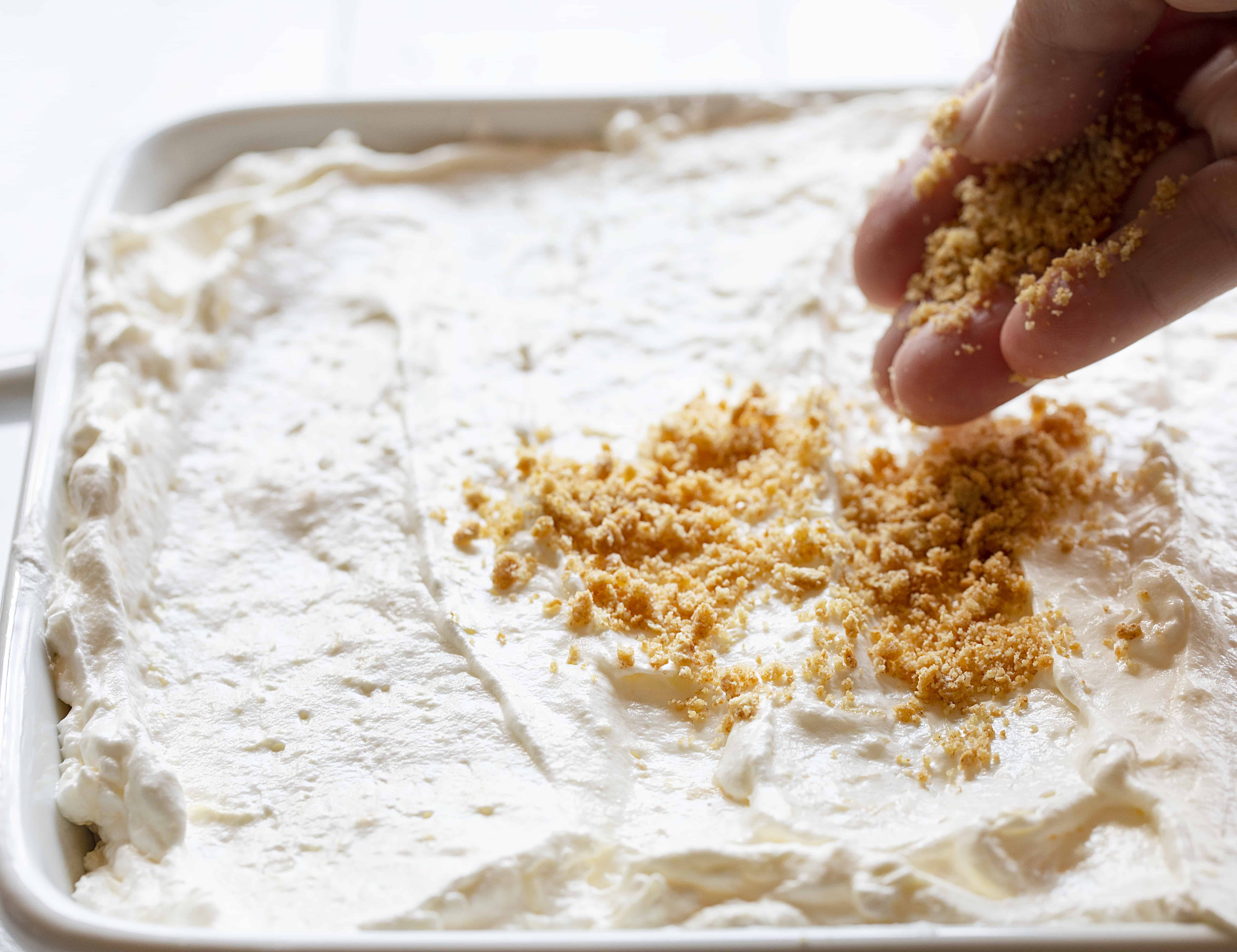 Assembling the Dessert
Now that the filling is done, you can assemble the dessert. Pour 3 cups (you should have 4 cups total) of the graham cracker crumbs into a prepared 10×15 pan. Press down until the crumbs are compact and even. Pour the filling on top and smooth out with an offset spatula or the spatula you used to mix it.
Finally, sprinkle the remaining graham cracker crumbs over top. Pop the dessert into the refrigerator until ready to serve. While we have eaten this immediately after preparing it, I do prefer it chilled. Especially on a hot summer's day!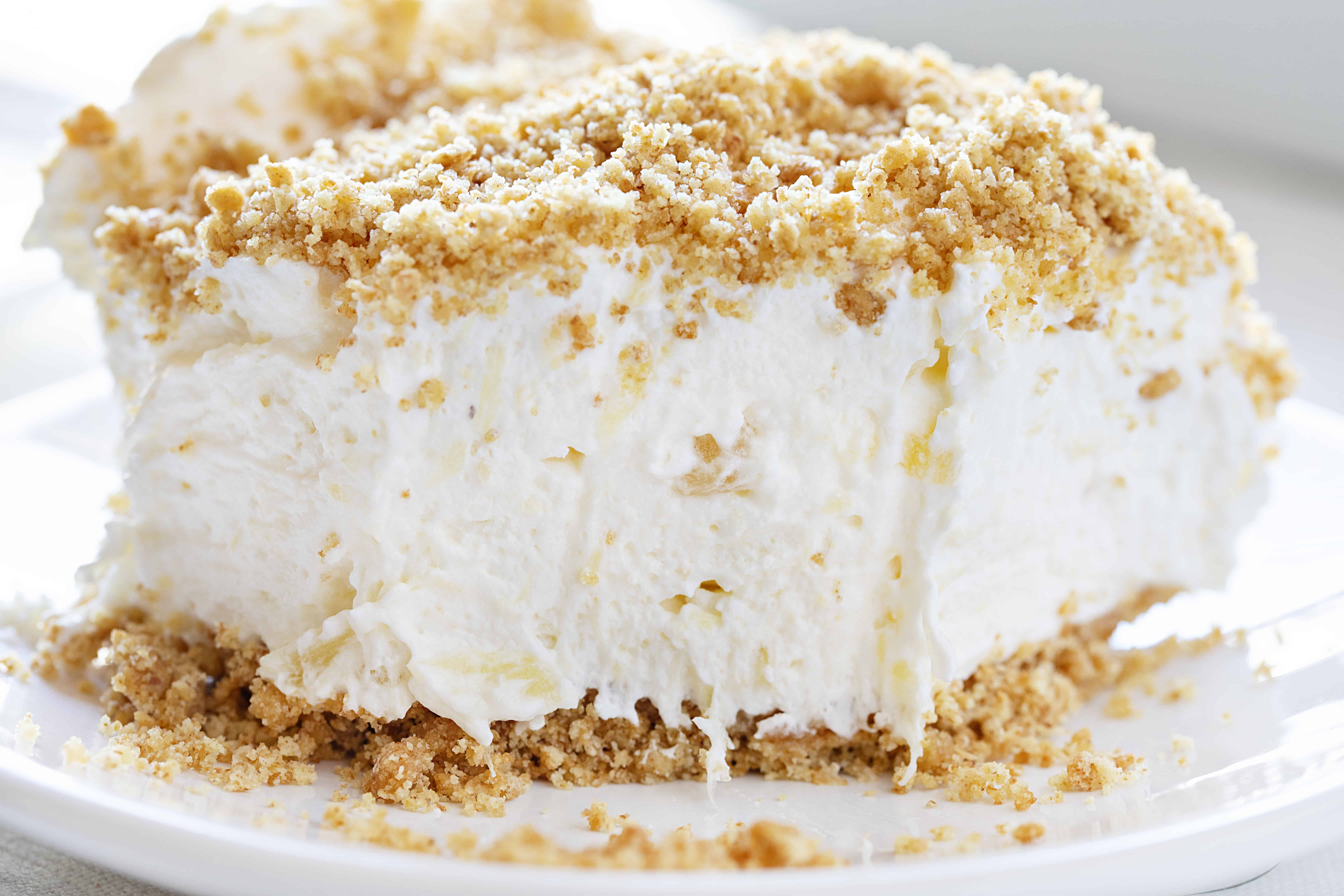 What Pan Do You Use for This Pineapple Dessert?
This is a big recipe, enough to feed 12 people very well. (I dare say that even 24 folks could eat a slice and be satisfied!) I recommend a 10×15 baking dish. If you are anything like me you have 6 different casserole dishes in your cupboard and they are all different sizes. (But all labeled 9×13, of course 😂) Grab the biggest one you have which would at least be 9×13. This dessert will definitely fit into a 9×13 pan, but nothing smaller.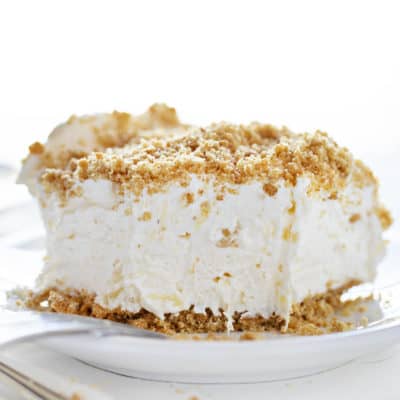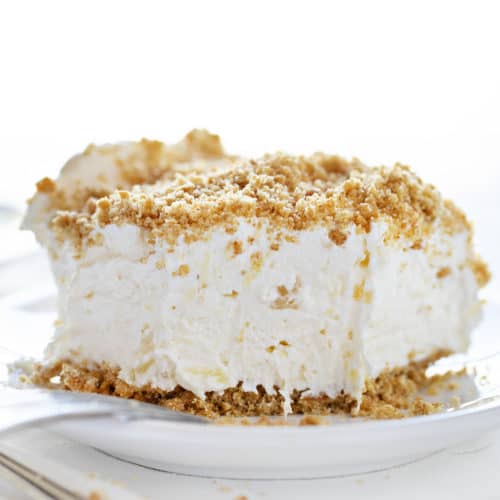 Pineapple Dessert
We love this easy (SO EASY) and delicious dessert that is NO BAKE!
Ingredients
Crust/Topping
18

graham crackers,

crushed

¾

cup

(1 ½ sticks or 168g) butter,

melted
Filling
½

cup

(1 stick or 113g) butter,

room temperature

8

ounces

cream cheese,

room temperature

2

cups

confectioners sugar

40

ounce

(2 cans) crushed pineapple,

drained

16

ounces

whipped topping,

such as cool whip
Instructions
Crust/Topping
Smash graham cracker crumbs until they are fine. Add in melted butter and using a fork, combine the graham crackers crumbs and butter completely. Make sure every crumb is coated in butter. Set aside.
Filling
In a large bowl and using a hand-held mixer, mix the cream cheese and butter until creamy.

Add in 2 cups of confectioners sugar and mix again until fully combined.

Add in the whipped topping (cool whip) and the crushed pineapple. Using a spatula, gently mix until fully incorporated.

In a 10x 15 casserole dish (or 9×13 dish, but nothing smaller) that has been sprayed with non-stick spray, add 3 cups of the graham cracker crumbs. (You should have 1 cup remaining.) Press until flat and even.

Pour the filling onto the crust and spread in an even layer.

Sprinkle the remaining graham cracker crumbs over top.

Refrigerate for at least 2 hours, preferably overnight.
Did you make this recipe?
Thank you for making my recipe! You took pictures, right? Well go ahead and post them on Instagram! Be sure to mention me @iambaker and use the hashtag #YouAreBaker.