Making things into roses is kinda my thing.  I have an Original Rose Cake, Neapolitan Rose Cookies and Red Velvet Rose Cookies.  I recently decided to re-vamp my Pumpkin & Brown Butter Sandwich Cookie's and make them into rose cookies!
Which is kinda weird, I admit.  I mean, the correlation between roses and pumpkins is not exactly obvious.
Except here at iambaker! Then it's like, da.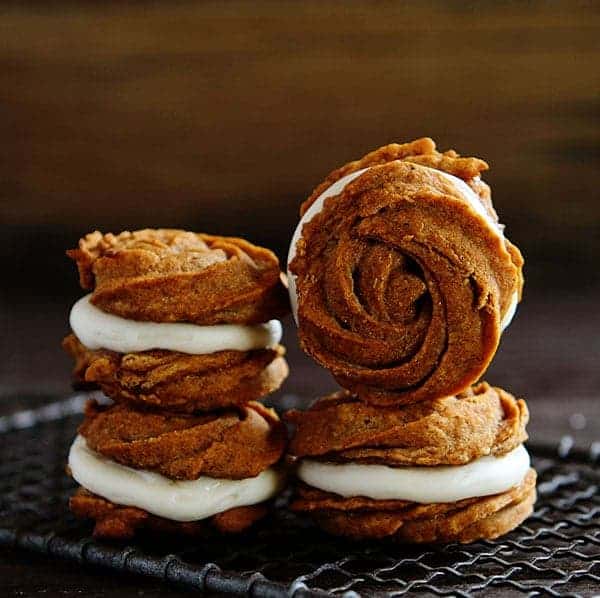 I simply used my Homemade Spice Cake mix and added a can of store bought pumpkin puree.
The cookies are basically the same as the Pumpkin Spice Cookies with Brown Butter Buttercream, only I made then a tad fancier.
I'm so fancy.  You already know.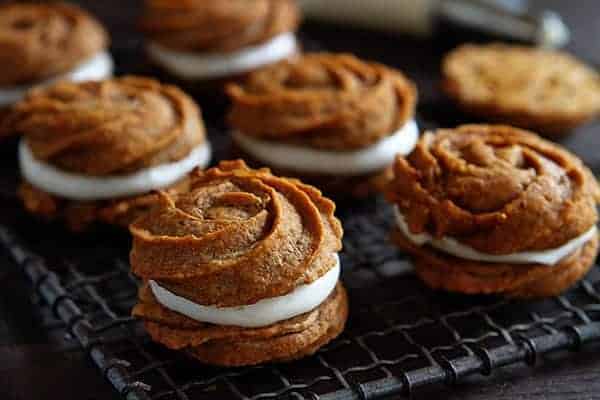 Just kidding.  That's a song that I heard once by accident.  Think it was made for the young kids to listen to.
I am more of a worship music kinda gal.  And 80's Hairbands, monster ballads and stuff.  Yup, I am weird.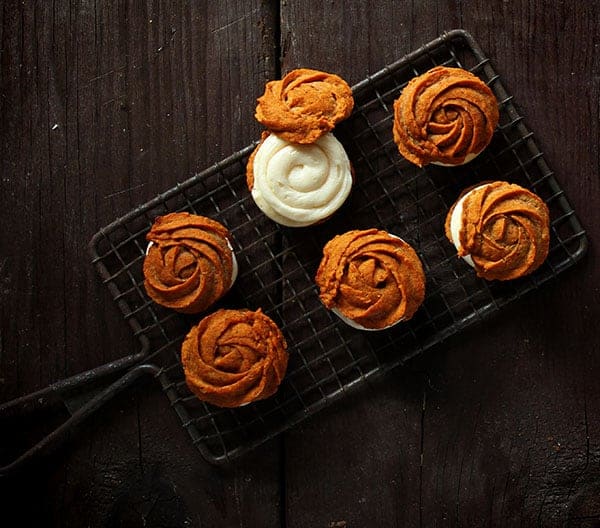 Ok, back to these beauties.
Spice Cake Mix + 15 ounce can Pumpkin Puree + Caramel Cream Cheese Frosting =
AWESOME
Directions:
Pipe out the cookies onto a cookie sheet. Bake at 350 degrees F for about 14 minutes. Allow to cool. While cookies are cooling, prepare cream cheese frosting. Pipe (or spread) some cream cheese frosting between 2 cookies and serve. Best served within 24 hours.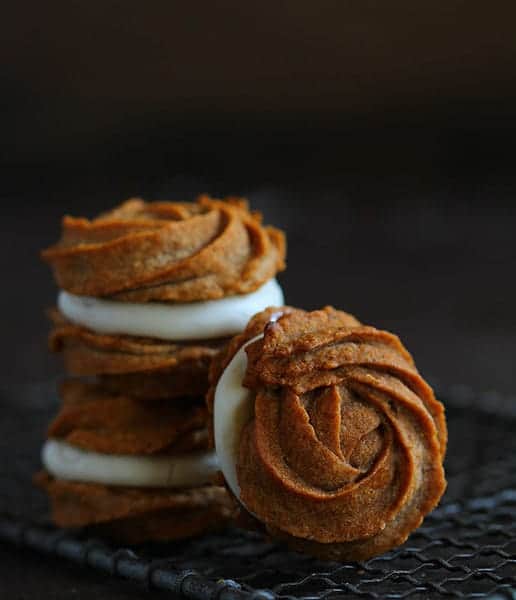 To get the rose effect I placed (1/2 at a time) of the pumpkin cookie batter (it is thick) into a pastry bag with a Ateco 846 closed star tip. I then piped out rosettes onto a parchment lined baking sheet. These cookies do not spread, so whatever design you pipe out is what it will look like when done baking.
Allow to cool and pipe out a dollop of frosting onto one cookie, place another cookie on top, then take a bite!  Er, I mean, set aside and make another. Although I did take a lotta bites. They are kinda irresistible.
You can pair these with that fabulous Caramel Cream Cheese or feel free to use any fabulous cream cheese frosting recipe.  (Or the brown butter buttercream I have linked to above!)