The title of these is a mouthful, but it's a scrumptious mouthful!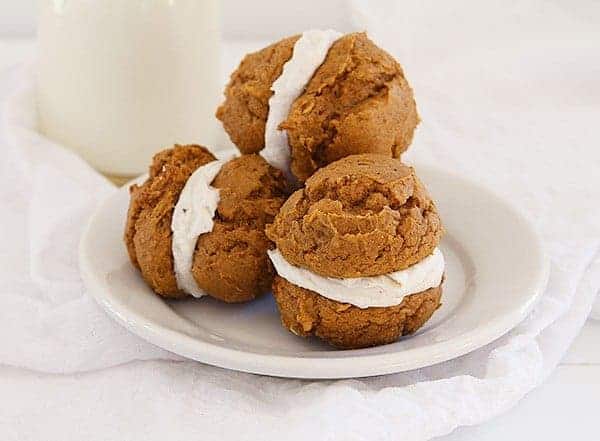 These cookies were a total accident. I had a craving for a pumpkin cookie. I googled 'easy pumpkin cookies'.
Easy is an understatement. Let me tell you this whole recipe.
1 box Spice Cake
1 15 oz can Pumpkin Puree
Mix cake mix and puree. Using an ice cream scoop, drop rounded cookies onto parchment-lined baking sheet. Bake for 15 minutes at 350.
Done.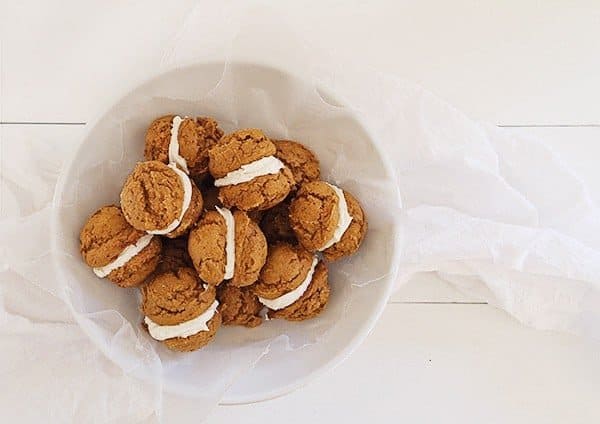 Martha's recipe has this brown butter icing, but again, I didn't have all the ingredients on hand. And we all know I have this obsession with cookie sandwiches lately, so I wanted to find a thicker, more sturdy frosting to use in a pumpkin cookie sandwich.
And then ended up working out for 2 1/2 hours last night after I came out of my sugar coma.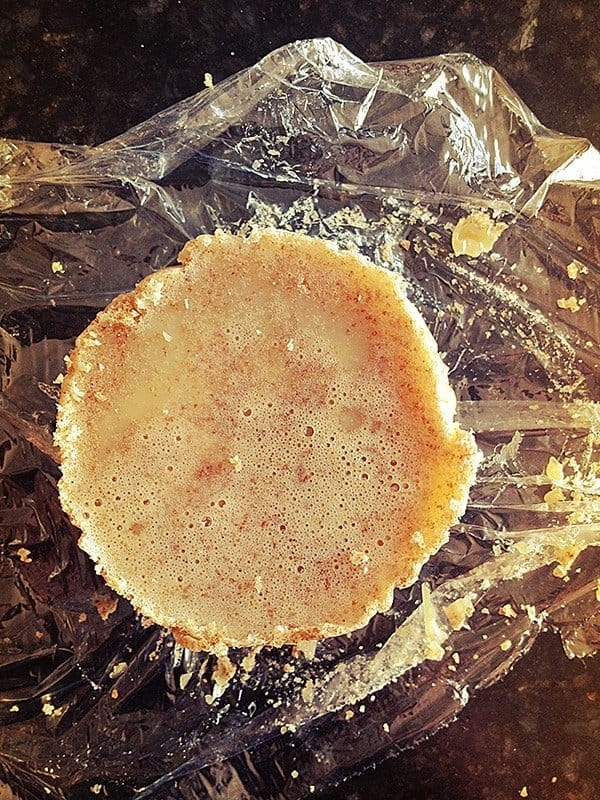 This was my brown butter directly out of the fridge.
That buttercream. I need to talk about. It was… magical. The aroma of the brown butter was enticing in itself, but then to taste it.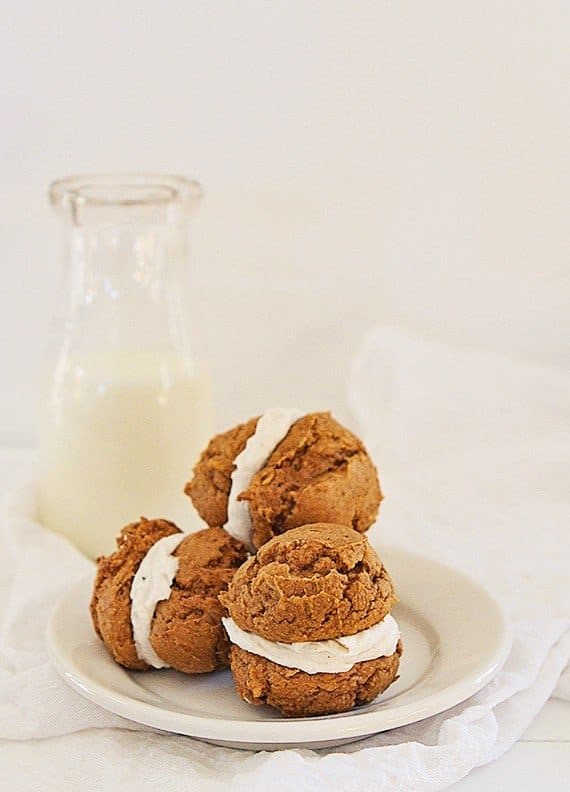 Mind. Blown.
I didn't know butter could do that.
Please be prepared for browned butter everything on my blog now. Brown butter cake. Brown butter pancakes. Brown butter sugar cookies. Its just needs to happen.
Granted, I am so busy that it probably won't happen until next year when the trend will be officially over and everyone will be beyond sick of brown butter. But hey. Trendy I am not.
Now, if the whole "box mix" cookies above totally throws you off, please do feel free to substitute your favorite from scratch pumpkin cookie recipe. My husband thought that a crisp cookie would add some nice contrast here, and I think thats a great option.
But I can't help but love these cookies as is. The soft cake-like texture and the rich brown butter buttercream… its was just perfection.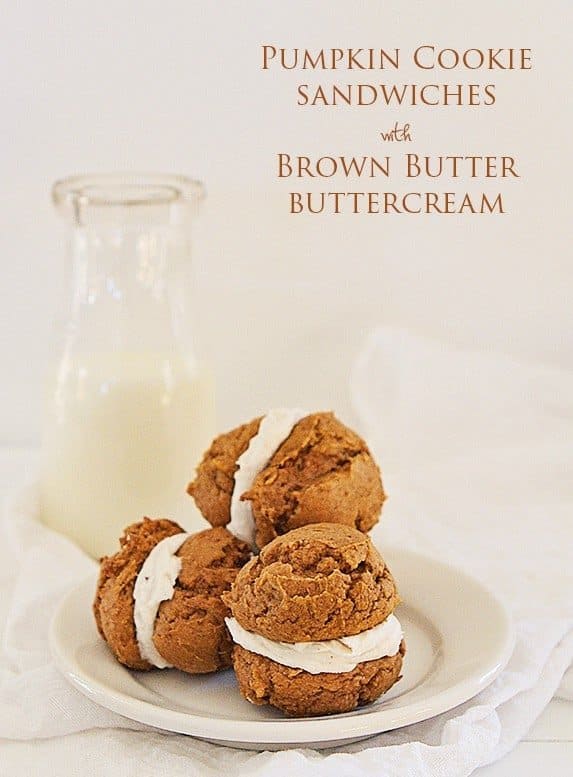 I know the butter took half a day to make, but it was worth it. So worth it.
These cookies sandwiches are the perfect fall treat!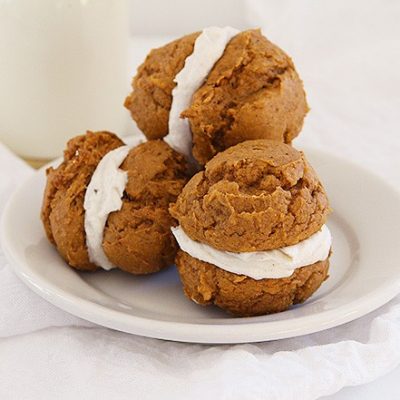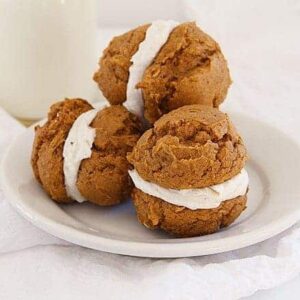 Brown Butter Buttercream
Its a mouthful. But its a scrumptious mouthful.
Keyword:
Brown Butter Buttercream
Ingredients
1

cup

unsalted butter,

room temperature, divided

4

cups

confectioners' sugar

2

teaspoons

pure vanilla extract

3

tablespoons

buttermilk
Instructions
In a stainless steal or light colored ceramic saucepan, melt ½ cup (1 stick) butter over medium heat. (You will want to be able to see the color changing in the butter.)

As the milk solids in the butter will start to foam, gently stir the butter.

The milk solids will subside then start to brown. You should start to smell the aromatic nutty flavors. (this takes anywhere from 5-10 minutes over medium heat. It can take 15 minutes over medium low heat)

Remove butter from heat and set aside to cool. If you have any small brown bits that is ok, but if there are any burnt bits you will want to strain the butter in cheesecloth.

Place plastic wrap in a bowl and pour room temperature butter into bowl.

Set butter in fridge until solid. (about 3 hours)

Remove butter from fridge and allow it to come to room temperature. (about 2 hours) Do not microwave.

Place room temperature butter and room temperature browned butter into mixer and using whisk attachment, whip for about 1 minute on medium high.

Add in sugar and vanilla and whip on low speed. Slowly, 1 tablespoon at a time, add in buttermilk. I usually use about 4 tablespoons but have used as many as 6. Whip frosting on high for 1-3 minutes, until it