Pumpkin Streusel Muffins are moist pumpkin muffins baked with a cinnamon streusel topping and drizzled with a cinnamon maple glaze. These are a must-bake to enjoy during the fall, or should I say pumpkin spice season. Add my Pumpkin Cream Cheese Swirl Muffins to your baking list, too!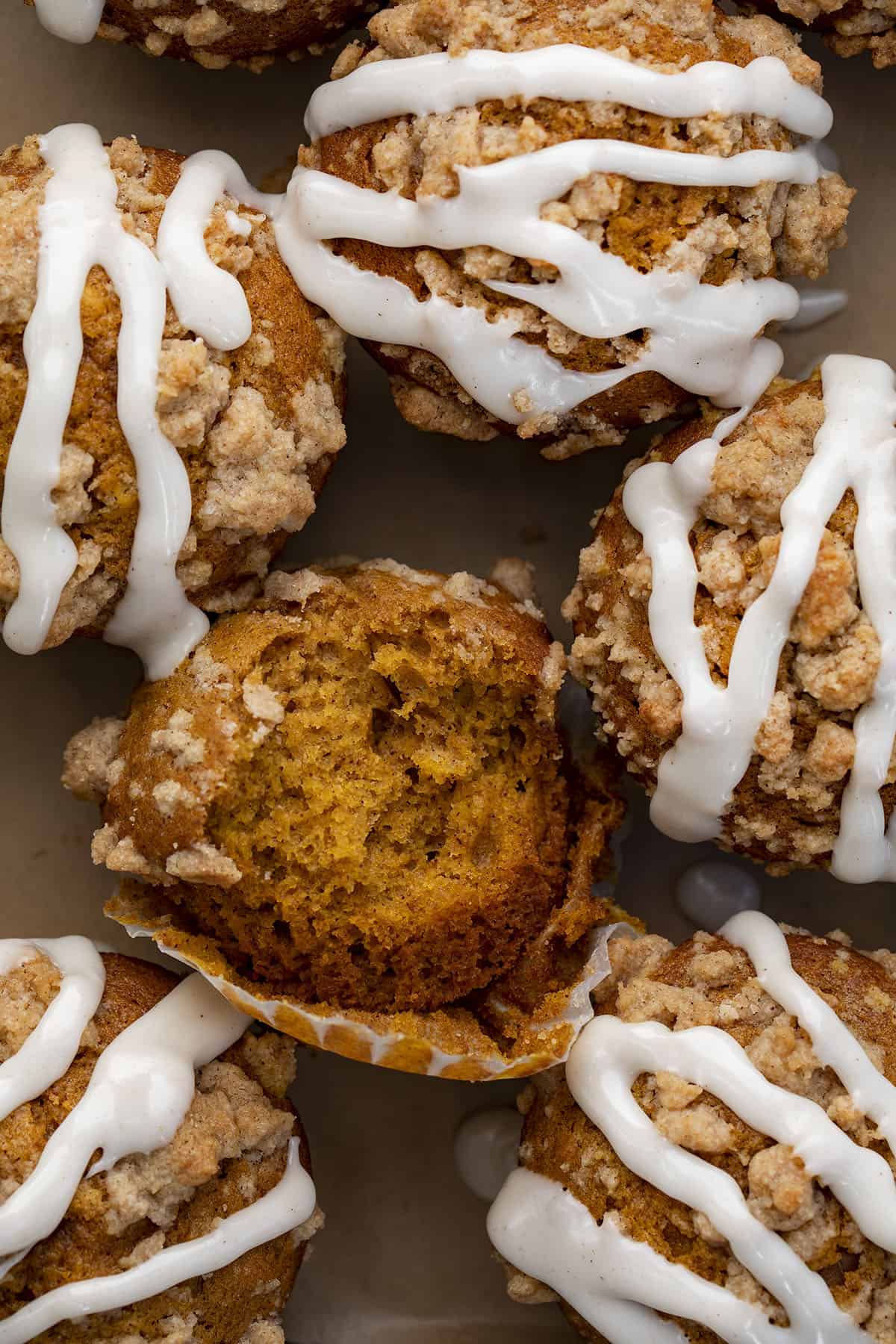 Pumpkin Streusel Muffins
It's all about pumpkin and pumpkin spice right now, which is perfect timing with the start of Autumn. The temperatures have cooled down in the midwest, so my oven has heated up with all my favorite pumpkin recipes. These muffins have a beautiful pumpkin flavor and then the streusel and cinnamon maple glaze really take them to the next level of deliciousness! Enjoy one with a cup of coffee to start your day or bring one along to enjoy as a snack.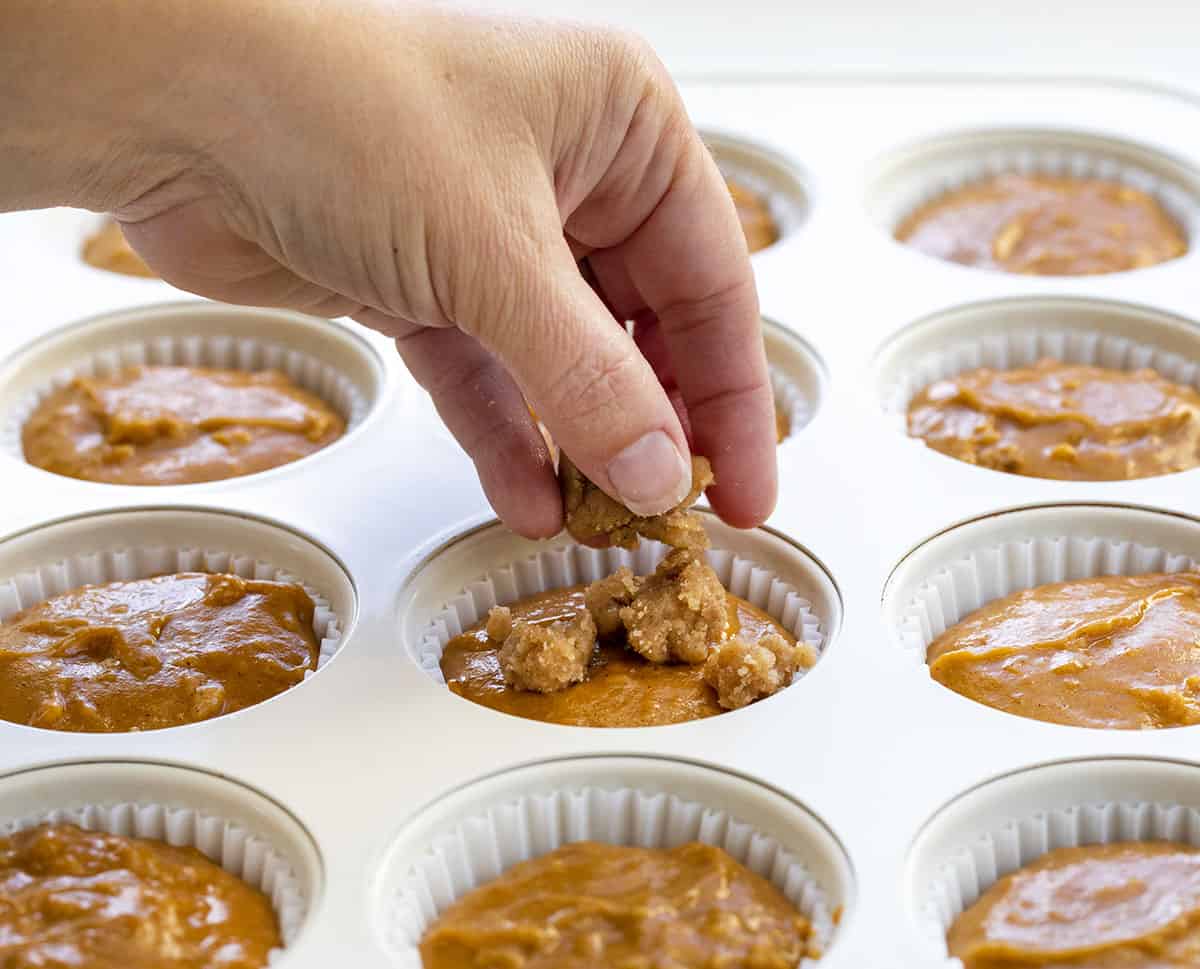 Ingredients & Substitutions
Pure Pumpkin: Look for a can of pure pumpkin (formerly known as pumpkin puree). Pure pumpkin is cooked pumpkin that is blended or mashed into a smooth texture. There should be no seasoning, spice, flavoring, or sugar added. In a pinch, you can use Pumpkin Pie Mix, but be sure to use less of the pumpkin pie spice that this recipe calls for.
Batter: This recipe says to add heaping 1/3 cup of batter to the muffin liner. You will notice that is a lot of batter and fuller than a typical muffin recipe. The reason for this is we want a big beautiful muffin top! And this batter lends itself perfectly to that goal. Just try to make the amounts as even as possible. When doing that, you will get 21 muffins from this recipe.
Streusel Topping: The topping is a crumbly topping made with brown sugar (I used light brown sugar), flour, cinnamon, salt, and butter. This is also known as crumble, or some folks even refer to it as crumb cake topping. You can also use confectioners sugar in place of brown sugar in this recipe.
Glaze: Try to use pure maple syrup in the glaze if you have it on hand. This glaze is wonderful as-is and a beautiful compliment to this muffin, but you could certainly omit it or use different flavorings to match your tastes.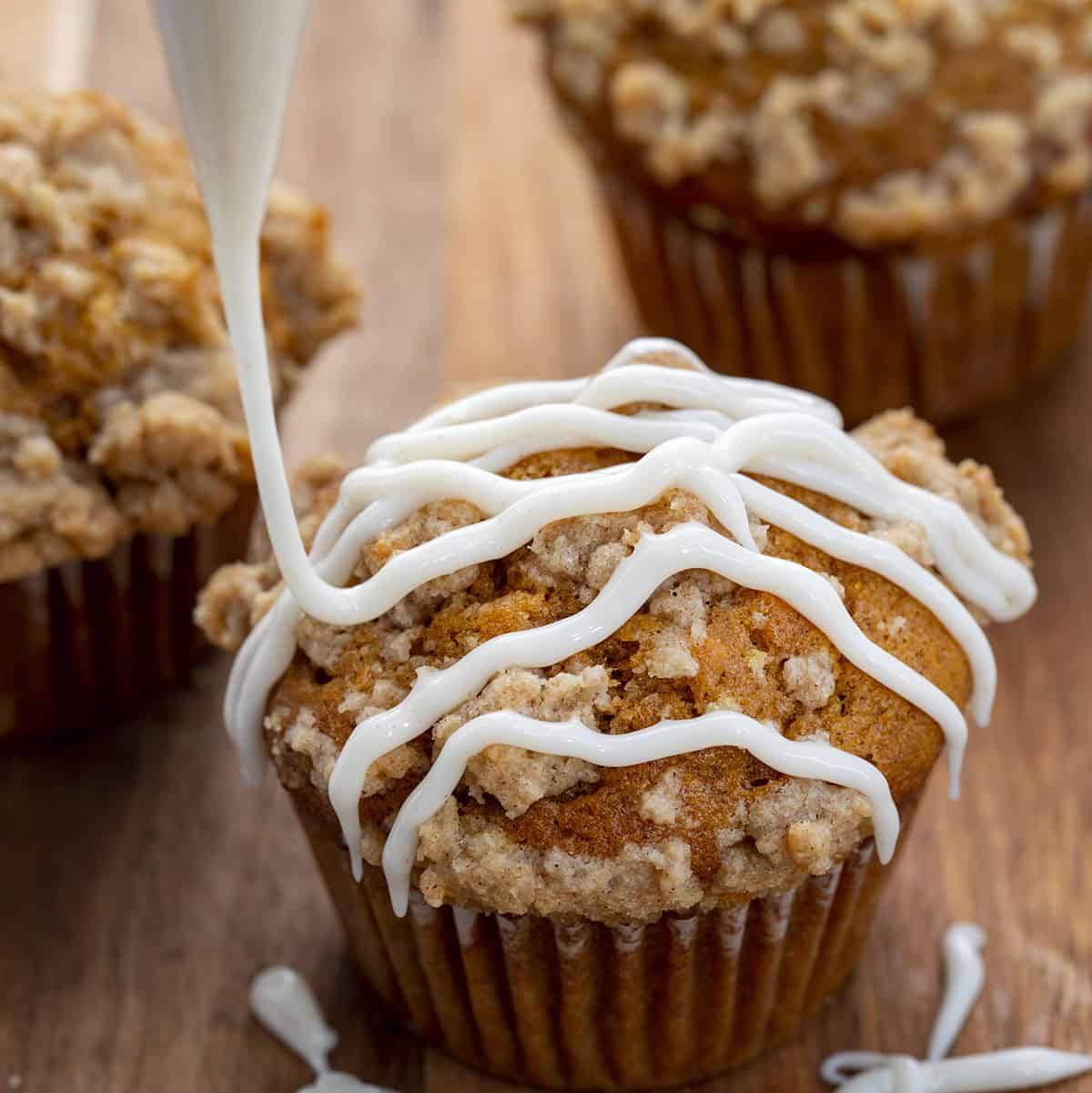 Can I Make Pumpkin Streusel Muffins Ahead of Time?
Sure! In fact, mixing the batter together the night before can oftentimes give you the best results when baking muffins. After you have mixed the wet and dry ingredients (making sure to not overmix), cover the batter and store it in the refrigerator overnight. When ready to bake, simply add the batter to the muffin tins and let the oven do the rest.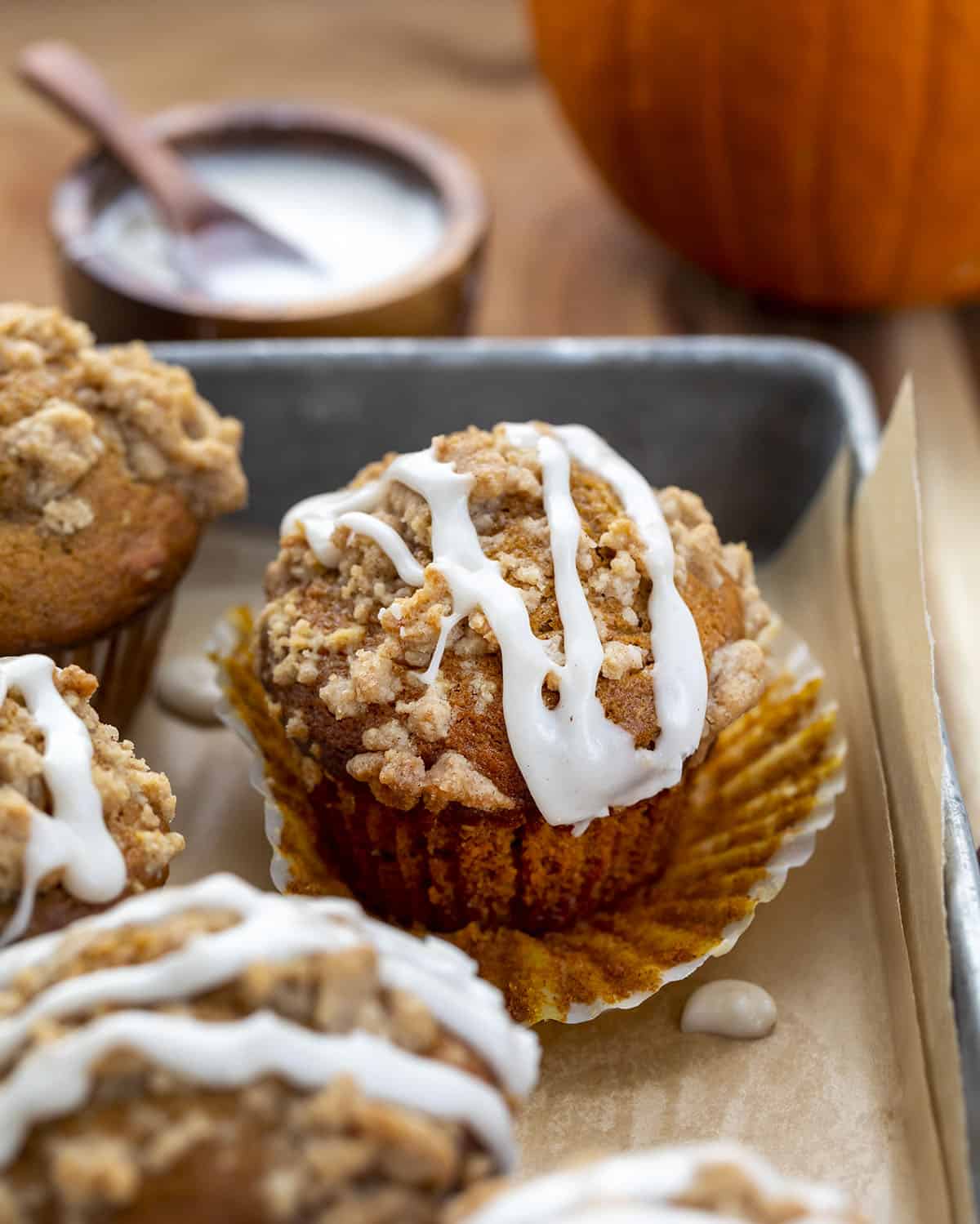 How to Store Muffins
There are a few ways to store the muffins after you have baked them.
Room Temperature: Because they are best enjoyed at room temperature, this is usually the recommended way to storing. I use a larger sealable plastic bag or an airtight container to store the muffins in a single layer. Some folks recommend adding a piece of paper towel to the bottom so that it will soak up any condensation. If your muffins are properly cooled before storing, this may not be necessary. However, if I am using an airtight container, I will often add a piece of bread to the container, torn in half, and fit in between the muffins. The bread will soak up moisture as well. Best enjoyed within 2-3 days.
Refrigerator: Refrigeration, in general, dries out baked goods faster so a typical muffin recipe shouldn't be refrigerated. However, if you choose to refrigerate, first, place the muffins in a sealable plastic bag or airtight container. Then, place it into the refrigerator. They should keep for up to 5 days. To reheat, remove from refrigerator pop into the microwave for 10 seconds or just allow muffin to come to room temperature naturally, about 15 minutes.
Freezer: Place cooled muffins into a freezer-safe sealable plastic bag or a freezer-safe airtight container and pack as closely as possible without crushing. Remove as much air as possible. Label with date and recipe name.
How to Reheat Frozen Muffins
Remove a muffin (or muffins) from the freezer and allow them to thaw overnight in the refrigerator. Or, let the muffins come to room temperature on the counter for a couple of hours.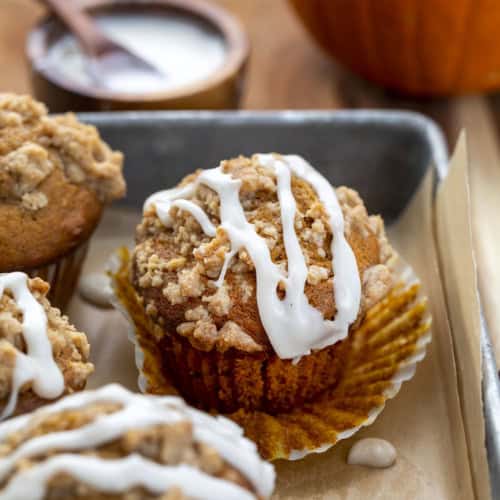 Pumpkin Streusel Muffins
Pumpkin Streusel Muffins are moist pumpkin-flavored muffins baked with a cinnamon streusel topping and drizzled with a cinnamon maple glaze.
Ingredients
Muffins
1

can

(15 ounces) pure pumpkin

2½

cups

(500 g) light brown sugar,

packed

1

cup

(218 g) vegetable oil

½

cup

(122.5 g) whole milk,

room temperature

4

large

eggs,

room temperature

2

teaspoons

vanilla extract

3½

cups

(437.5 g) all-purpose flour

4

teaspoons

pumpkin pie spice

2

teaspoons

baking soda

1

teaspoon

baking powder

1

teaspoon

kosher salt
Cinnamon Maple Glaze
1½

cups

(187.5 g) confectioners' sugar

2

tablespoons

whole milk,

room temperature

1

tablespoon

maple syrup

⅛

teaspoon

ground cinnamon
Instructions
Preheat the oven to 375°F. Line 2, 12-cup muffin tins with muffin liners and set aside. (This recipe makes 21 muffins.)
Muffins
In a medium bowl, whisk together the pure pumpkin, brown sugar, oil, milk, eggs, and vanilla. Set aside.

In a separate bowl, sift together the flour, pumpkin pie spice, baking soda, baking powder, and salt. Set aside.

Add the dry mixture to the wet mixture. Stir together until just combined.

Add a heaping ⅓ cup of batter to each muffin tin cup. (You want the muffin tins full in this recipe so there will be a big beautiful muffin top. The batter should not overflow the liner, however.)
Streusel Topping
In a medium bowl, whisk together the flour, brown sugar, cinnamon, and salt.

Add the melted butter to the flour mixture. Mix with a fork until the mixture is combined.

Add about a tablespoon of streusel topping to each muffin.

Bake muffins for 15-20 minutes, or until a toothpick inserted in the center comes out mostly clean, but a few crumbs are okay.

Allow the muffins to cool completely.
Glaze
In a small bowl, whisk together confectioners' sugar, milk, syrup, and cinnamon. Drizzle over the cooled muffins.
Did you make this recipe?
Thank you for making my recipe! You took pictures, right? Well go ahead and post them on Instagram! Be sure to mention me @iambaker and use the hashtag #YouAreBaker.