I suddenly got this brilliant idea that I wanted to make Red Velvet fudge.  So I sat down and googled it, hoping for a great, no fail recipe.
Those words are very important to a bad recipe follower like myself.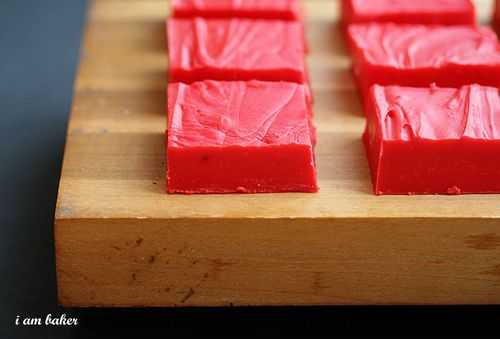 No such luck.
I couldnt even find a match for 'red velvet fudge'.
I was totally dejected.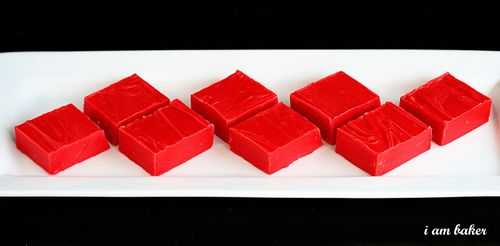 Then it hit me… I could create a recipe!
At the very least, significantly modify an existing one.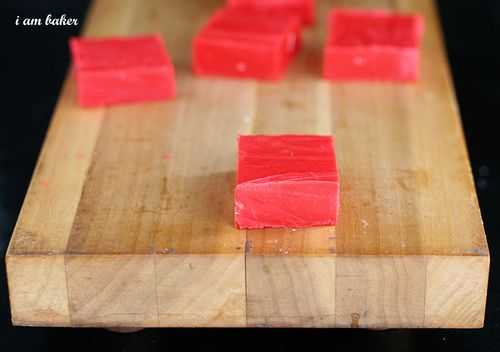 I started here, with Martha's Foolproof Holiday Fudge.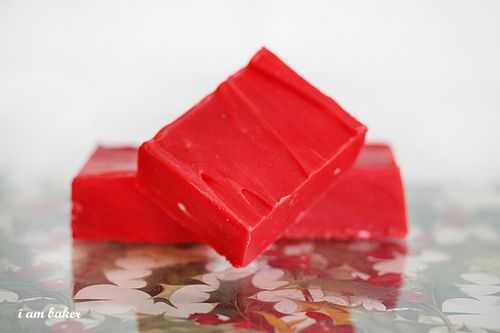 I added food coloring and used white chocolate chips and red cherry flavored chips.
Talk about significant modifications. *snort*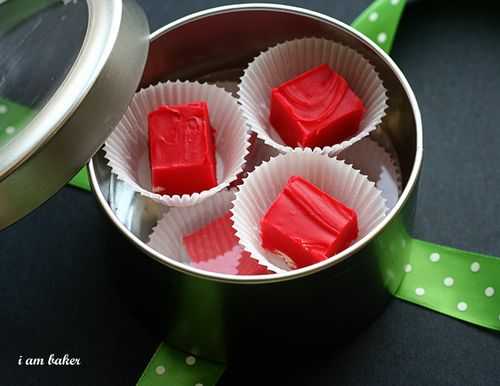 Thing is, this recipe is just not my favorite.  It was good, but not mind blowing.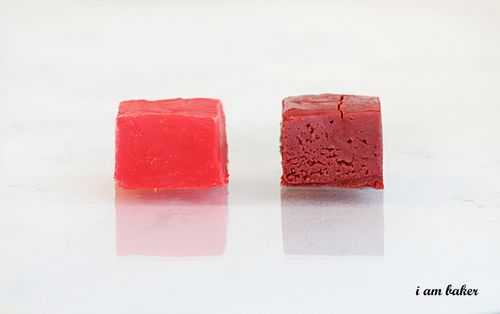 (side by side comparison of the two recipes I made… I love the texture on the second)
So then I found a recipe on allrecipes.com.  I read it twenty seven times.  I read every comment.
I figured, if I could make a recipe for red velvet fudge, like real red velvet fudge, it would be from this one.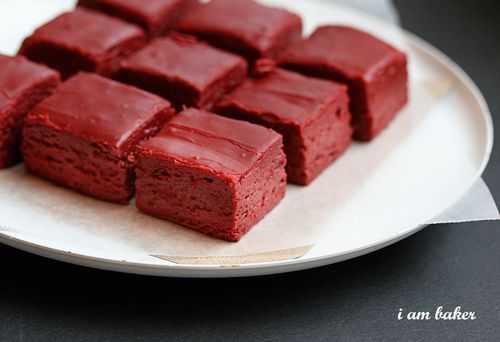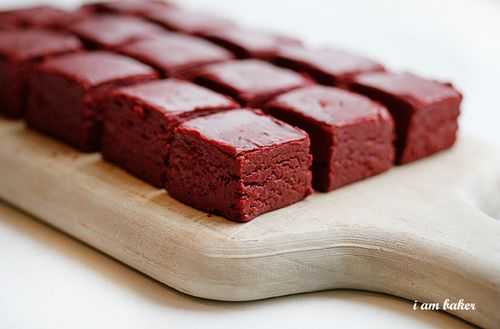 If you ever try this, please let me know what you think!
Happy Holidays!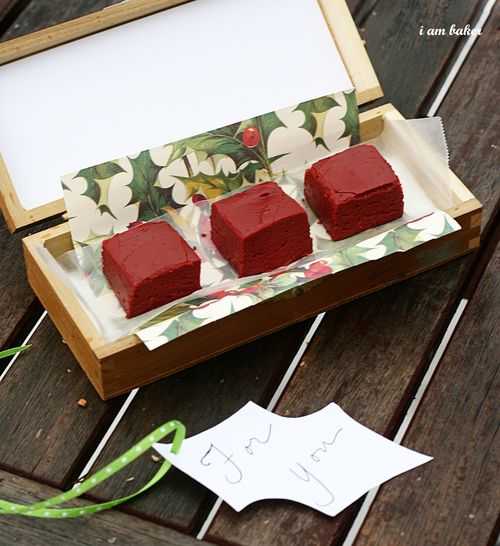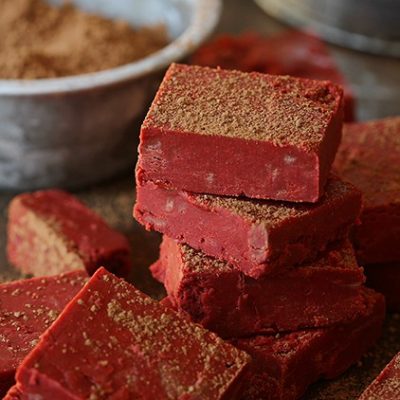 Red Velvet Fudge
I suddenly got this brilliant idea that I wanted to make Red Velvet fudge. So I sat down and googled it, hoping for a great, no fail recipe.
Ingredients
2

c

white sugar

1/4

c

cocoa

1

c

buttermilk

3

tbsp.

butter

1

tsp.

vanilla

1

tsp.

red gel food coloring
Instructions
Using a 5×9 pan (typically same size as banana bread pan, if you want thinner pieces, use 8×8) line pan with wax parchment paper or wax paper.

Make sure you have some extra on all four sides.

Combine sugar, cocoa, buttermilk, sweet condensed milk (if you choose to add it), and food coloring in a non stick pan. (I used a big pot) Stir to combine. Bring to a boil, stirring constantly, but do not scrape down the sides. (to avoid getting crystallized sugar in fudge)

Using a well calibrated thermometer, make sure the fudge gets up to 238 degrees.

Reduce heat and allow fudge to simmer. DO NOT STIR. At all. Like seriously dont even touch the pan.

Allow fudge to cool to 110 degrees and add butter and vanilla.

Beat by hand or use electric mixer until fudge loses its sheen. (I used an electric mixer for 20 minutes. Not kidding. Some folks say this stage takes 3-5 minutes.)

Place in prepared pan and allow to cool, usually 1-2 hours.

This recipe yielded 25 small squares.
Did you make this recipe?
Thank you for making my recipe! You took pictures, right? Well go ahead and post them on Instagram! Be sure to mention me @iambaker and use the hashtag #YouAreBaker.
*Next time I make this I am going to try 1/2 cup buttermilk and 1/2 cup sweet condensed milk… I think it could handle a little more sweetness!
Happy Note to Share:
I had read that a great way to clean your pot after baking fudge is to add some milk, reheat the pot, then enjoy a wonderfully delicious cup cocoa… or in our case,  Red Velvet Hot Cocoa!!
Yes, I really did just say Red Velvet Hot Cocoa.  I actually did that and can attest to its wonderfulness!!