Red Velvet Pound Cake is a delicate, yet dense, cake that has a slight, but not too sweet chocolate flavor with a cream cheese frosting as the icing on the cake, literally! Try my Red Velvet Cake for a more traditional red velvet cake.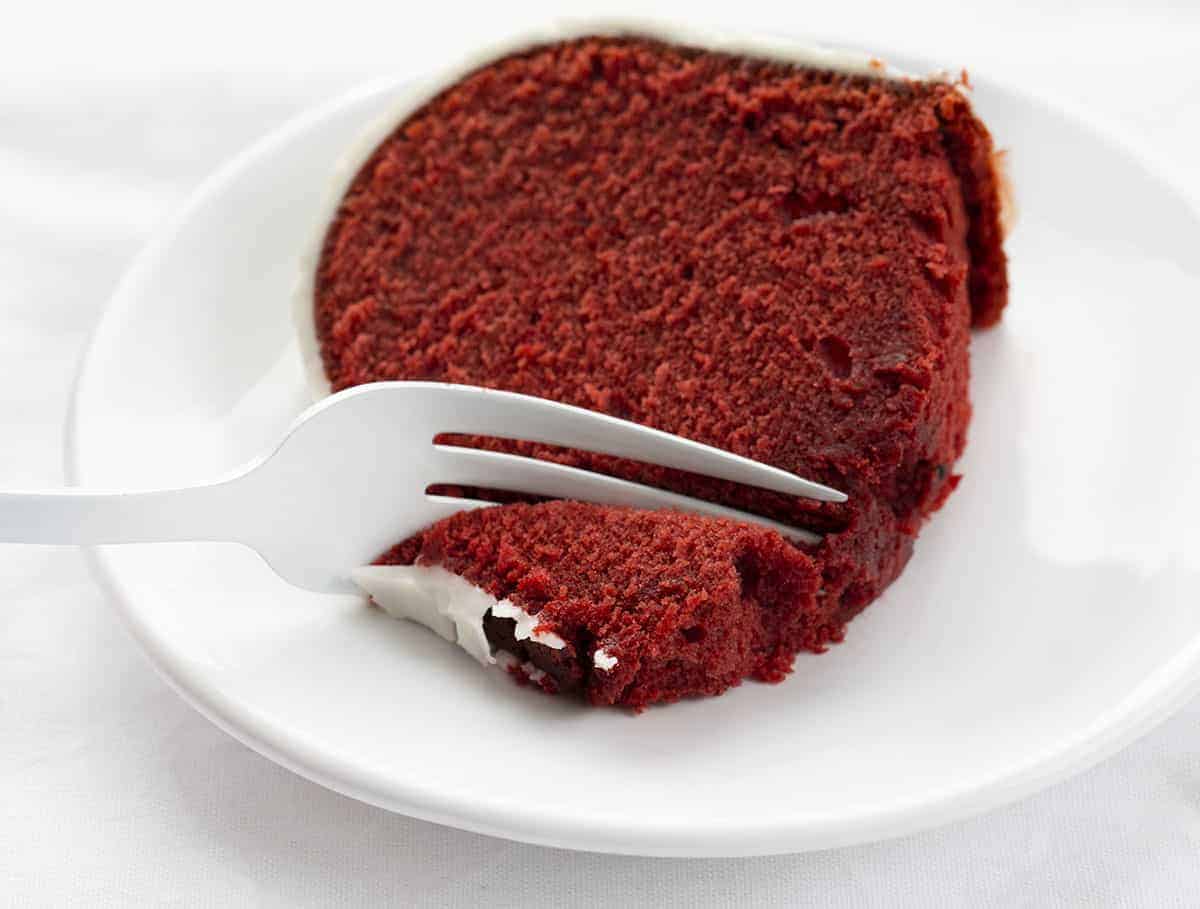 Just look at the velvety crumb!
Red Velvet Pound Cake
It all starts with the perfect cream cheese pound cake for this recipe. Then, a little cocoa powder is added to give the moist cake a hint of chocolate flavor with some added red food coloring for the crimson color. And, of course, like any red velvet cake, I couldn't forget about the thick cream cheese glaze to top it all off.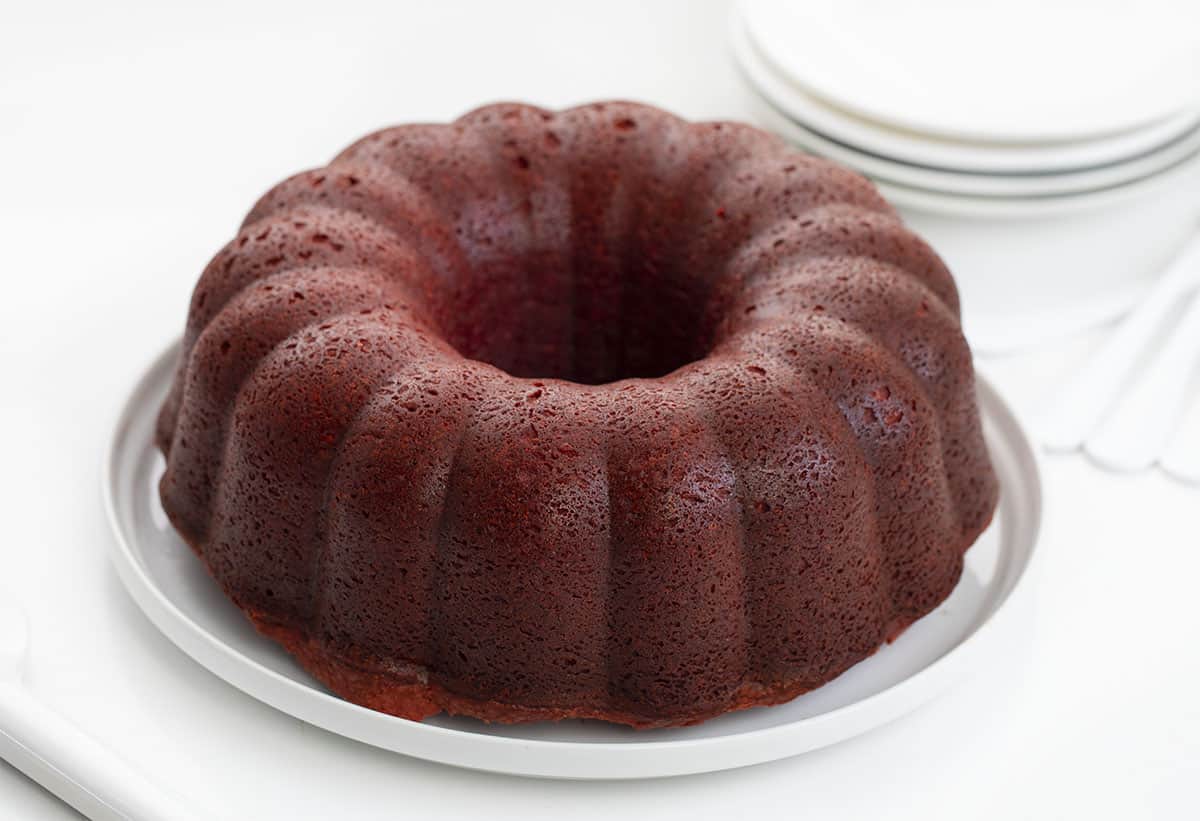 Red Velvet Pound Cake Ingredients
Room Temperature Ingredients: I can't stress enough that this cake needs to be made with room temperature ingredients. This will ensure easier mixing and helps achieve that perfect crumb.
Cake Flour: Cake flour brings a more fine crumb to cakes. It is lower in protein than all-purpose flour, which gives baked goods a delicate, tender crumb. You can easily make your own homemade cake flour if you don't have any on hand.
Buttermilk: Use full-fat buttermilk in this recipe. In fact, I would recommend making your own homemade Buttermilk!
Red Food Coloring: Start with one teaspoon of red food coloring. You can always add more until you get the shade of red you are going for.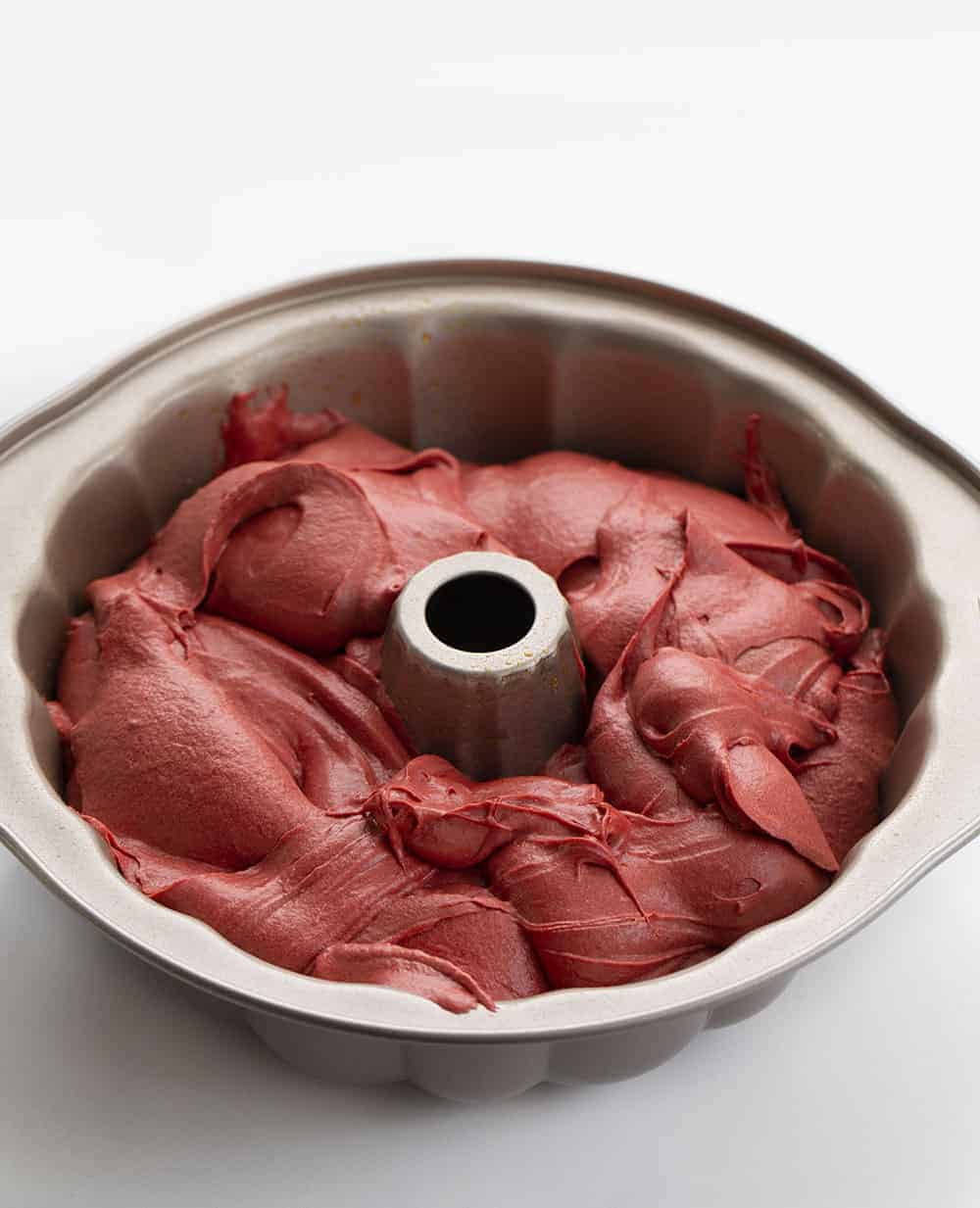 How to Store & Freeze Pound Cake
Typically, pound cakes are stored at room temperature for 2-3 days to keep the texture and flavor as close to freshly baked as possible. However, this pound cake includes the cream cheese frosting, which should be refrigerated if not served within a day (at the most). Covered, it will last in the refrigerator for up to five days.
To freeze the pound cake, I would recommend freezing it without the frosting. Wrap the cake in a couple of layers of plastic wrap and a layer of aluminum foil. The cake can be frozen for up to 3 months. Let it thaw overnight in the refrigerator when ready add the glaze and serve.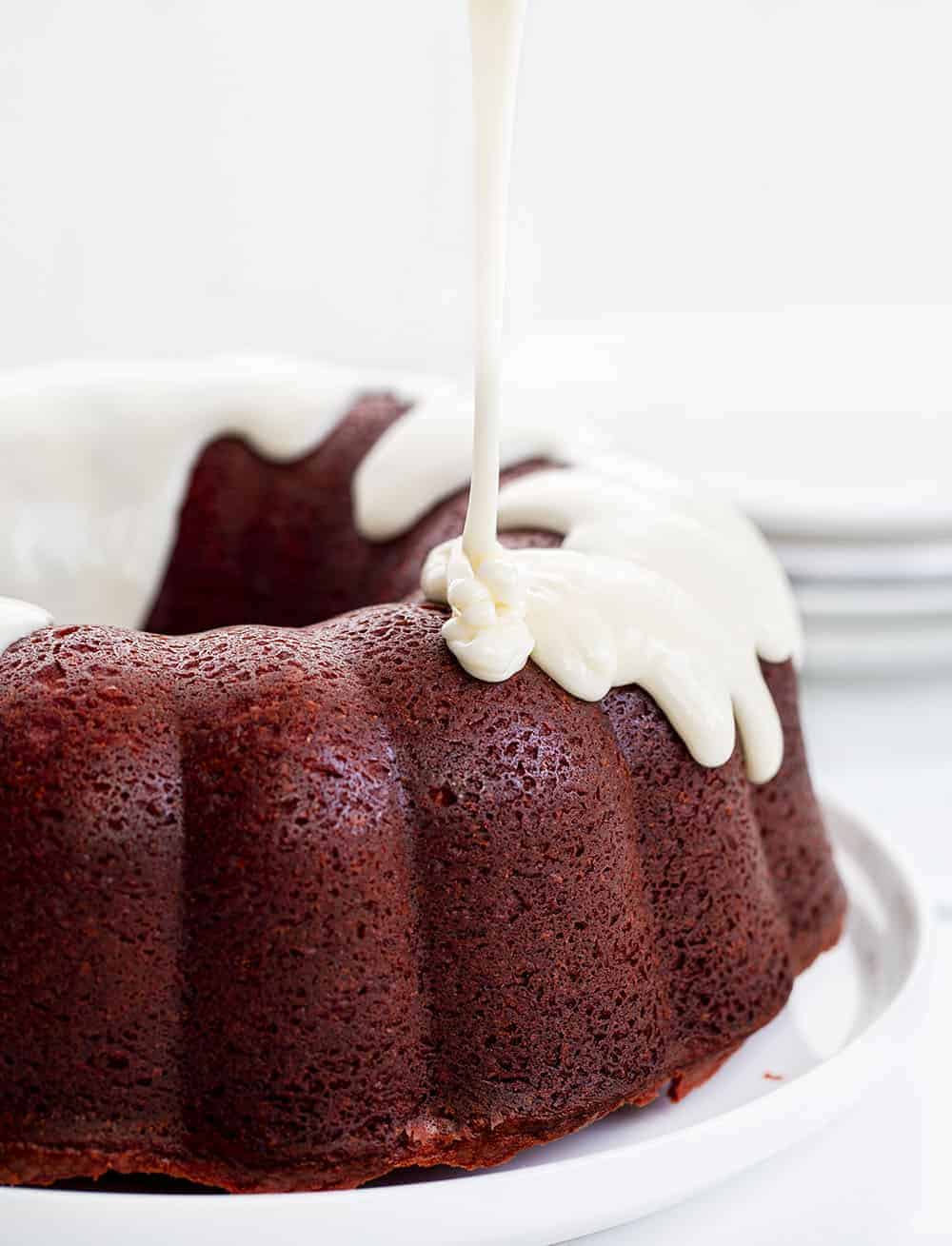 How to Know When Your Pound Cake is Done Baking
This can be tricky, but it is super important as you don't want to overbake it. The outside of the cake should appear firm and done, but should not be burnt. I know folks always recommend making sure your oven is calibrated (heck, even I recommend that in most cake recipes) but the truth is few of us actually do that. What we do know is the general hotness of our ovens. For instance, when you are baking a casserole or cupcake do you notice that the back edge is crispy and the front is still a bit raw? Then simply rotate your pound cake about 40 minutes into baking. Or do you notice that the top gets brown quickly but the bottom isn't baked? Place your pound cake on the lowest rack in your oven.
My favorite method of testing involves a long skewer, but you can also use a toothpick. Around the 55min mark, insert the skewer (or toothpick) and then remove it. (Be careful, I have more burns on my hands than I care to admit.) If you see a few crumbs that is GOOD, your pound cake is done baking. Wet batter on the skewer means it needs to bake longer. If you happen to notice that the top is browned but your pound cake still needs to bake, you can gently cover it with a foil tent to make sure it will not brown anymore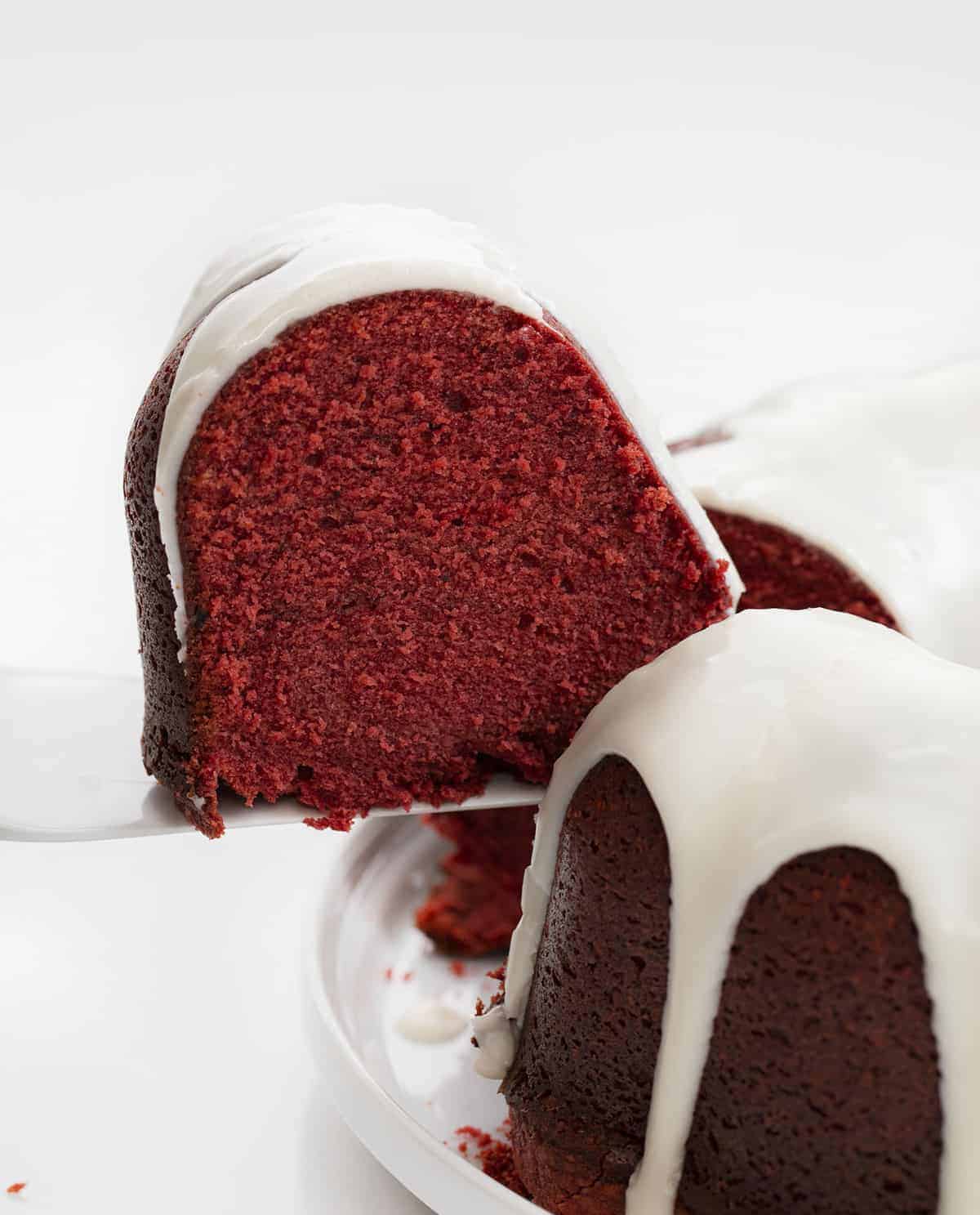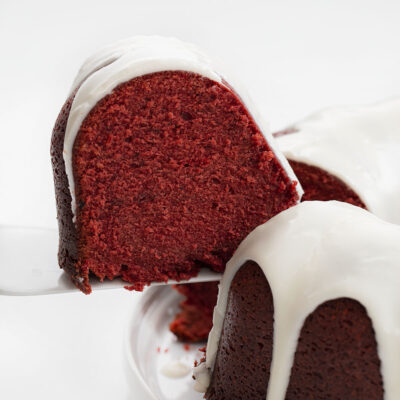 Red Velvet Pound Cake
Red Velvet Pound Cake is a delicate, yet dense, cake that has a slight, but not too sweet chocolate flavor with a cream cheese frosting as the icing on the cake, literally!
Ingredients
1

package

(8 ounces) cream cheese,

room temperature

1¼

cups

(2½ sticks / 284g) salted butter,

room temperature

3

cups

(600 g) granulated sugar

6

large

eggs,

room temperature

2

teaspoons

vanilla extract

3

cups

(375 g) cake flour

¼

cup

(29.5 g) cocoa powder

¼

cup

(60 g) buttermilk,

room temperature

1-3

teaspoons

red food coloring,

or enough to reach the desired color
Cream Cheese Frosting
4

ounces

cream cheese,

room temperature

2½

cups

(312.5 g) confectioners' sugar

2

tablespoons

whole milk

1

teaspoon

vanilla
Instructions
Preheat oven to 325°F. Prepare a large bundt pan with butter and flour or by spraying with non-stick spray. (My 10-inch bundt pan is 3 inches deep. There should be at least 1 1/2 inches between the height of the batter and the top edge of the pan.)

In the bowl of a stand mixer fitted with the paddle attachment, combine cream cheese and butter until smooth, about 3 minutes.

Gradually add the sugar and mix until light and fluffy.

Add the eggs, one at a time, mixing well after each addition, followed by the vanilla.

Slowly add the cake flour and cocoa powder. Mix until combined.

Remove bowl from stand mixer and pour in the buttermilk. Mix by hand until just incorporated. Use a rubber spatula to scrape the sides of the bowl to get every last bit of ingredient incorporated.

Fold in the food coloring, one teaspoon at a time, until the desired color is reached.

Pour batter into prepared bundt pan. Bake for 1 hour to 1 hour and 20 minutes. Check for doneness at 1 hour. (The cake is done when a toothpick inserted into the center of the cake comes out with a few crumbs, but no wet batter.)

Allow cake to cool to room temperature before inverting on a plate and adding frosting.
Cream Cheese Frosting
In a medium bowl combine the cream cheese, sugar, milk, and vanilla. Mix until smooth.

Drizzle frosting over cooled pound cake. Cut and serve.
Did you make this recipe?
Thank you for making my recipe! You took pictures, right? Well go ahead and post them on Instagram! Be sure to mention me @iambaker and use the hashtag #YouAreBaker.