My favorite Rice Krispy Bars are homemade goodness! I make my own marshmallow and end up with the softest, gooiest Rice Krispy bar ever. I made this recipe into Oreo Rice Krispy Bars too!
Rice Krispy Bars
Does the internet really need another Rice Krispy bar recipe? The answer is yes. This recipe is slightly different in that I make my own marshmallow instead of using store-bought, but also in the ratios. I add fewer Rice Krispies than the usual recipe so that there is a LOT of marshmallow. This is just my preference when making the perfect rice crispy bar, feel free to change things up to make this recipe fit your preferences!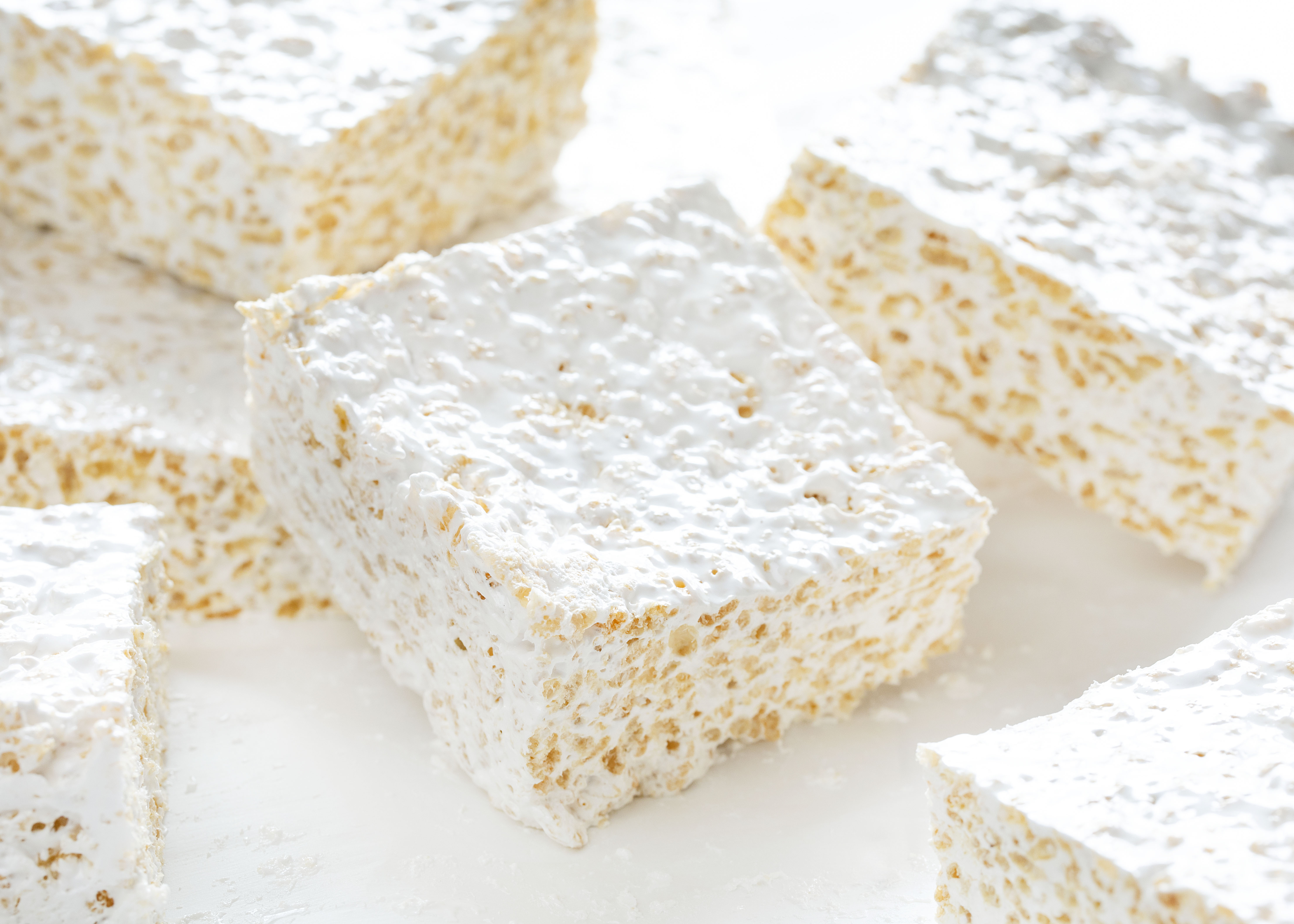 Homemade Marshmallow for Rice Krispy Bars
If you read through this I promise you I will give you every single tip and trick to make your own marshmallow for these bars. It doesn't have to be intimidating and once you have done, it's actually quite easy!
The ingredients for homemade marshmallow are:
gelatin
water
sugar
corn syrup
butter
vanilla
salt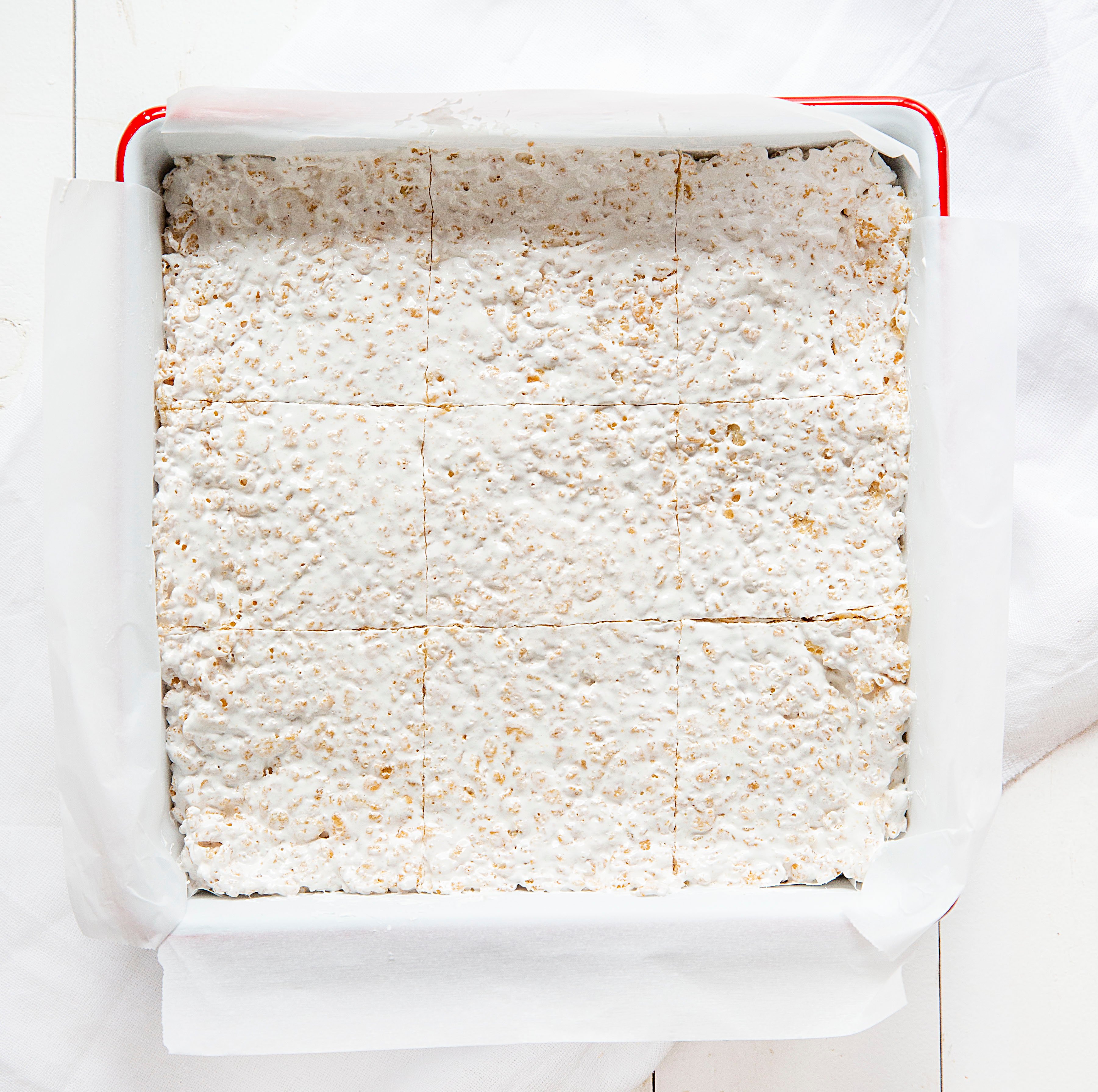 To Make Homemade Marshmallow
Start with your stand mixer with the whisk attachment. Add 1/2 cup of water to the mixer bowl and then pour the gelatin over top. Now move to your stovetop.
In a large saucepan over medium-high heat, add 1/2 cup water, the granulated sugar, and corn syrup. Stir to incorporate. Add a candy thermometer* to the side of the pan and allow the temperature to get to 240°F. I do not stir while the sugar mixture is heating.
Turn the stand mixer on it's lowest setting and slowly drizzle the hot sugar mixture into the bowl of the stand mixer where your gelatin has bloomed. Once all of the sugar mixture has been added, turn the mixer on high and let it fluff up. Sometimes it will double in size, sometimes a bit more, but the volume will always increase and the mixture will turn white and fluffy. Let it beat on high for 5 minutes.
Turn the mixture back down to the lowest setting and add in the melted butter, vanilla, and salt. Let the ingredients incorporate for about 30 seconds and then turn back on high for about 2 minutes.
*If you do not have a candy thermometer you will want to cook the sugar to soft ball stage.
Soft-Ball Stage235˚-240˚ – Dropping the sugar mixture into cold water, it will have the consistency of a soft flexible ball. This stage is perfect for caramels or fudge, or in this case marshmallows. Be very careful as the sugar mixture is hot and you do not want to burn yourself.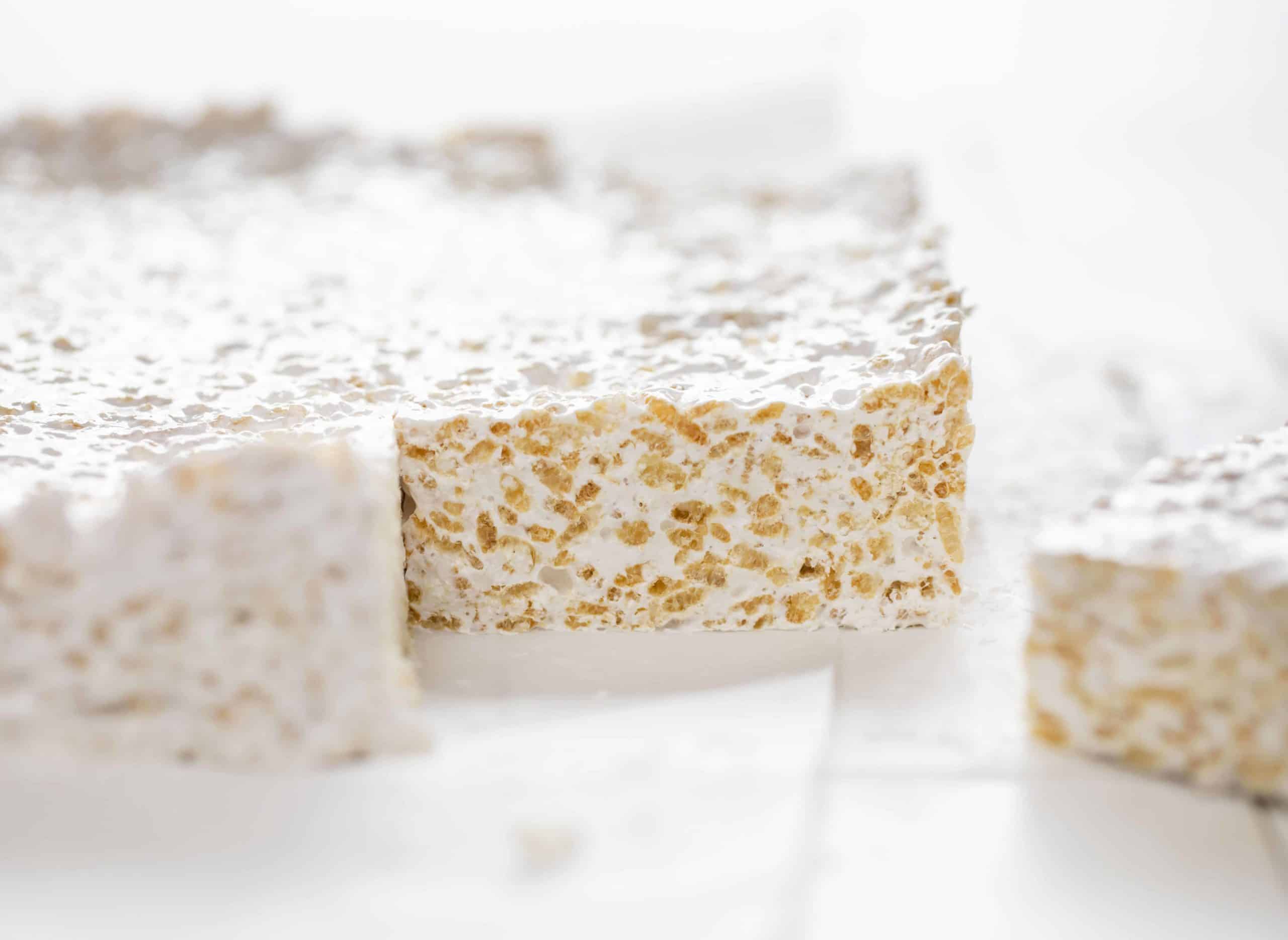 While your marshmallow is on its final mixing, make sure you have your pan prepared. I lined a 9×9 pan with 2 pieces of parchment paper in a cross pattern. I cut two pieces the width of the pan but long and then laid one in the pan then the other across it. Think + plus sign. This makes for easy removal.
Sidenote: If you want THICKER Rice Krispy bars, you can certainly use an 8×8 pan. I used an 8×8 pan with my Oreo Rice Krispy Bars and they are mile-high!
Turn off your mixer and remove the whisk. Add the Rice Krispy cereal to the mixer bowl and stir the ingredients together by hand. The marshmallow will start to stiffen slightly, so work quickly and efficiently.
Pour (or pile! 😂) the Rice Krispy mixture into your prepared pan and press down. I will sometimes spray my spoon with non-stick spray so that it pats down easier.
You can leave the bars out at room temperature to firm up or you can pop them into the refrigerator for about 15 minutes.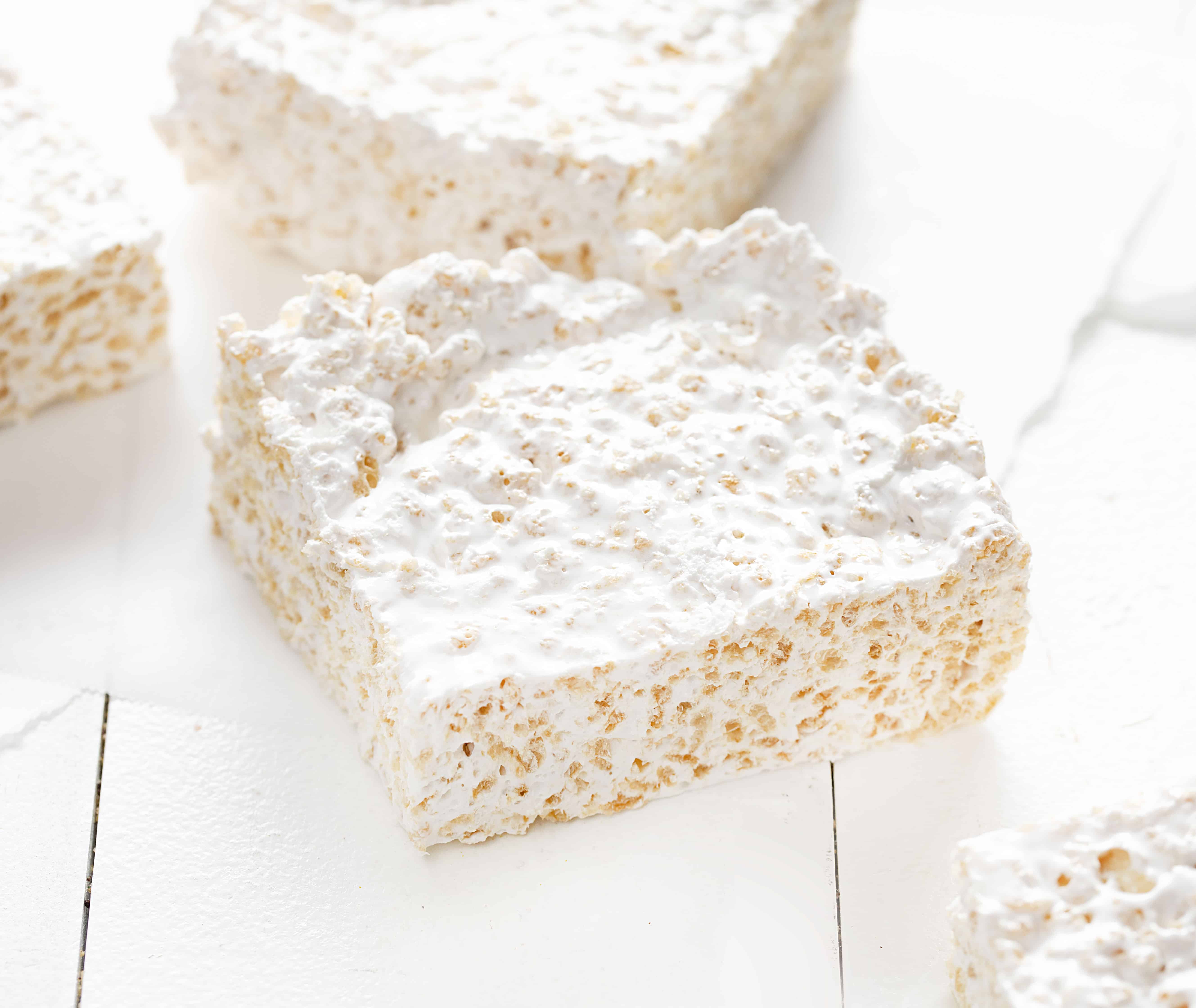 Why these are My Favorite Rice Krispy Bars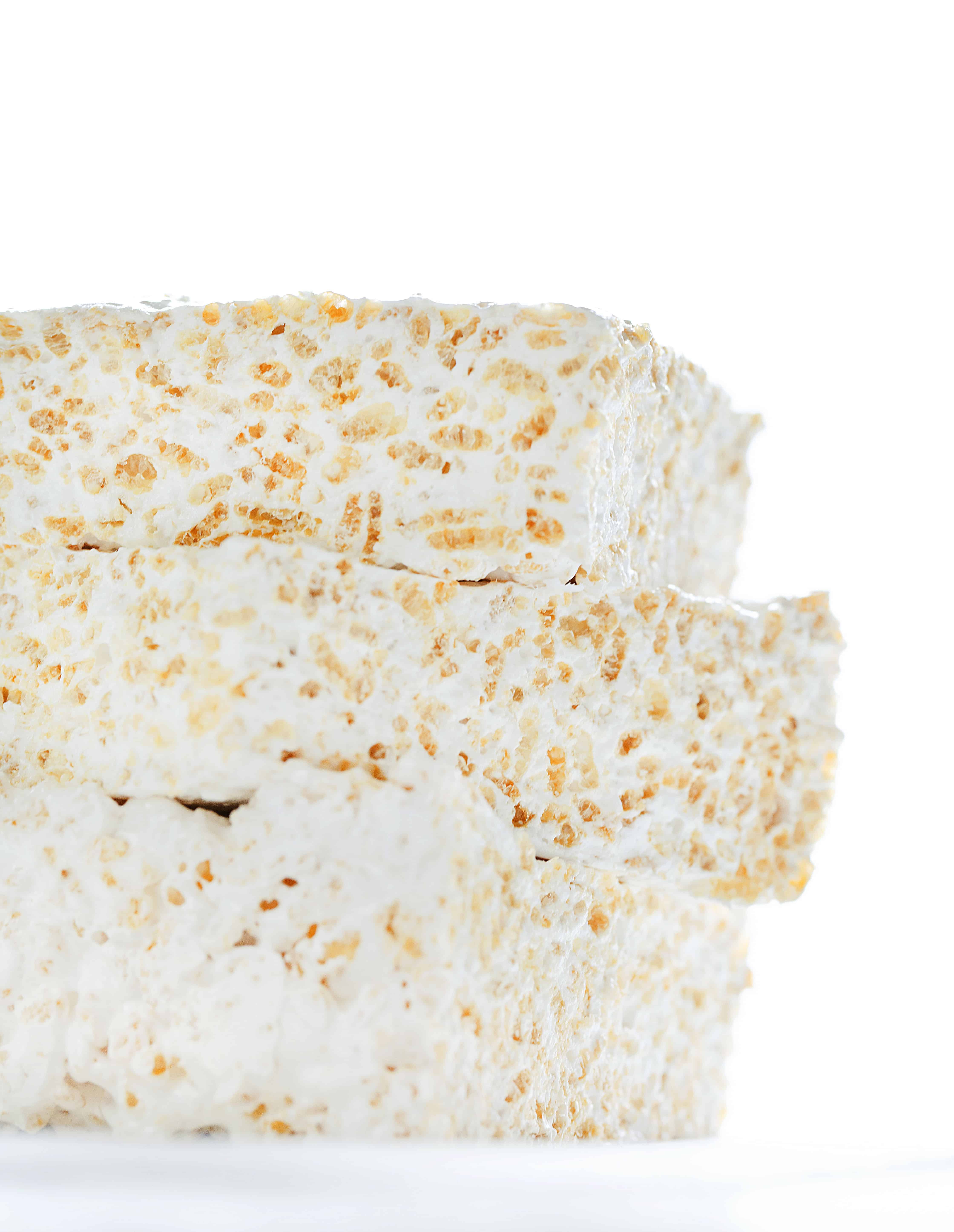 Well, the first is the taste. You just can't beat the pure flavor of homemade marshmallows! The second is the texture. These are chewy and soft. There are fewer Rice Krispies than the traditional recipe (which calls for 8 cups, mine has 6) so the marshmallow really is the star. After you bite into a Rice Krispy bar with the texture and flavor of this recipe, you will probably never want a regular Rice Krispy bar again!
Variations for these Rice Krispy Bars
Yes, you can add more Rice Krispies! My recipe calls for 6 cups, you can add up to 8 cups if you prefer extra crunch! You can also use cocoa Krispies or fruity pebbles for a fun twist.
Try adding 2 cups of mini marshmallows when you add in the Rice Krispy cereal.
If you do not want to use corn syrup you can use maple syrup or even honey. If you opt for the maple syrup route, try adding in maple extract for a Maple Rice Krispy Bar!
To make chocolate marshmallows, add in 3 tablespoons of unsweetened cocoa powder.
Try changing up your extracts… like use orange, strawberry, or banana extract for a fruity twist.
This amazing base recipe for Rice Krispy Bars is one that you can truly customize to fit your tastes!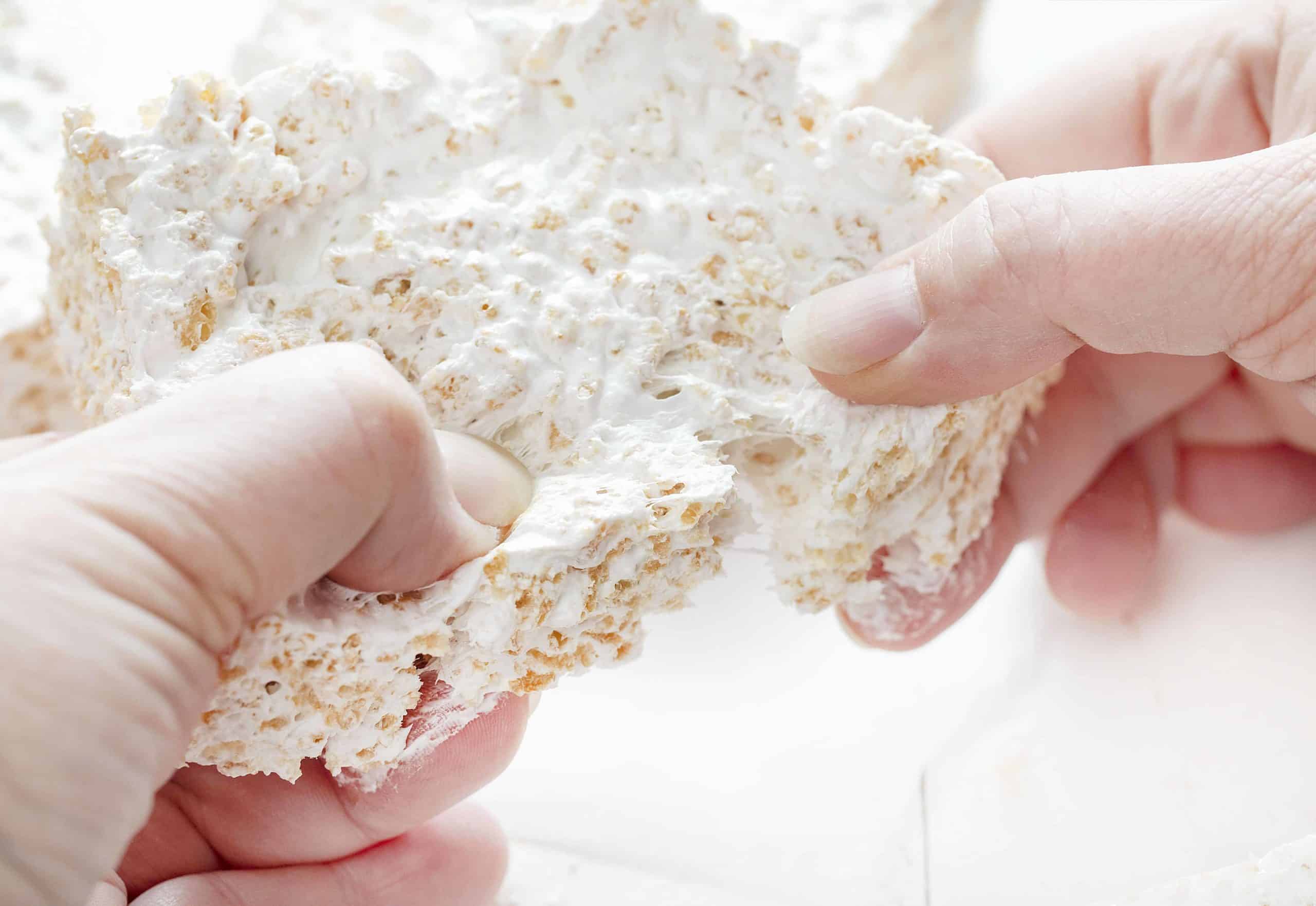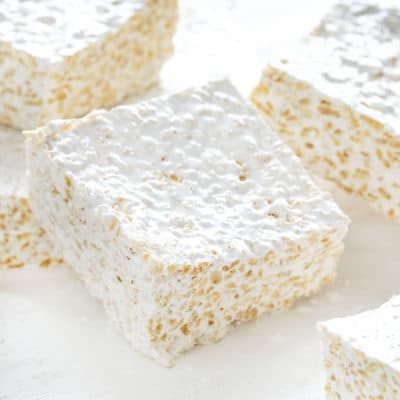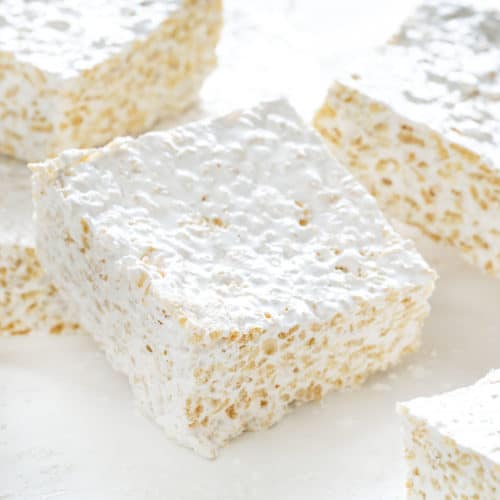 Homemade Rice Krispy Bars
These rice krispy bars are chewy, gooey, and absolutely delightful! My homemade marshmallow is what puts them over the top!
Ingredients
HOMEMADE MARSHMALLOW
½

ounces

unflavored gelatin powder

1

cup

(237 g) water,

divided

1

cup

(200 g) granulated sugar

1

cup

(336 g) light corn syrup

4

tablespoons

butter,

melted and cooled

1

teaspoon

good quality vanilla,

(can use up to 1 more teaspoon if desired)

⅛

teaspoon

kosher salt
RICE KRISPY BAR
6

cups

Rice Krispy cereal
Instructions
Line a 9-inch square baking dish with parchment.
Homemade Marshmallows
Mix gelatin and 1/2 cup of the water in the bowl of an electric mixer. Prepare the sugar mixture and while you are doing this the gelatin will bloom.

In a small saucepan, bring 1/2 cup of water, sugar, and light corn syrup to a boil.

Boil until it reaches 240°F and then remove the pan from heat. (this usually takes about 6 minutes)

With the mixer on medium speed and using the whisk attachment, slowly pour the hot liquid into the gelatin.

Increase the speed to high and beat mixture until it becomes white and fluffy (about 5 minutes)

Turn the mixer to low and add in melted butter, vanilla, and salt. Allow to mix on high for another minute or so and then remove the bowl from the stand mixer.
Rice Krispy Bars
Add in Rice Krispies and stir by hand. Stir until everything is well-coated, this should take about a minute and a little elbow grease.

Transfer the mixture to the prepared baking dish.

Refrigerate for 10-15 minutes (or up to overnight) to make sure the marshmallows set.

Serve and enjoy!
Did you make this recipe?
Thank you for making my recipe! You took pictures, right? Well go ahead and post them on Instagram! Be sure to mention me @iambaker and use the hashtag #YouAreBaker.
Looking for Other Delicious Bars to Share?
Snickerdoodle Rice Krispy Bars