Take a classic Rice Krispy bar and kick it up a notch with Snickerdoodle! I made my (now) famous Snickerdoodle Recipe and added it to rice Krispies. I have to tell you, they are completely addictive!!
Snickerdoodle Rice Krispy Bars
When I had the idea for these cookies I knew I had to make it immediately. So I made some snickerdoodle cookies and then used my variation of the original recipe for Rice Krispy treats. I am making these again today but instead going to use My Favorite Rice Krispy Bar recipes, which just happens to use homemade marshmallow. This recipe inspired me so much and tastes SO amazing I just know both versions are going to be winners!
But let me tell you about how this version tastes. Think… Rice Krispy Bar. Then think about a warm, fresh-from-the-oven, chewy snickerdoodle cookie. Mash them together and get ready for people to look at you with awe and wonder. My husband actually said this is the BEST rice Krispy bar he has ever had, ever. And he is kinda picky about his sweet treats!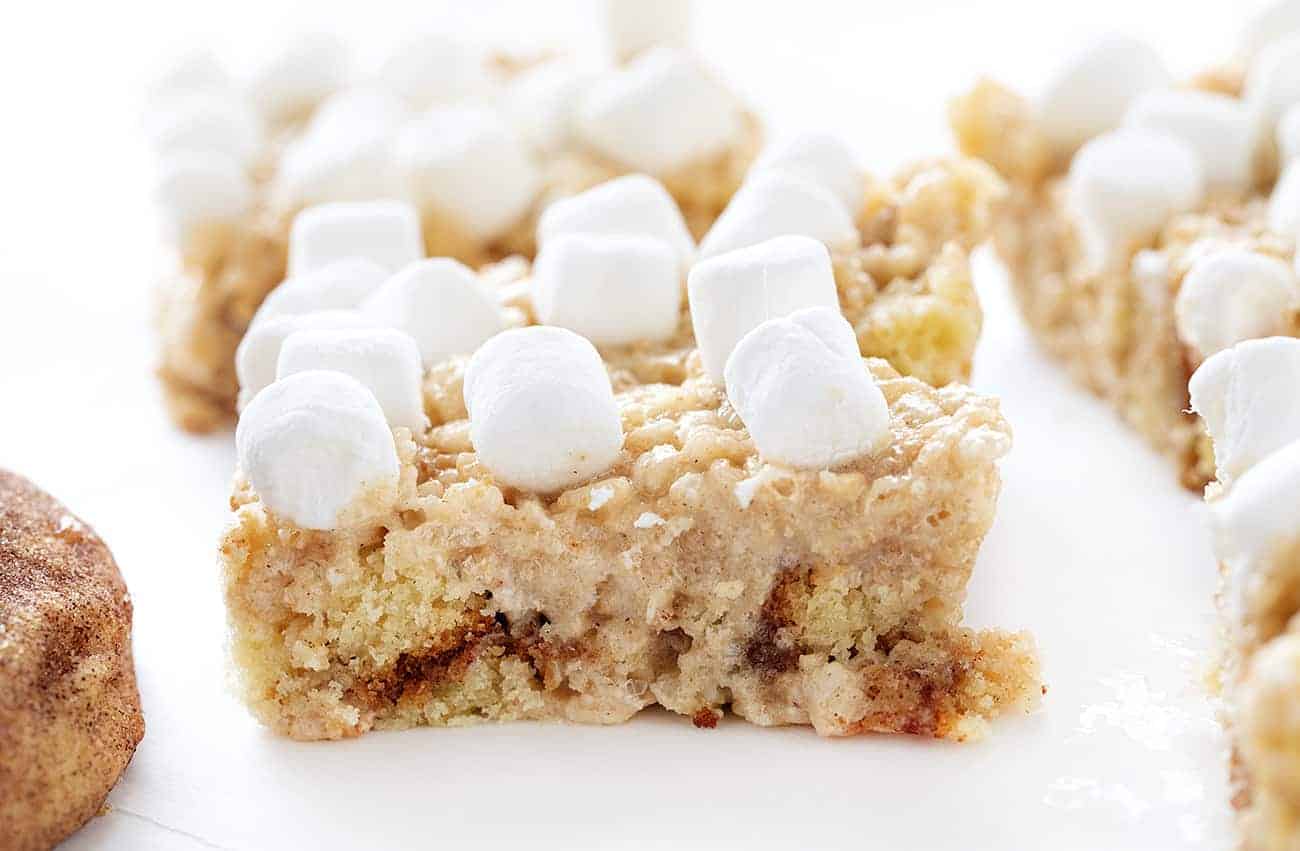 Just look at the cookie chunks in that ooey gooey marshmallow!
How to Make Snickerdoodle Rice Krispy Bars
I start by making up a batch up my Snickerdoodle Recipe. You want the cookies to be cooled before adding to the rice Krispy mixture, and this can be done a day or more in advance. Next, grab your ingredients:
Butter – you can use salted or unsalted, both work great in this recipe. I use far more than the recommended amount!
Marshmallows – I use big marshmallows for the main recipe then add mini marshmallows on top. This is optional, but I like how it looks on the final rice Krispy bar as the cinnamon tends to turn the mixture a soft golden brown… the mini marshmallows brighten it up a bit and of course, taste great!
Cereal – Rice Krispies of course. However… you can use other cinnamon varieties like Cinnamon Toast Crunch, Cinnamon Chex, even Golden Grahams!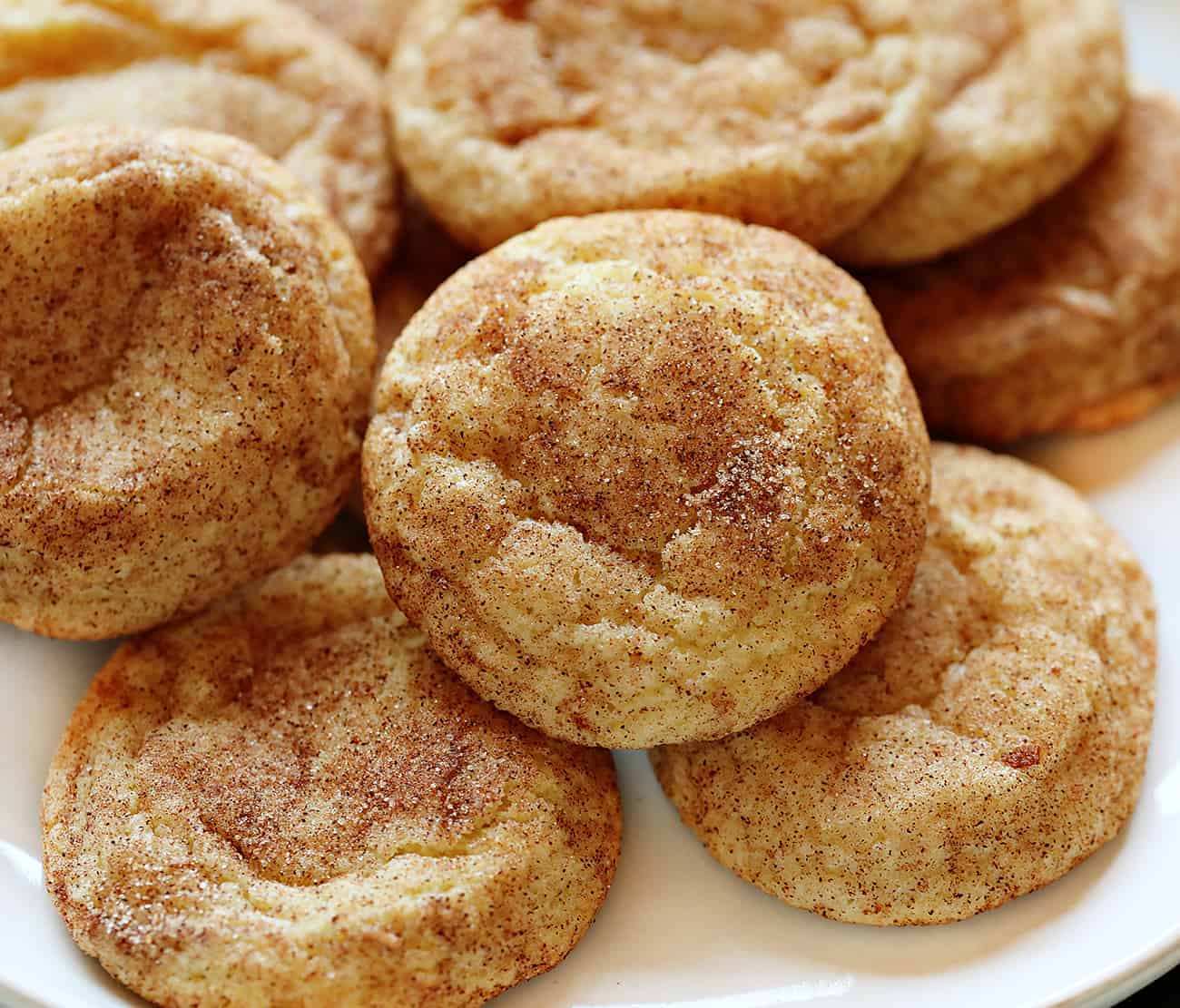 When you are ready to make the snickerdoodle rice Krispies, chop up the snickerdoodle cookies. You'll want 3 cups total, which is about 12 cookies depending on how big your cookies are. Here's how those cookies are divided up!
2 cups of the chopped snickerdoodles are added in when you add in the Rice Krispies. Just stir the cookies and cereal into the melted marshmallow… this is when your kitchen is going to start smelling amazing as the warm marshmallow brings the cinnamon alive again!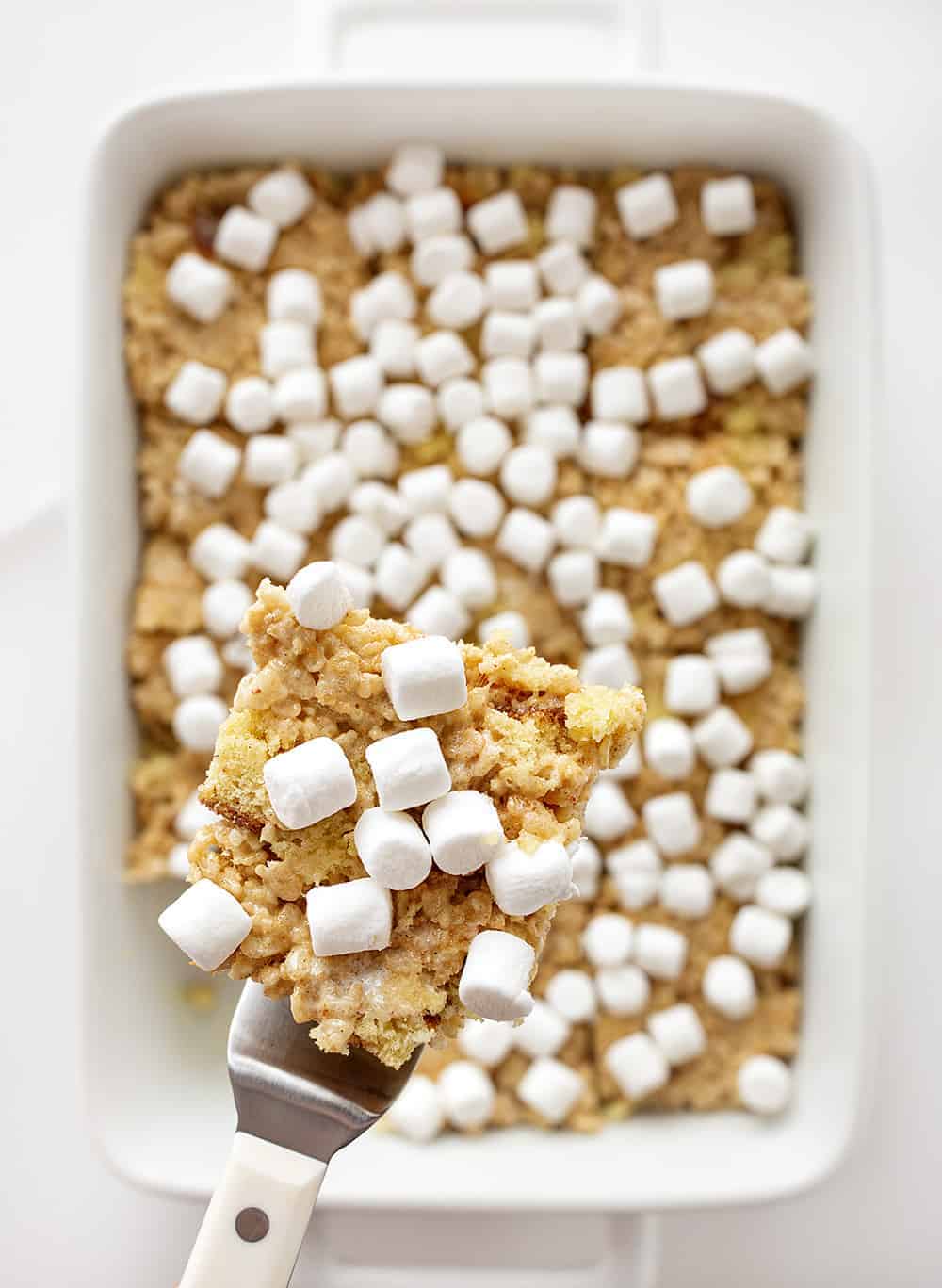 The remaining 1 cup of chopped cookie is added as a middle layer in the bars. Pour half of the rice Krispy mixture into a prepared (buttered or sprayed with non-stick spray) 9×13 pan. You can also use an 8×8 pan if you want extra thick bars! Add the chopped snickerdoodle cookie and press down. Pour remaining rice Krispy mixture on top, cover with mini marshmallows, and press down. It's that easy!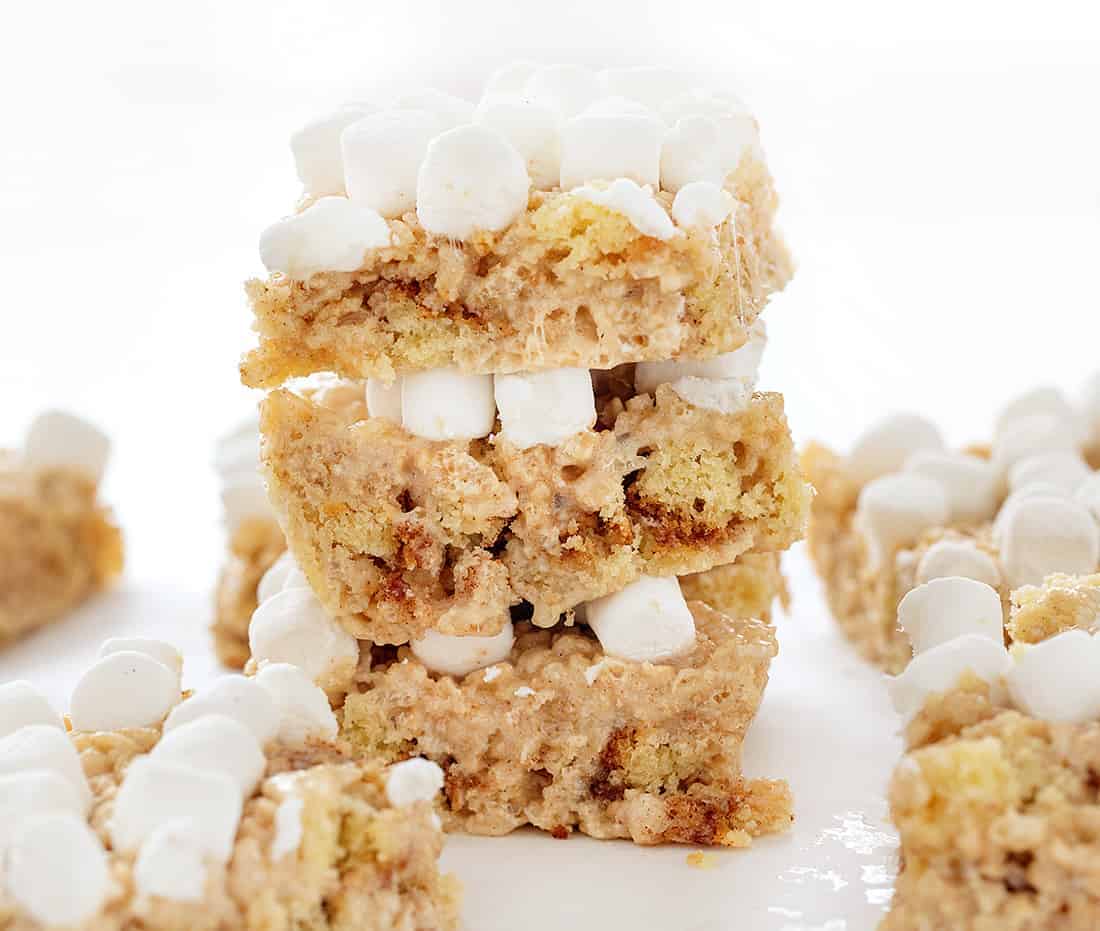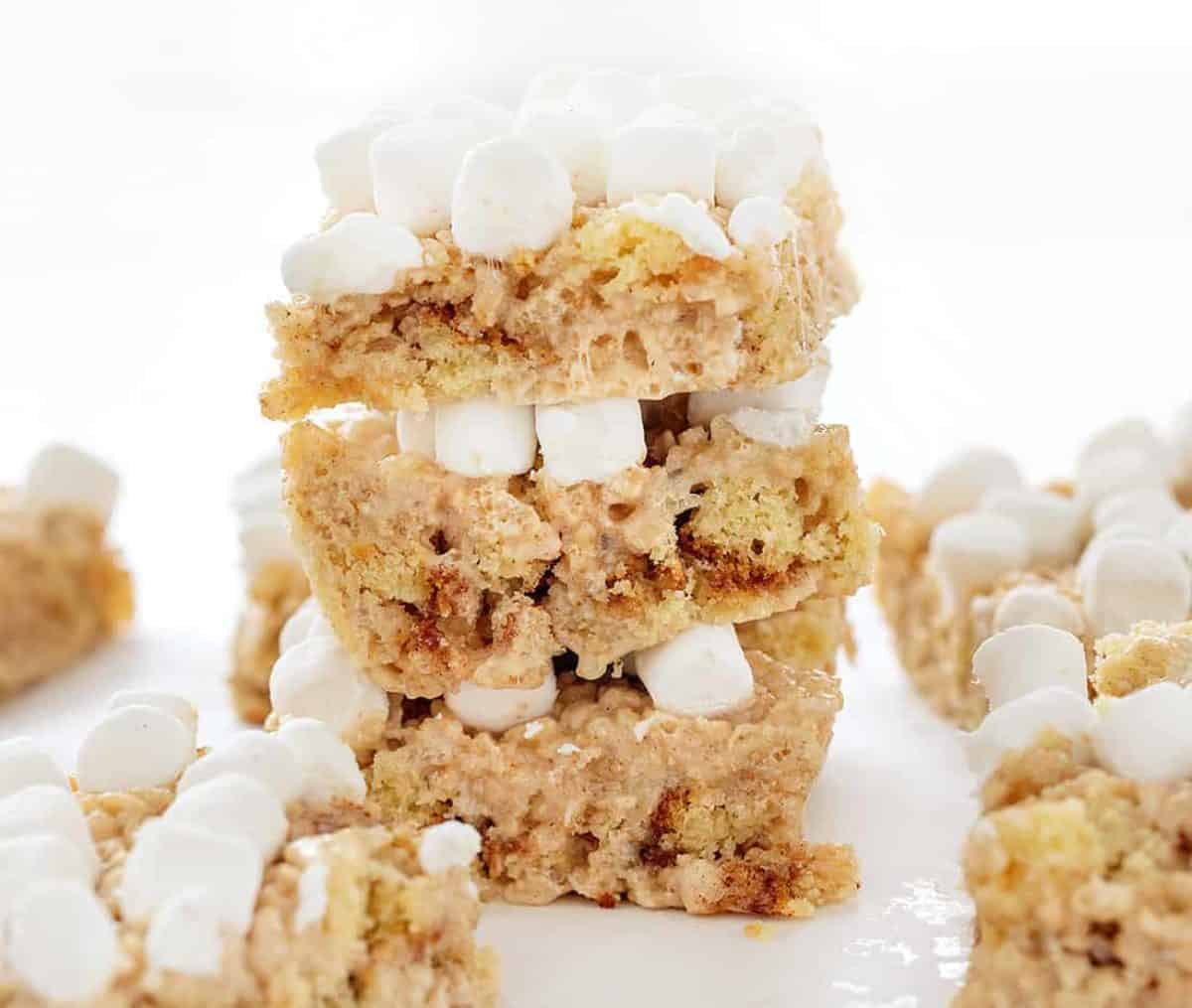 Variations for Snickerdoodle Rice Krispy Bars
Yes, you can add more Rice Krispies! This recipe calls for 6 cups, you can add up to 8 cups if you prefer extra crunch! You can also use Cocoa Krispies for a chocolate snickerdoodle bar!
Try adding 2 cups of mini marshmallows when you add in the Rice Krispy cereal in addition to the mini marshmallows on top.
To make double chocolate snickerdoodle bars, add in 3 tablespoons of unsweetened cocoa powder and
Try adding extracts… like, add some vanilla or coffee or cinnamon extract for an extra kick!
How to Store Snickerdoodle Rice Krispy Bars
The classic treats can be stored for a couple of days in an airtight container at room temperature.
If you are making a lot of bars and want to freeze, follow these simple steps!
Cut the finished Snickerdoodle Rice Krispies treats into bars.
Arrange bars on the bottom of an airtight container. Place a sheet of parchment paper (or wax) on top of (and between if using a bag) the bars. Repeat layers if needed. You can also place the bars in a plastic storage bag if they are separated with the parchment.
Seal the container and date the container.
Place in the freezer. When ready to serve, let frozen treats stand at room temperature for 15 minutes before serving.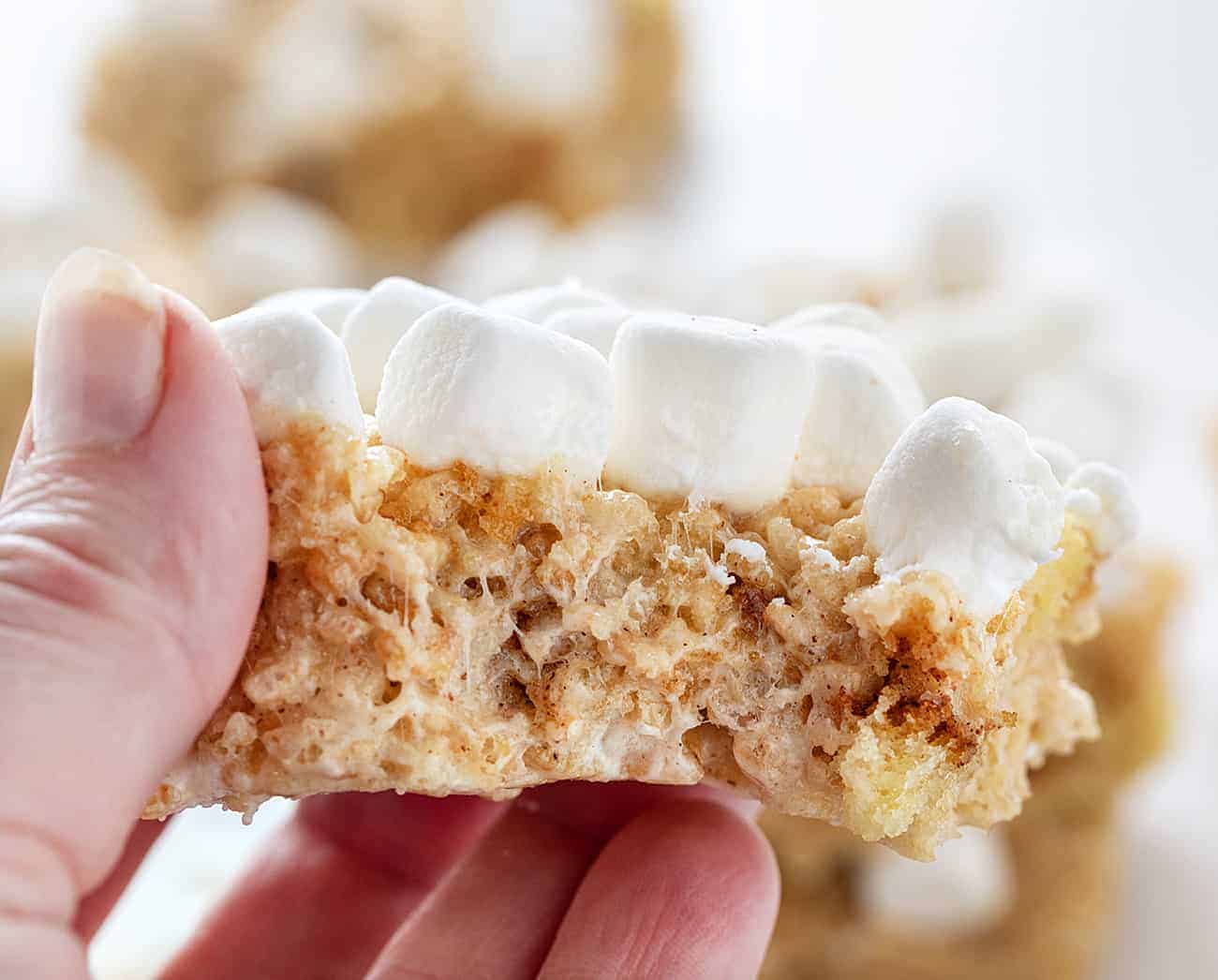 These bars are loaded with flavor and serious ooey-gooey deliciousness!! I have a feeling you are going to love them just as much as we do!
Love everything Snickerdoodle?
Butterscotch Peanut Butter Snickerdoodles
Colossal Snickerdoodle Cookie Sandwich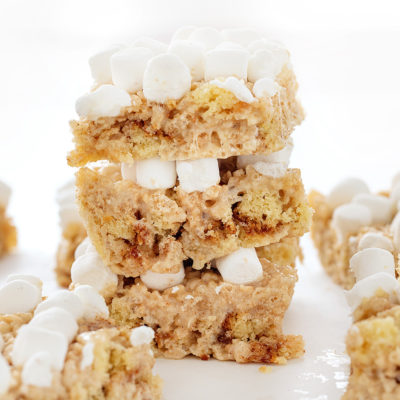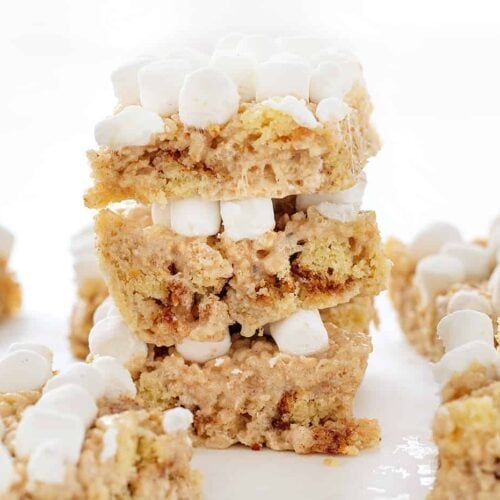 Snickerdoodle Rice Krispy Bars
These flavorful bars are super simple and loaded with snickerdoodle deliciousness!
Ingredients
½

cup

(1 stick or 113g) butter

1

bag

(10 ounces) big marshmallows,

(OR 4 cups mini marshmallows)

4

cups

Rice Krispies cereal

3

cups

chopped snickerdoodle cookies,

divided

2

cups

mini marshmallows,

for topping
Instructions
In a large saucepan, melt butter over low heat.

Add big marshmallows and stir until completely melted. Remove from heat.

Add Rice Krispies cereal and 2 cups of chopped snickerdoodle cookies. Stir until well coated.

Pour half of the Rice Krispy mixture into a prepared 9x13 pan. With a clean hand press down slightly, you will press down more in the next step.

Add remaining chopped snickerdoodle cookies in an even layer and press into the Rice Krispy mixture. Cover with remaining Rice Krispy mixture and press flat with a clean hand coated in cooking spray or butter.

Evenly pour 2 cups of mini marshmallows over top and gently press into the bars.

Allow bars to cool and serve.
Did you make this recipe?
Thank you for making my recipe! You took pictures, right? Well go ahead and post them on Instagram! Be sure to mention me @iambaker and use the hashtag #YouAreBaker.
More Snickerdoodle Recipes: