Blueberries are IT for me.  Sitting down and eating a pint is no big deal.  Sharing is a no-no.  And finding new ways to incorporate them into baking is a must.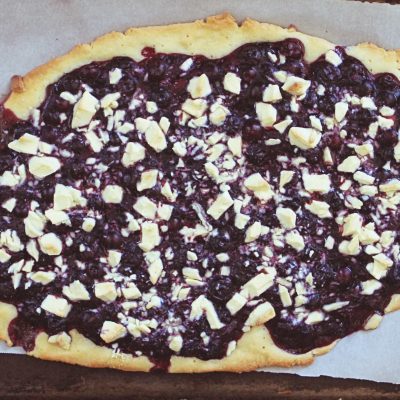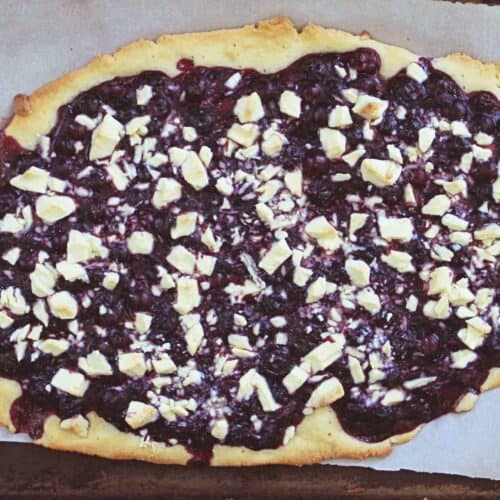 Rustic Blueberry Tart
Blueberries are IT for me. Sitting down and eating a pint is no big deal. Sharing is a no-no. And finding new ways to incorporate them into baking is a must.
Ingredients
Tart
1 1/2

cups

all-purpose flour

1/2

cup

confectioner's sugar

1/4

teaspoon

salt

1

stick plus 1 tablespoon

9 tablespoons; 4 1/2 ounces cold unsalted butter, cut into small pieces

1

large egg
Blueberry Sauce
2

cups

blueberries

frozen works fine

1

cup

heavy cream

2

teaspoons

lemon juice

1/4

cup

powder sugar

2

teaspoons

cornstarch

4

ounces

white chocolate

roughly chopped
Instructions
Pulse the flour, sugar and salt together in the bowl of a food processor.

Drop in the pieces of butter into the processor and pulse until the butter is coarsely cut in. (small pieces)

Gently mix the yolk then slowly add into the food processor on low.

Once the egg has been added, pulse for 10 second increments until the dough starts to pull together and clumps.

Remove dough from processor and place on a parchment lined cookie sheet. Using your hands, gently start to press the down down and out. (Not tearing) You are trying to spread the dough over the pan and a rustic oval. Once the dough is mostly flat, take a fork and pierce the dough about every inch or so. (Covering entire tart)

Place dough in 350 degree oven for 10 minutes.
For Blueberry Sauce
Place all ingredients in a sauce pan and stir over medium-low heat. Allow the corn starch to work and thicken the sauce. Once the sauce starts to thicken, remove from heat. (About 10 minutes)

After the tart has baked for 10 minutes at 350 degrees, you will then remove it and generously brush entire tart with egg mixture (one egg and cinnamon in a small bowl beaten until combined).

Pour blueberry sauce over tart and allow it to get right to the edges. Place tart back into oven for 8 minutes. (This is where the indention and groves your fingers made in the dough help, as they are natural divets for the sauce to sink into)

Remove tart and sprinkle white chocolate over the top, then place back in over for about five minutes, or until the chocolate is melted.
Did you make this recipe?
Thank you for making my recipe! You took pictures, right? Well go ahead and post them on Instagram! Be sure to mention me @iambaker and use the hashtag #YouAreBaker.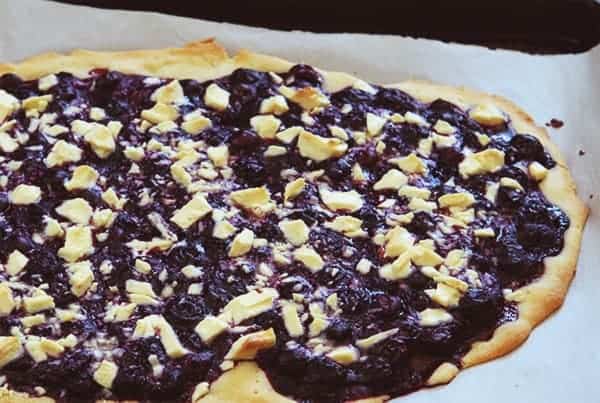 So this is a very simple and dumbed down version of a classic tart.  I removed it from the constraints of a traditional tart pan.  I added more sugar than necessary to the blueberry sauce and I melted white chocolate on top.
And it was wonderful.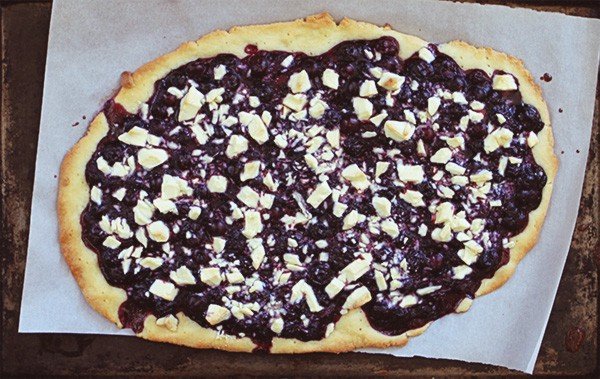 Tart recipe heavily inspired by "the great unshrinkable tart" by smitten kitchen.  Blueberry sauce recipe adapted from this Blueberry Tart from Chow Hound.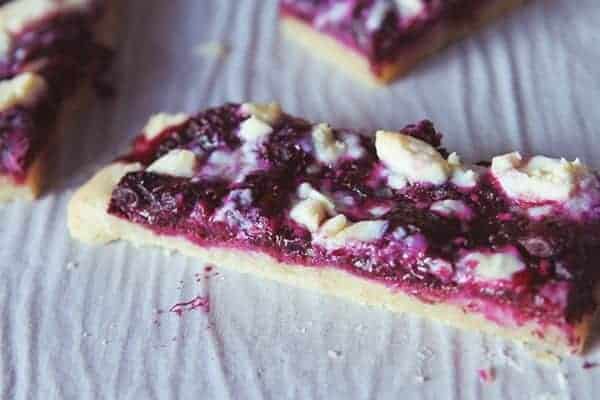 I have made this three times in the last two weeks and enjoyed it more every time.  I also played around with the blueberry sauce, adding more of this and less of that.  Less lemon, more sugar.  No sugar, add lemon zest.  You seriously cant go wrong with the sauce, just as long as you have those luscious blueberries in there you will be set.  And feel free to add dark chocolate as well… I am a huge fan of dark chocolate and blueberries!