Nope, not a misprint! There are TWO kinds of chocolate in these Soft Batch Cream Cheese Chocolate Chocolate cookies and they are amazing. AMAZING. I happen to be sharing the 50 Best Cookie Recipes in the world, do you think this recipe made the cut? 😉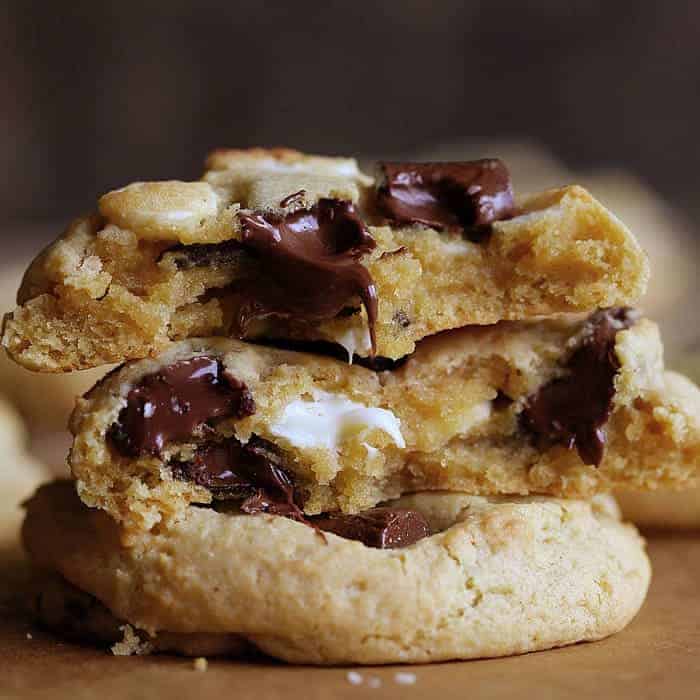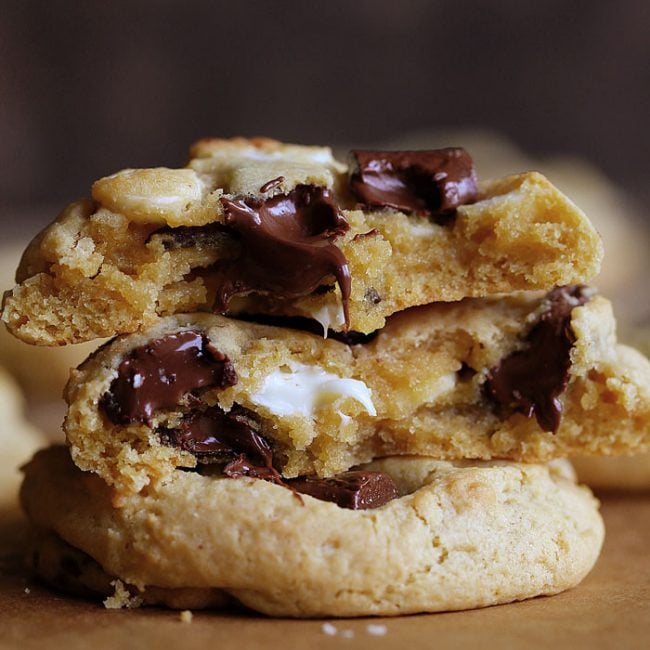 Soft Batch Chocolate Chip Cookies
I want to be really straightforward… I add white chocolate morsels to the recipe because I love them. If you are not a big white chocolate fan you will want to stick to Averie Cook's original recipe!
To make this recipe you will need:
Soft Batch Chocolate Chip Cookie recipe (below)
cookie sheet (I used 3)
parchment paper or silpat
cookie scoop that holds 3 tablespoons of volume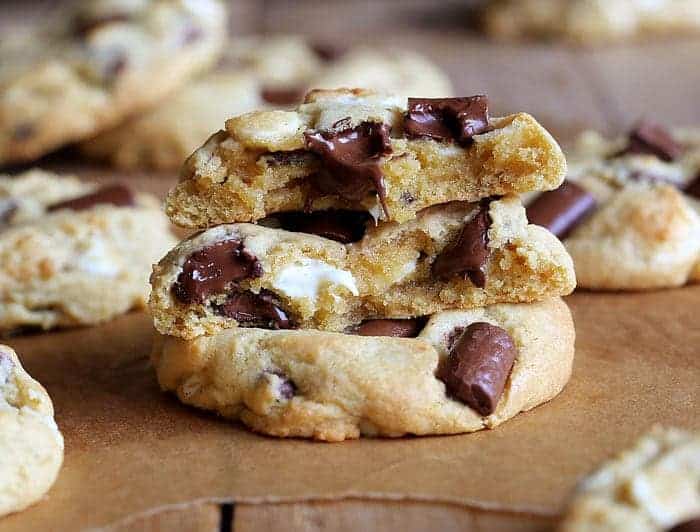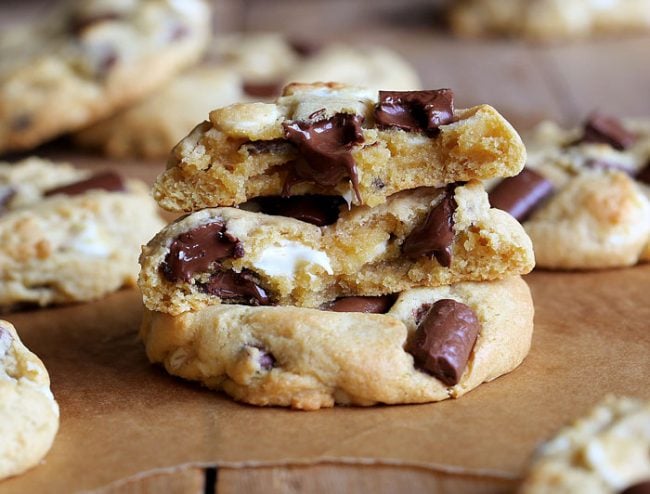 How to Make Soft Batch Cookies
The original recipe calls for chilled cookie dough, but I found that I did not need to do that with the addition of confectioner's sugar instead of granulated sugar.
Room temperature ingredients are important here! See tips on how to quickly bring eggs and cream cheese to room temp. here.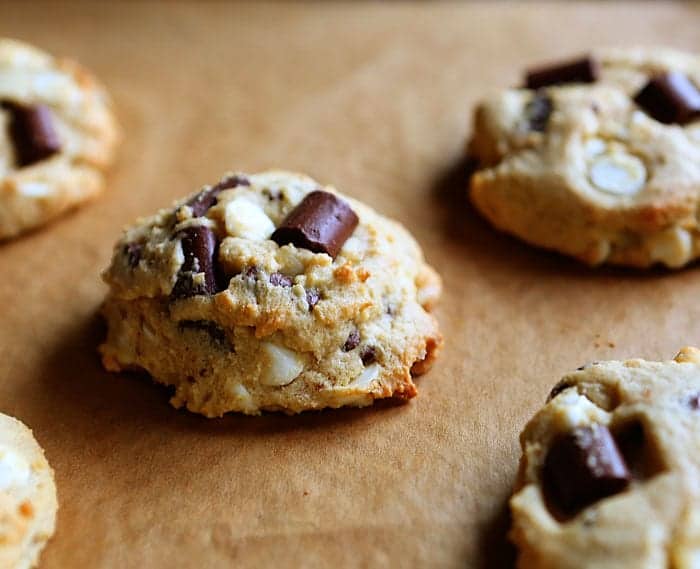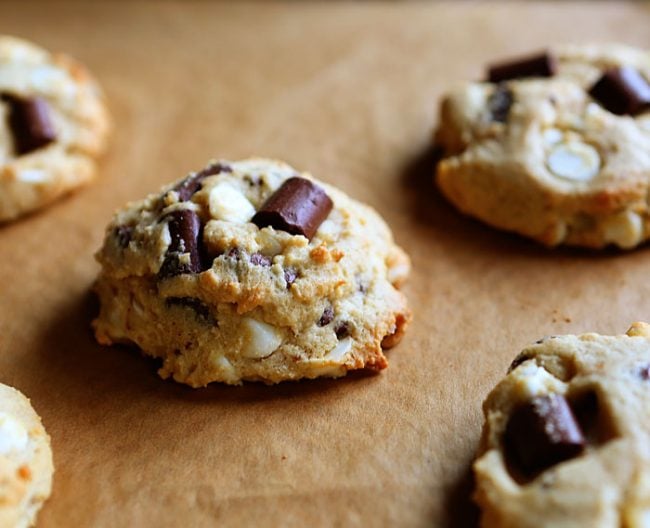 These cookies do not spread. If you prefer a soft mound of cookie instead of a flatter version, feel free to do that! Here is a cookie that I did not flatten and you can see that it holds its shape nicely. If you choose this method the center may be a bit more underdone than a flattened cookie.
I much prefer the chocolate chunks in this cookie vs. chocolate chips. The melting ooey-gooey factor is a BIG one when using chunks of chocolate.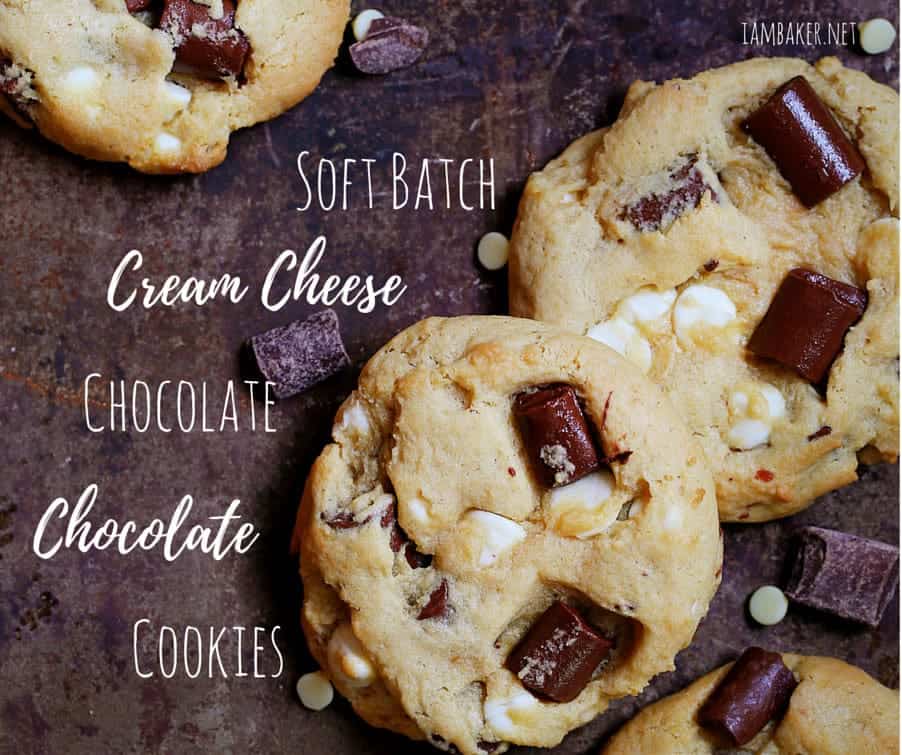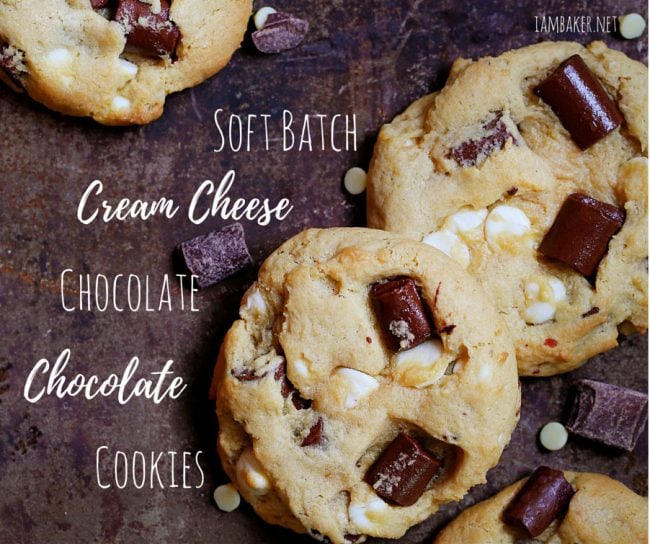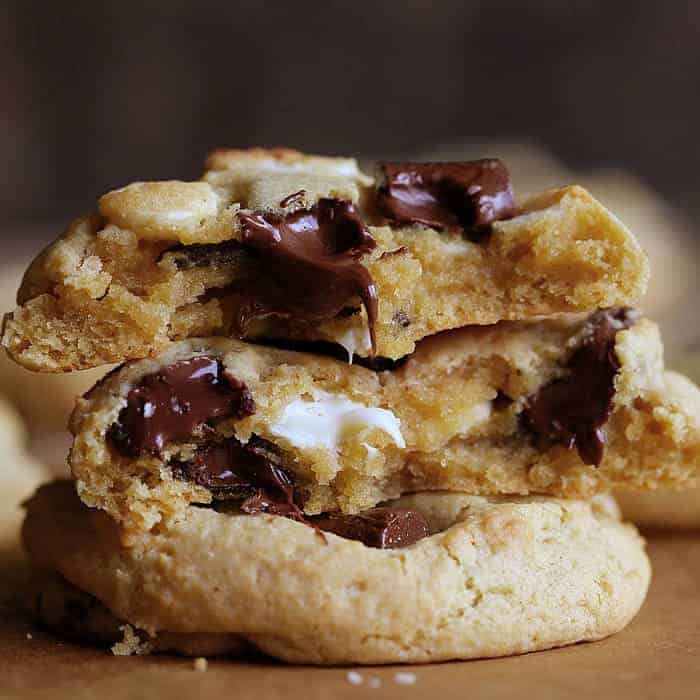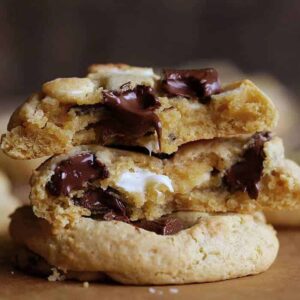 Soft Batch Chocolate Chip Cookies
Nope, not a misprint! There are TWO kinds of chocolate in these Soft Batch Cream Cheese Chocolate Chocolate cookies and they are amazing. AMAZING.
Keyword:
chocolate chip cookies, cookies
Ingredients
1/2

cup

(113g, 1 stick) unsalted butter

room temperature but not melted

1/4

cup

(2 oz.) cream cheese

room temperature

3/4

cup

(150g) light brown sugar

packed

1/4

cup

(30g) confectioners sugar

1

large egg

room temperature

1

tbsp.

McCormick vanilla extract

2 1/4

cup

(281g) all-purpose flour

2

tsp.

cornstarch

1

tsp.

baking soda

1

tsp.

kosher salt

1

cup

(6 oz, 170g) semi-sweet chocolate chunks

1

cup

(6 oz, 170g) white chocolate morsels (chips)
Instructions
Preheat oven to 350°F. Prepare three pans with parchment paper.

In the bowl of a stand mixer with paddle attachment (you can also use a hand-held mixer) add butter, cream cheese, brown sugar and confectioners sugar. Beat on high for 2-3 minutes or until ingredients are fully combined. Scrape down sides of bowl as needed.

With mixer on lowest speed, add in egg and vanilla and blend for about 1 minute.

Add in flour, cornstarch, baking soda, and salt and then turn mixer on low and mix for about 1 minute, or until ingredients are fully incorporated.

Add in semi-sweet chocolate chunks and white chocolate morsels and mix by hand until combined.

Using a 3-tablespoon cookie scoop, scoop batter out onto cookie sheet. I fit 8 cookies on two sheets then 4 cookies on the final prepared cookie sheet. (20 total cookies)

Using your hand or the bottom of a kitchen glass, press the cookie dough down so that it not rounded on top. (PRO TIP: add extra morsels on top for a beautiful cookie presentation!)

Bake for 8-10 minutes. Cookies are better when slightly underdone and just barely brown on the edges. Keep a close eye that they do not get dark brown.

Allow cookies to cool for 5-10 minutes before moving to cooling rack.
Recipe Video
This recipe is based on a recipe by Averie Cooks for Soft Batch Cream Cheese Chocolate Chip Cookies.
You are going to LOVE these cookies.
And if you don't we can't be friends anymore. Just kidding. Maybe.