Does the world need a new Soft Chocolate Chip Cookie recipe?
Probably not. So it's a good thing I didn't create I! For this recipe I was actually looking for the best chocolate chip cookie dough, (which it is!) but then was blown away when the cookie baked up.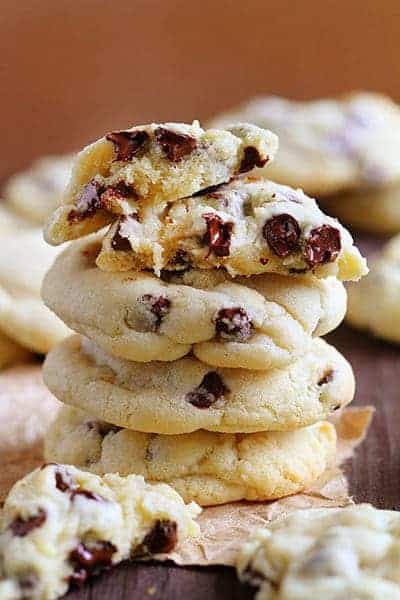 It was so light and so chewy and just slightly crisp on the outside.
Basically the most perfectest awesomest deliciousest chocolate chip cookie ever.
Deliciousest is not a word.
Moving on.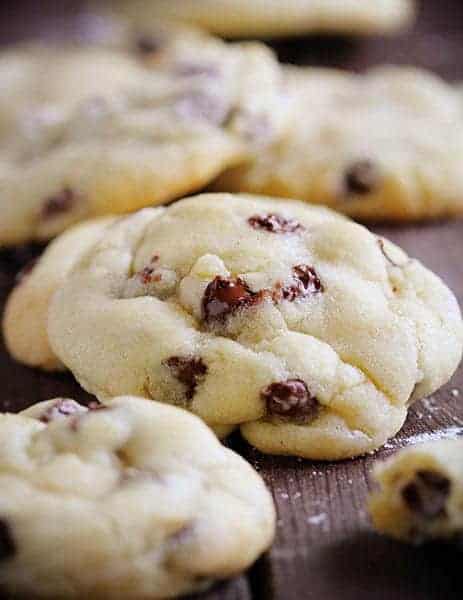 I loved these sweet cookies right out of the oven when the chocolate was melting everywhere and the center was just barely done.
Even the next day I would pop them in the microwave for a few second before eating because, well. Do I need a because? Hot chocolate chip cookie with melting chocolate covering your hands and face? Yes please.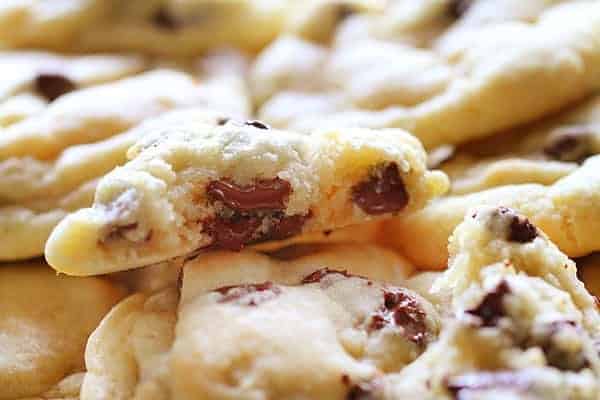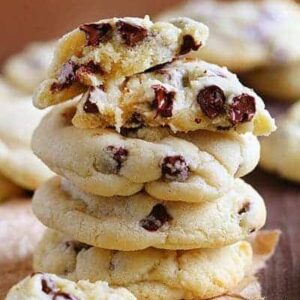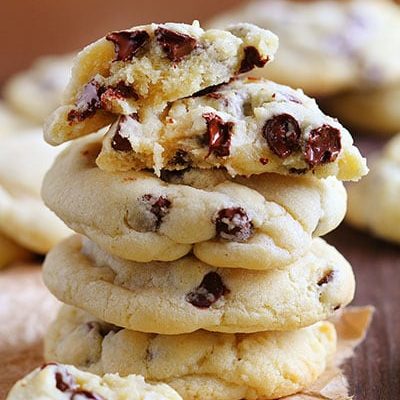 soft chocolate chip cookies
Keyword:
chip cookies, soft chocolate chip cookies
Ingredients
1

c

butter

227g softened

1/2

tsp.

.5g salt

2

tsp.

8g hot water

1

tsp.

4g baking soda

3

c

375g all-purpose flour

2

tsp.

8g vanilla extract

2

large eggs

1 1/2

c

300g packed brown sugar

1/2

c

100g white sugar

2

c

350g semisweet chocolate chips
Instructions
In a stand mixer with paddle attachment, cream together the butter, white sugar, and brown sugar until smooth.

Beat in the eggs one at a time, then add in the vanilla.

Dissolve baking soda in hot water. Add to batter along with salt.

Remove bowl from stand mixer and stir in flour and chocolate chips.

Wrap dough in plastic wrap and chill for at least 1 hour, preferably overnight.

When ready to bake, preheat oven to 350 degrees F. Prepare cookie sheets with silpat or parchment paper.

Remove roughly 1-2 tablespoons of dough (depending on the size of cookie you prefer) and roll into a ball with your hands. Drop onto prepared pans. (I had 6 dough balls per cookie sheet)

Bake for about 8-10 minutes in the preheated oven, or until edges are JUST barely browning. These cookies are best when slightly UNDER done.
Recipe just barely adapted from Allrecipes.com.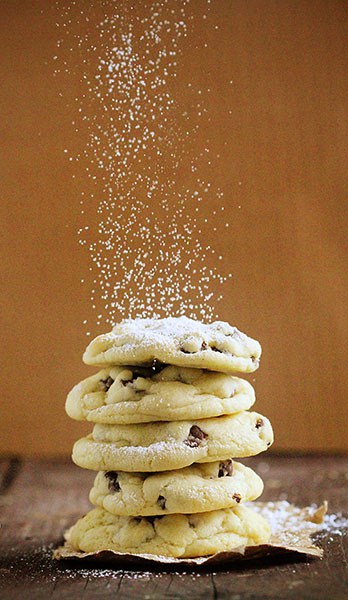 If you are not scared of a bit more sugar, try adding some powder sugar right out of the oven. This works especially well if the cookies are hot and if you used semi-sweet or bittersweet chocolate morsels. It is also great with cocoa, but in that case I would use milk chocolate morsels.
This chocolate chip cookie recipe is definitely worth trying if you love a chewy and crispy cookie with amazing flavor!
BONUS: 3 Surprising Tips for the PERFECT Soft Chocolate Chip Cookie
Make sure the room temperature butter is creamed, not melted. If the butter is too warm the cookie will end up more dense. (I find that butter out of the refrigerator for 30 minutes is a good temperature.)
Sugar is important! This recipe is mostly brown sugar which helps the cookie to be taller and more cake-like in texture. If you were to use only white sugar the cookie would spread more. When the goal is a soft cake-like cookie, brown sugar is a must!
Chilling the dough is important. I often want to skip this step but it truly is necessary. A few hours is good, but up to 2 days is best!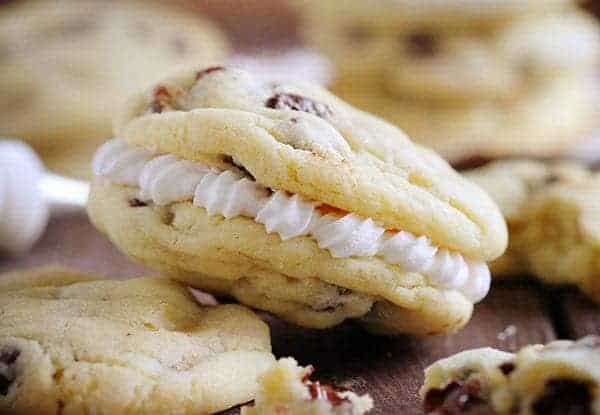 I did make these into a delicious buttercream filled chocolate chip cookie sandwich, but had to laugh at my design here. Seems a bit like a clam or teeth? Maybe just go for the traditional blob of buttercream and then press & smush! 🙂