Sourdough Chocolate Chip Cookies are loaded with chocolate chips and so easy to make when you use your sourdough starter discard. No electric mixer is needed for this recipe (just your muscles), and you can have a soft, cakelike cookie or bake a little less time for a chewier cookie. Try my original Chocolate Chip Cookies recipes for another delicious recipe on this favorite classic cookie.
Sourdough Chocolate Chip Cookies
Once you have a sourdough starter, you might as well use it as often as you can! For these Sourdough Chocolate Chip Cookies, you will use your sourdough starter that has not been fed for a couple of days or sourdough starter discard. There's no reason to waste any of your starter when you have recipes like this or my Sourdough Blueberry Pancakes! With all the ingredients mixed in one bowl, it's so simple to get the dough ready to be baked into a delicious cookie.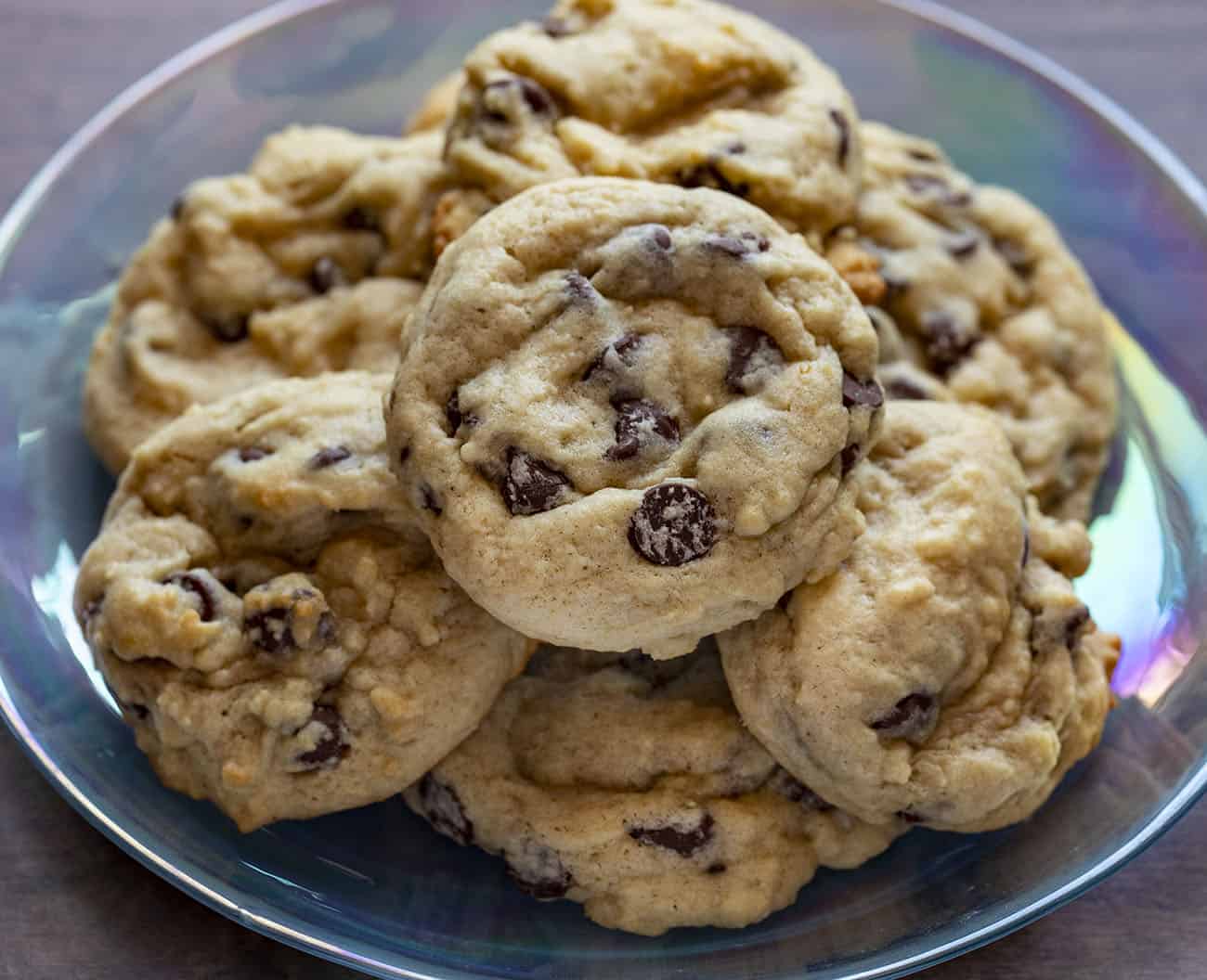 Sourdough Chocolate Chip Cookies Recipe
Grab a large mixing bowl, the listed ingredients, and a little muscle power to get started on these easy-to-make chocolate chip cookies.
Ingredients (full recipe below)
Unsalted butter (can use salted butter, just use 1/2 tsp salt instead of a teaspoon)
Granulated sugar
Brown sugar
Egg
Sourdough starter–Check out my sourdough starter for a no-fail approach and to use in all of your sourdough recipes.
Vanilla extract
All-purpose flour (can use bread flour)
Kosher salt
Baking soda
Chocolate chips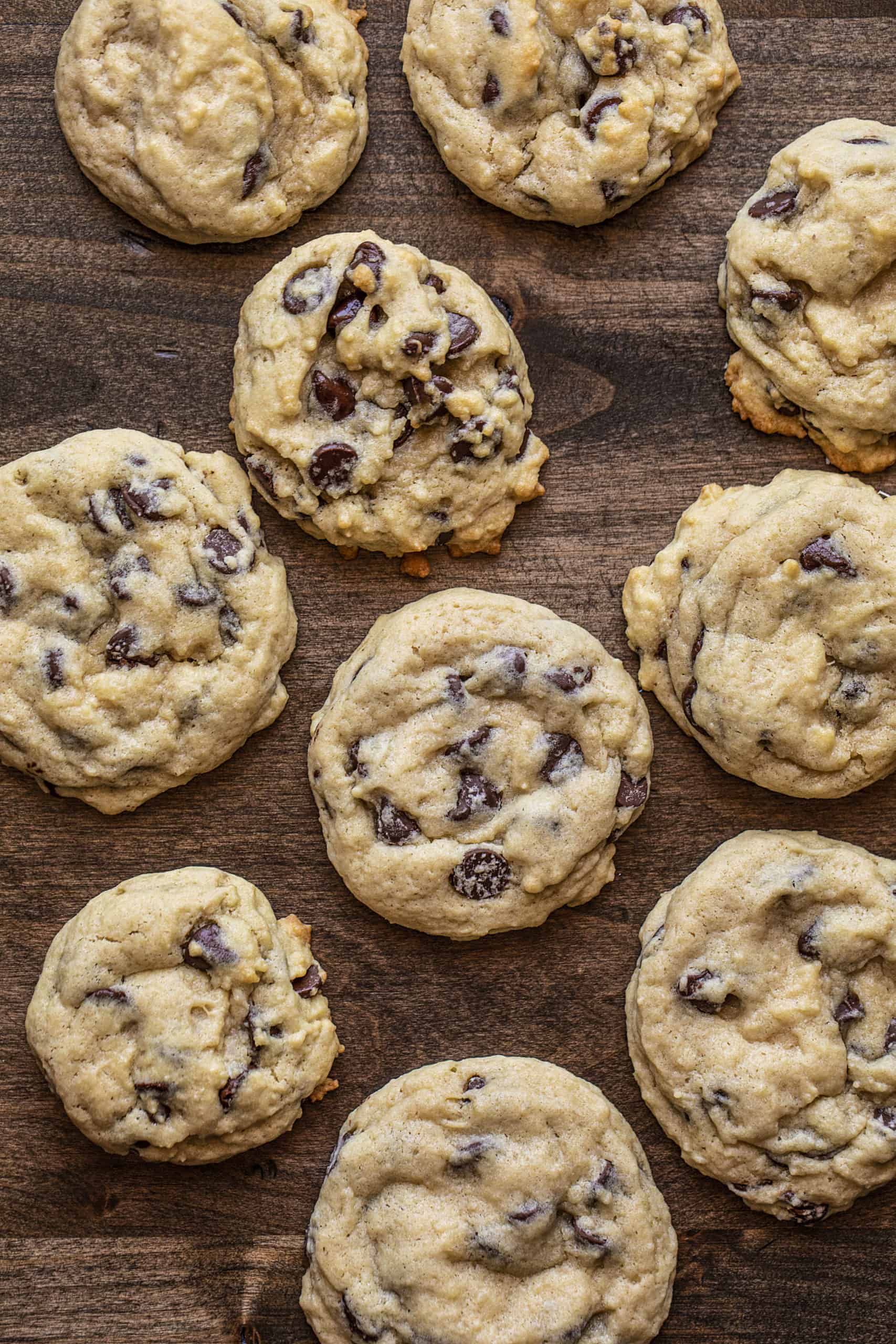 Baking Sourdough Chocolate Chip Cookies
Once you have the dough prepared, it's time to bake the cookies!
But, baker beware…a mere two minutes can be the difference between a softer, fluffier, more cake-like cookie and a chewier, flatter cookie. I made them both ways, as you can see in the next couple of pictures. For all of the cookies, I used a 3 tablespoon scoop of dough.
If you want the more cake-like cookie, bake the cookies for 8-10 minutes. For a chewier cookie, bake for only 6-8 minutes. The baking temperature for both is 350°F.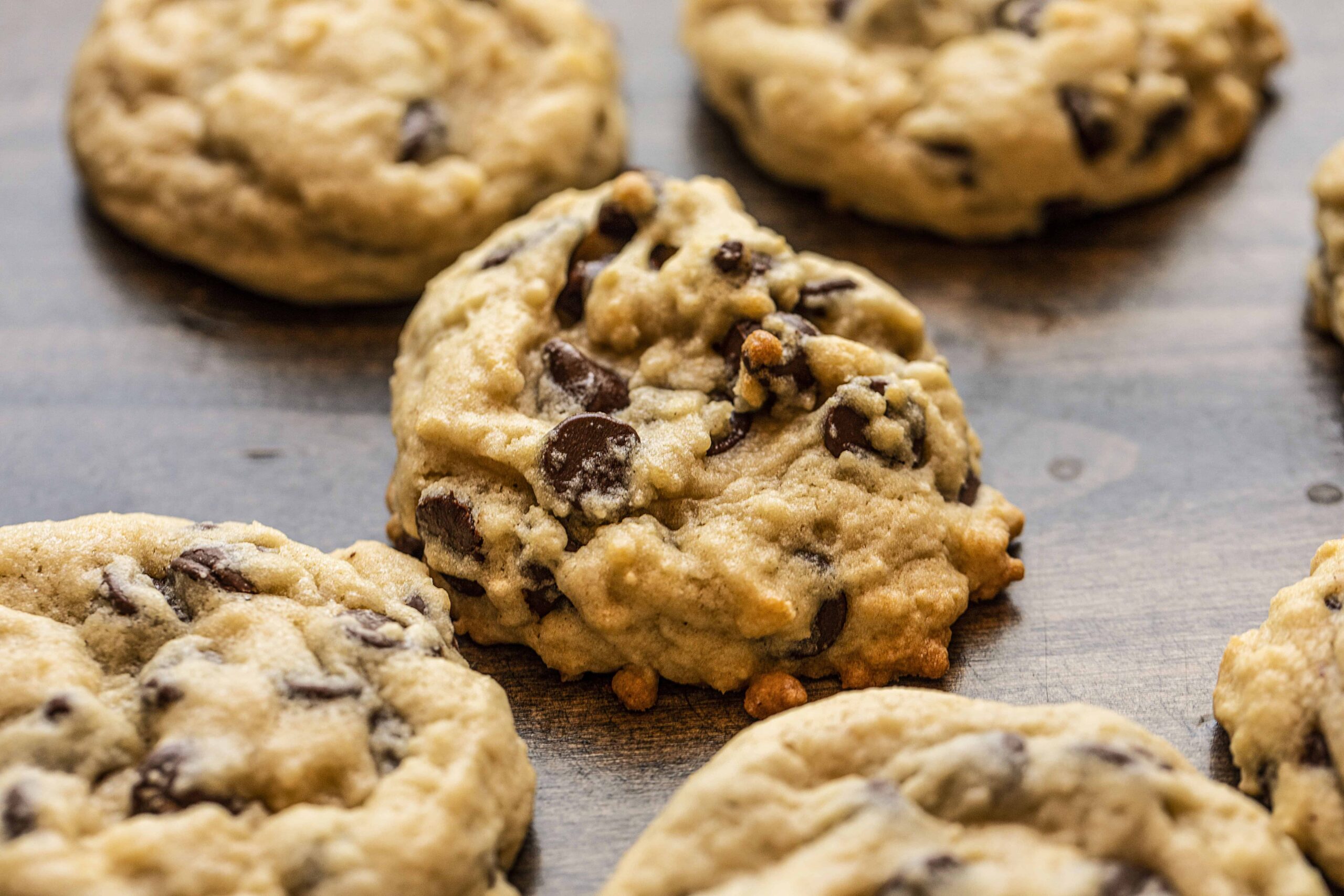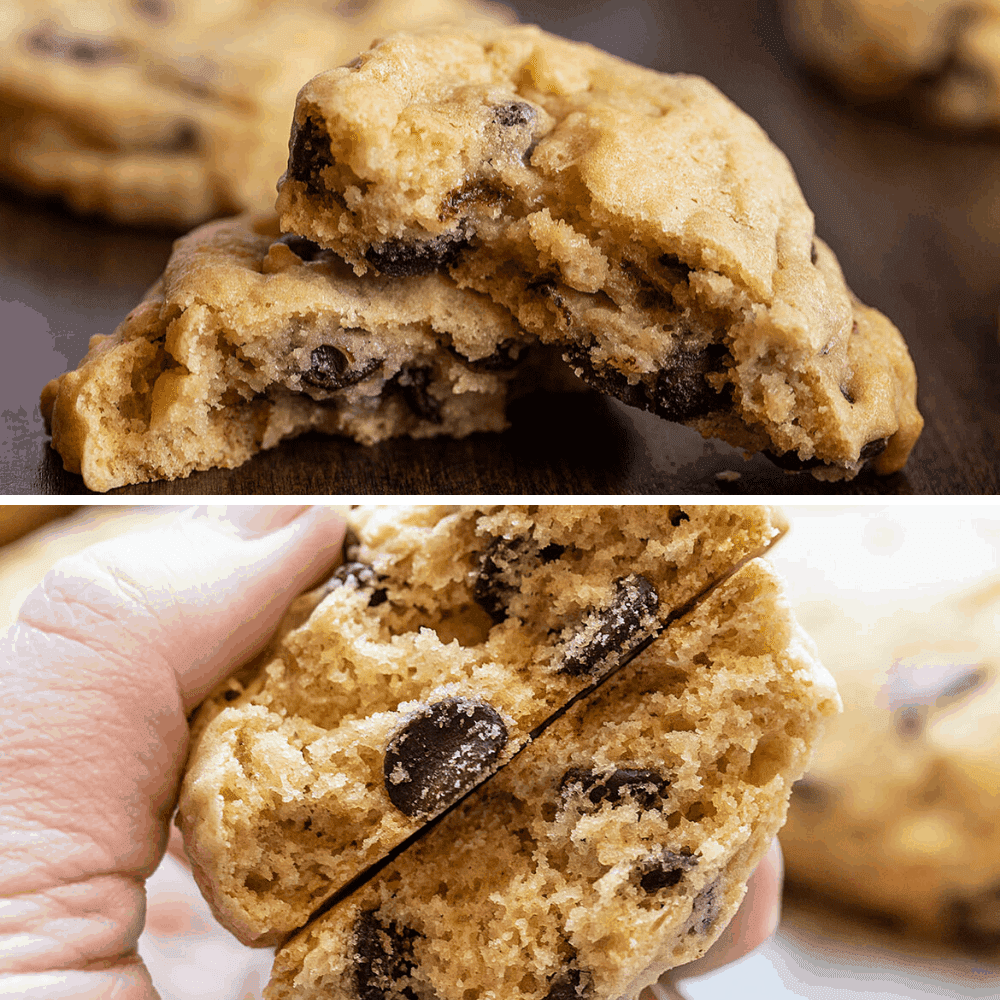 The Sourdough Chocolate Chip Cookies you see on the top picture above were baked in that 6-8 minute range. They have a chewier texture and did not 'puff up' like the more cake-like cookie below it. The cake-like cookie was baked in the 8-10 minute range. You can see the difference in the picture below as well. The cookies on the left were baked in less time than the cookies on the right.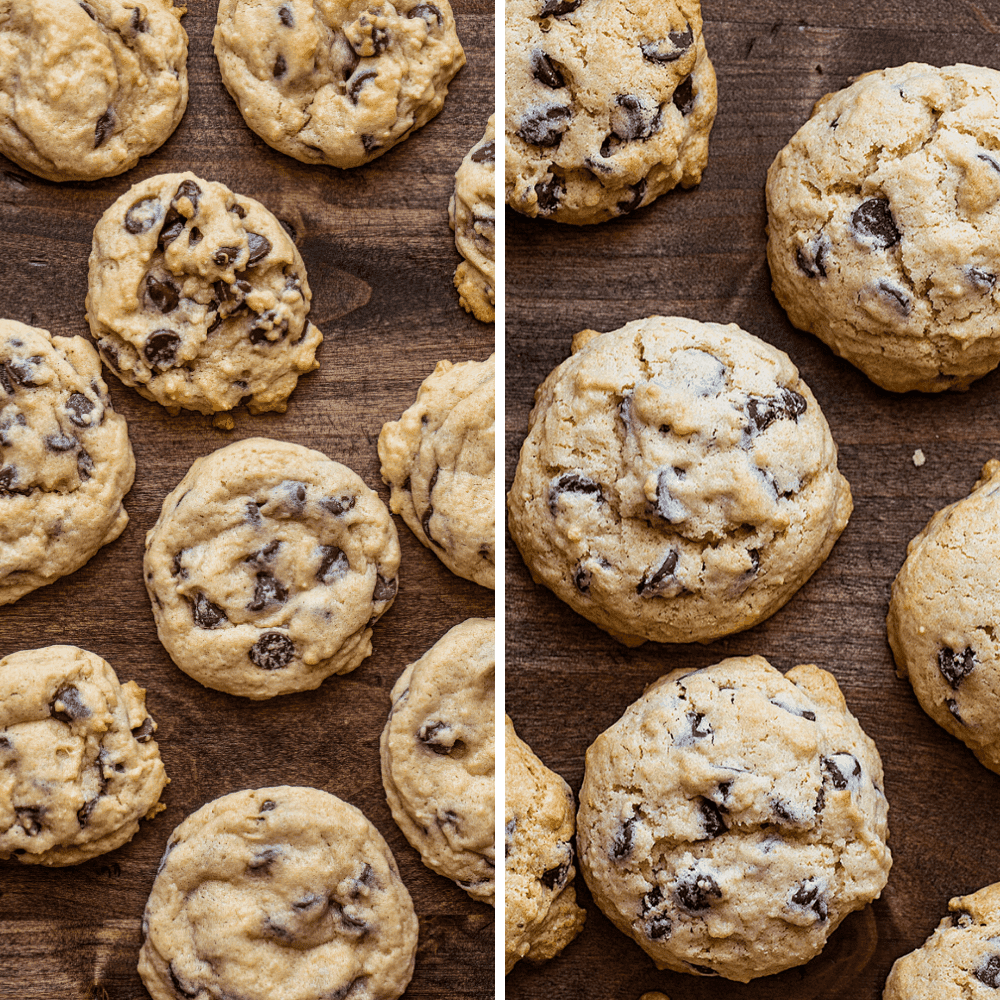 How to Freeze Sourdough Chocolate Chip Cookies
Cookies can be easily stored in the freezer. To freeze the cookies, let them cool completely. Then, lay the cookies flat on a piece of parchment paper, put them in the freezer for a few hours, and then store them in a zipped plastic freezer-safe bag. Remember to label the bag with the date. Cookies will stay fresh for up to 3 months. Let them sit out at room temperature overnight to thaw.
Can I Freeze the Dough Before Baking?
Yes! First, form the dough into the balls as if you were going to bake them. Instead, place the balls of dough in the freezer until solid (about an hour). Then, store the dough balls in freezer-safe containers. When ready to bake, just add a couple of minutes to the baking time.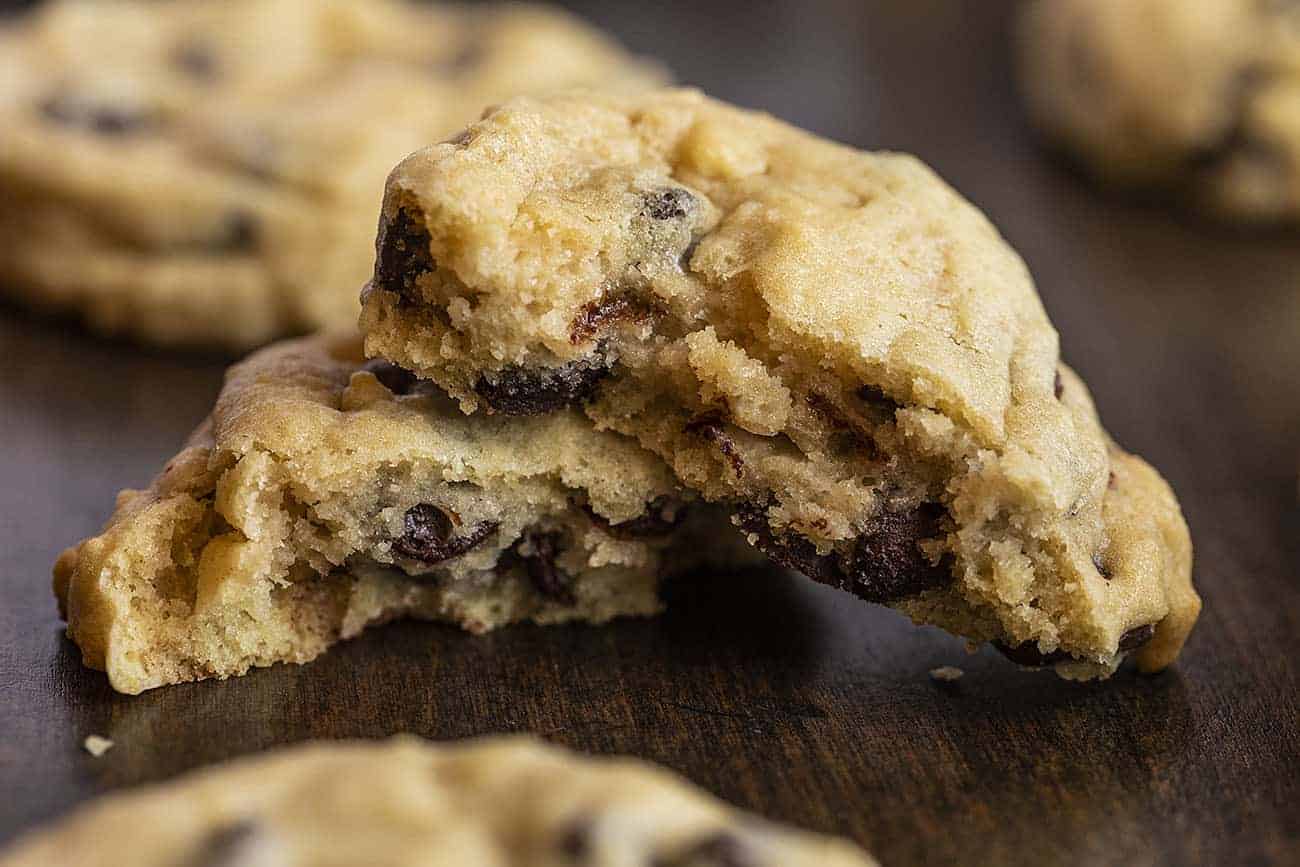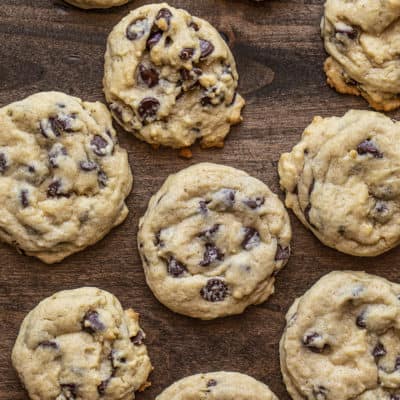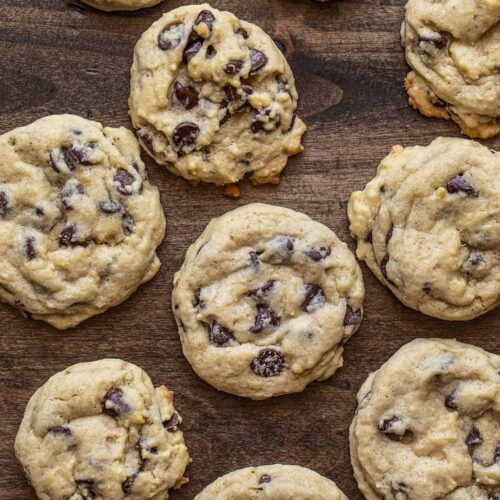 Sourdough Chocolate Chip Cookies
Use your sourdough starter discard to make these delicious Sourdough Chocolate Chip Cookies.
Ingredients
14

tablespoons

(1 stick + 3/4 stick) unsalted butter,

slightly softened

½

cup

(100g) granulated sugar

½

cup

(100g) brown sugar

1

large

egg,

room temperature

1

cup

sourdough starter,

unfed

1

tablespoon

vanilla extract

2

cups

(250g) all-purpose flour

1

teaspoon

Kosher salt

1

teaspoon

baking soda

2

cups

(16 ounces) large chocolate chips
Instructions
In a large bowl, combine the softened butter and sugars. (Make sure the butter is soft enough to mix with the sugar by hand.)

Add the egg to the mixture, stirring until incorporated.

Stir in the sourdough starter and vanilla extract.

Add the flour, salt, and baking soda, careful to not overmix.

Finally, incorporate the chocolate chips and let the dough refrigerate for 15 minutes or refrigerate up to overnight. (I have made them without refrigeration and they get more cake-like in texture.)

When ready to bake the cookies, preheat the oven to 350°F. (Let the refrigerated cookies come to room temperature.)

Drop spoonfuls (2-3 tablespoons) of dough onto a parchment-lined baking sheet. (I use a 3 tablespoon ice cream scoop.)

Bake 8-10 minutes for a cake-like cookie.

Bake 6-8 minutes for a chewier cookie. (My recommendation!) The cookie MAY appear a little wet in the center and that is ok. It will continue to bake and be cooked throughout after being out of the oven for a few minutes.
Did you make this recipe?
Thank you for making my recipe! You took pictures, right? Well go ahead and post them on Instagram! Be sure to mention me @iambaker and use the hashtag #YouAreBaker.