Confession time:  I don't like eggnog.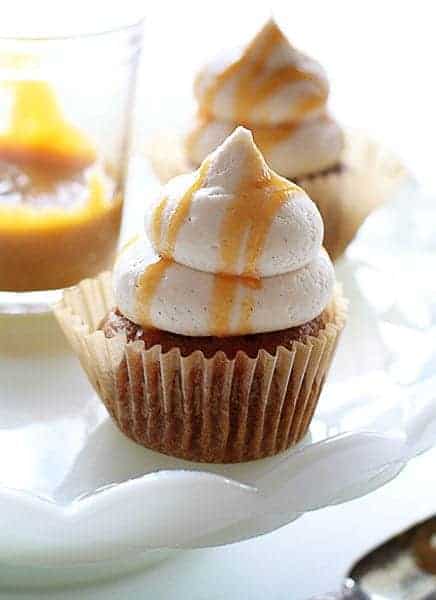 But if I was going to partake in eggnog this Christmas season, there was only one way that seemed acceptable.
In buttercream.
Because buttercream.
#da
So I made up some Spice Cupcakes.  Because cupcakes.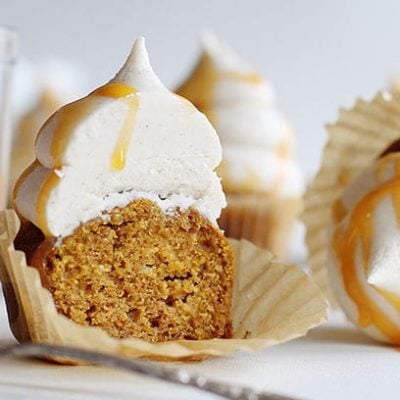 Eggnog Buttercream
Confession time: I don't like eggnog.
Ingredients
1

c

sugar

1/4

c

all-purpose flour

1

c

eggnog

1/4

tsp.

nutmeg

1

c

butter

room temperature

caramel sundae sauce

optional
Instructions
In medium saucepan, stir together 1 cup sugar and 1/4 cup flour with whisk.

Continue whisking and add in 1 cup eggnog and nutmeg until no lumps remain.

Heat mixture over medium heat, whisking until mixture comes to a low boil and thickens enough to coat a spoon.

Remove from heat and cool completely, about 45 minutes.

In stand mixer beat 1 cup butter until creamy, about 1 minute.

Pour in cooled eggnog mixture, beating until light and creamy.

If frosting looks curdled or separated, keep beating! It will come together after a few minutes.

Pipe onto cooled cupcakes.

Drizzle with caramel sauce.
Did you make this recipe?
Thank you for making my recipe! You took pictures, right? Well go ahead and post them on Instagram! Be sure to mention me @iambaker and use the hashtag #YouAreBaker.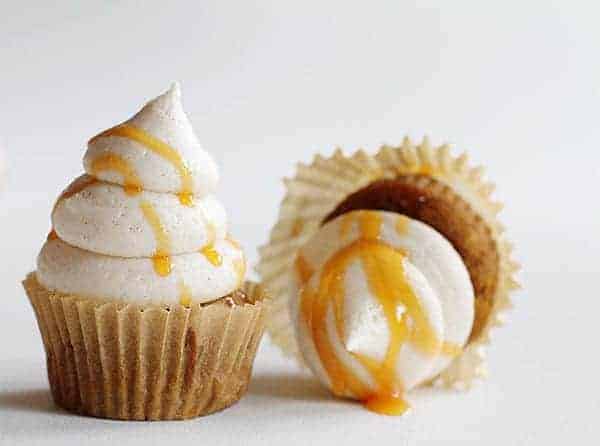 Then I made up some eggnog buttercream.
I was scared.  I mean… was it going to taste like rotten egg?  Egg in general?  Was I going to throw up in my mouth a little then have to swallow it because I am a lady?
Um.  I don't think a lady would talk about throwing up and swallowing it on a food blog. Twice.
Let's forget we just had this little conversation.
#shamespiral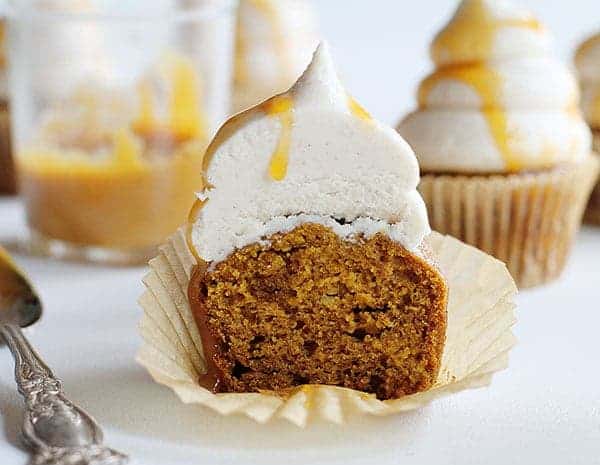 Well, I was worried for nothing.  Eggnog is yummy.  Eggnog buttercream is the yummiest.
Life officially changed.
Recipe just barely adapted from Betty Crocker.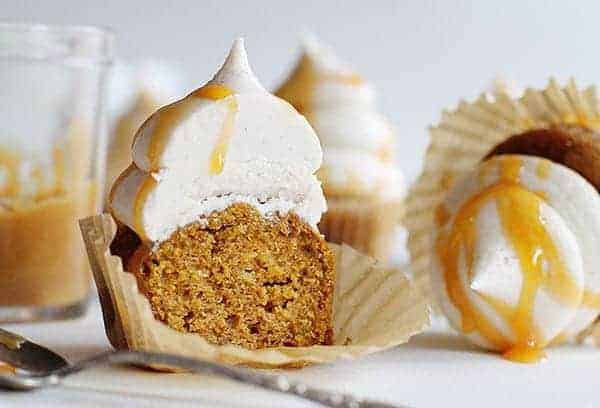 Tips:
I chilled my frosting in the fridge while in a piping bag for about 10 minutes before piping.  I then chilled the cupcakes until ready to serve. Personally, I just prefer the idea of a chilled eggnog frosting.
If you want to kick your cupcakes up a notch, drizzle with the caramel sauce soon after you take them out of the oven.  The cupcake will soak up the sauce and add an extra layer of sweetness.
If you want to be a flavor queen, try sprinkling pink himalayan salt  (or a good quality sea salt) to the top.  Talk about awesome.
But whatever you do, just don't be like me.  Make sure you try new things and challenge your palate!  At least, that's what people tell me. 🙂