The Homemade Yellow Cake Mix, White Cake Mix and Homemade Brownie Mix on my site are so popular, I deciding that adding to the selection needed to be at the top of my list of things to do.  (Don't worry, chocolate is next.  I am still experimenting! You will read why below.)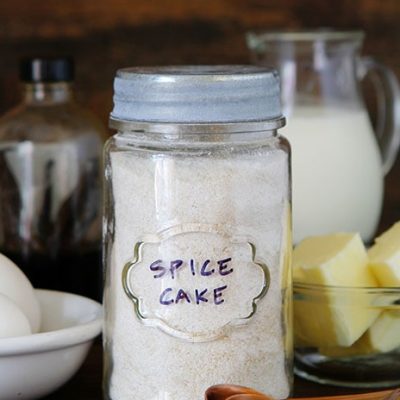 homemade spice cake mix
The Homemade Yellow Cake Mix, White Cake Mix and Homemade Brownie Mix on my site are so popular, I deciding that adding to the selection needed to be at the top of my list of things to do.
Ingredients
Dry Ingredients
1 1/4

c

all purpose flour

1

c

brown sugar

2

tbsp.

corn starch

2

tsp.

baking powder

1/4

tsp.

salt

1/2

tsp.

ground ginger

2

tsp.

pumpkin spice*
Wet Ingredients
1/2

c

whole milk

2

eggs

room temperature

1

tsp.

vanilla

1/2

c

butter

room temperature
Instructions
Place all dry ingredients in a bowl and sift to combine. If there are any lumps in your sugar be sure to get them out now. Pour all dry ingredients into a mason jar or air-tight storage container.

*If you do not have pumpkin spice you can use: 1/2 tsp cinnamon, 1/4 tsp nutmeg, 1/4 tsp all spice and 1/4 tsp ground cloves.
When Ready to Bake
In a medium bowl add in eggs, milk and vanilla and beat together with fork. Set aside.

In a stand mixer cream butter until light and fluffy.

With the mixer on low, start by alternating the dry mixture and the egg mixture.

Pour 1/3 of the dry mixture into the creamed butter, then add 1/2 of the egg mixture. Continue alternating until all ingredients used. Turn off mixer, remove bowl and continue stirring by hand if any ingredients are not fully incorporated.

Bake at 350 for about 18 minutes in 8-inch round pans. Increase time to about 30 minutes for 9x13 pan and keep a close eye on it.

This recipe makes 14-16 cupcakes and they should bake for about 15 minutes.
Did you make this recipe?
Thank you for making my recipe! You took pictures, right? Well go ahead and post them on Instagram! Be sure to mention me @iambaker and use the hashtag #YouAreBaker.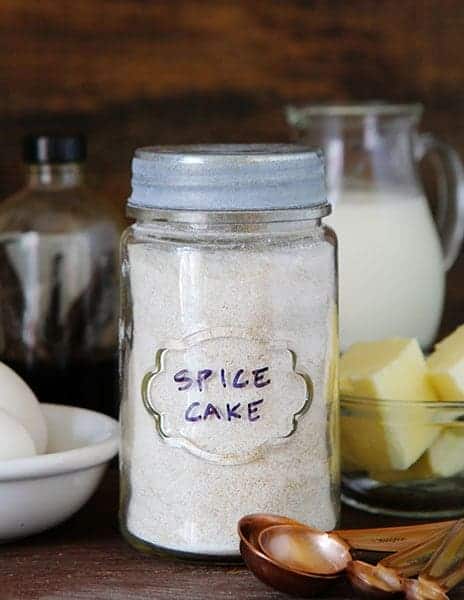 I have quite a few recipes that utilize spice cake mix, so instead of buying boxes I make up my own mix! It is easy peasy. And best part?  Wholesome and delicious!
As with all my homemade "box mix" cake mixes, you have some dry ingredients in an airtight container and then simply add the wet ingredients when you are ready to bake. The very same process as if you were to use a box of mix you purchased at the store.
One of the main differences is of course taste (so delicious) but also quality of ingredients. You have complete control over what you are eating and what you are putting in your body.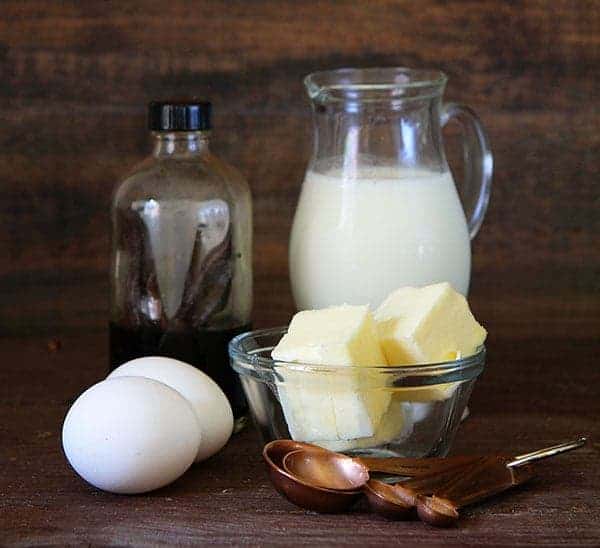 Quick Note: You can change the spice level to your tastes.  I prefer a subtle spice cake, one that does not over power a cream cheese frosting.  If you prefer a bold and zany spice cake, then feel free to play around with the amounts of spies added.
Not just any recipe can be turned into a homemade cake mix. The recipe really has to be conducive to the Single Stage or All-Ingredient method of baking.  If you need to harness the lightness and airiness of the Creaming Method (creaming butter and sugar together first) then the recipe will not work as well for a homemade box mix.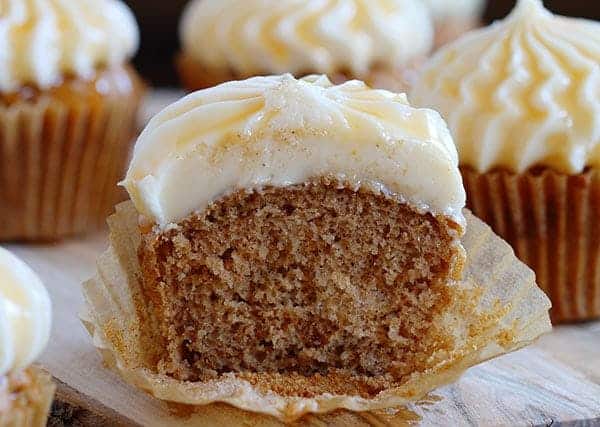 I recently used the Homemade Spice Cake Mix to make cupcakes with a Caramel Cream Cheese frosting.  They were phenomenal!  I can't wait to make my Velvet Spice Cake Surprise-Inside Cake with it next!