Easy Strawberry Napoleon is a slight twist on a classic dessert that combines the flakiness of puff pastry with the tanginess of cream cheese and the sweetness of fresh strawberries. Puff pastry rectangles are stacked with cream cheese and strawberry layers, creating a layered look. Finally, confectioners' sugar is sprinkled on top for an elegant and impressive dessert perfect for any occasion. Try my Cherry Cream Cheese Danish for another easy-to-make dessert.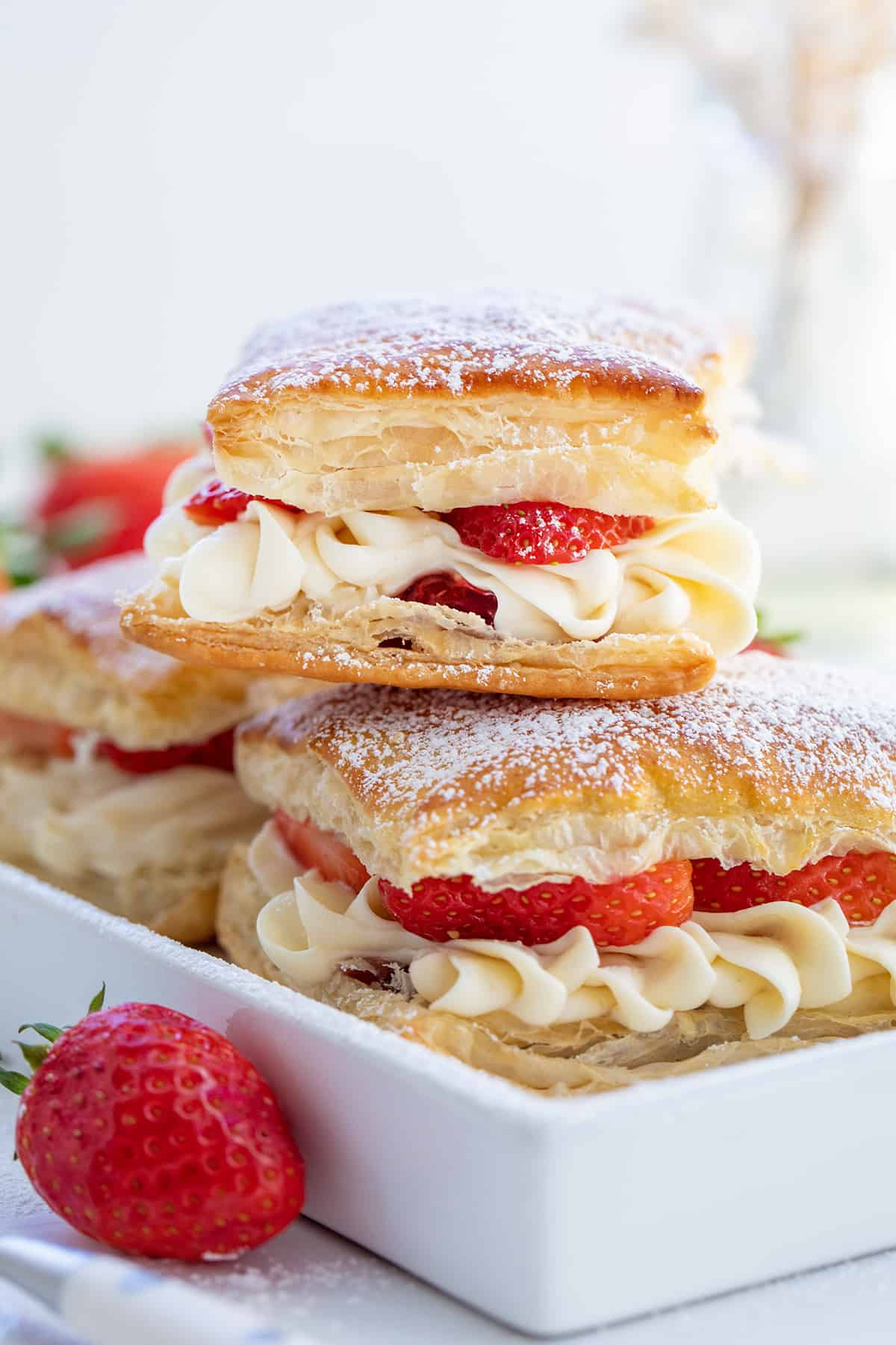 Ingredients & Substitutions
Puff Pastry: You will need two sheets of store-bought puff pastries, thawed according to package instructions. I also have a great recipe for a homemade Puff Pastry. Just leave out the cinnamon when making it for this recipe.
Egg Wash: I used a traditional milk and egg mixture for the egg wash. This will give the pastries a rich, golden-brown color. You could also use water if you don't have any milk.
Cream Cheese: I used cream cheese as opposed to pastry cream or custard for the filling. So, it's like a strawberry cheesecake napoleon. For easy mixing, make sure the cream cheese has been softened at room temperature.
Strawberry Preserves: If you don't have preserves, you could substitute strawberry jam. However, because preserves are made with whole or large pieces of fruit, the texture of the dessert may be a bit different.
Strawberries: I prefer fresh strawberries, but you could use frozen strawberries that have been thawed.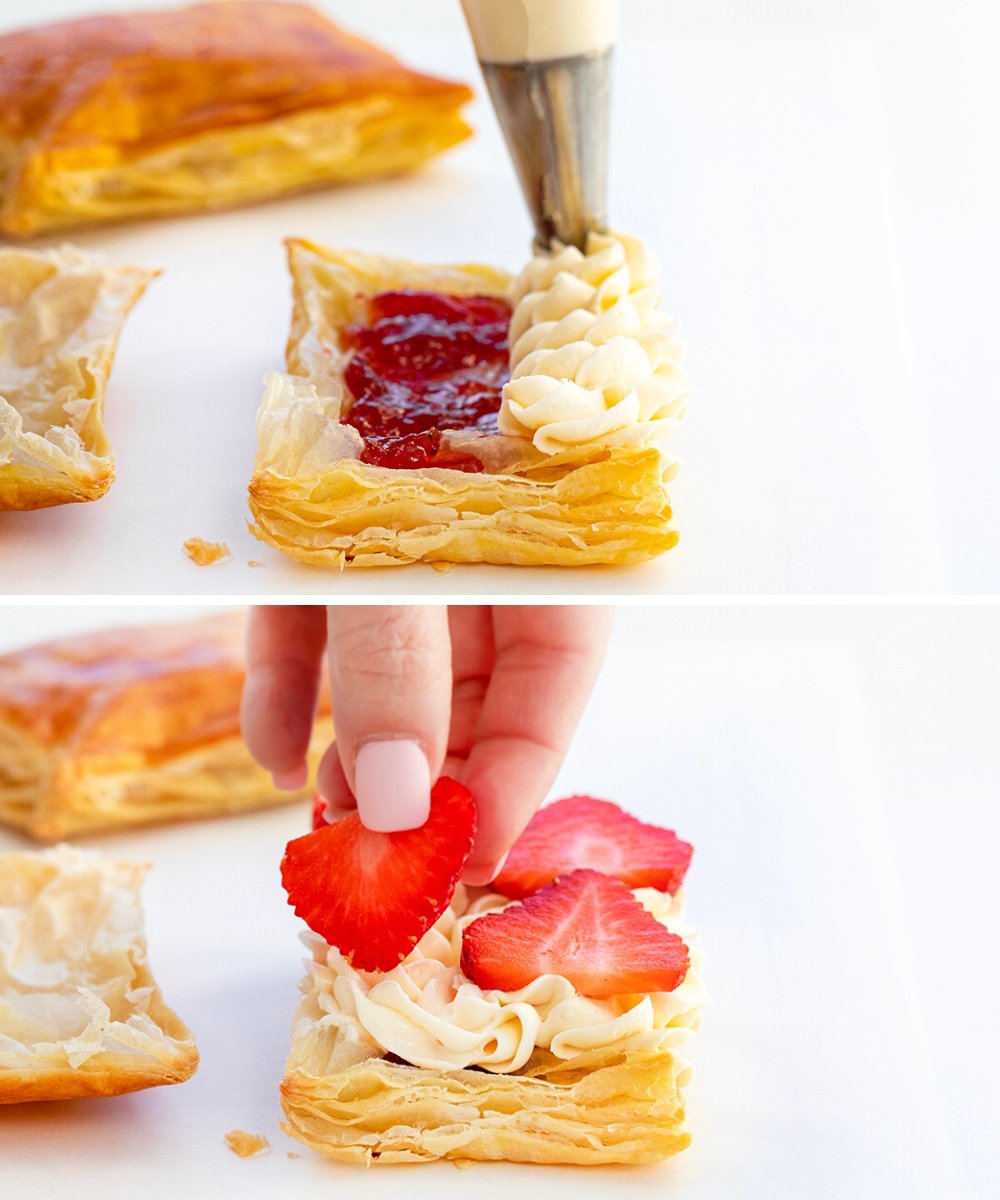 Can I Make Easy Strawberry Napoleon Ahead of Time?
Yes. Strawberry Napoleon Dessert can be prepped ahead of time for convenience and to save time. The puff pastry layers can be made in advance and frozen for later use. The cream cheese mixture can also be prepared ahead of time and stored in the refrigerator for up to 3-4 days. When ready to assemble the dessert, thaw the puff pastry layers and use the cream cheese filling. Fresh strawberries can be prepared in advance, but it's best to add them just before serving to prevent sogginess.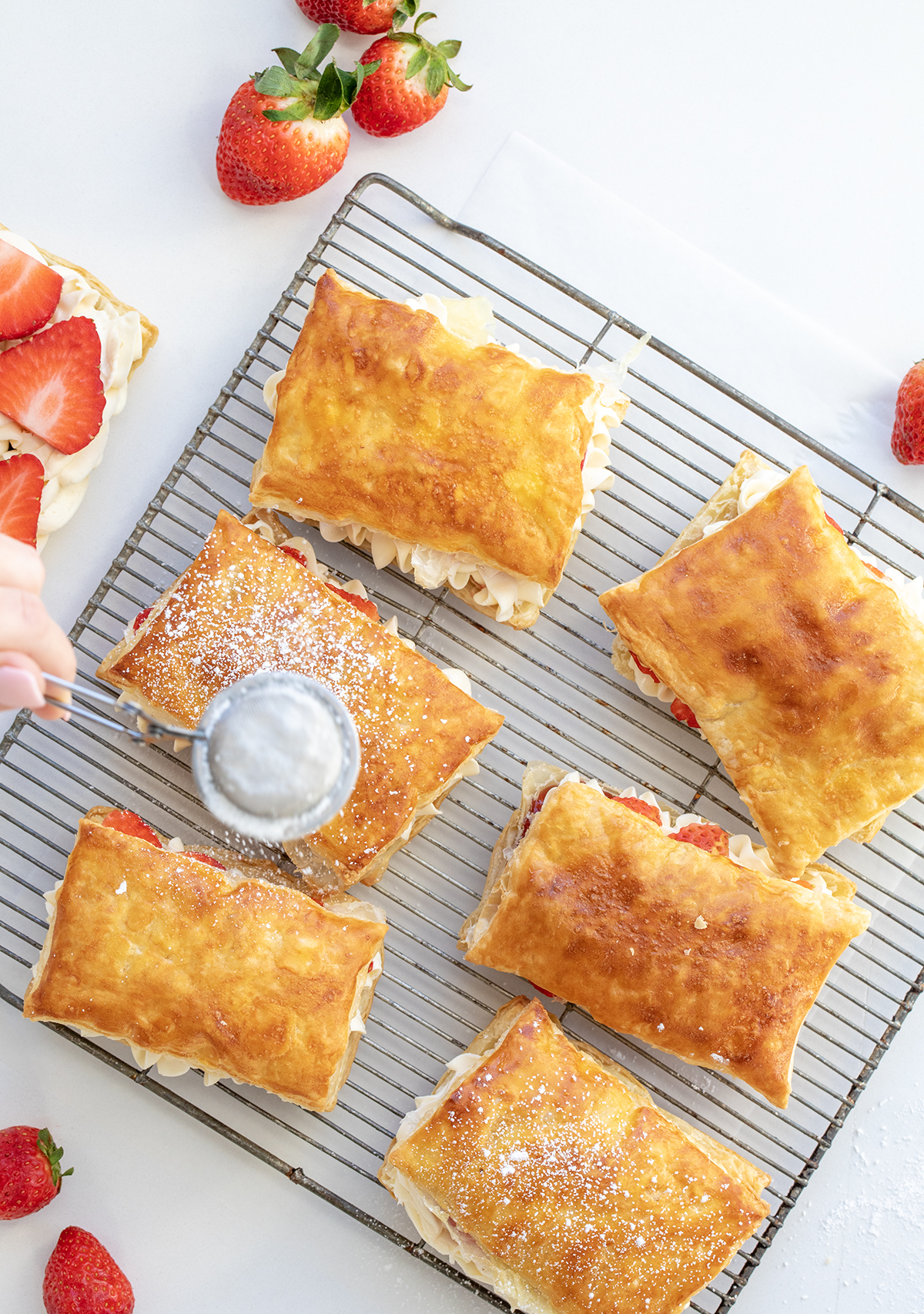 Can I Use Other Kinds of Fruit?
Sure! You can use other fruits such as raspberries, blueberries, blackberries, peaches, apricots, plums, and mixed berries to make a Napoleon. Fresh or frozen fruits can be used, making it a delicious experiment to taste-test.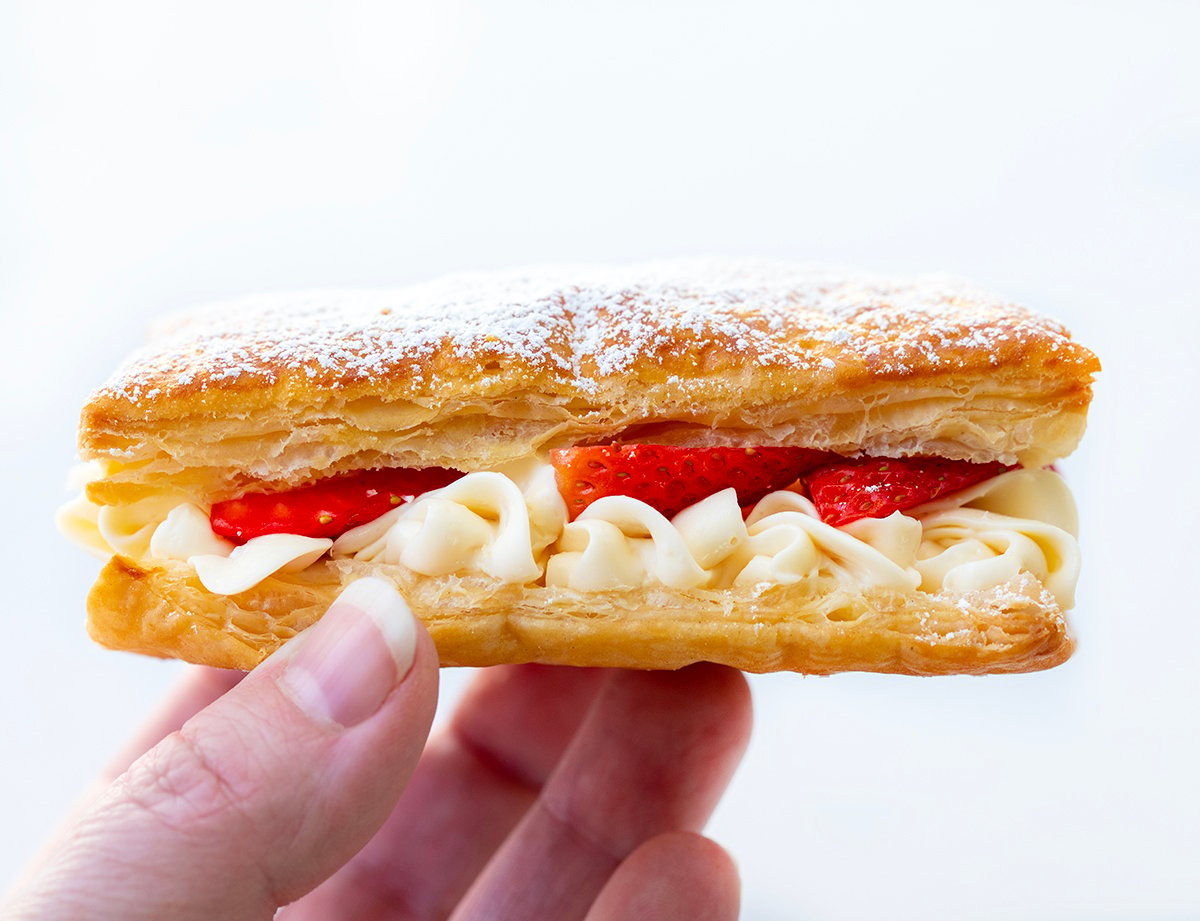 How to Store Easy Strawberry Napoleon
Once assembled, Strawberry Napoleon can be stored in the refrigerator for up to 2 days by covering it with plastic wrap or aluminum foil. This will prevent the pastry from drying out and keep the filling fresh. To maintain the texture of the puff pastry, it is recommended to not refrigerate it for too long. When ready to serve, you can remove the Napoleon from the refrigerator and let it sit at room temperature for a few minutes to soften slightly before serving. Another option is to store the puff pastry, cream cheese filling, and strawberry filling separately, then assemble the Napoleon just before serving.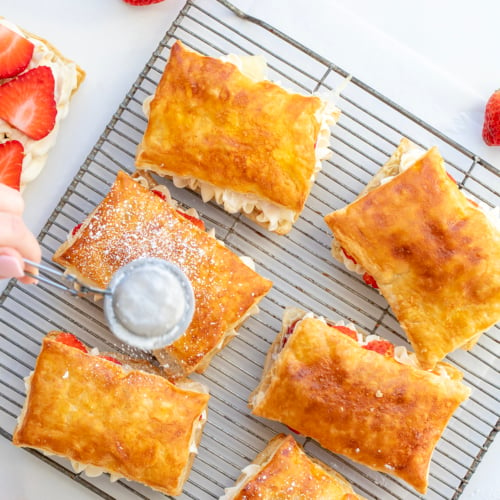 Easy Strawberry Napoleon
Easy Strawberry Napoleon is a classic dessert that combines the flakiness of puff pastry with the tanginess of cream cheese and the sweetness of fresh strawberries.
Ingredients
2

sheets

frozen puff pastry,

thawed according to package directions

1

large

egg,

room temperature

2

teaspoons

whole milk

2

packages

(16 ounces) cream cheese,

softened

¼

cup

(50 g) granulated sugar

2

teaspoons

vanilla extract

¾

cup

(240 g) strawberry preserves

2

cups

(332 g) fresh strawberries,

washed, sliced

2

tablespoons

confectioners' sugar,

for dusting
Instructions
Preheat the oven to 400°F and line 2 large baking sheets with parchment paper.

Lay one puff pastry sheet onto each lined baking sheet. Cut each sheet into 6 equal-sized rectangles for a total of 12 rectangles. Leave about ½-inch of space between each rectangle.

In a small bowl, whisk together the egg and milk until smooth. Brush the egg wash over the tops of the puff pastry rectangles, being careful not to get the egg wash on the cut edges. (This can prevent the pastries from puffing up.)

Bake the pastry rectangles for 15-17 minutes, or until they puff up and turn golden brown.

While the pastry is baking, prepare the cream cheese filling. In a medium bowl, stir together the cream cheese, sugar, and vanilla extract until fully combined.

Allow the pastries to cool before assembling (5-10 minutes). Once cooled, separate the top layer from the bottom layer of each puff pastry.

On the bottom half of each pastry rectangle, spread 1 tablespoon of strawberry preserves. Then, using a piping bag or plastic zip bag with the corner cut off, pipe 2 tablespoons of cream cheese filling. Top with 5-6 slices of fresh strawberries.

Place the top of the pastry over the sliced strawberries and dust with confectioners' sugar. Repeat the process for the remaining pastries.

Serve and enjoy!
Did you make this recipe?
Thank you for making my recipe! You took pictures, right? Well go ahead and post them on Instagram! Be sure to mention me @iambaker and use the hashtag #YouAreBaker.