Onion Bacon Jam is not the traditional flavor of preserves you may be used to, but it is definitely worth a try to wake up your tastebuds! With a definite onion flavor supported by the saltiness of the bacon, Onion Bacon Jam is great on crackers with cheese or even mixed in ground beef for your next meatloaf recipe!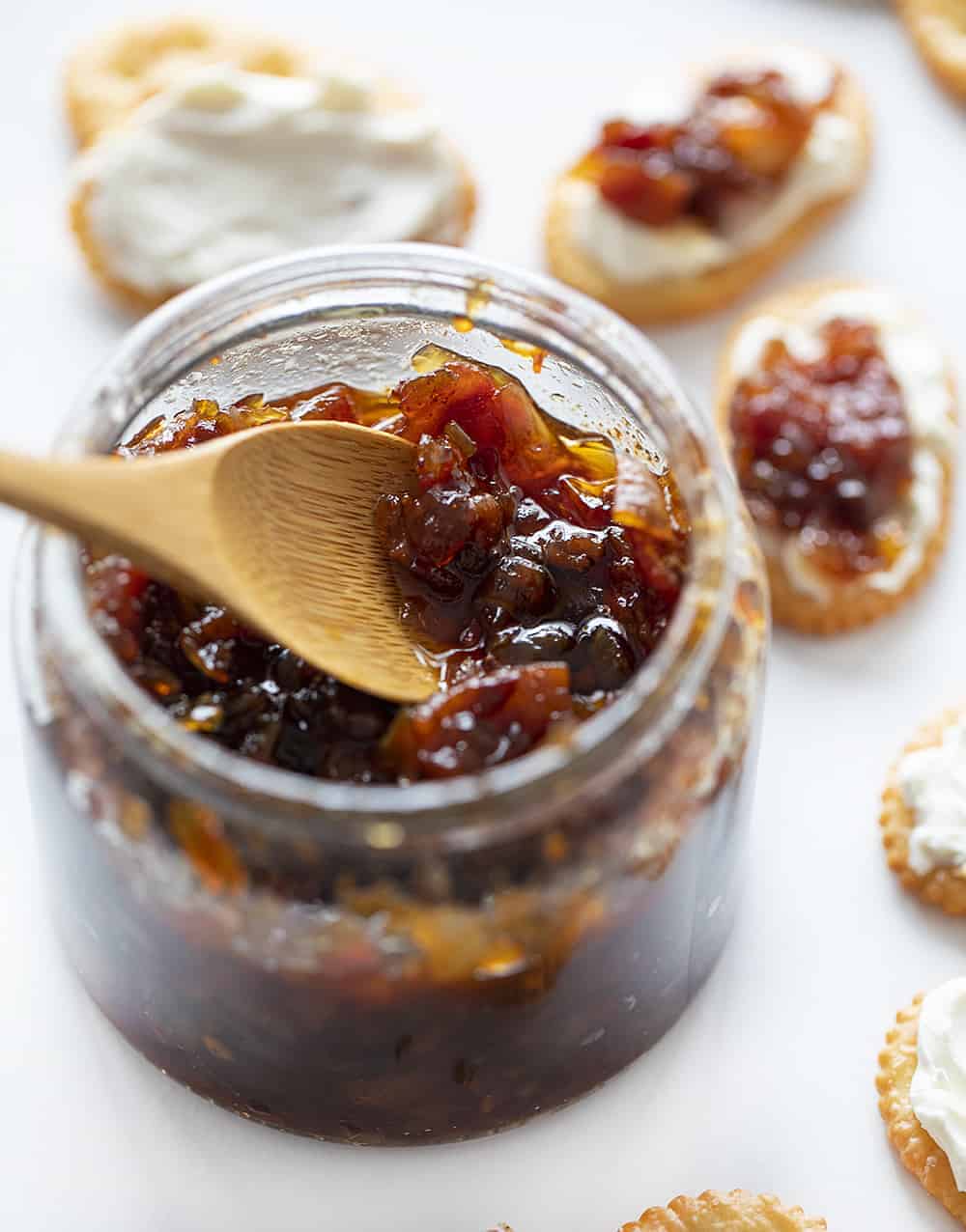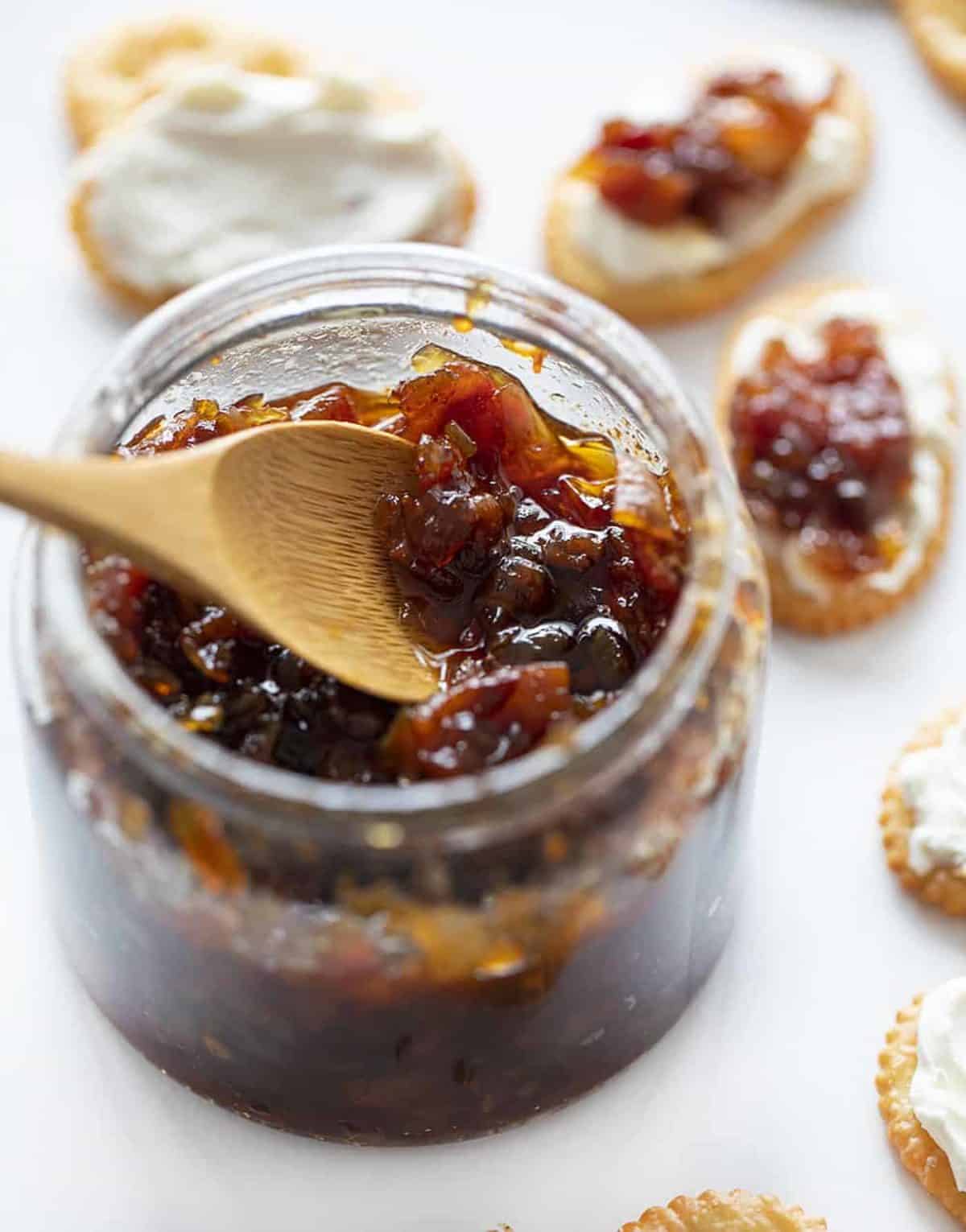 Easy Onion Bacon Jam
It seems that bacon is not just for your salty fix anymore. It's all the rage to see bacon added to sweets. I have seen them in chocolate chip cookies, brownies, and even on donuts. You would be surprised how many things pair well with Onion Bacon Jam. I will get that later. Let's get to making the jam!
How to Make Onion Bacon Jam
It all starts with the bacon for this recipe. In some recipes, I encourage you to bake the bacon ahead of time. But, in Onion Bacon Jam, you will be using the fat from the fried bacon to help caramelize the onions. (Full instructions in the recipe card below)
Start by cooking the bacon in a medium saucepan until it is crispy.
Set the bacon on a paper towel to cool, leaving about 4 tablespoons of fat in the pan. Once cooled, be sure to break it into 1-inch pieces to be added later.
Add the onion and shallots to the pan and cook them on medium-low for about 15 minutes. For best results, make sure you have diced the onions as small as you can…that will help them blend into the jam a bit more.
Mix in the garlic, brown sugar, maple syrup, apple cider vinegar, chili powder, and pieces of the cooked bacon.
Simmer this for about 7-10 minutes to let it thicken.
Let the jam cool before transferring it to a jar.

How to Store Onion Bacon Jam
Onion Bacon Jam should not be stored at room temperature, but rather in the refrigerator or freezer. If you are storing it in the refrigerator, it will last between 2-4 weeks. Freezer storage will give it longer shelf life. There is no way to can it safely, which means you need to eat it up quickly (within 2-4 weeks stored in the refrigerator) or freeze it. If you are freezing it, be sure you use straight-sided mason jars (or glass jars) and leave about an inch at the top for when it expands.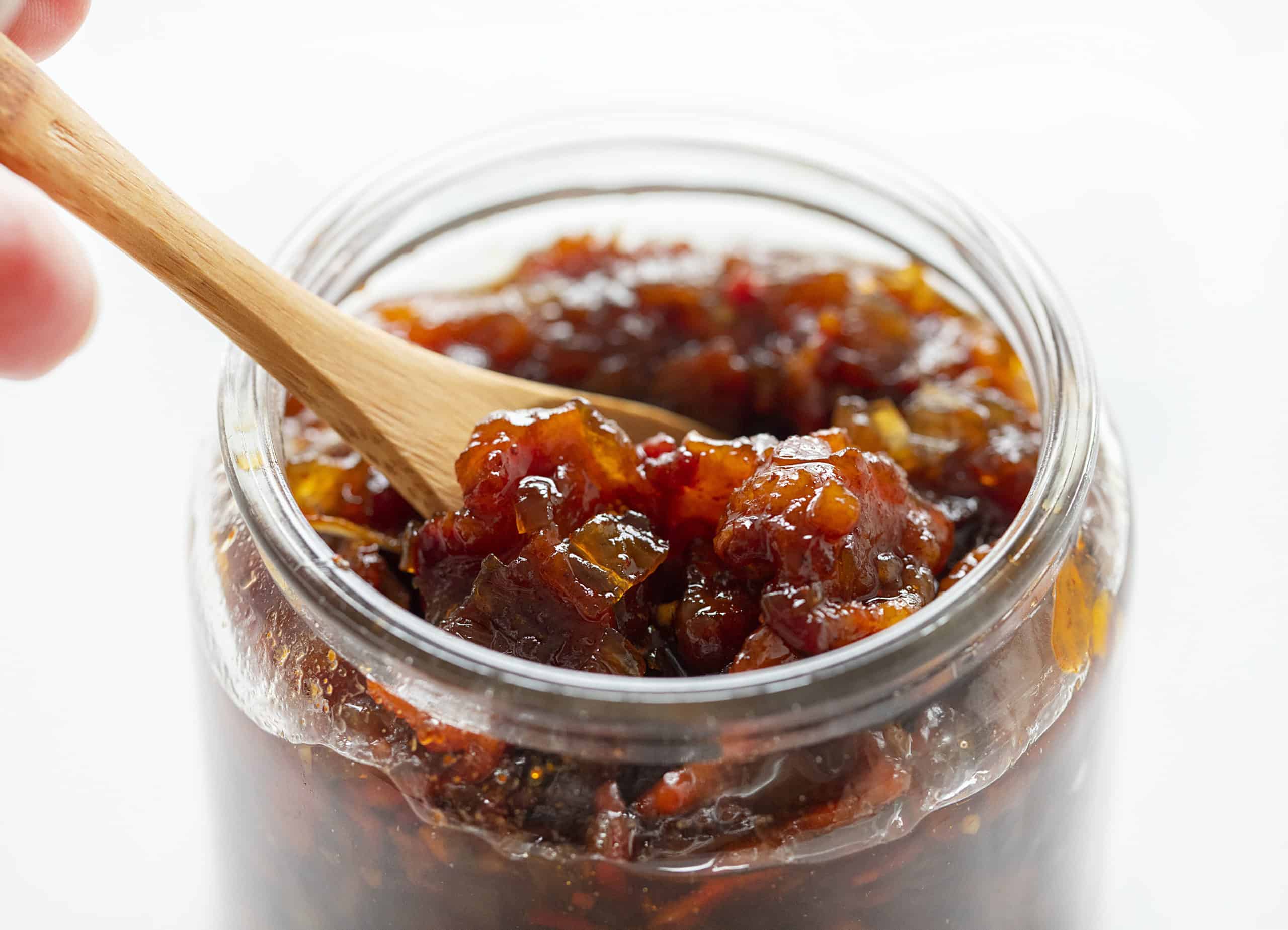 How to Use Onion Bacon Jam
Since you have to get the Onion Bacon Jam eaten, why not try it a few different ways? It's really up to you what you use it for, but here are some suggestions to get you started:
Use a dollop on a cracker with some cream cheese.
Spread it on your grilled cheese sandwich before you grill it.
Substitute Onion Bacon Jam for the bacon on your BLTs.
Add it to your scrambled eggs.
Use it as a topping for a hamburger or cheeseburger. (my favorite!)
Top your favorite roasted vegetables.
These suggestions will help you fall in love with this jam. Let me know if you found other flavorful ways to use Onion Bacon Jam!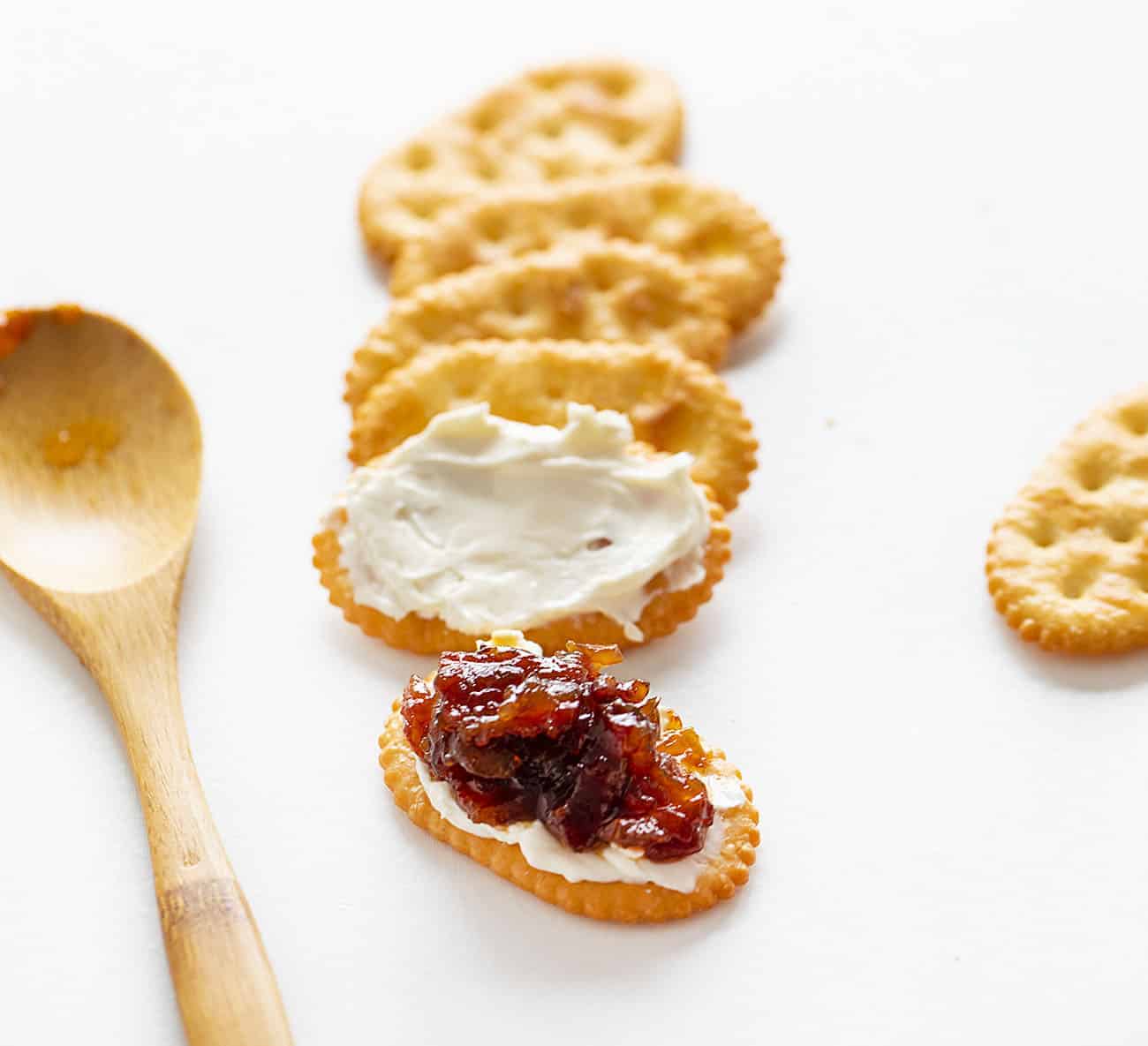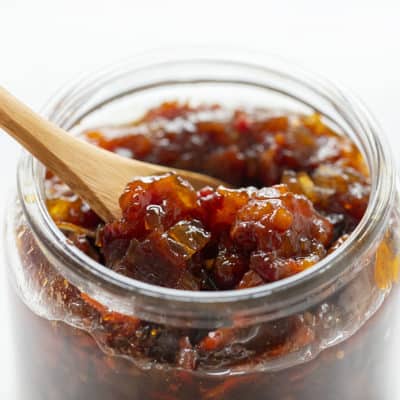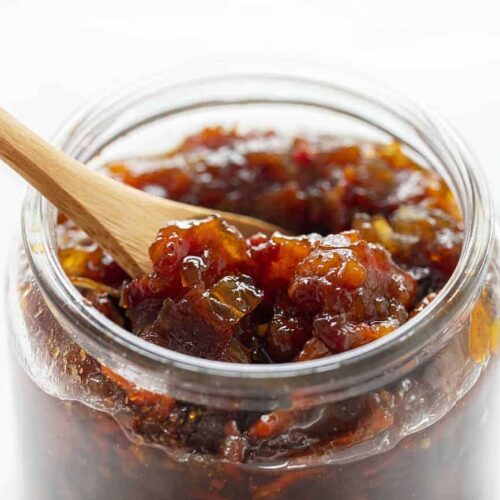 Onion Bacon Jam
With caramelized onions and full of bacon, Onion Bacon Jam will be the condiment you have been missing!
Ingredients
1

pound

bacon,

cut into 1-inch pieces

1

large

yellow onion,

about 3 cups, finely chopped (approximately ¼-inch pieces)

2

large

shallots,

about 1 1/2 cups, diced

2

cloves

garlic,

minced

½

cup

(100g) brown sugar

¼

cup

(85g) maple syrup

⅓

cup

(79g) apple cider vinegar

1

teaspoon

chili powder,

optional but highly recommended
Instructions
In a medium saucepan, cook bacon over medium heat until crispy.

Place cooked bacon on a plate lined with a paper towel. Break the bacon into about 1-inch pieces to be added later.

You need about 4 tablespoons of bacon fat to remain in the pan, carefully remove the rest. (It is hot! We store it in mason jars.)

Add the onion and diced shallots to the pan with the bacon grease, reducing heat to medium-low. Cook until the onions are caramelized (about 15-20 minutes), stirring often.

Mix in the garlic, brown sugar, maple syrup, apple cider vinegar, chili powder, and pieces of cooked bacon.

Simmer for 7-10 minutes, or until the mixture has thickened. (Think of the consistency of a jam.)

Serve warm or cold, but you may want to warm slightly if it has been refrigerated.
Did you make this recipe?
Thank you for making my recipe! You took pictures, right? Well go ahead and post them on Instagram! Be sure to mention me @iambaker and use the hashtag #YouAreBaker.