The time is ticking slowly.  So slowly that I can't seem to make proper sense of my emotions.  Is it normal to be on pins and needles for days on end?  Is it normal to wake up excited, then nervous and then immediately excited again for something that hasn't even happened yet? And then, in an instant, the time is gone.
In the blink of an eye, I am closer to the goal than I have ever been.
As you may already know, my book is coming out in March of this year.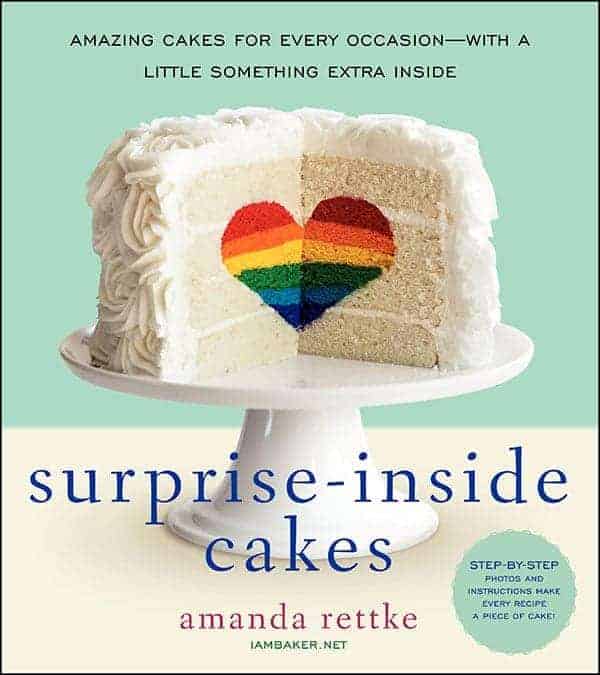 photo credit: Susan Powers
Things that will happen between now and then:
I WILL GET TO HOLD A FINISHED BOOK.  It's a moment that I have looked forward too and dreaded simultaneously, but more so anticipated.  It's as if, in my head, none of this is real until I am holding it in my hands.  Evidence for the last three years of time and effort if you will.
I. Can't. Wait.  (if you follow me on Instagram I will be sharing the big moment!!!)
THERE WILL BE HONEST REVIEWS.  In less than two months people will have actually held the book and be providing real and honest feedback.  I have read the brutal honesty that people express on Amazon's review pages and it's terrifying.  What if they just don't "get" the concept?  What if someone makes a cake and it doesn't turn out?  What if they try and recipe and its a hockey puck?  (Not a surprise-inside hockey puck mind-you, but a burnt and un-edible hard cake.)  What if the book just really isn't that good but I am too close to the project to see that?  I am trying to develop a thick skin so that when/if bad reviews happen, I take the criticism and use it to do better next time.  It is my hope that people who like the book and learn from it and like it will share their reviews too!!
I WILL BE THANKING YOU OVER AND OVER AGAIN.  A few of you have already purchased your copy through pre-order.  I just want to truly express to you how thankful I am for that.  I know who you are and you have officially made it onto the awesomly-awesomest-awesome person list.
It blows my mind that people are willing to invest their hard earned money into something that I did.  Nights are spent wondering if I did enough or wrote enough or shared enough new methods and treats so that you could really get your money's worth.  Please do let me know what you think when you get your copy!
I WILL FINALLY GET TO BLOG ABOUT THE IDEAS I HAVE BEEN SITTING ON FOR YEARS!  I don't know if its a 'blogger' mentality, but once I have an idea I immediately start thinking of new and better versions of that idea.  The cakes in the book (most of which were completed and photographed over the course of 2 months in early 2012) have been contemplated for years now, and I have new fun ideas about them!  And yay… they can now start making their way to the blog!
Because I just adore you all to pieces and am consistently so thankful and grateful for you, here is a sneak peak of the book!  You know that Rainbow Heart Cake on the cover?  Here is how it appears in the book!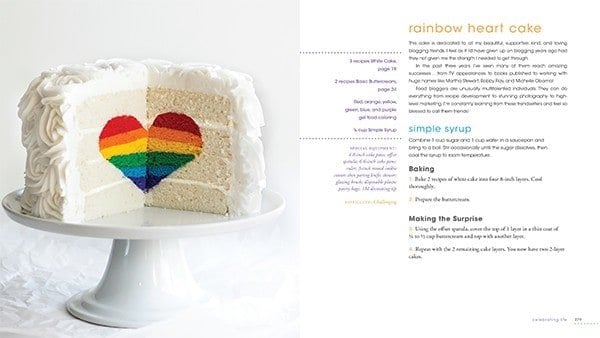 Each cake has its own "chapter" if you will.  Each "chapter" includes a pretty picture of the finished (and cut into) surprise inside cake, a quick description of either who the cake is dedicated to (like my fabulous food blogging friends in the dedication above!), of the inspiration behind it, or just a quirky story.
You are also told what recipes you will need to prepare to make the surprise inside cake and all the tools necessary.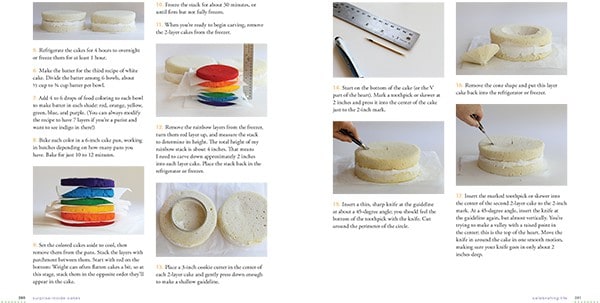 The level of detail is extreme.  I wanted you to feel comfortable with every single step!  So not only is there very detailed written descriptions but there are many, many, many images to accompany each cake in the book.
Susan Power's was the photographer for the book, and she did all of the "finished" shots.  I took all the pictures of the step-by-step shots, like what you see above.  So it's always my fat hand tinkering around in those shots! 🙂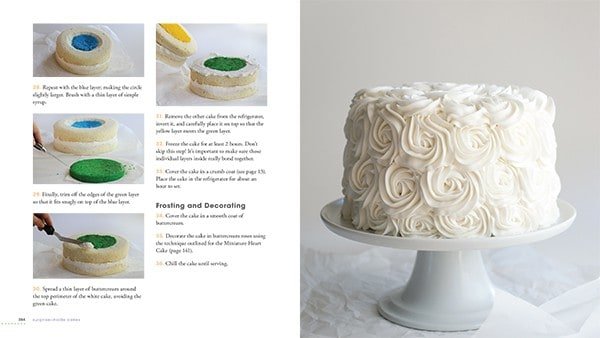 After sharing every detail in preparing the cake you are shown a picture of the final product.  And guess what???  I also share a few new frosting techniques in the book and give tutorials and step-by-step instructions for them!  Its truly decorating from the inside-out!  (The above cake is my Original Rose Cake design and that can be found here.)
And do you know what?  ALL this detail and ALL these images are provided for every single cake in the book!
And there are more.  Many many more!  I promise, you have NEVER SEEN ANYTHING LIKE THESE CAKES.
Um, I might be a little excited.  Can you tell?
When you are ready to order your copy you can do it here:
Amazon: http://goo.gl/zX1V9k
Apple: http://goo.gl/yxbknv
Barnes and Noble: http://goo.gl/fmylI5
IndieBound: http://goo.gl/vq6CsU
Books-A-Million: http://goo.gl/HrRbnS
Google Play: http://goo.gl/HwbxbL
Kobo: http://goo.gl/3fRK0f
HarperCollins: http://goo.gl/EZE1nH
For all you international folks, have no fear!  The amazing team at Harper Collins is putting together all the information you will need to order your copy.  I will hopefully have it for you in a couple weeks.  The book is being sold everywhere in the world, so you WILL be able to get one!  (Thank you for your patience on that!)
And again, THANK YOU.  Thank you so much for all you do and give and share.  You are a blessing and a light in this world!