These Butterscotch Zucchini Bars are moist, sweet, and a great way to use up some of your summer zucchini! If you love a butterscotch flavor, try my Knock You Naked Blondies!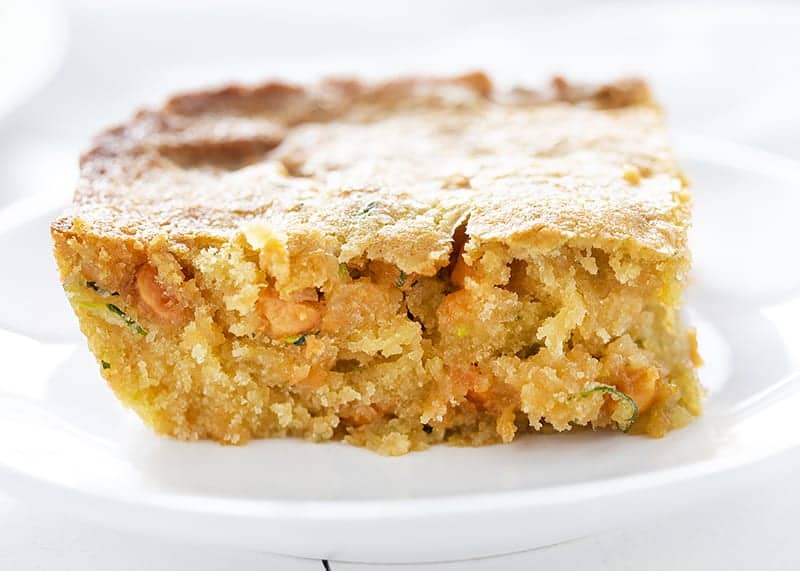 Butterscotch Zucchini Bars
Zucchini in a dessert, you say? Yes, it is possible to make a delightful treat using zucchini. When I bit into this bar, I couldn't stop at one bite. I ended up eating the whole piece, and I could have eaten the whole pan if I didn't have to share. Nothing hinted at a vegetable being a part of this treat. The butterscotch flavor was very balanced and gave the bar just enough butterscotch sweetness.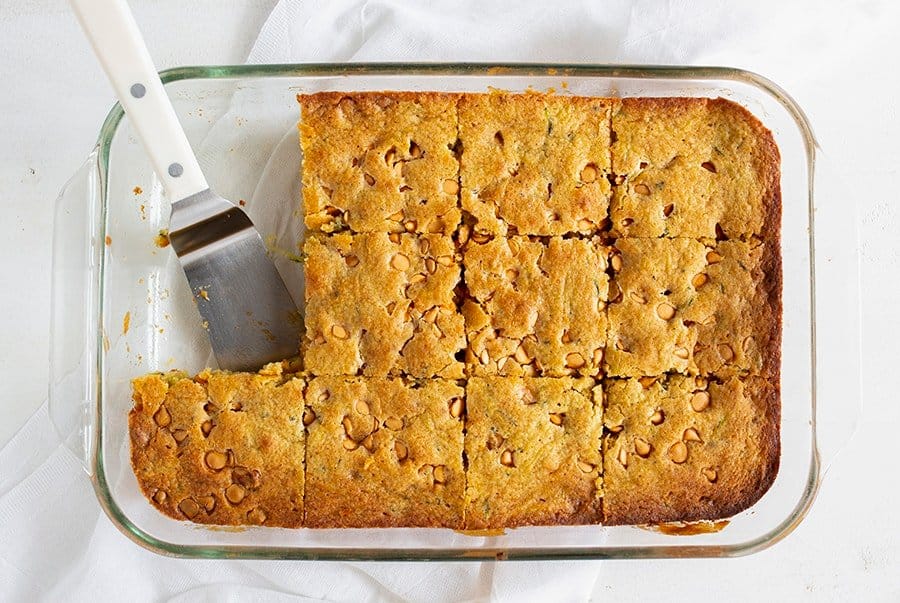 Baking With Zucchini
You would never know there's zucchini in these bars if it wasn't for the green bits. I know some people aren't anxious to eat desserts with zucchini in it, but this is a must-try. There is no noticeable flavor and it adds something fantastic to the final product.
Why add zucchini in bars? The zucchini adds moisture to the bars and keeps the crumb soft and tender. Plus, have you ever grown zucchini in your garden? It's so hard to keep up with. You can eat it for 2 weeks straight and still have a basket of zucchini to pick and eat. Baking it into cake or bars is another way to use it up!
Size matters when it comes to baking with zucchini. A large zucchini will be drier. A small zucchini with have more moisture. Certain recipes work best with different sizes. For instance, I tend to use a medium to small with this recipe because I want the moisture the zucchini brings, but I use a large zucchini for my Double Chocolate Zucchini Cupcakes.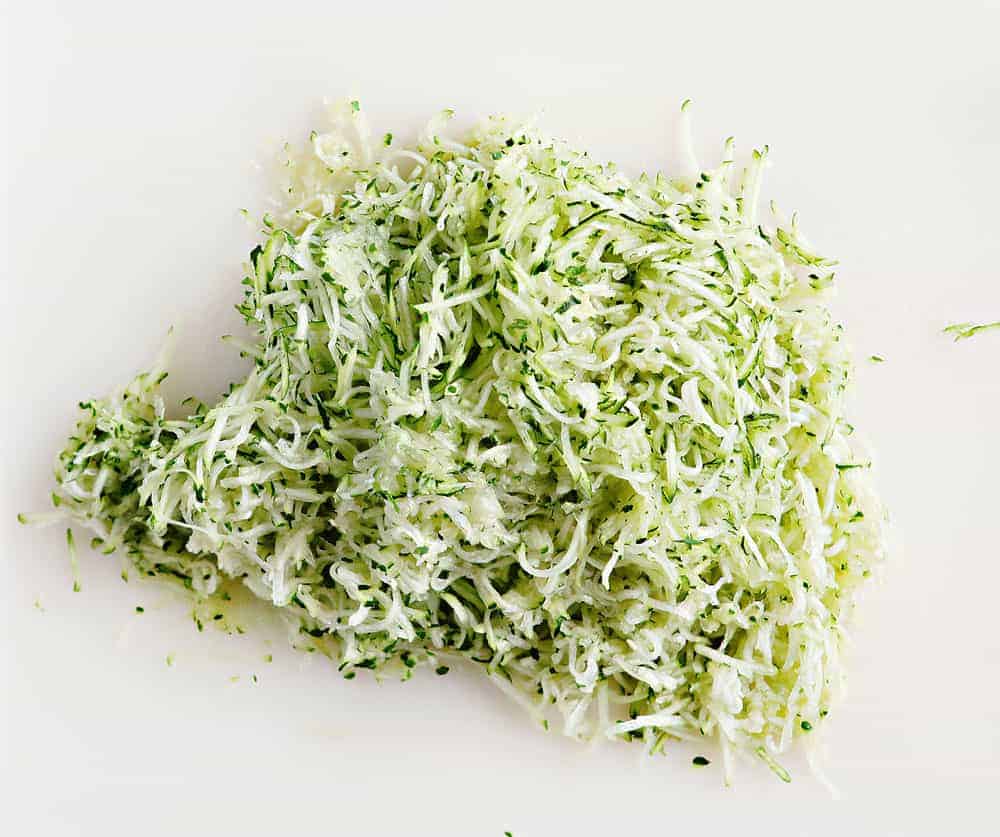 How to Make Butterscotch Zucchini Bars
This recipe will prove to everybody that zucchini does belong in desserts, and the desserts can be delicious!
Ingredients:
butter
brown sugar
eggs–Out of eggs? No problem! Try one of my Egg Substitutes for this recipe!
vanilla
all-purpose flour
baking powder
salt
zucchini
butterscotch morsels
Before you begin mixing your ingredients, be sure that you have your butter and eggs at room temperature. Eggs should be out for about 30 minutes before you add them to your mix.
PRO TIP: If you are short on time or forgot to take out the eggs, don't quit the recipe before you start, simply put them in warm water while you begin putting the other ingredients together, or take 30 minutes to just relax and check out my Chocolate Chip Zucchini Cookies recipe! Room temperature eggs will create a more evenly textured batter, which will make your Butterscotch Zucchini Bars look as good as they taste.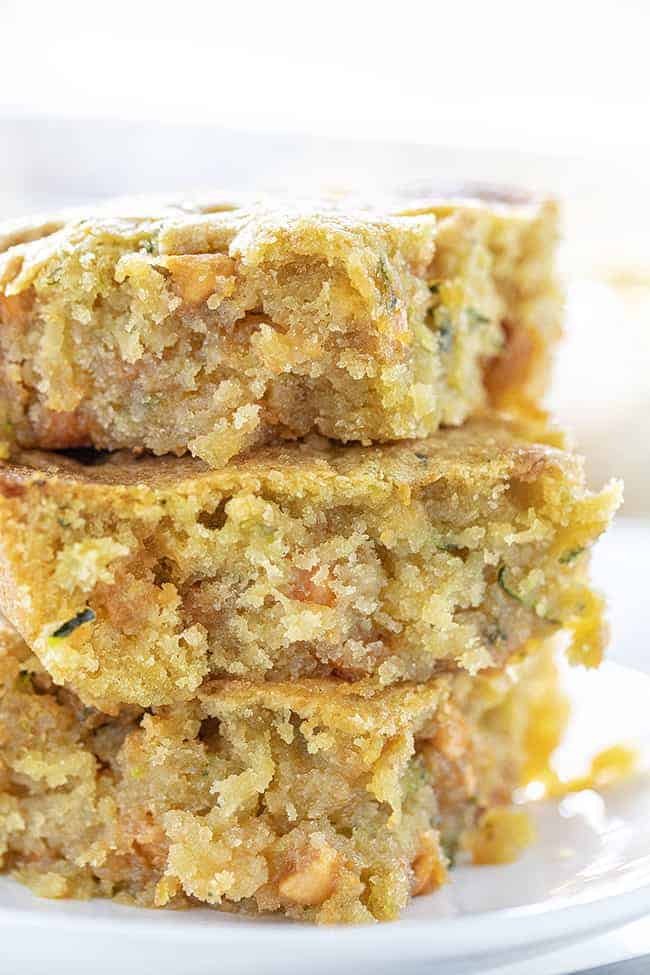 Mixing It All Together
After you have enjoyed (hopefully) your 30 minutes waiting for the eggs to be ready, preheat the oven to 350°F and spray a 9×13 inch pan with nonstick spray.
While the oven is heating, mix the butter and brown sugar with a hand-held mixer.
Next, you will add the eggs and vanilla.
It's time to add the zucchini. Don't be afraid. Trust me, it will be delightful! Use a spatula to combine all the ingredients. The mixture should be runny; if not, let it sit for five minutes or so before you add the butterscotch morsels.
Next, pour the batter into your pan and top with more butterscotch morsels.
Bake the scrumptious bars for about 40 minutes. The darker top and edges mean it is cooked perfectly, and you will be enjoying these treats in a matter of moments.
Yum! Why not try peanut butter, chocolate, or white chocolate morsels for a different flavor? Or, add some dried fruits or nuts to the mix. Just don't leave out the zucchini : )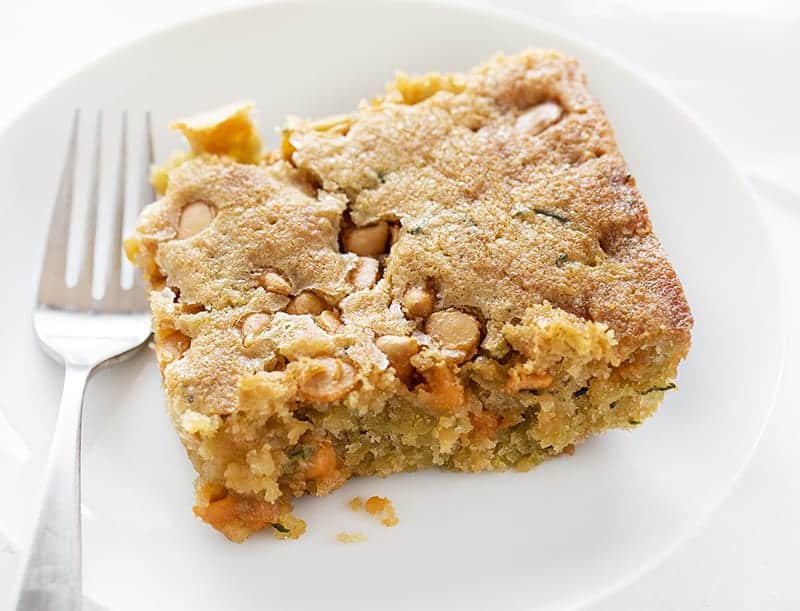 Tips for Baking Butterscotch Zucchini Bars
When grating the zucchini, I recommend using the fine side of your grater. Coarser pieces will have a slightly more noticeable texture in a finished cake or bar recipe.
Some recipes ask that the zucchini is pressed well with a clean towel to soak up excess moisture or to prevent whatever your baking from getting too soggy. Pay close attention to the recipe that you are making with zucchini, as the level of moisture they provide is important. For instance, in this recipe, the zucchini is lightly drained after grating. You want it to release it's juicing while baking, but not soak the batter prior to baking.
To prevent sticking, make sure to spray the pan with cooking spray.
For an added touch, melt some butterscotch pieces and drizzle them over the top!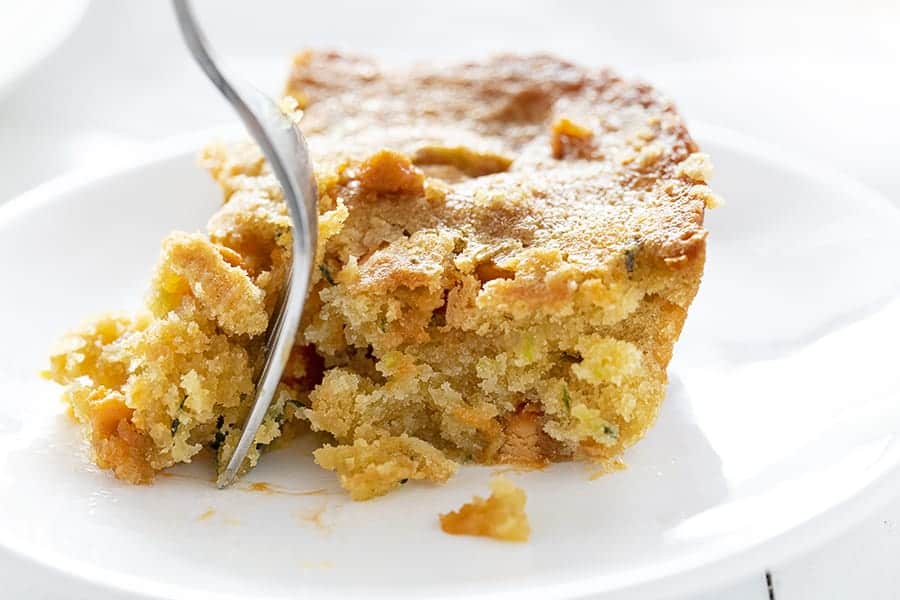 More Delightful Zucchini Treats
Lemon Blueberry Cupcakes with Zucchini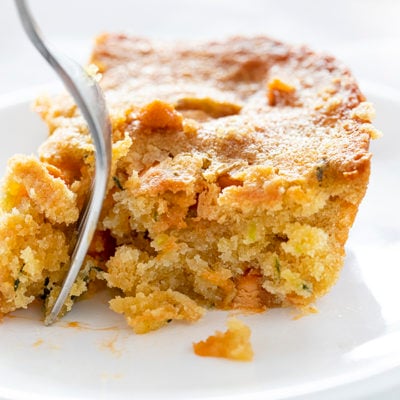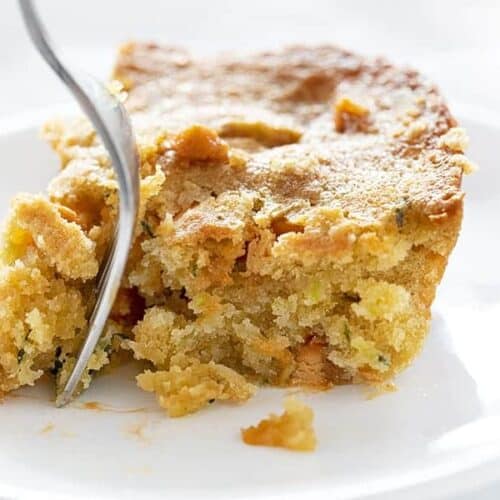 Butterscotch Zucchini Bars
Ever had a blondie? This one tastes AMAZING but just happens to be loaded with zucchini!
Ingredients
1

cup

(227g) butter,

room temperature

1 3/4

cup

(350g) brown sugar,

packed

2

large

eggs,

room temperature

1

teaspoon

vanilla

2

cups

(250g) all-purpose flour

1

teaspoon

baking powder

1/4

teaspoon

salt

1 1/2

cup

finely grated and drained zucchini,

packed

1 1/2

cups

butterscotch morsels
Instructions
Preheat oven to 350°F. Spray a 9x13 pan with non-stick spray or use the butter & flour method.

In a large bowl add the butter and brown sugar. Using a hand-held mixer, cream them together until they are lighter and fluffier.

Add the eggs and vanilla to the butter mixture and mix until fully combined, 1-2 minutes. Scrape down the bowl as needed.

Add the flour, baking powder, and salt to the bowl and mix on medium-low until just combined.

Add in the zucchini and mix on low. It should be a runny mixture. If it appears dry at all, let it sit for 5 minutes.

Add in 1 cup of butterscotch morsels and stir with a spatula.

Pour the batter into the prepared pan and then top with remaining butterscotch morsels.

Bake for 40 minutes and check for doneness. An inserted toothpick should be removed with a few crumbs on it, but not wet batter. It should appear dark on top and the edges. (This is good!)
Did you make this recipe?
Thank you for making my recipe! You took pictures, right? Well go ahead and post them on Instagram! Be sure to mention me @iambaker and use the hashtag #YouAreBaker.