Tomato and Corn Pie is a dish you will crave after just one bite! The layering of cheeses, corn, and tomatoes, supported by a pie crust is a hearty and tasty meal for the entire family. If you have the time, give my Homemade Pie Crust a shot! I also have a Tomato Pie recipe for more deliciousness using your fresh tomatoes!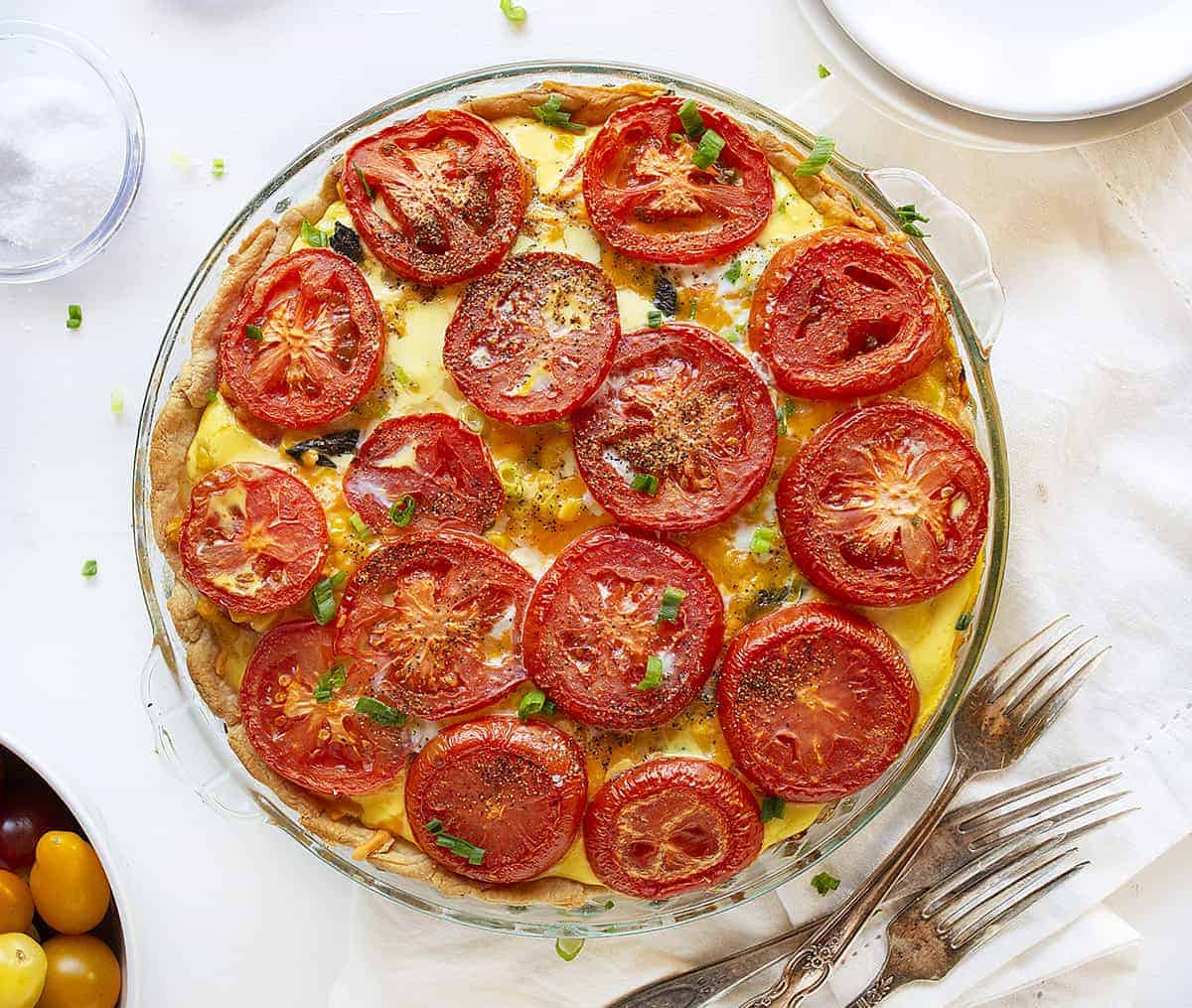 Best Tomatoes for Tomato Pie
The best type of tomatoes to use for Tomato Pie are typically ripe, firm, and meaty varieties. Popular choices include Roma tomatoes (what I used), beefsteak tomatoes, or heirloom tomatoes. These tomatoes have a good balance of flavor, moisture content, and texture, making them suitable for baking in the pie.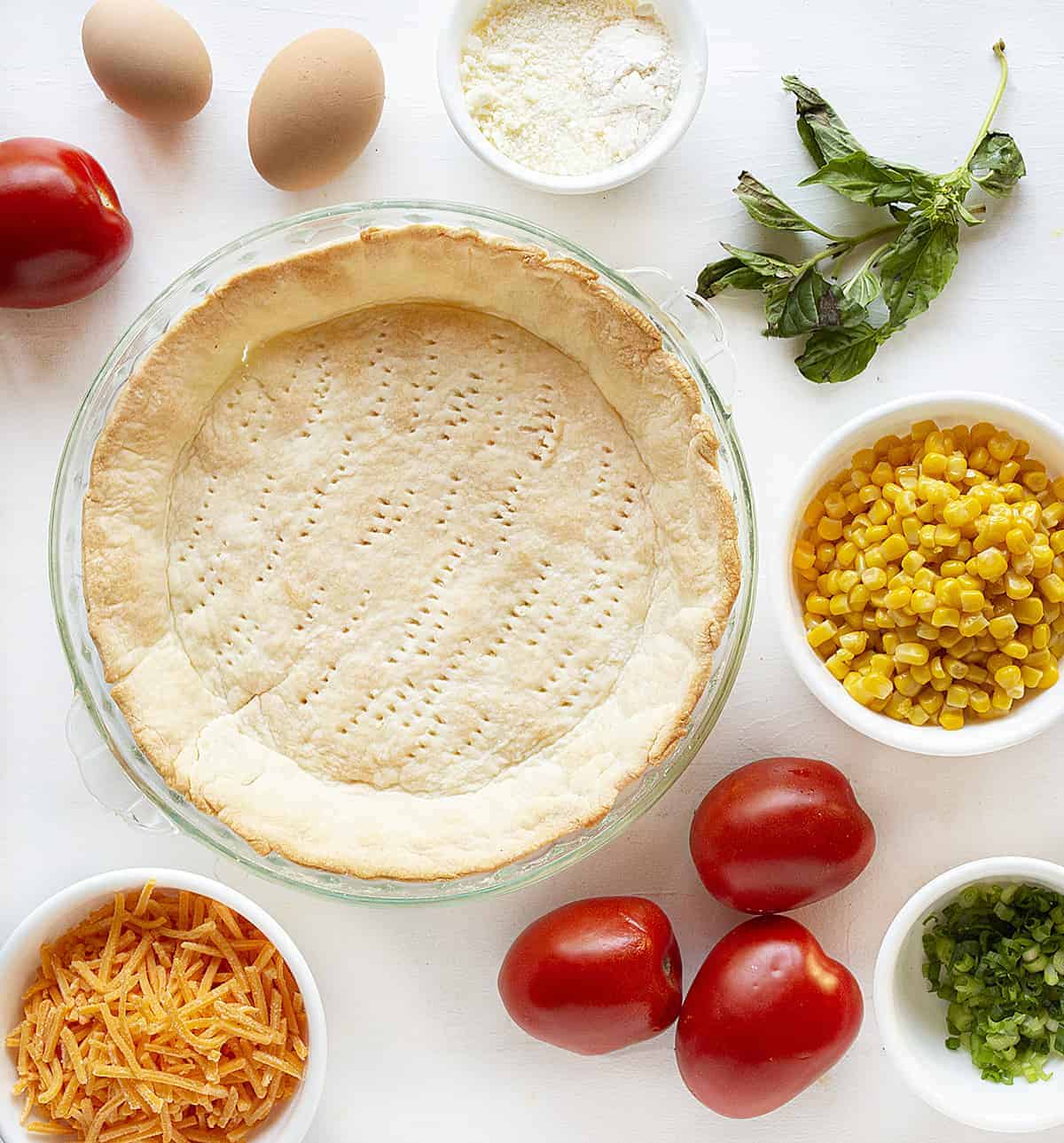 Can You Make Tomato and Corn Pie Ahead of Time?
Yes, Tomato Pie can be made ahead of time. You can prepare the pie, including assembling the layers, and refrigerate it before baking. When ready to serve, simply bake it according to the recipe instructions. Alternatively, you can fully bake the Tomato Pie ahead of time, allow it to cool, and refrigerate. When serving, you can enjoy it cold or reheat it in the oven for a few minutes until warmed through.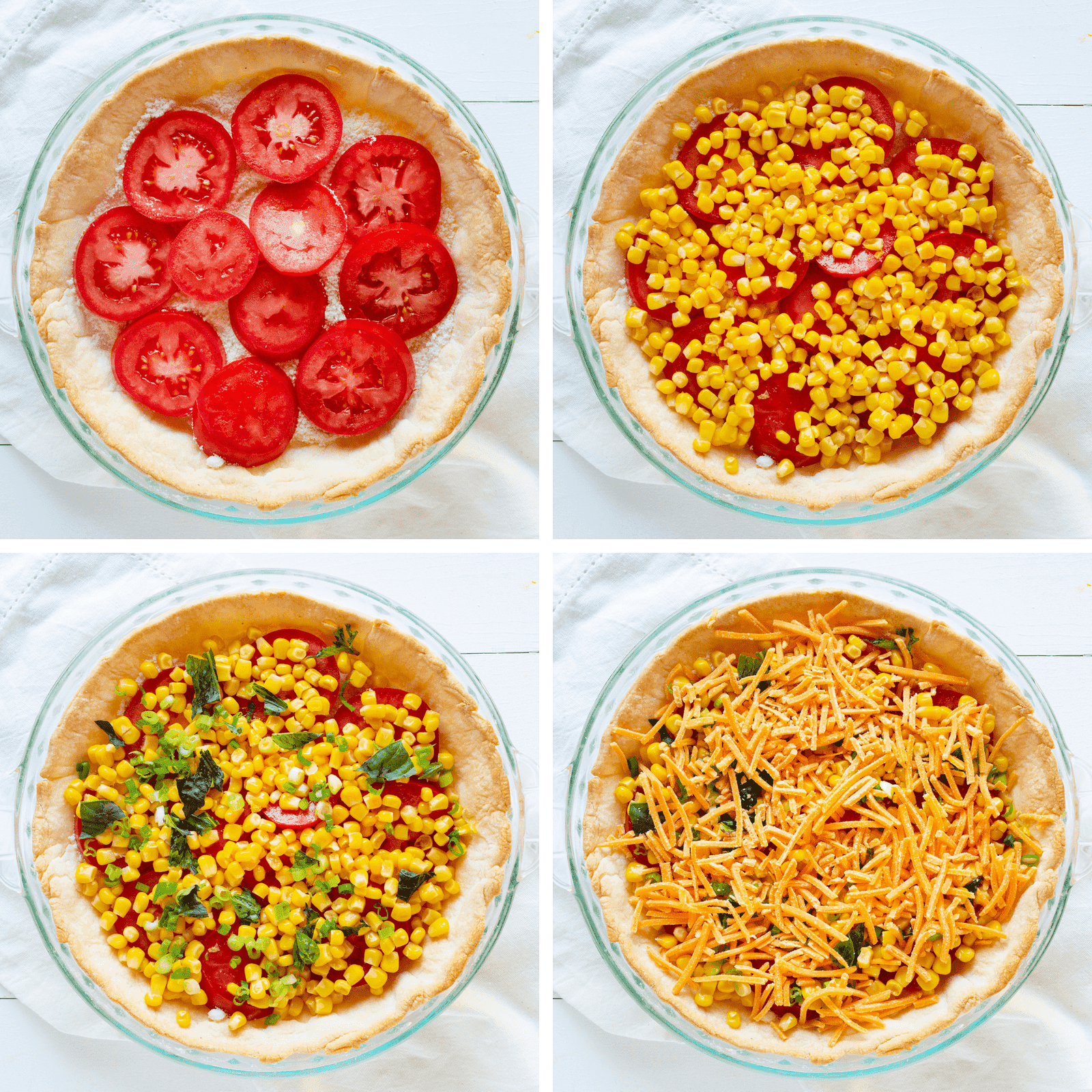 How Do You Prevent Tomato Pie From Becoming Soggy?
To prevent Tomato Pie from becoming soggy, there are a few steps you can follow. First, slice the tomatoes and allow them to drain on paper towels to remove excess moisture before layering them in the pie. Additionally, pre-baking the pie crust before adding the tomato filling helps create a barrier that reduces sogginess. Adding a layer of cheese or breadcrumbs on the crust before adding the tomatoes can also help absorb excess moisture and prevent sogginess.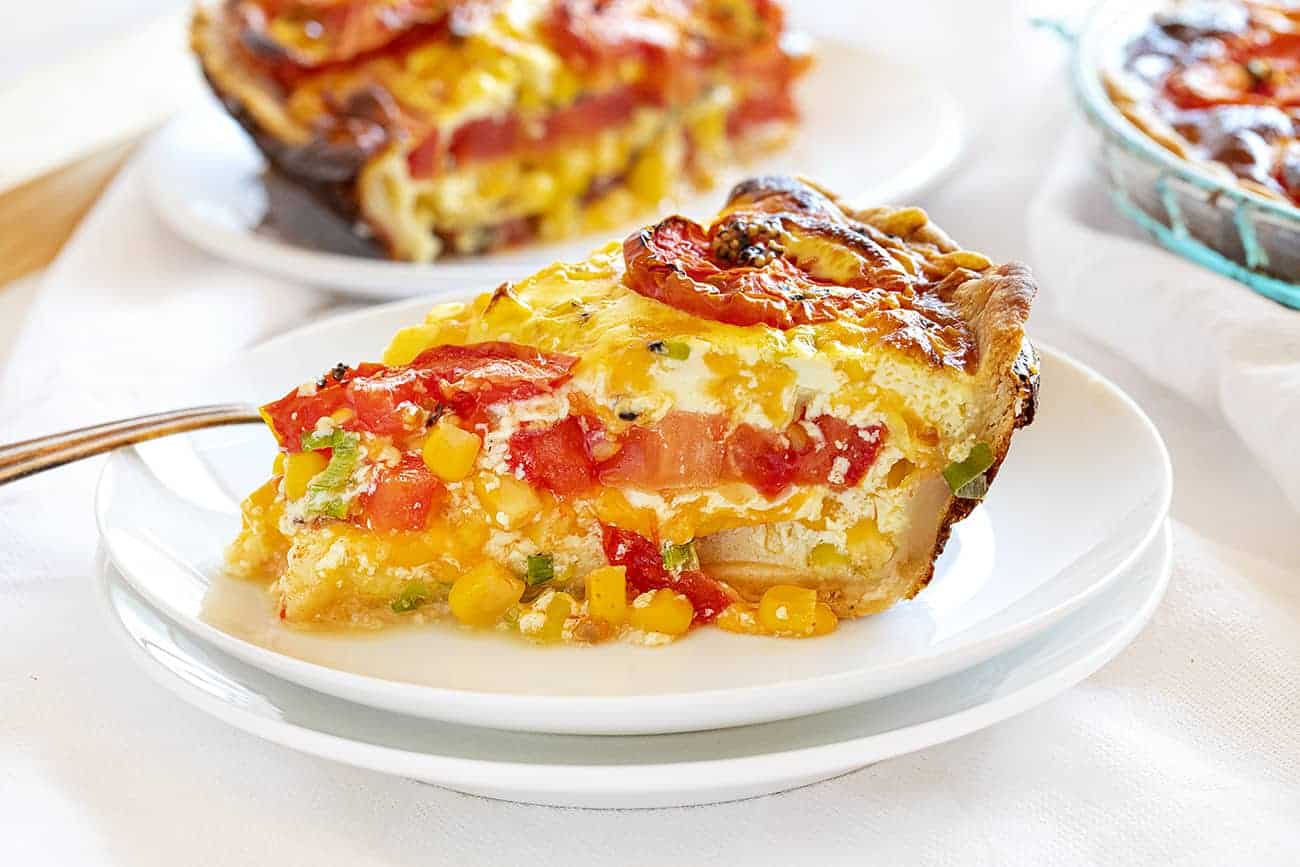 Can Tomato Pie be Served Cold or Reheated?
Yes, Tomato Pie can be served either cold or reheated. Some people enjoy the refreshing taste and texture of chilled Tomato Pie, making it a great option for summer gatherings or picnics. If you prefer to serve it warm, you can reheat individual slices in the oven or microwave until heated through. Reheating will help restore the flavors and enhance the pie's overall enjoyment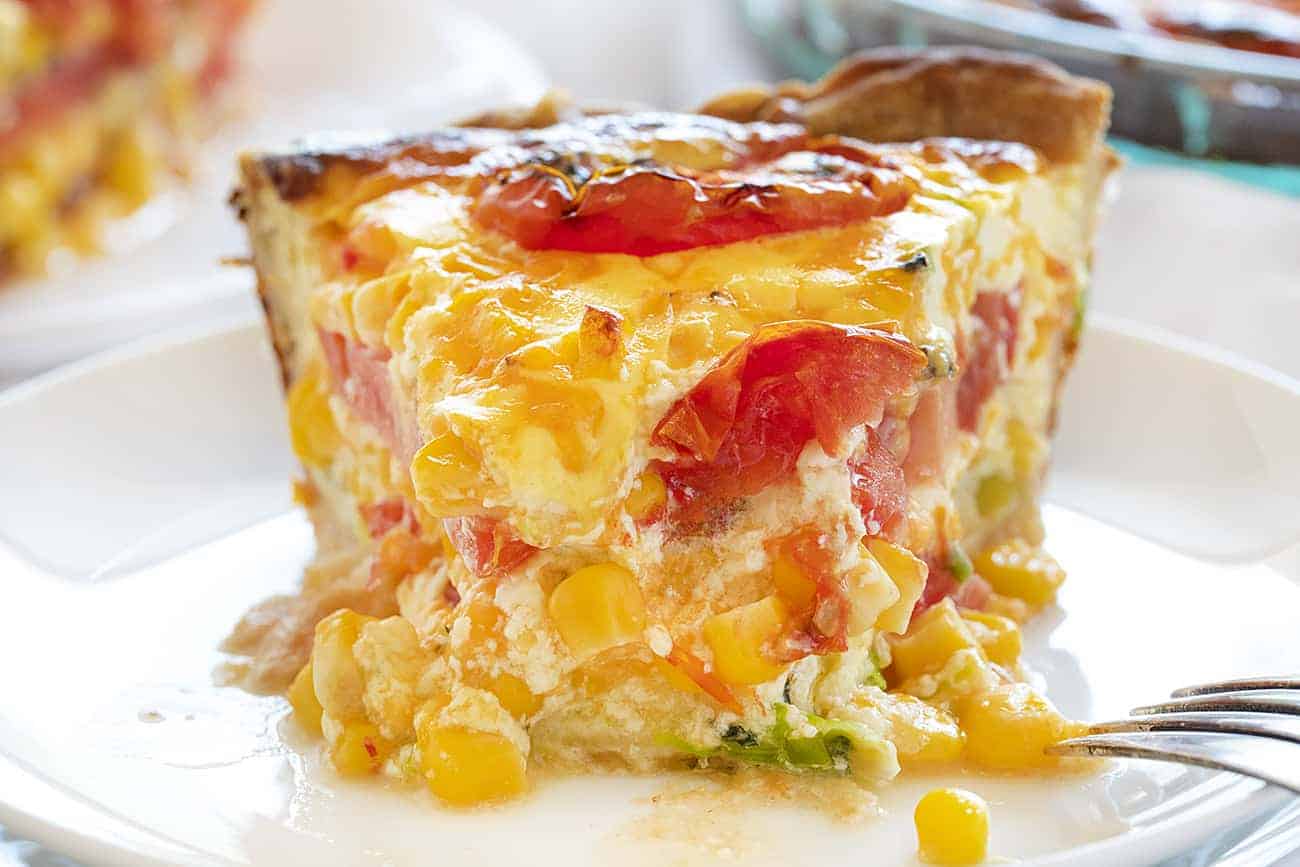 How to Store Tomato and Corn Pie
Tomato and Corn Pie can be stored in the refrigerator in an airtight container. It will last up to 3 days. Reheat it in a microwave or in the oven.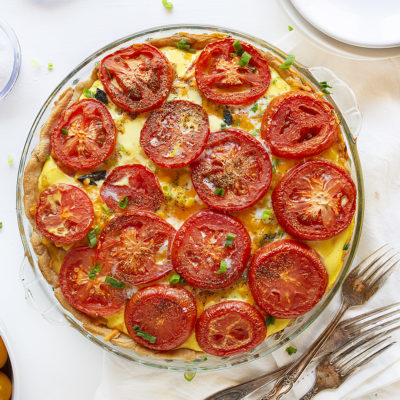 Tomato and Corn Pie
Tomato and Corn Pie is a dish you will crave after just one bite! The layering of cheeses, corn, and tomatoes, supported by a pie crust is a hearty and tasty meal for the entire family.
Ingredients
1

prepared pie crust,

homemade or purchased

5-7

Roma

tomatoes,

sliced no more than ¼-inch thick

⅓

cup

freshly grated Parmesan cheese

2

teaspoons

all-purpose flour

1

cup

canned corn kernels

3

scallions,

finely chopped

8

large

basil leaves,

torn into ½-inch pieces (plus more for garnish)

1 ¼

cups

(141 g) sharp cheddar cheese,

shredded

3

large

eggs

1

cup

half-and-half

freshly ground black pepper,

to taste
Instructions
Preheat oven to 400 °F. If using a purchased crust, roll it out to flatten it slightly. Place in a 9-inch pie pan. Press the pie crust securely against the pie pan including securing the edge of the crust to the rim of the pie pan. Pierce the bottom all over with a fork.

Bake 12 minutes or until crust is lightly browned. Reduce oven temperature to 375 °F.

While the crust is baking, line a baking sheet with paper towels. Generously season the tomato slices with salt. Place on the paper towels to absorb the excess liquid that is drawn out by the salt. Before assembling, blot the tomatoes dry with paper towels.

Combine cheese and flour and sprinkle evenly over the bottom of the crust. Top with ⅓ of the tomatoes.

Sprinkle with half the corn and scallion, basil and cheddar cheese. Repeat layering again, finishing with a layer of tomatoes on the top.

Whisk together eggs and half-and-half, 1 teaspoon salt and freshly ground black pepper. Carefully pour the custard over the filling.

Bake 50-55 minutes or until the center set and the top is lightly browned. (Check the crust at 45 minutes. You may need to make a foil collar to keep it from getting overly browned.) Let rest 10 minutes before serving. Garnish with torn basil leaves.
Did you make this recipe?
Thank you for making my recipe! You took pictures, right? Well go ahead and post them on Instagram! Be sure to mention me @iambaker and use the hashtag #YouAreBaker.