I remember the first time I met my husband's grandma Carol.  We had been dating a little over a year and I was still very eager to impress all his family members.  (and failing miserably, buts that's another story)  I remember being very anxious and nervous and wishing I had brought flowers or something as a gift.
We arrived at a home smelling of freshly baked cake and smiles around.  I was in shock, it appeared that his grandma had baked for us!  Carol was a busy wife and grandma (taking care of her wheelchair-bound husband) and it was such a precious gesture on her part.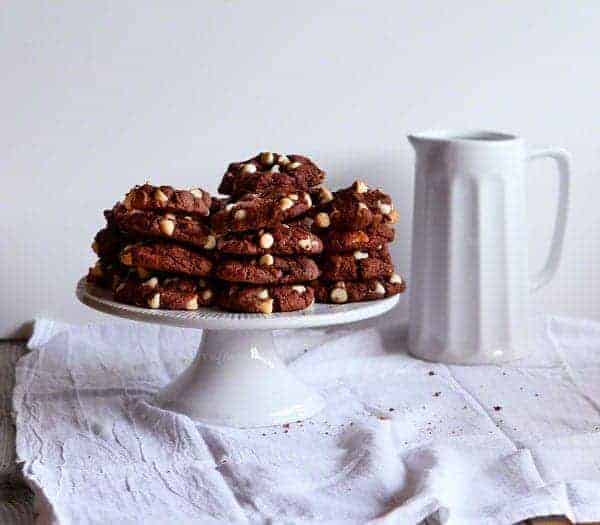 "Thank you so much, Carol!  This is delicious!  And thoughtful.  And delicious!  Did I mention delicious?  I cant believe you took the time to bake for us today.  It just means the world to me!"
I couldn't stop gushing.  Her act of confectionery kindness had taken all my nervousness away.  I was starting to feel welcomed by Chad's family.  He just might be a keeper! 😉
I was chatting with some of soon-to-be-hubby's extended family while devouring the fantastic cake and mentioned just how good I thought it was.  Someone leaned over and whispered into my ear as if to share a deep dark family secret.
"It's from a box."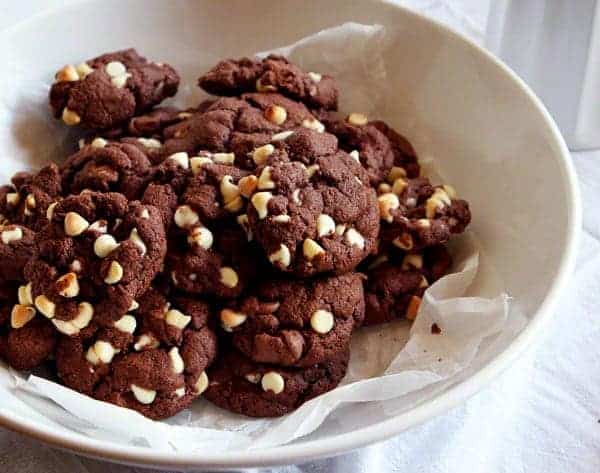 A box?  Wasnt all cake from a box? (This was many years ago, long before I had ever baked a cake!) I was silenced and confused.
That moment changed me.  I couldn't for the life of me figure out why they would tell me that.  I could not figure out why it was even significant!  Never mind the fact that I had no clue that cake could even be made without a box, I just thought it was so unnecessary to point it out.
It hurt me.  I can only imagine how Carol would have felt had she heard.
Did the source of the ingredients decrease the value of the gift?
Fast forward to 2013.  There is still ongoing baking war in terms of box vs. scratch.
People dismiss and reject others that do not profess to be 100%, from-scratch bakers.  Magazines, authors, publishers, fellow bloggers all esteem that "from scratch" is the only way to bake and that anything less is unacceptable.  If you cannot prepare (and create!) quality from-scratch recipes then your value as a baker is significantly diminished.  I too have been sucked into the "from scratch is best" way of thinking.  You will see that if I ever share recipes on my blog that involves a box mix I find a way to explain it or give a list of excuses why as if trying to defend myself.
These days it's pretty common knowledge that you will not be considered for any awards or publication if you embrace the "lazy" way.  People look down their nose at box cakes and actually sneer as they discovered that a  .99 box was the entire ingredient list.  Then there are those folks who pride themselves on instantly being able to determine if synthetically chemically flavored preservative laden box mix was served or if the ingredients were from scratch!
Why is there in innate fear of proclaiming the use of boxed cake mix?
When did it become shameful to admit that Betty Crocker had a hand in your confectionery masterpiece?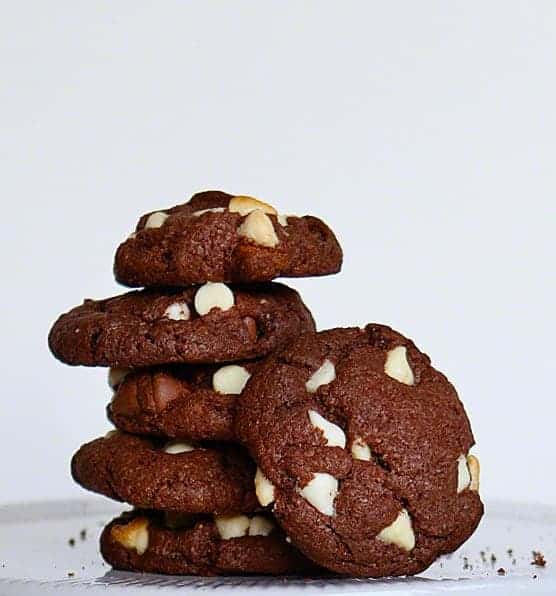 I get it.  I get it.  From-scratch is better for you.  It's sometimes cheaper.  It's more easily personalized.  Some think it tastes better.  Some think the crumb is better.  You are a real true, honest-to-goodness, original and accomplished baker if you make it from scratch.
And in all honesty, I am not concerned as to why people choose box vs. scratch.  What does concern me is the intent behind it.
I know there is no way I can win this particular baking war, but I would like to try and wage at least one small battle.
My goal is simple.  Look beyond the cake.  Yes, taste and appearance is of utmost importance and I fully support you embracing what you love best.  But its almost as if we have missed a small step in the directions.
Remember the big picture.  The giving, sharing, and devouring of cake together is a wonderful gift.  It is a time to celebrate people and make memories.
I can't think of a single time I ever made and decorated a cake to simply devour it all myself in private.  To not photograph it or show it to family or share it with friends.
Cakes are made to be shared.
At that glorious moment when a surprised birthday girl cuts into a beautiful pink cake or when a tired neighbor opens the door only to see a sinfully decadent chocolate cake in front of a friendly face… in that moment it surely does not matter if the cake was a box or from scratch.  What matters is that you touched someone's heart.
That you brought them joy.
That you now have a lifelong memory based on a generosity of spirit and a willingness to serve.
That is what matters, right?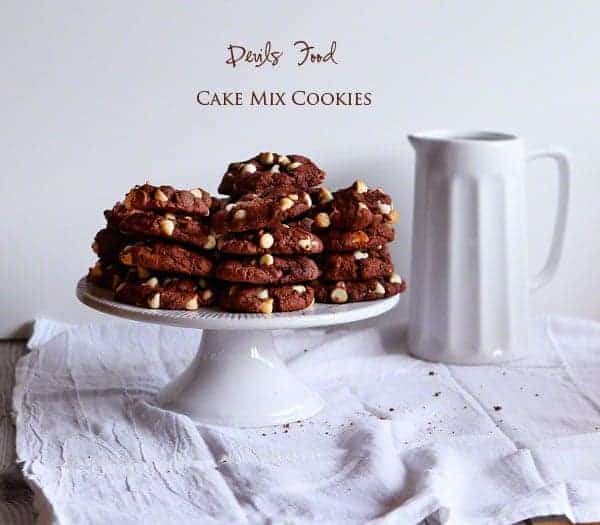 That being said, I proudly share with you today a far-from-scratch recipe that I have come to love.  It's over the top and rich and easy and wonderful.  There is an obscene amount of white chocolate chips and that is just the way I like it.  (You can certainly decrease the amount you use to accommodate your tastes.)
I share it with you in the hopes that it brings you as much joy as it has brought us.  But if you just cant beyond the fact that I used a box mix, I understand.   I can't help but think that maybe somewhere along the line though, you may miss a blessing.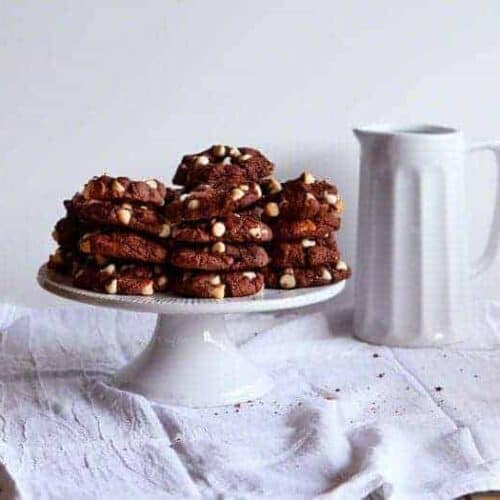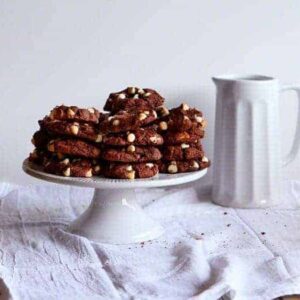 Triple Chocolate Devils Food Cookies
I share it with you in the hopes that it brings you as much joy as it has brought us. But if you just cant beyond the fact that I used a box mix, I understand. I cant help but think that maybe somewhere along the line though, you may miss a blessing.
Keyword:
Triple Chocolate Devils Food Cookies
Ingredients
1

box Devils Food Cake Mix

1/2

cup

oil

2

eggs

3/4

cup

White Chocolate Chips

1/4

cup

Milk Chocolate Chips
Instructions
Pour dry ingredients into medium bowl.

Add oil and eggs and mix until well combined.

Stir in all chips.

Using a small ice cream scoop or tablespoon, scoop out small balls of dough. This recipe makes 18-24 cookies, so I had three cookies sheets prepared.

Place eight dough balls on each cookie sheet. (If you would prefer a smoother appearance for your cookie, go back and roll each cookie between your hands.)

Bake at 350 for 8-10 minutes.
Enjoy!