This Zucchini Cake recipe with cream cheese frosting is the perfect way to eat your veggies! It's a delicious spice cake stuffed with zucchini and topped with a thick cream cheese frosting. Love zucchini recipes? You have to try my Zucchini Brownies, Chocolate Zucchini Cake, and Lemon Blueberry Zucchini Cake!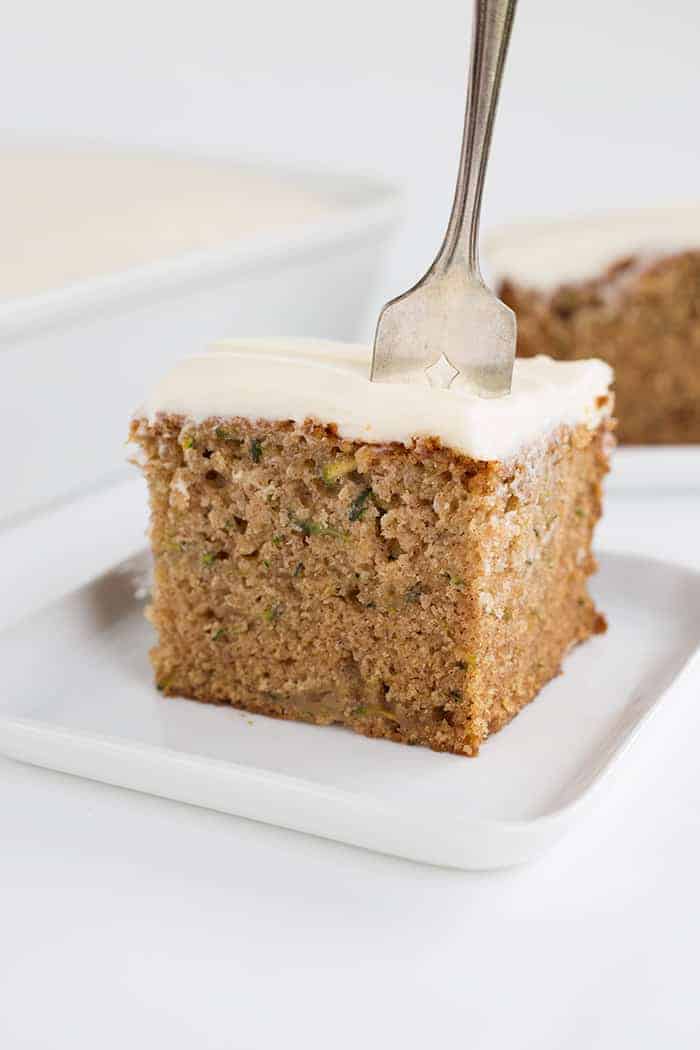 Zucchini Cake Recipe
I adore this cake! It's like a tender spice cake. You would never know there's zucchini in this cake if it wasn't for the green bits. I know some people aren't anxious to eat a cake with zucchini in it, but this is a must-try. (Don't worry if that's you, my husband is the same way!)
Why add zucchini in a cake? Well, it's like carrot cake or banana bread. The zucchini adds moisture to the cake. It keeps the cake soft and tender. Plus, have you ever grown zucchini in your garden? It's so hard to keep up with. You can eat it for 2 weeks straight and still have a basket of zucchini to pick and eat. Baking it into some cake or bars is another way to use it up!
Baking with Zucchini
When using zucchini in recipes there are a couple tips & tricks help to make sure your baked goods are perfect!
-Use the fine side of your grater. Coarser pieces will have a slightly more noticeable flavor and texture in a finished cake or bread recipe. (Farm kids tend to want that!)
-Some recipes ask that the zucchini is pressed well with a clean towel to soak up excess moisture or to prevent whatever your baking from getting too soggy. Pay close attention to the recipe that you are making with zucchini as the level of moisture they provide is important. For instance, in this recipe, the zucchini is the main source of moisture and should not be drained.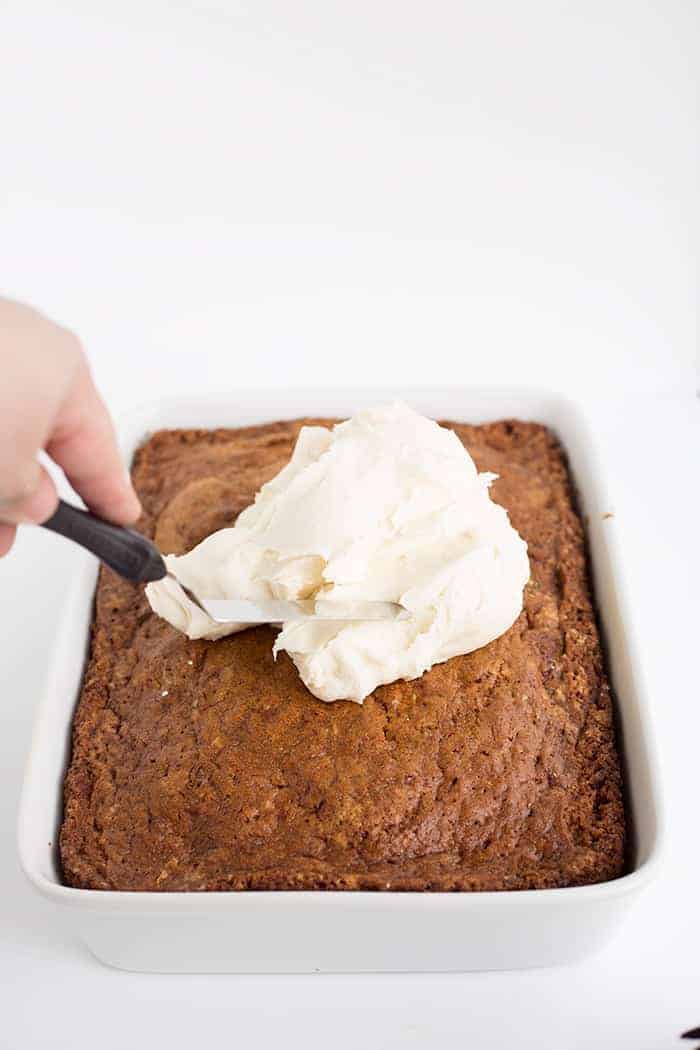 Cream Cheese Frosting
Cream cheese frosting can be a little tricky. Apparently, it can get runny or soupy. Has that happened to anyone? It's true, it can get quite soft. I think there are a couple of tricks to this, but first I should say that I haven't actually dealt with it being too soupy.
Your butter could be too soft. That's a thing. If the butter has started out a soupy mess it's very possible the frosting will be too.
You didn't add enough powdered sugar to thicken it up.
You added too much milk or cream.
But it can be fixed. I think we can troubleshoot this pretty quickly. If your butter was too soft, place the frosting in the fridge to let the butter firm up some. If you added too much milk or cream, add a little more powdered sugar. This will make your frosting sweeter so don't go overboard with it.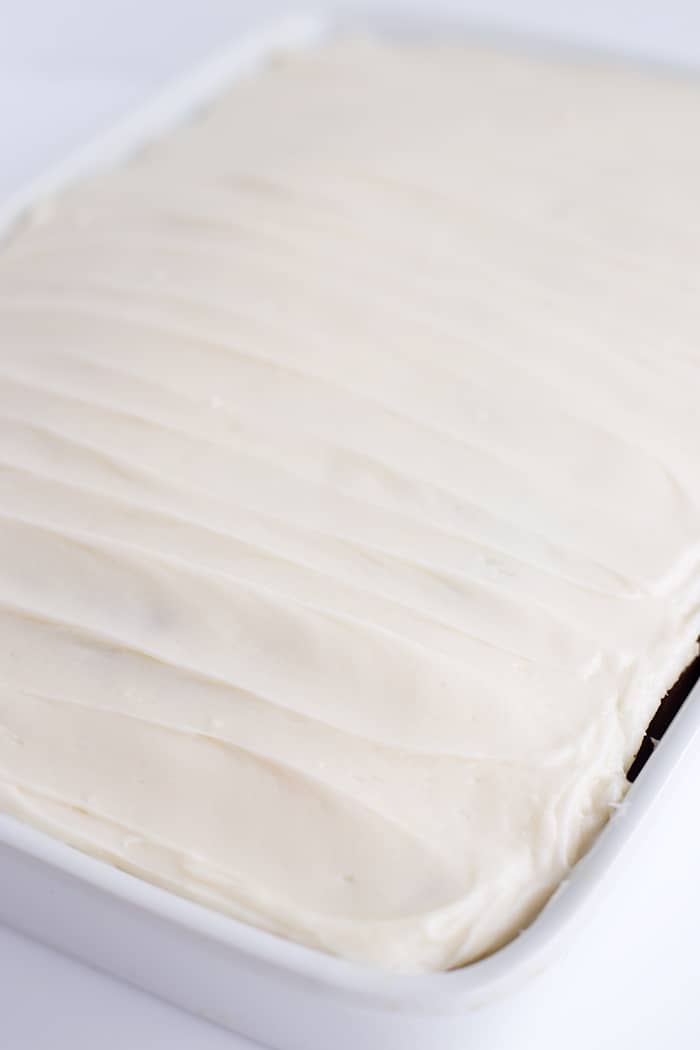 I should mention that I feel pretty confident that my cream cheese frosting isn't going to give you any problems. It's very well tested since it's one of my go-t0 recipes. I've even piped it on cupcakes with a straight tip and it held up.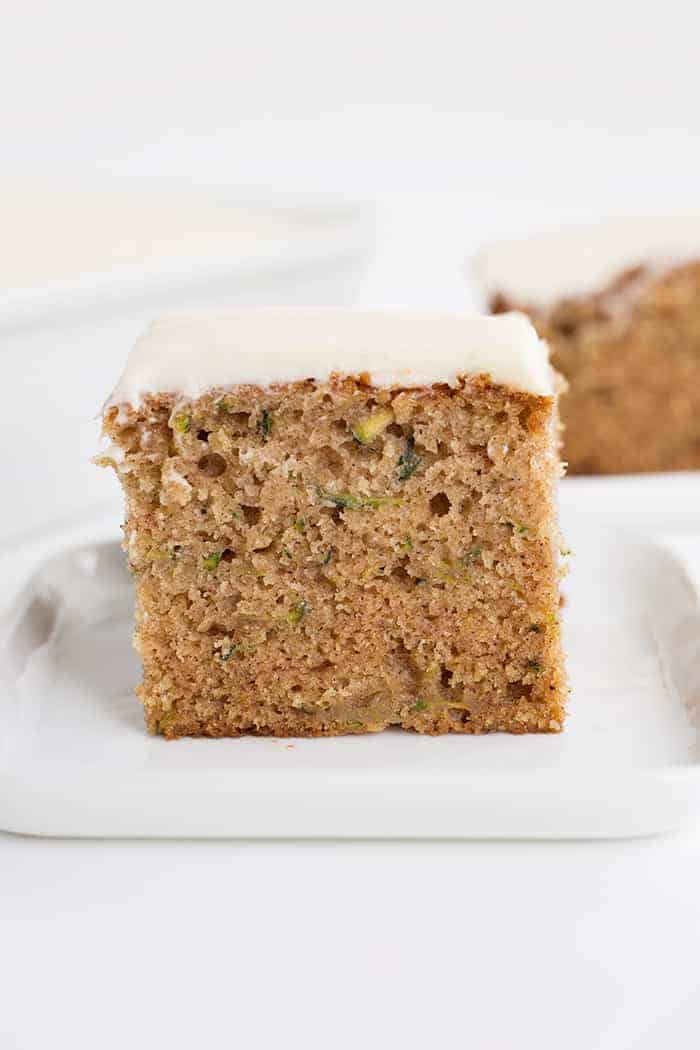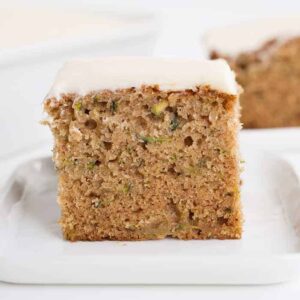 Zucchini Cake
This cinnamon zucchini cake with cream cheese frosting tastes like a tender spice cake. It has plenty of zucchini to keep the cake moist and cinnamon for flavor! It's topped with a thick cream cheese frosting.
Ingredients
Cake
3

cups

zucchini

grated

1

cup

granulated sugar

1

cup

light brown sugar

packed

2

tsp.

ground cinnamon

1/4

tsp.

ground nutmeg

1 1/4

cups

vegetable oil

4

eggs

2

tsp.

vanilla extract

3 1/4

cups

all-purpose flour

2

tsp.

baking soda

1/2

tsp.

baking powder

1

tsp.

salt
Frosting
8

oz.

cream cheese

room temperature

1

cup

butter

room temperature

4

cups

powdered sugar

3

T.

milk

1

tsp.

vanilla extract
Instructions
Cake
Preheat oven to 350 degrees. Spray a 9x13pans with non-stick cooking spray.

Grate about 2 medium zucchini to make 3 cups. Don't squeeze out the zucchini juice.

Add granulated sugar, brown sugar, cinnamon, and nutmeg in a medium bowl. Stir to combine.

Add the vegetable oil and mix until incorporated.

Add in the vanilla and the eggs one at a time. Whisk until combined and then add the next until all of the eggs have been incorporated.

In a separate bowl, add the flour, baking soda, baking powder, and salt. Stir until incorporated.

Add the dry ingredients until the wet and beat with a hand mixer until combined.

Add the zucchini and fold in with a spatula.

Pour the batter into the prepared baking pan.

Place in the oven and let it bake for about 1 hour to 1 hour 5 minutes or until a toothpick comes out clean or with moist crumbs.

Remove from the oven and let cool completely.
Frosting
In a large mixing bowl, add the cream cheese. Beat with a hand mixer on medium until creamy.

Add the butter and beat on medium until combined.

Add the powdered sugar, milk, and vanilla and beat on low until the powdered sugar is mostly worked in. Turn the mixer to medium and finish beating the powdered sugar into the frosting.

Spread the frosting on top of the cooled cake using an offset spatula.
Recipe Video
Check out some of my other perfect Zucchini Recipes!
Zucchini Brownies {VIDEO}
Chocolate Zucchini Cake {VIDEO}
White Zucchini Cake {VIDEO}
Chocolate Chip Zucchini Cookies
Lemon Blueberry Zucchini Cake  {VIDEO}