I had no intentions of making a Rose Cake.  I was actually planning on doing a tutorial for this cake, but something happened.
I was so inspired by the whimsical beauty of the MacKenzie-Childs products, I just couldnt help myself!  Since I knew the interior was a checkboard design, I thought the soft Rosette's would be the perfect compliment.
In addition the the cake interior, the Rose's seemed a perfect compliment to the beautiful cake stand the cake was sitting on.  I fell in love with the Parchment Check collection from MacKenzie-Childs and I hope you do too.  Cause guess what?
I am giving away a $1000 gift card for their products! (Enter to Win below)
They of course have many, many more designs and products that you can choose from.  Like stunning furniture and kitchen and bathroom accessories and even garden furniture and accessories!
To  pipe the rose's I followed my Original Rose Cake Tutorial.
For the interior I slightly modified my Vertical Layer Cake Tutorial.  I made the layers white and a pale yellow, trying to replicate the same design that is on the cake stand and accessories.
Then, instead of placing the same color layers directly on top of each other, I just switched out the layers to make a checkerboard pattern.  SO easy!  Of course, you can always buy the checkerboard pan too.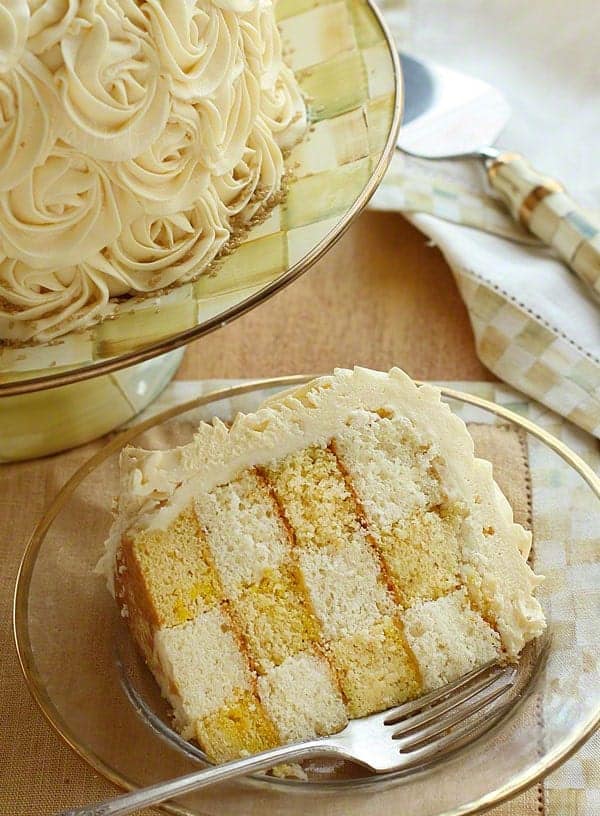 Please be patient, the Giveaway Widget will load in just a moment!
 If for any reason there is a technical issue, you can click HERE.  You will be directed to a PromoSimple page with all my giveaway information on it.  Just scroll down to enter on their site!
Mackenzie-Childs $1000 Giveaway
*I received some products from MacKenzie-Childs.  They supplied the $1000 giftcard to giveaway to an iambaker reader.  All opinions expressed are my own.