Don't let the simplicity of the ingredients fool you, these Amish Sugar Cookies are one of the most flavorful and melt-in-your-mouth cookies you will ever have!

So good you will want to double the recipe next time!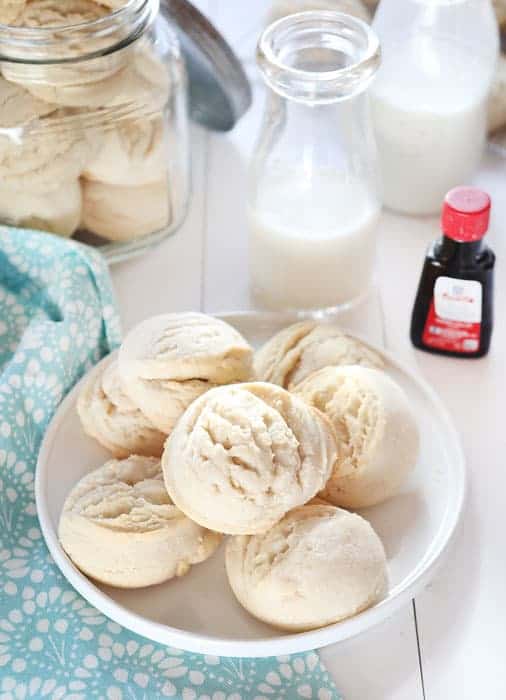 We have been making this cookie for years, but I never shared it on this blog because I thought it might almost be too simple. I eventually shared it on my Homesteading blog and it ended up being the most popular recipe there!
The magic behind this recipe is the ingredients themselves. I use really good quality flour, sugar, eggs… but especially in the vanilla.
I actually had the opportunity to visit the folks at McCormick this past year. I toured the facility and even sat in on a vanilla taste testing and I gotta tell you… it was fascinating!! I had NO idea the complexities involved in creating vanilla and how in-depth their flavor profile was. They pay attention to the smallest detail and only offer the best quality product. And it all starts with the bean!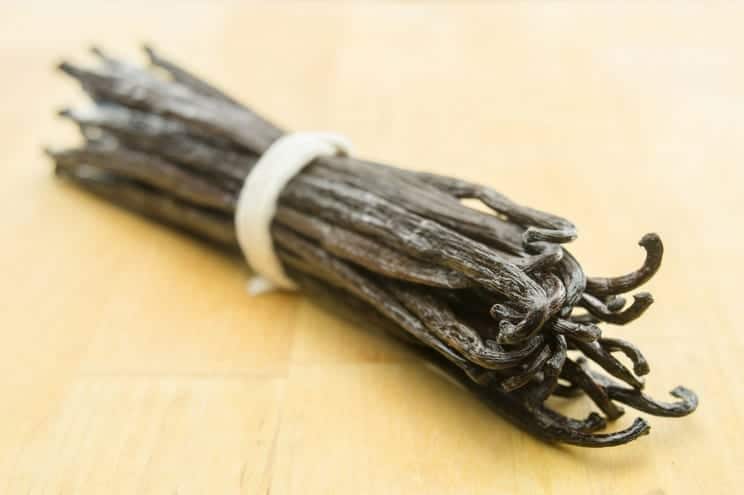 I learned about how McCormick is able to share their vast knowledge with farmers and work with them to harvest the bean at the best time and then utilize optimum drying practices to preserve color and flavor. (No harvesting dry and brittle beans!)
They also strive to source fully-cured, whole vanilla beans to create pure vanilla extract in their facility. Did I mention they do that all in-house? They bottle each and every one in their own facility! And it is inspected over 30 times so they are able to maintain the high-quality pure vanilla you get in each and every bottle.
One of the fascinating parts was learning about "trend analysis". They have year-round, on the ground reporting in on weather, farmer interest, and crop surveys.
There is no detail left to chance when it comes to the quality of product that McCormick produces!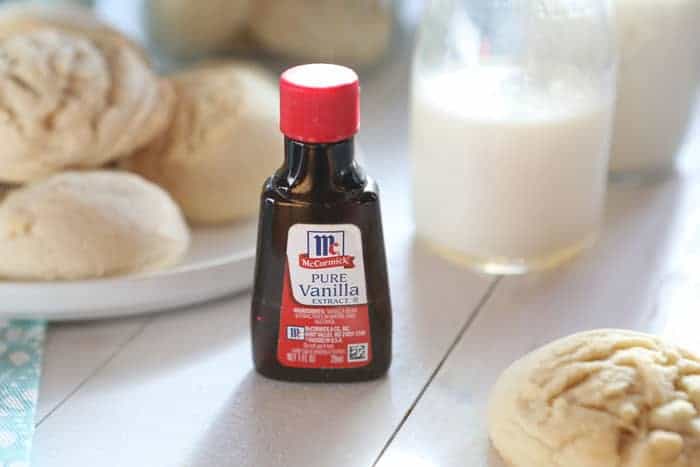 And as I mentioned above, the vanilla in the recipe is very important. The pure beautiful flavor really shines in these cookies so using the best quality vanilla I could find was important! Thank goodness McCormick Pure Vanilla Extract is readily available at most grocery stores. <3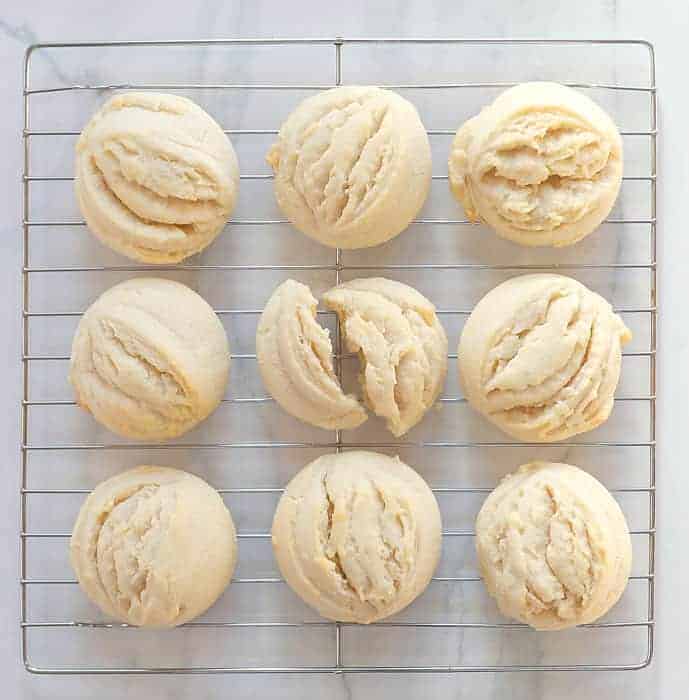 Slightly adapted from Amish Sugar Cookies.
Tips, Tricks, and Variations:
The Amish don't use electricity, why does this recipe have a stand mixer? Simply put, I love the consistency and ease of utilizing my stand mixer. You can absolutely make these sugar cookies by hand, it will just require a bit of elbow grease.
Can you cut the recipe in half? Absolutely!
Why do you call these "Amish"? My family has been making them for years. This specific Amish sugar cookie recipe originally came from an Amish cookbook, so that is where it gets its name. Versions of the sugar cookie have been around since the 1700's and are said to have originated in Pennsylvania.
Can I freeze sugar cookies before baking? Yes! This recipe works beautifully from frozen. Simply prepare recipe as directed, scoop out the dough onto a parchment-lined baking sheet, (they can be placed close together) then freeze for about an hour. After an hour, remove from freezer and place all of the solid sugar cookie dough balls into an airtight container or sealable plastic bag. (remove as much air as possible) Label the bag with the date and pop into the freezer. (If you freeze cookies often you may also want to label the bag with the name of the recipe and cooking instructions.) You can bake these cookies directly from the freezer, just be sure to add 1-3 minutes to the baking time.
Can I freeze after baking? Sure thing. Just make sure the cookies are cooled, then place in an airtight container in single layers. (I like to use wax paper between each layer) I have stored them for a few months in the freezer and while they are still good, I prefer this cookie fresh or freezing them before baking.
Can you frost Amish Sugar Cookies? Oh my word YES. I absolutely adore them with Cherry Buttercream. It reminds me of a Swig Cookie! You can also use vanilla, buttermilk frosting, chocolate, or any frosting that you prefer. My hubby likes them with strawberry preserves on top!
Do these cookies work for holiday decorating? I love these Amish sugar cookies rolled in red or green sprinkles for the holiday! Simply roll the dough into a ball, roll the ball around in the colored sugar (or sprinkles) of your choice, then bake as directed.
Want another fun variation? Try pressing the cookies FLAT with a kitchen glass. (about 1/2 inch thick)  This creates a tender, yet crisp sugar cookie! (Or follow the directions for these"dirty chocolate cookies" and press the glass in sugar first!)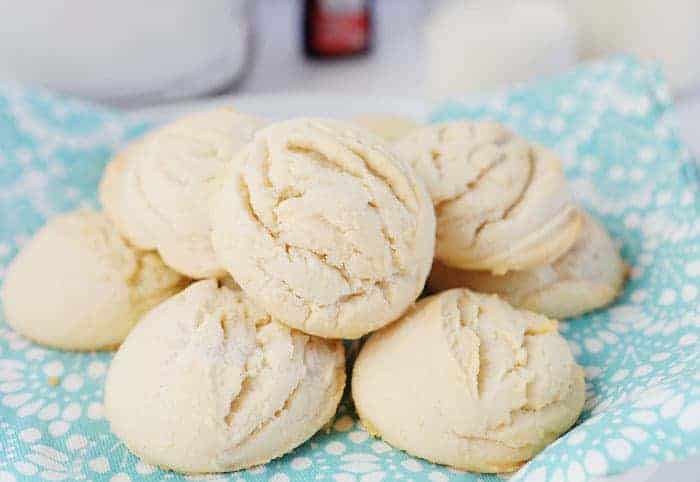 I hope you love these soft Amish Sugar Cookies as much as we do! Thank you so much for supporting the brands that support us here at iambaker. McCormick is one of my favorite partners and my pantry reflects that as I use their products for everything! Be sure to visit their website for great tips and ideas as well as the Mccormick Spice Facebook page!