Beef Stroganoff is a hearty, filling comfort food that satisfies with a meaty, creamy taste that is full of flavor! It is easier than you think to make, and it will be a dish that will warm you on a cold, blustery day. For another flavorful and filling dish, try my Chicken Marsala Casserole.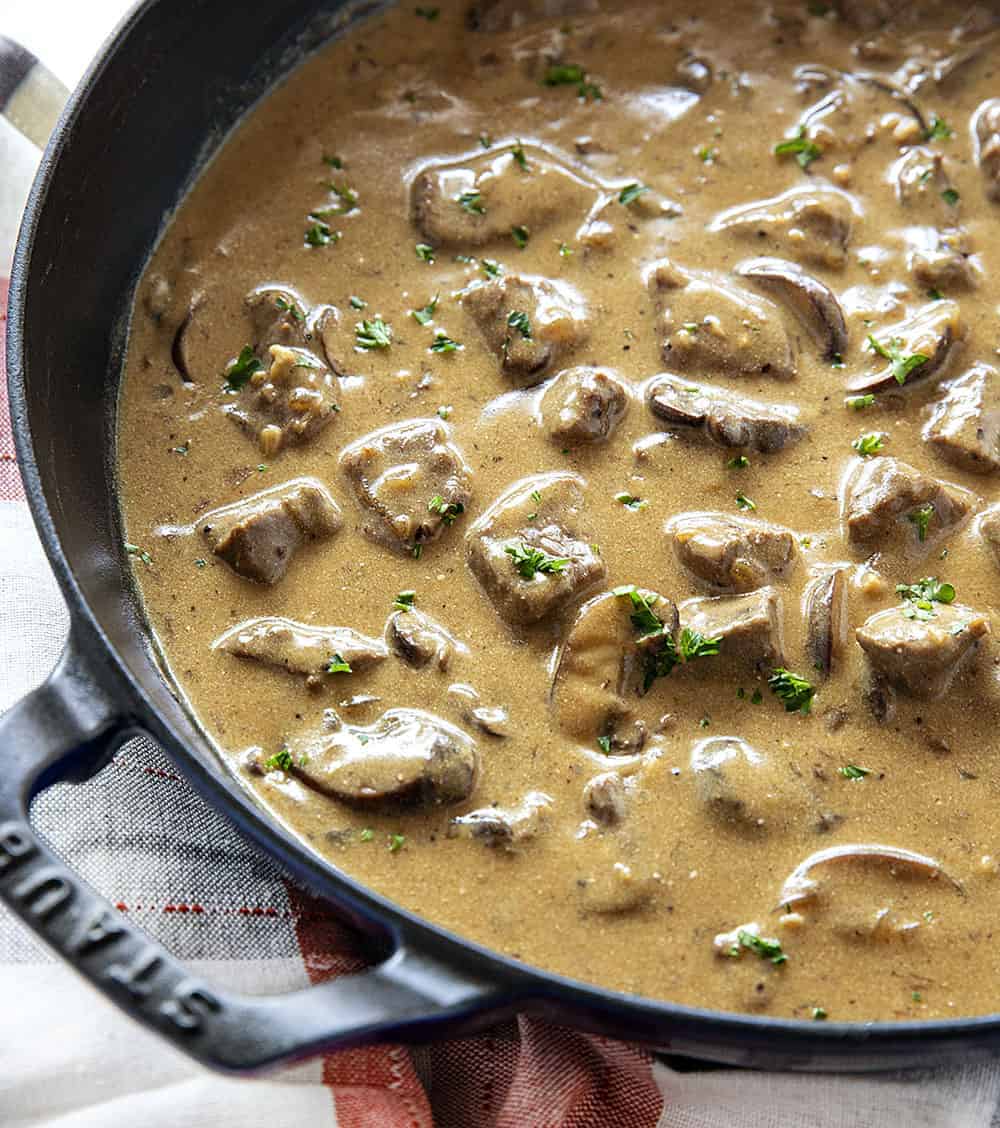 Beef Stroganoff
Growing up, my family would have stroganoff quite a few times throughout the year. We always made it with hamburger, just like my Easy Hamburger Stroganoff recipe. However, the original Beef Stroganoff goes back to the 1871 recipe, which used steak. I stuck with the cubed steak and sour cream in this recipe, like the original, but that is as close as it got. As with many recipes, beef stroganoff has many variations at this point, and it really depends on where you live to determine the recipe you are used to.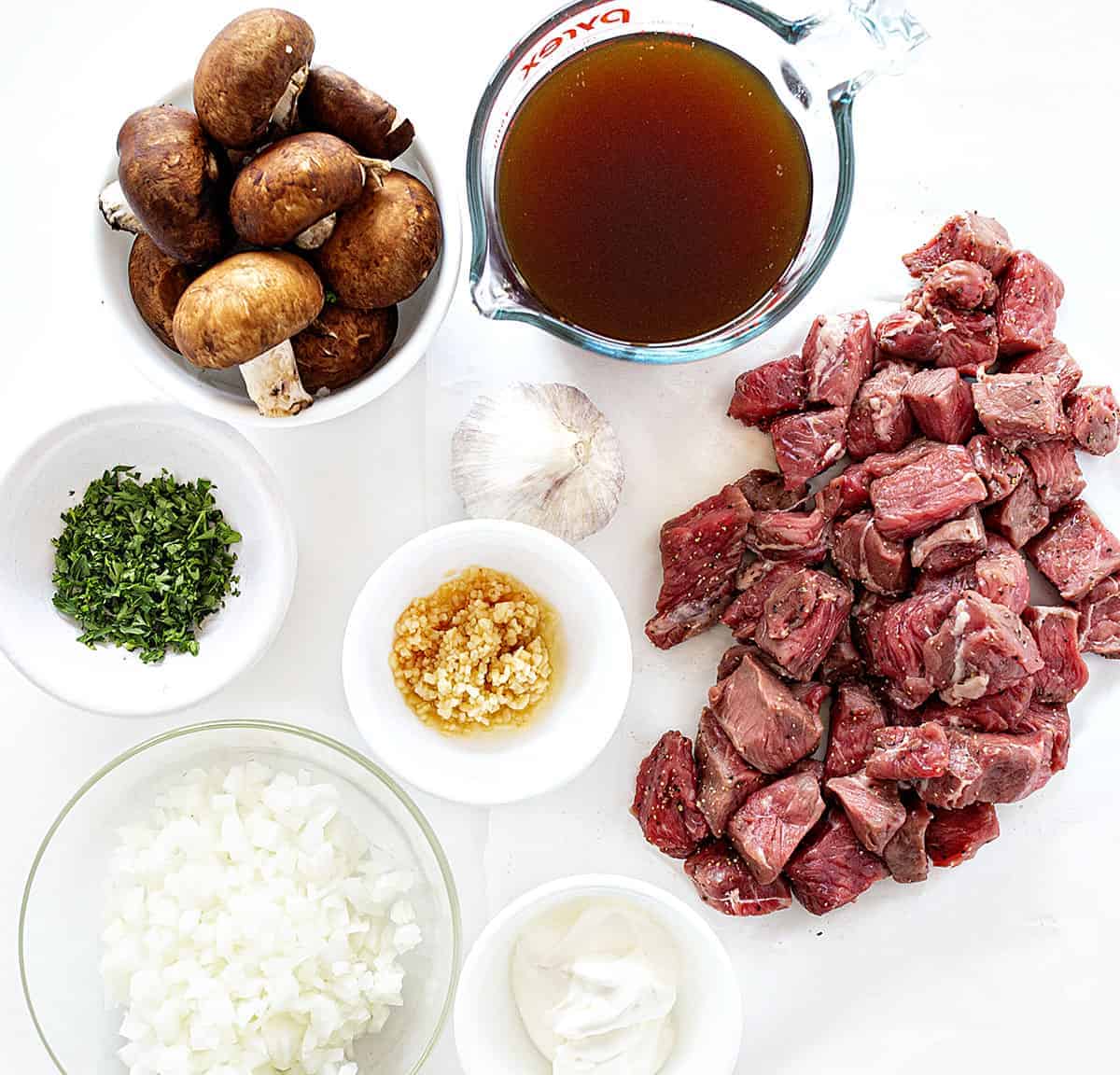 Ingredients & Substitutions
Beef Stroganoff is a great recipe to have on hand to fill everyone up after a long day. It's a great meal to serve and eat on a cool fall or cold winter day. It's really not too difficult to make, either.
Sirloin steak: Choosing the right meat does make a difference in this recipe. I used boneless sirloin steak for my Beef Stroganoff, but some other options would be boneless ribeye or beef tenderloin.
Onion: Yellow onions are the most popular onions for cooking stews and meat dishes because they add great flavor. If you are ever wondering what type of onion to use when a recipe calls for cooked onion, your best bet is a yellow onion.
Mushrooms: With so many mushrooms to choose from, you can add as many or as few to your recipe as you like. Combine a few varieties to really give your stroganoff some flavor.
Garlic: I really encourage you to take a few extra seconds to use fresh garlic in all of your cooking recipes. Leave the jarred minced garlic at the store, and crush and chop your own garlic. As soon as you put the garlic in the pan, you will smell the difference, which will add to the flavor when the dish is ready to serve.
Cornstarch: Cornstarch is an ingredient that comes in handy if you want your sauce a little thicker.
Sour cream: Full-fat sour cream is what we used, but feel free to substitute a lower-fat sour cream if you choose. However, some picky eaters will be able to tell the difference if you use a lower-fat sour cream! Trust me on this one!
Egg noodles: In the United States, Beef Stroganoff is usually served over egg noodles. However, I love it over rice, and some even serve it over mashed potatoes! That is what comfort food is all about right there!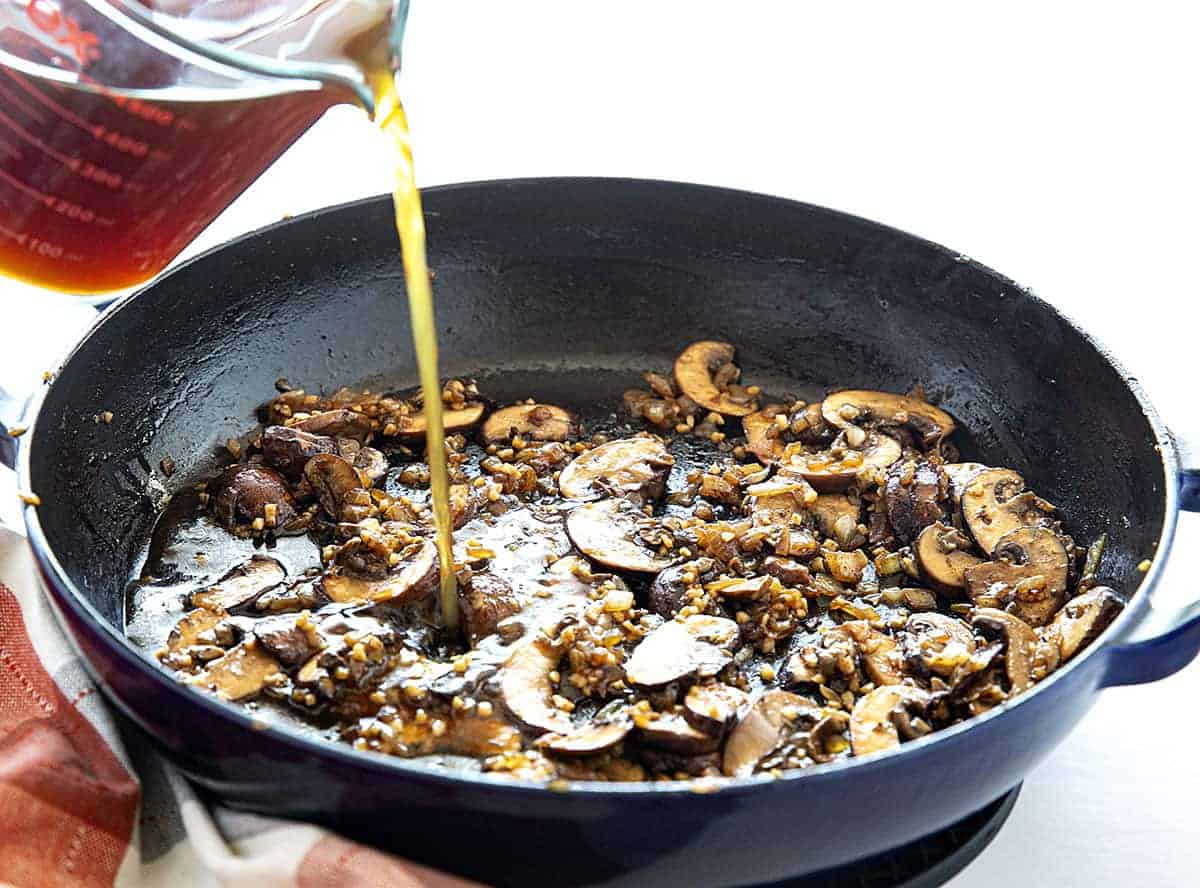 How to Prepare the Steak
Remember, the cut of meat is important. No one wants to eat chewy steak, so choose wisely on the cut of meat. Start by cutting the room-temperature steak into cubes, cutting against the grain if possible. Season the cubes with the salt and pepper and cook them in the olive oil over medium-high heat. I recommend using a heavy skillet for this. Brown the steak on all sides, and don't overcook it, 2-3 minutes is all the time you need for this. Remove the cubed steak from the pan and set it aside.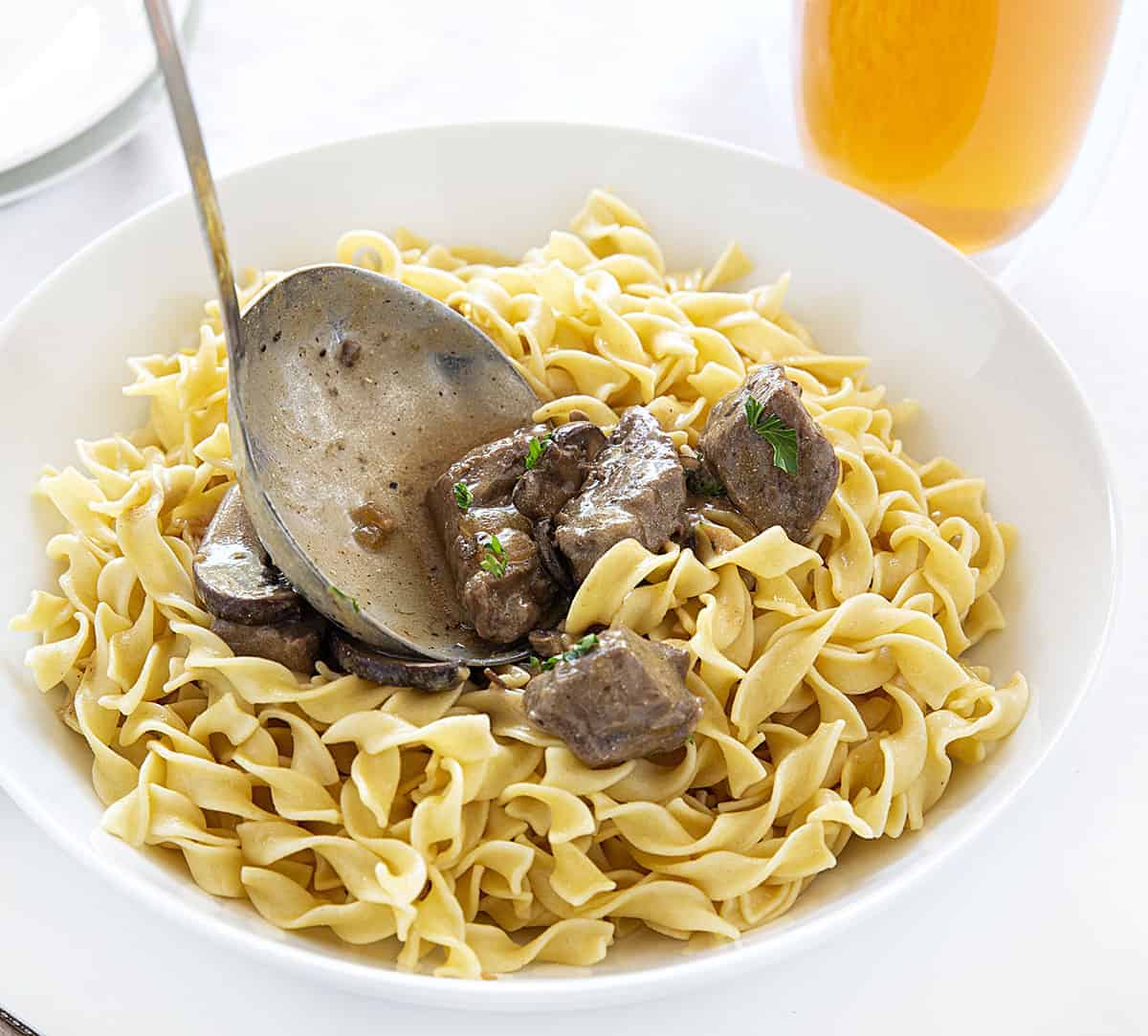 How to Make the Sauce
While the cubed steak is resting, pour some more olive oil into the skillet. Cook the onion and mushroom for about 5 minutes. If you want a more caramelized onion, cook a little longer. Add the garlic and cook that for about 30 seconds. Turn off the heat before you add some of the beef stock, salt, and pepper. Stir this together, being sure to scrape the bottom of the skillet! Next, turn the heat back to medium-high and cook this mixture for 3-4 minutes. The liquid should reduce by about a third. In a small bowl, combine the rest of the beef stock with the corn starch. This will be the mixture you pour into the skillet to thicken the sauce. Turn off the heat and stir in the sour cream and steak.
Again, if you want a thicker sauce, whisk together one tablespoon of cornstarch with one tablespoon of cold water to add to the sauce. Continue doing this until you have the sauce as thick as you want!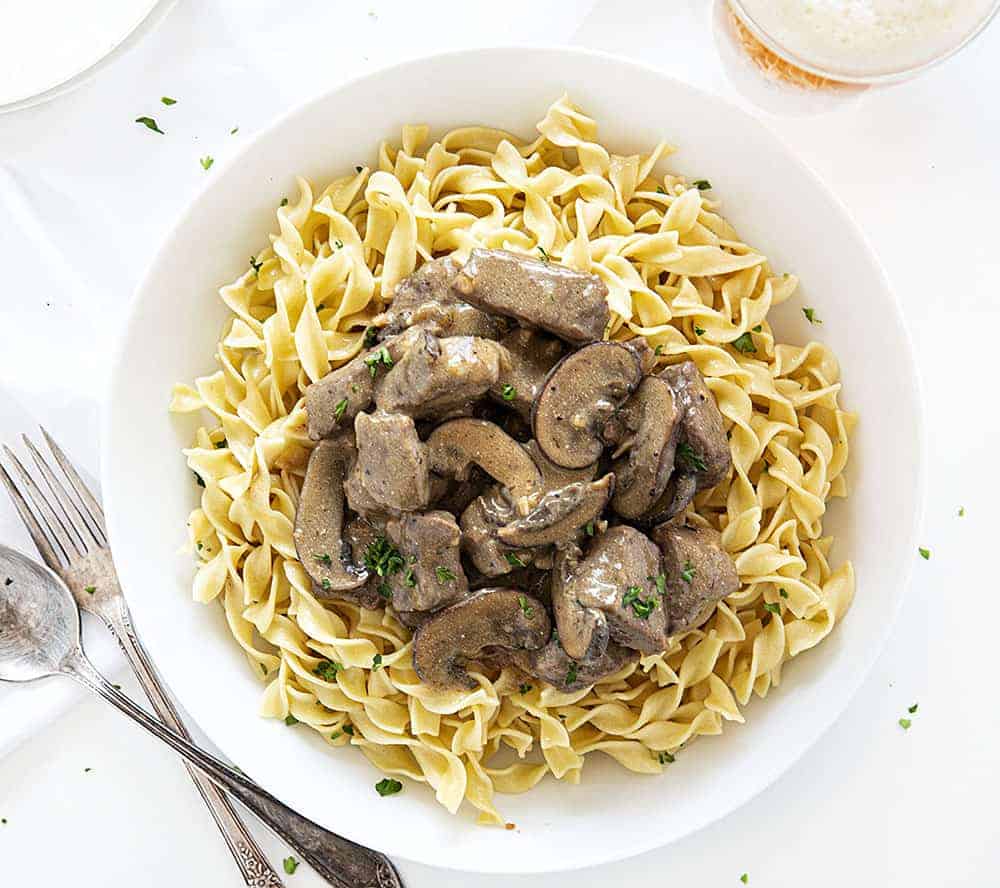 How to Serve Beef Stroganoff
When you think of Beef Stroganoff, you probably think of egg noodles. Generally, that is what is served with the beefy sauce. In fact, I used egg noodles with this recipe. However, there are other options, for sure! I have served rice with this recipe, and I loved it! Next time, I want to use garlic rice to kick it up a notch. In fact, I have had both noodles and rice options made for guests, and I have even combined the two on my plate before adding the sauce. If you are cutting calories and carbs, simply eat the sauce alone and have a salad on the side or my Garlic Roasted Asparagus. You can also serve it with some homemade breadsticks or garlic bread!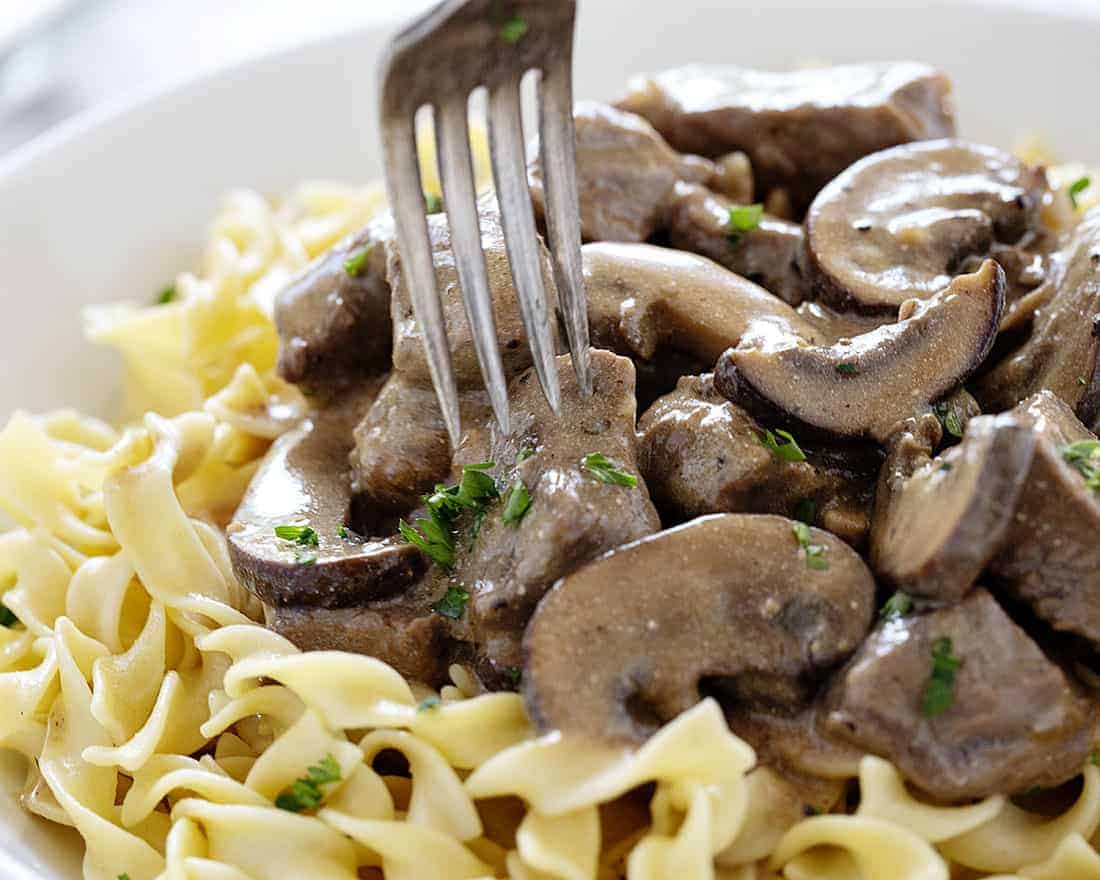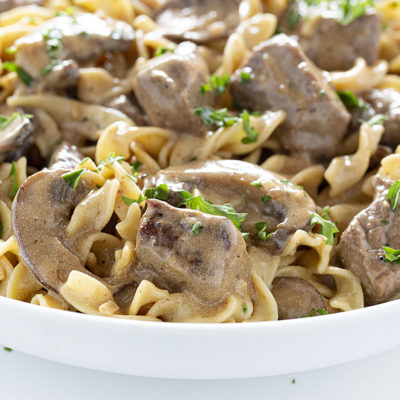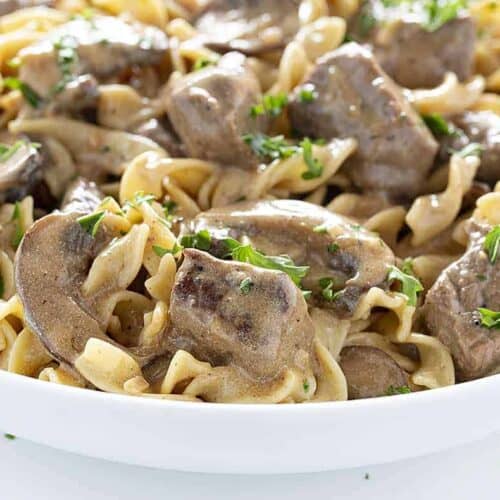 Beef Stroganoff
Full of creamy, meaty flavor, this Beef Stroganoff will be comfort food for the colder months ahead.
Ingredients
Steak
1

pound

sirloin steak,

cut into ½ inch cubes (or 1 inch)

1

teaspoon

kosher salt

½

teaspoon

freshly ground black pepper

1

tablespoon

olive oil
Sauce
1

tablespoon

olive oil

1

small

yellow onion,

diced

8

ounces

mushrooms,

stemmed and sliced

1

tablespoon

minced garlic

2 ½

cups

beef stock,

divided

1

teaspoon

kosher salt

1

teaspoon

pepper

2

tablespoons

cornstarch

½

cup

sour cream,

room temperature
Assemble
16

ounces

medium egg noodles,

cooked according to package directions

minced parsley,

for garnish
Instructions
Steak
Season the cubed steak with salt and pepper. Then heat olive oil in a heavy skillet over medium-high heat.

Add the steak to the pan and brown on all sides (about 2-3 minutes total). Remove the steak from the pan and set aside.
Sauce
Add 1 tablespoon olive oil to the skillet and add the onion and mushrooms. Cook until the mixture is deep golden brown, about 5 minutes. Add garlic and cook for about 30 seconds.

Turn off the heat and add two cups of the beef stock. Then, add salt and pepper. Stir, scrape the bottom of the pan, and turn the heat to medium-high. Cook to reduce the liquid by about a third, (about 3 to 4 minutes).

In a small bowl, combine remaining beef stock and cornstarch. Whisk together until all of the corn starch is dissolved into the liquid. Pour the mixture into the skillet and cook until the sauce thickens (about 1 to 2 minutes). Turn off the heat. Stir in the sour cream and steak and stir to combine.

Serve over cooked noodles and sprinkle with parsley.
Did you make this recipe?
Thank you for making my recipe! You took pictures, right? Well go ahead and post them on Instagram! Be sure to mention me @iambaker and use the hashtag #YouAreBaker.