Creamy and Rich Chicken Marsala Casserole is a dinner staple, with piles of seasoned chicken, fresh cut mushrooms and the perfect al dente ziti noodles all in a creamy wine sauce.  If you like this, you simply must try my Fiesta Chicken Casserole too!

Chicken Marsala Casserole
There are very few things in life that I enjoy more than a heaping bowl of pasta.  This Chicken Marsala Casserole puts a uniquely "minnesotaesque" twist on a traditional Italian dish.  The first time I ever had Chicken Marsala it was served over a bed of linguine noodles and I absolutely loved it!  I've seen chicken marsala served over mashed potatoes as well as over a bed of rice too.  If you ask me, you could put that creamy wine sauce on just about anything and it would be amazing!  I just love how the mushrooms carmelize just enough to bring out their earthy sweetness.  I decided to make it into a casserole because who doesn't love a recipe that you can make ahead of time and pop in the oven to bake when you are ready?!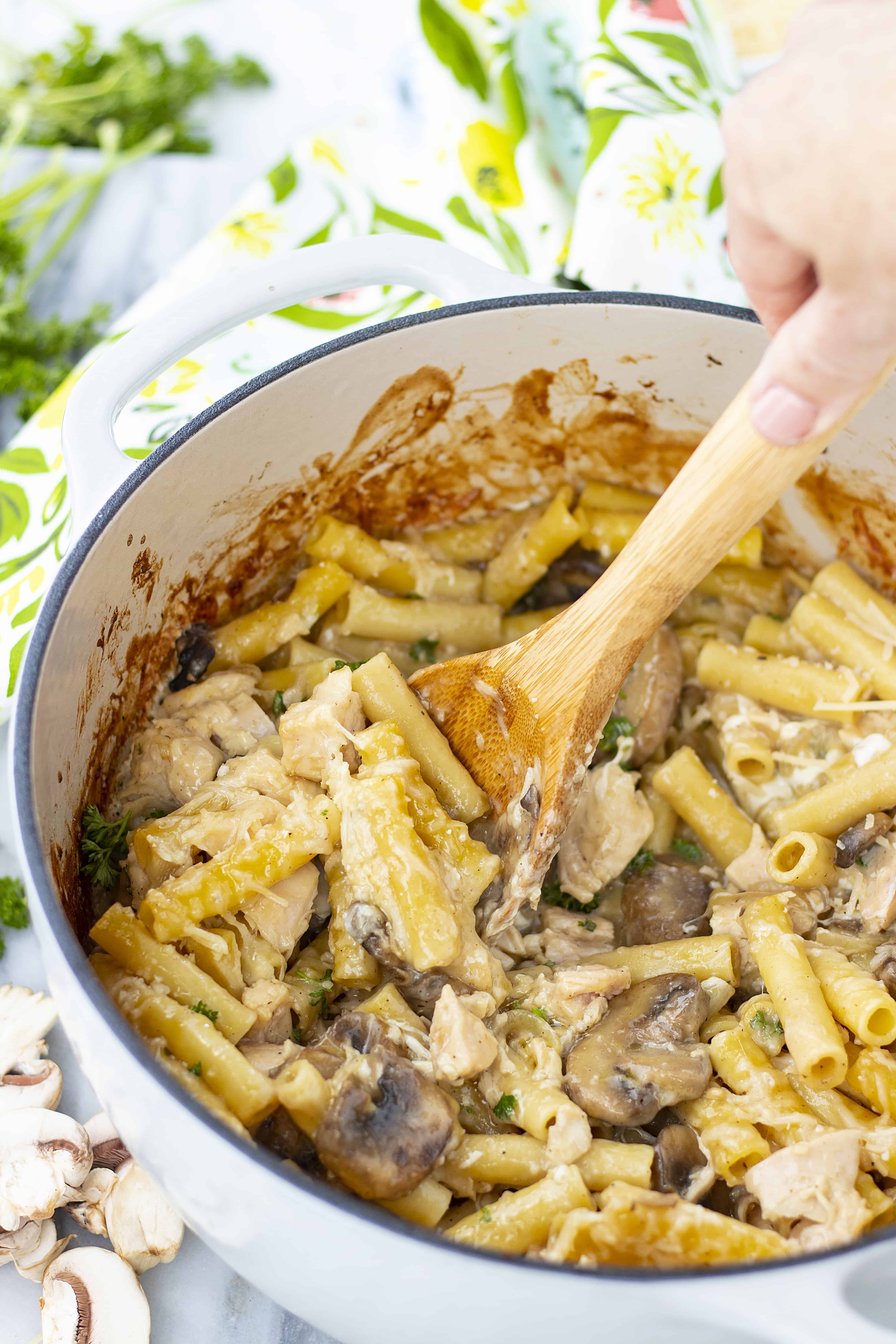 Chicken Marsala Casserole Recipe
Chicken Marsala gets its name from the Marsala Wine used to create the sauce.  Typically, any time one of my recipes uses alcohol, people have questions about products and substitutes.  So let me break that down for you here.
What is Marsala Wine?
Marsala wine is traditionally made in Sicily and is most commonly used in cooking to create nutty, rich caramelized sauces.  It can be used with beef, pork, fish, or chicken, and is even used in many vegetarian dishes as well.
What is the difference between dry marsala, sweet marsala, and grocery store Marsala Wine?
Believe it or not, there are quite a few variations of Marsala wine out there, and depending on where you shop, the price can range from $6 per bottle to $60. Many people actually use Marsala as a sipping wine, but it really depends on how you like your wine.  For this recipe, I recommend using a dry marsala.
Dry Marsala – typically used for savory sauces where it adds a nutty flavor and caramelization.
Sweet Marsala – typically used to make very sweet sauces, most often dessert dishes or a sweet pairing with pork or chicken.
Grocery Store Marsala – most chefs will tell you to stay away from cooking wines sold in your local grocery store.  The reason they are able to sell them there is because of the added sodium, this allows them to classify the wine as a food product.  There is still wine in this 14-17% in some cases, but the added sodium can really affect the final flavor.
What Can You Substitute for Marsala Wine?
The best substitute for Marsala Wine is Madiera, which has a similar taste profile. Madiera also has alcohol in it.  If you are looking to skip out on the alcohol, I will first say that most of the wine (not all, but most) is cooked out of the dish.  If you are not convinced, you can use this combo and adjust to the volume you need.  1/4 cup of white grape juice mixed with 1 tablespoon vanilla extract and 2 tablespoons of sherry vinegar.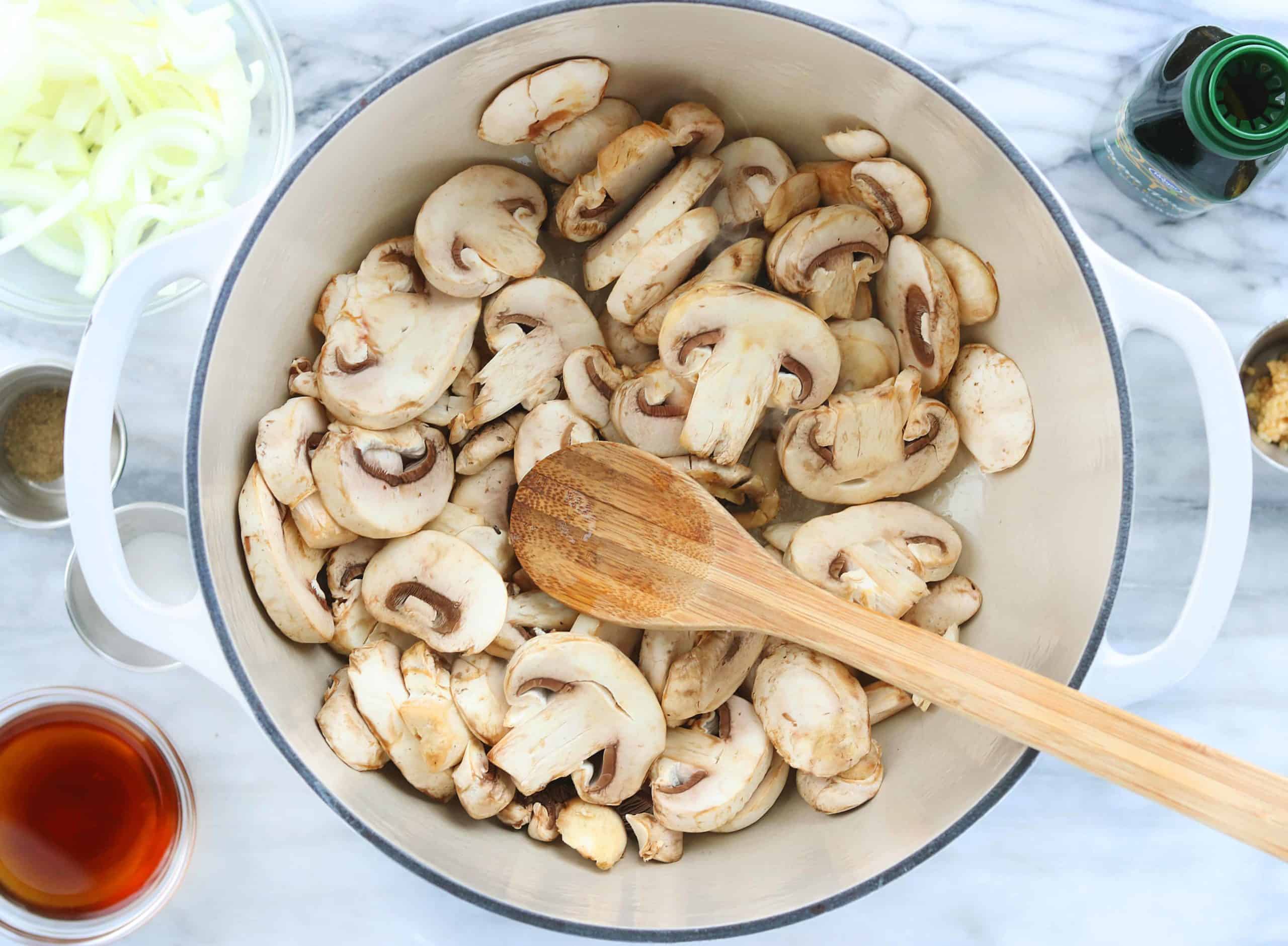 How to Make Chicken Marsala Casserole
I like to reduce any mess and stick with just one pan, so I use my large stock pot.  Just make sure it is oven safe for the final baking step.   I know that traditional casseroles call for a casserole or baking dish, but I am a rule breaker.  You can totally do this if you want one more dish to clean though!
Cook the Veggies
I add my extra virgin olive oil in the pan and when it starts to sizzle, I will add in the mushrooms.  You just want to brown them, so 2-3 minutes is plenty of time.  Next, add in your onions, salt, and pepper.  Saute until all of the moisture cooks down and then add in the garlic.  I get a lot of questions and comments about when to add the garlic.  Here is the deal, garlic burns fairly quickly and unlike other veggies, if you leave them too long, they will start to taste acidic.  You don't want that.  So keep a close eye, and put your timer on for no more than 2 minutes.
Add the Sauce
At this point, you can add in the Marsala Wine. You are going to let that simmer until it cooks down by half.  So make a mental note of where you want that stopping point to be.   You can stir occasionally during the cook down process.  When you are ready, add in the butter.  Once that fully melts, you can toss in the flour and then start adding your chicken broth just a little bit at a time.  While you are doing that, scrape the sides and the bottom of the bowl.  You want to make sure all of that gets right back into the dish.   Once all of the broth is added, let your dish simmer and thicken.  This should take about 2 minutes.
Prepare the Chicken Marsala Recipe
Remove the pan from heat and add in the chicken, mozzarella, parsley, parmesan cheese, and noodles.  Stir everything together and then top it off with another healthy layer of parmesan cheese.  Pop that in the oven for 25-30 and then serve and enjoy!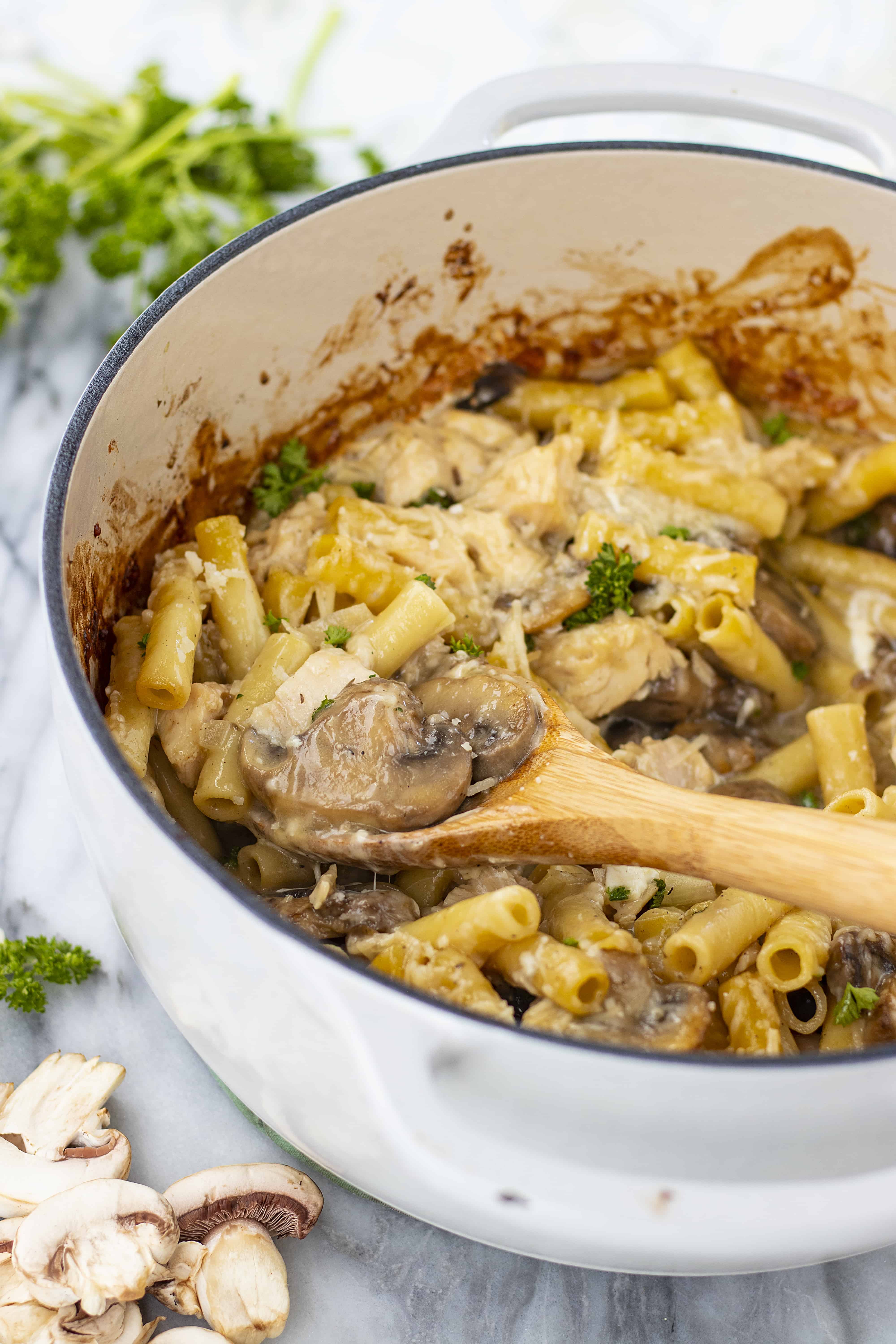 Looking for More Casserole Recipes?
Ham and Cheese Breakfast Casserole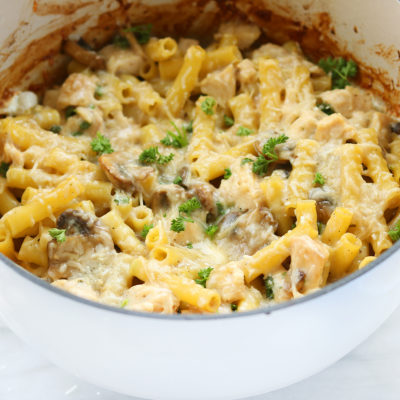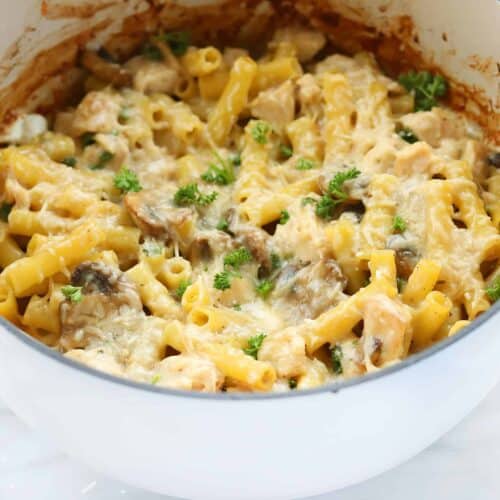 Chicken Marsala Casserole
Creamy and Rich Chicken Marsala Casserole is a dinner staple, with piles of seasoned chicken, fresh cut mushrooms and the perfect al dente ziti noodles all in a creamy wine sauce.
Ingredients
2-3

chicken breasts,

cooked and diced

1/2

pound

Ziti,

cooked al dente

1

tablespoon

olive oil

16

ounces

fresh mushrooms,

sliced

1

small yellow onion,

halved and sliced thin

1

clove

garlic,

minced

1/4

tsp

salt

1/4

tsp

black pepper

1/4

cup

dry marsala wine

3

tablespoons

unsalted butter

3

tablespoons

all-purpose flour

1 1/2

cups

chicken broth

1/2

cup

freshly grated parmesan cheese

4

ounces

fresh mozzarella,

cut into small cubes

3

tablespoons

fresh parsley,

chopped
Instructions
Preheat oven to 400 °F.

In a large oven-safe Dutch oven, or stockpot, heat oil until it starts to sizzle.  Add mushrooms and cook for about 2 minutes (just until they start to brown).

Reduce heat to medium-high, add onions, salt, and pepper and saute until the liquid is nearly evaporated.

Add garlic and cook for 1-2 more minutes (take care not to burn)

Add Marsala, stirring occasionally, until it has been reduced by half (or more).

Add butter, and once melted, add flour and stir until it has fully incorporated.

Add chicken broth, a little at a time, scraping the bottom of the pan and stirring constantly, repeat until all broth has been added.

Simmer for 2 minutes, stirring frequently; until the sauce begins to thicken.

Remove pan from heat.

Add noodles, chicken, mozzarella, parsley, and half the parmesan and stir to combine.

Top with remaining parmesan.

Bake for 25 to 30 minutes, until edges of pasta, are golden brown.
Video
Did you make this recipe?
Thank you for making my recipe! You took pictures, right? Well go ahead and post them on Instagram! Be sure to mention me @iambaker and use the hashtag #YouAreBaker.