This is, quite possibly, the ultimate comfort food for breakfast! With a creamy and flavorful sausage gravy poured over Buttermilk Biscuits, this hearty meal will stick with you all morning! If you have time, I recommend making my Homemade Buttermilk Biscuits or Butter Swim Biscuits to go with the gravy. YUM!!!!
Biscuits and Gravy
I am just a couple of weeks late with this post since Biscuits and Gravy Week falls during the second week of September. But, I am ahead of the game for Biscuits and Gravy Day, which is coming up on two future dates, December 14th and February 21st! Yes, Biscuits and Gravy have a week and two days devoted to it! It became popular in the south when workers had to fill up on a cheap meal that would keep them fueled for their long workdays. Since then, it has become a breakfast staple all over the country. My household is no exception! We love this good old-fashioned breakfast, and I love that we don't have to go to a restaurant to enjoy it!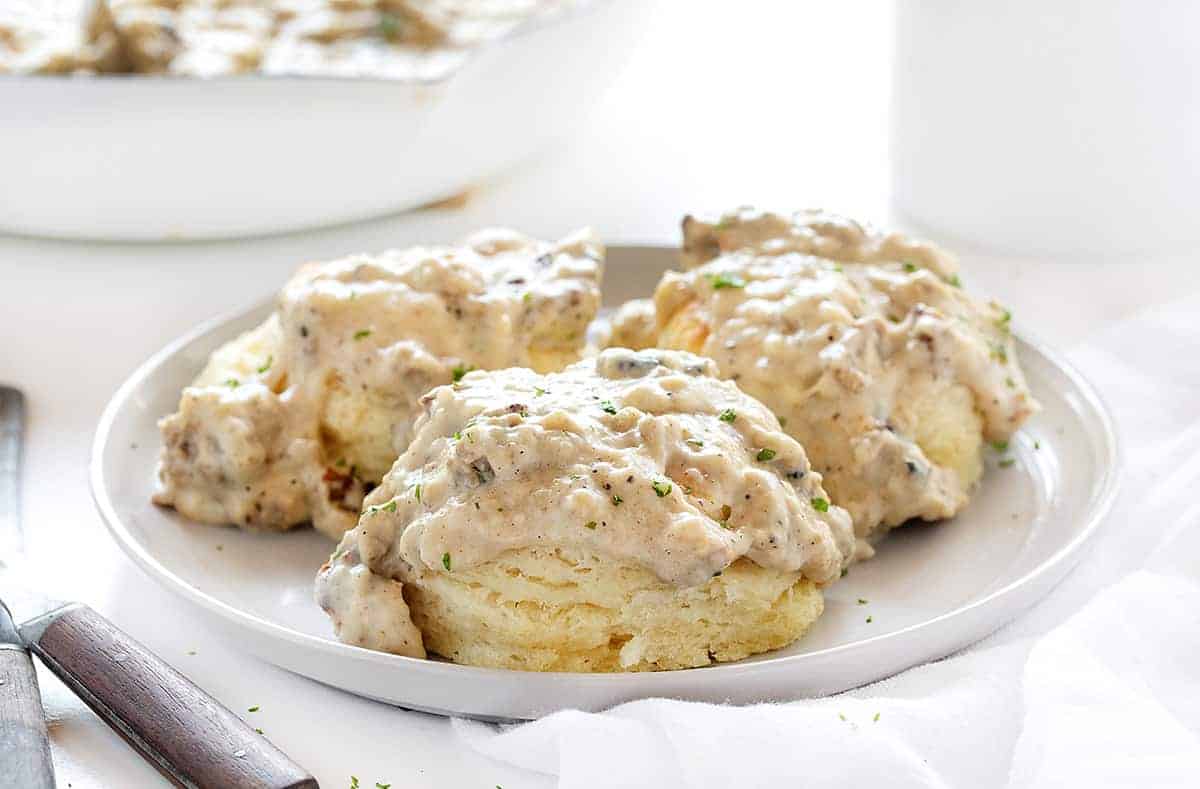 Biscuits and Gravy Recipe
Biscuits and Gravy do not have to be difficult to make, and I love the option of making your own buttermilk biscuits to go with the homemade sausage gravy. If you do not feel like making your own biscuits, just pick some up from the store. You will still have a delicious meal! (But you know it will be better with homemade!) I am going to break down the ingredients for both the sausage and the gravy.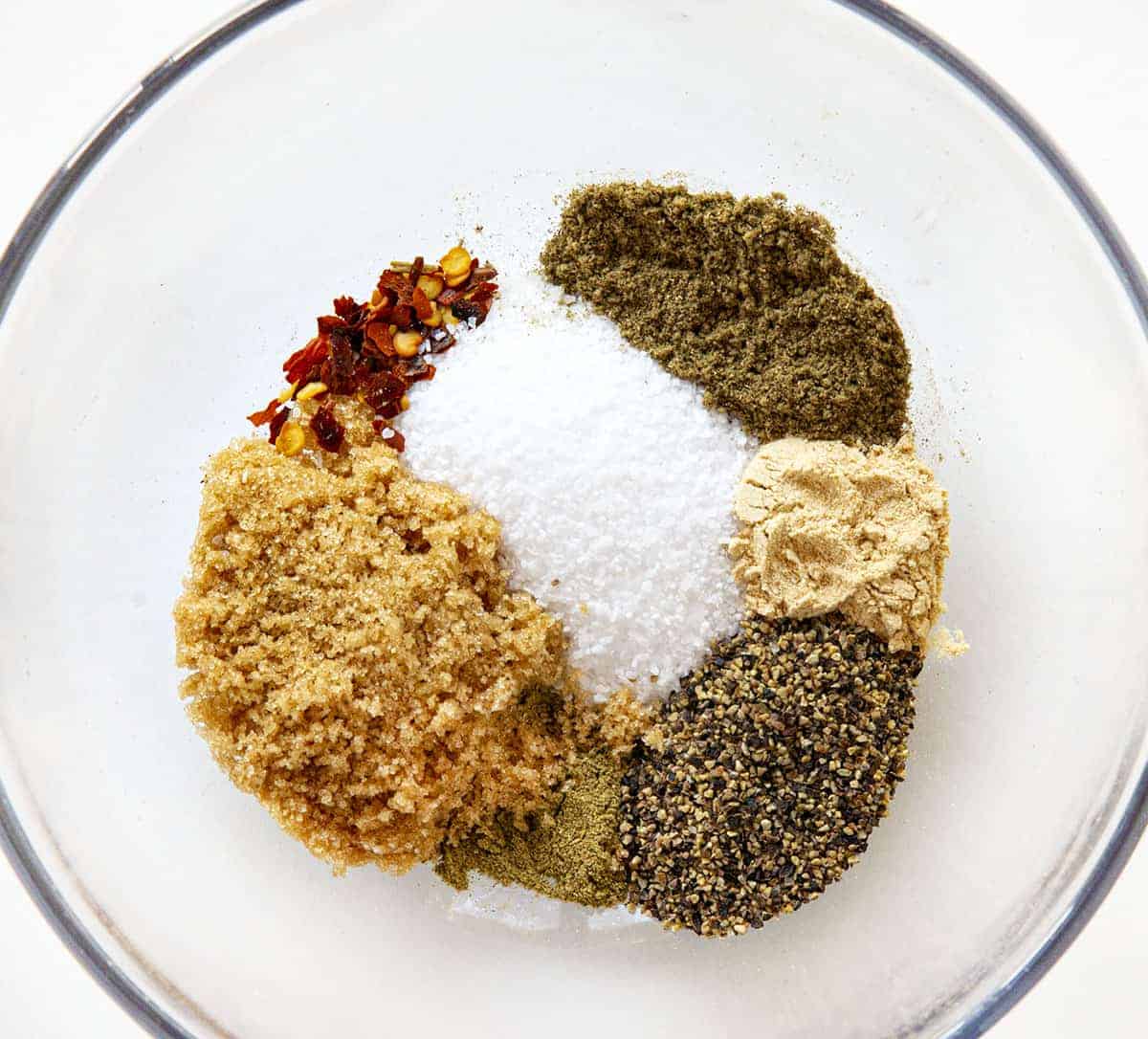 Sausage Ingredients
Sage
Garlic powder
Salt
Black pepper
Marjoram
Brown sugar
Red pepper flakes
Cloves
Ground pork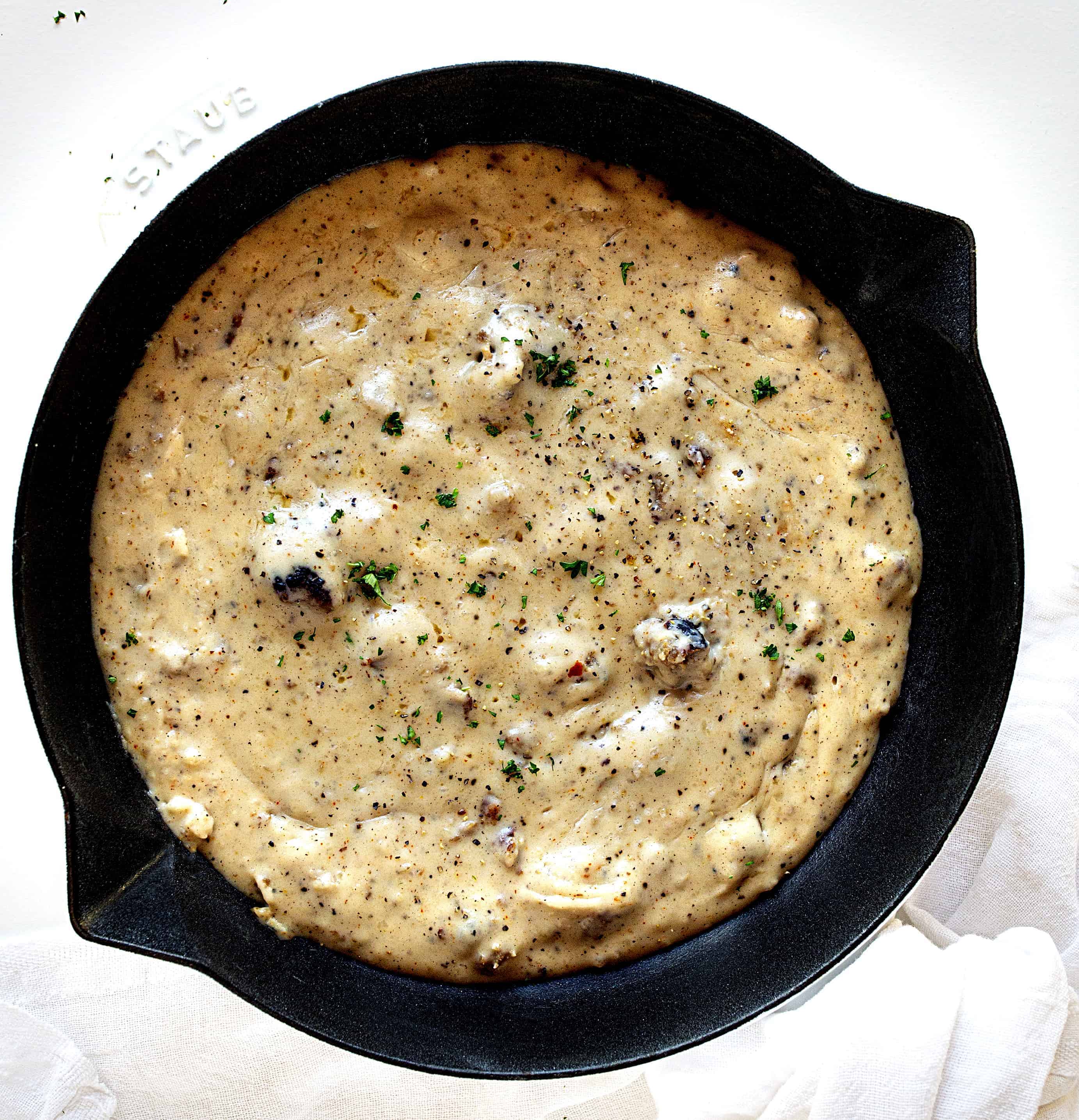 How to Make the Sausage
First, mix together the spices and brown sugar in a small bowl. Then, place the ground pork in a larger bowl. Add the mixed spices to the ground pork and mix with your hands. This is the fun part! Did you know that everyone, including adults, has sensory needs? Forming the ground pork into sausage is perfect for those tactile needs. It is also quite therapeutic to be doing something with your hands. The squeeze and release action relieves stress if you have any, and if you don't have any stress, please tell me your secret!
After you have destressed and mixed the spices with the ground pork, saute it in a large skillet over medium-high heat. Once cooked, remove the sausage from the pan until you add it to the gravy. Leave the sausage drippings in the skillet for the gravy recipe. The spices mixed with the ground pork is the same combination I used for my Breakfast Sausage Patties, which I could eat every day!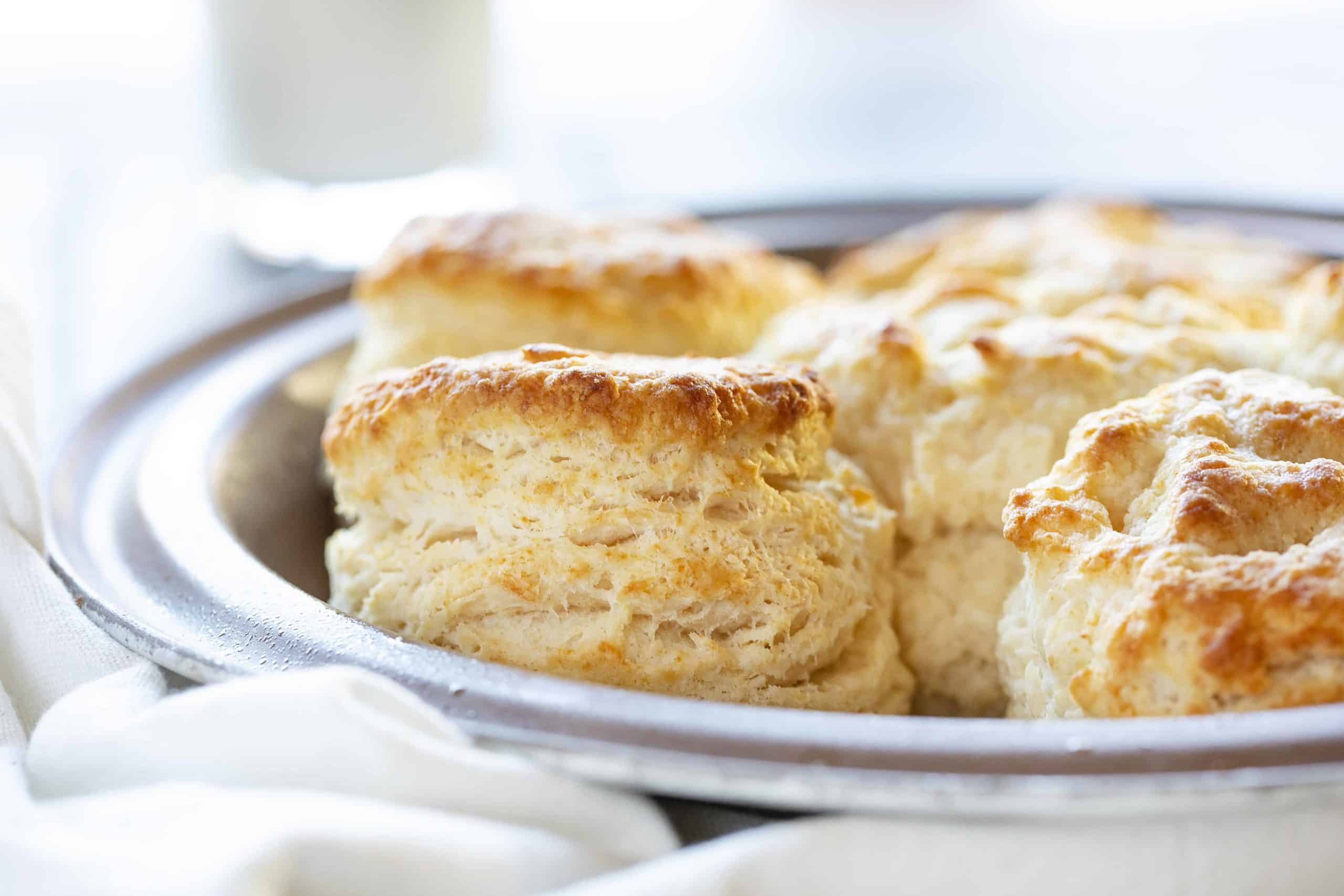 How to Make the Gravy
Using the skillet that you cooked the sausage, add the butter until it has melted. Next, whisk in the flour for a couple of minutes. Then, add the rest of the ingredients, stirring until it gets a little thicker. Finally, add the cooked sausage and heat it all together. Be careful about the amount of salt you add before serving. After putting the gravy on the biscuits, the bite was a bit on the salty side. I would hold off on adding the final salt and pepper to the gravy and let the tasters decide if salt and pepper needs to be added.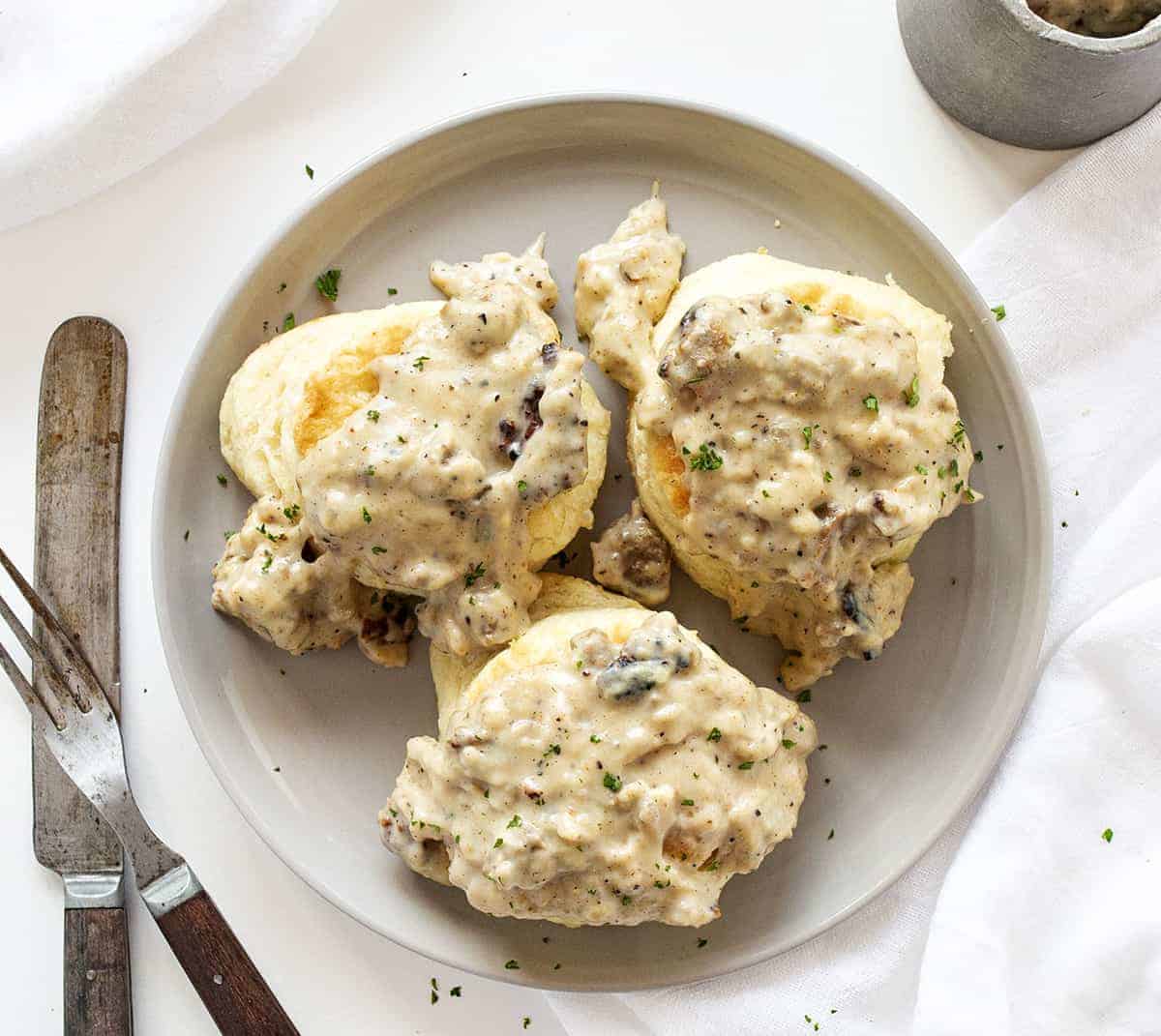 What to Serve with Biscuits and Gravy
With buttermilk biscuits covered with sausage gravy, Biscuits and Gravy is definitely a meal in itself. But, sometimes you just need a side to go with it. I recommend hash browns or eggs. To add some color to the plate, serve it with strawberries or melon. Although there are only two upcoming days devoted to Biscuits and Gravy, please don't hold off until then to try this delicious, savory breakfast!
If you like your gravy on the runnier side, feel free to add more milk to reach your desired consistency.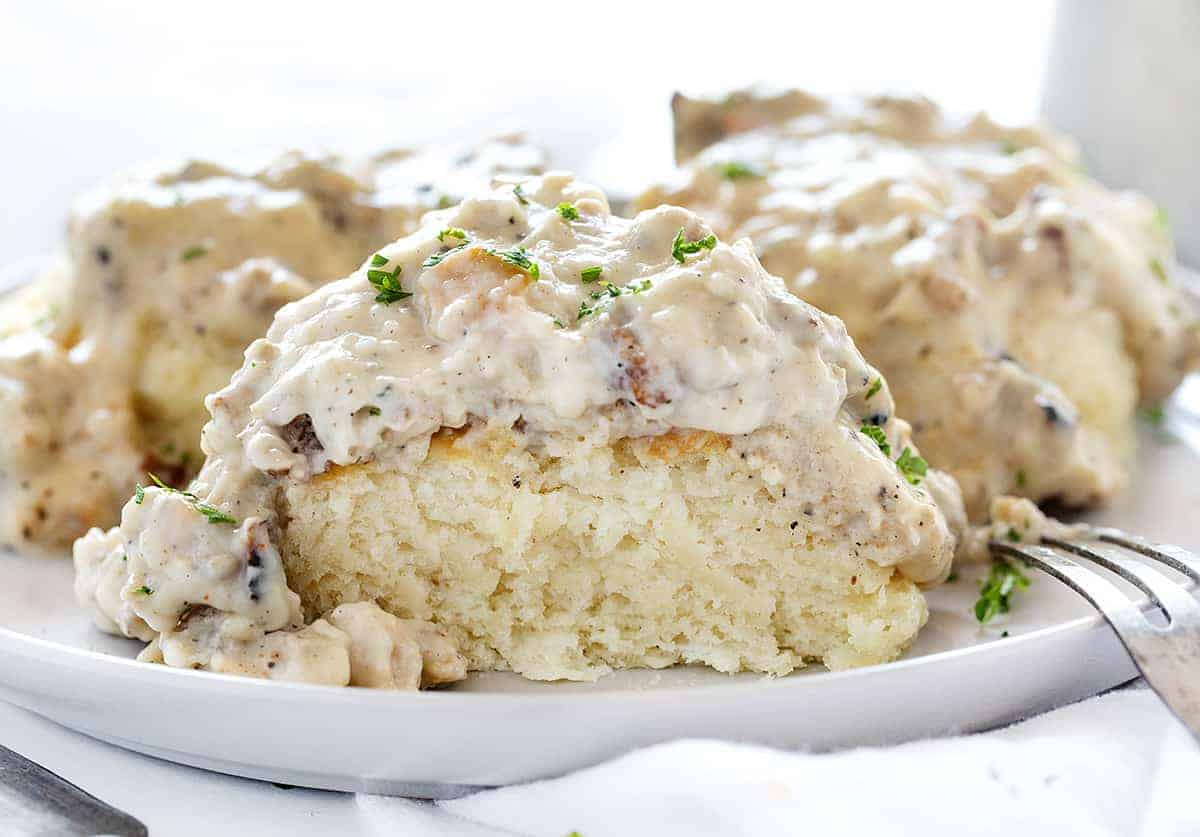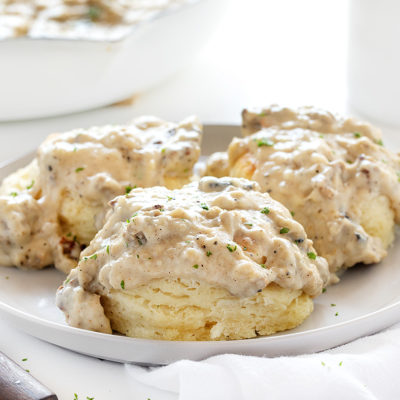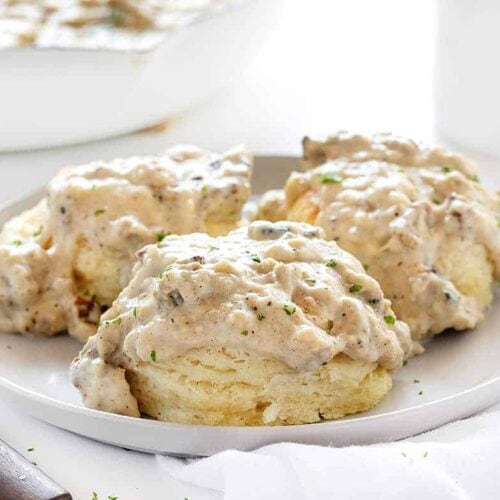 Biscuits and Gravy
Hearty and delicious, Biscuits and Gravy is the perfect comfort food you will crave in the cooler days ahead!
Ingredients
Buttermilk Biscuits, homemade or baked according to package instructions
Sausage
½

teaspoon

dried sage

½

teaspoon

garlic powder

1

teaspoon

kosher salt

½

teaspoon

ground black pepper

⅛

teaspoon

dried marjoram

½

tablespoon

brown sugar

⅛

teaspoon

crushed red pepper flakes

1

pinch

ground cloves

1

pounds

ground pork
Gravy
2

tablespoons

butter

¼

cup

all-purpose flour

2½

cups

whole milk

1

teaspoon

kosher salt

½

teaspoon

black pepper

¼

teaspoon

cayenne pepper

¼

teaspoon

garlic powder
Instructions
Sausage
In a small, bowl, combine the sage, salt, ground black pepper, marjoram, brown sugar, crushed red pepper, and cloves. Mix well.

Place the pork in a large bowl and add the mixed spices to it. Mix well.

Saute in a large skillet over medium-high heat until browned or internal pork temperature reaches 160°F (73 degrees C).

Remove from pan, and set aside.
Gravy
Add butter to the same skillet (leave sausage drippings)

When melted, add flour and whisk to combine. Cook 2-3 minutes until golden brown.

Whisk in milk, salt, pepper, cayenne pepper, and garlic powder cook and stir until thickened and hot.

Add crumbled sausage, season with salt and pepper

Cook until heated through.
Did you make this recipe?
Thank you for making my recipe! You took pictures, right? Well go ahead and post them on Instagram! Be sure to mention me @iambaker and use the hashtag #YouAreBaker.
Are you Looking for More Hearty Breakfasts?
A nice, hot breakfast puts everyone in a good mood! Here are my favorites.
Ham and Cheese Breakfast Casserole
Sausage and Zucchini Breakfast Skillet