Fresh Blueberry Fritters that are made with a cakey batter incorporated with fresh blueberries are the ultimate homemade treat! The sweet glaze sends these fritters over the top and may even remind you of a stuffed funnel cake. But better, of course! My favorite part? You can have this fabulous Fresh Blueberry Fritter in front of you in 30 minutes! For another blueberry-filled, yummy breakfast (or anytime) treat, try my Blueberry Lemon Scones.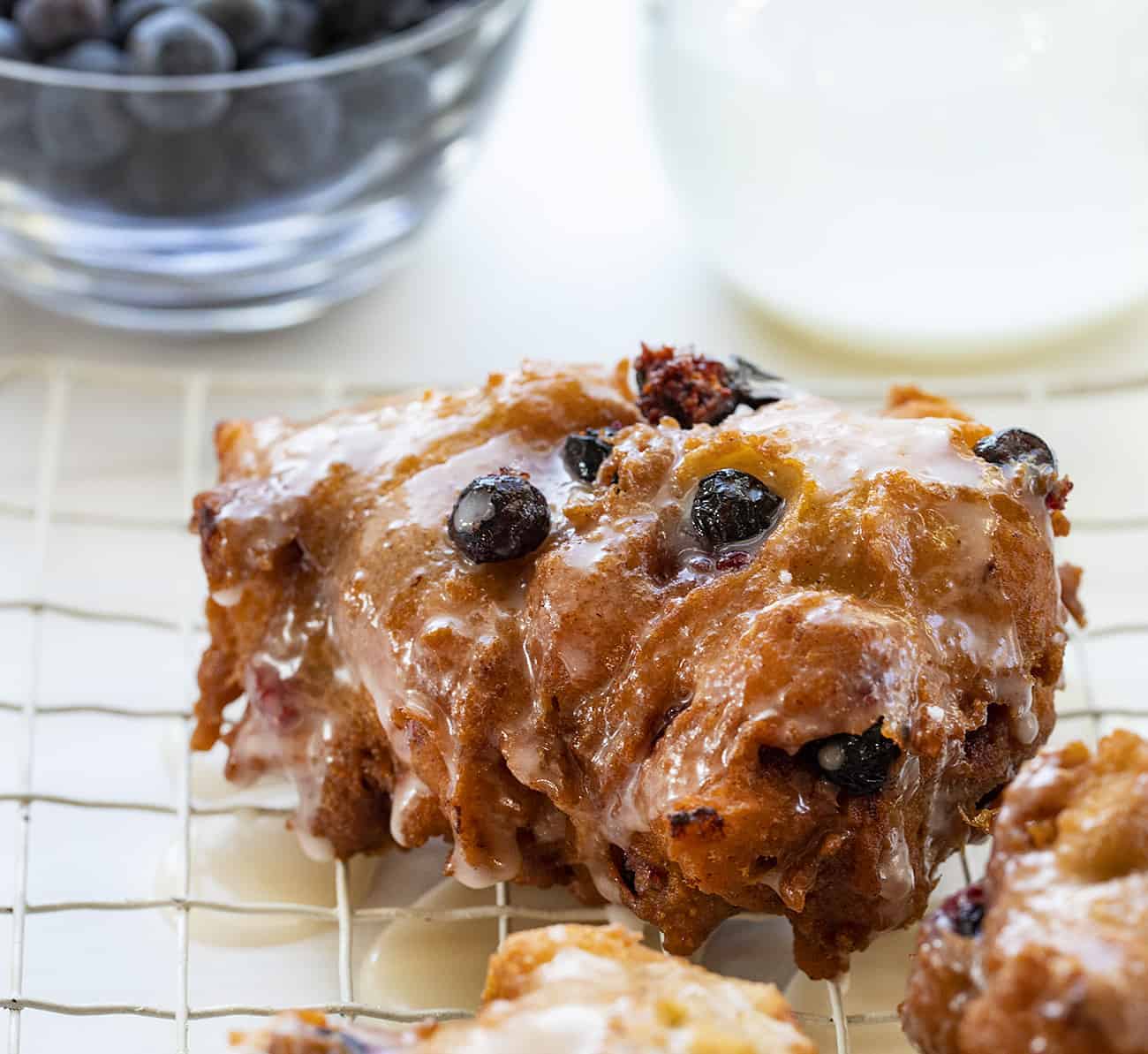 Fresh Blueberry Fritters
'Fritter' usually refers to any fried food, but the one most recognized would be the Apple Fritter. And, after the popularity of my Apple Fritters, I knew I had to make the recipe with other flavors. I love fresh blueberries, and with all the health benefits that blueberries have, it helps to offset the 'donut-like' breakfast treat😊. But don't worry, you won't 'fritter' (no relation to the origin of the fried foods term) your time away making this delicious treat! I also have Peach Fritters and Banana Fritters you may want to try.
There are two important parts to this recipe–the fritters and the sweet glaze I mentioned earlier. With a few basic ingredients, these Fresh Blueberry Fritters come together really fast.

Heating the Oil
In the instructions, I suggest starting to heat your oil after the batter has come together. The first few times I made these I would start the oil right away (trying to save time) and I would always forget and the oil would get too hot and burn the batter. Be sure to give yourself a few minutes to allow the oil to get to 375°F after the batter has come together. Try to also use a pan that is bigger than you would need, as there can be hot oil splattering and that is never a good thing. If you have any leftover oil, don't throw it out; first, check out How to Clarify Used Cooking Oil so it doesn't go to waste.
I made 10 fritters with this recipe, but it all depends on the size of the fritter you prefer. When it comes to the blueberries, I used an entire pint of them. I really don't think you can have too many blueberries in this recipe.
And, don't be afraid to make extra fritters. If you have any leftover (as doubtful as that may be), just heat them up in the oven the next day (8-10 minutes at 350°F).

How to Make the Glaze
You may have noticed that I opted for water instead of cream or milk in the glaze recipe. When coating donuts you want the glaze a little thinner than you would use for cakes or cookies. Another option instead of a glaze? Sprinkle them with cinnamon sugar when cooled. It's just 1/4 cup granulated sugar and 1 tablespoon cinnamon. You could also dust them with confectioners' sugar. Or simply enjoy plain!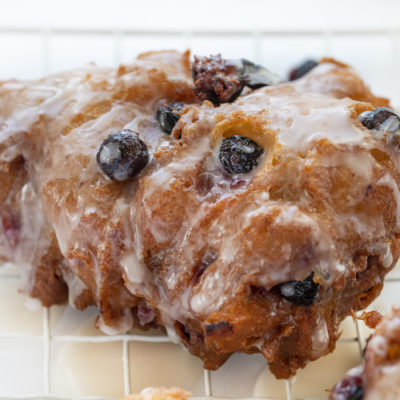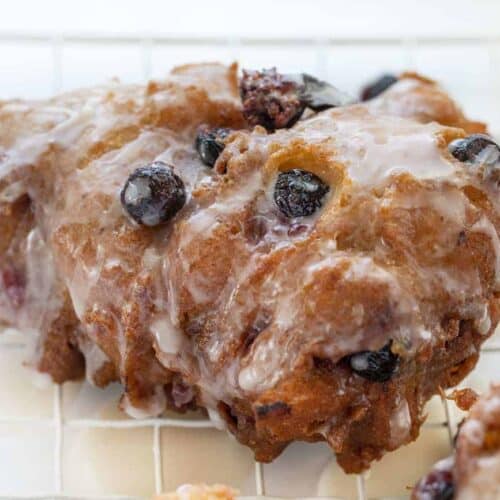 Blueberry Fritters
Fresh Blueberry Fritters made with a cakey batter incorporated with fresh blueberries are the ultimate homemade treat! The sweet glaze sends these fritters over the top and may even remind you of a stuffed funnel cake.
Ingredients
FRITTERS
2

cups

(250g) all-purpose flour

½

cup

(100g) granulated sugar

2 ¼

teaspoon

baking powder

1 ¼

teaspoon

kosher salt

1

teaspoon

cinnamon

2

large

eggs,

room temperature

¾

cup

(184g) whole milk,

room temperature

1

teaspoon

vanilla

3

tablespoons

unsalted butter,

melted

1

pint

fresh blueberries

Vegetable or canola oil,

for frying
GLAZE
1 ¼

cups

(156g) confectioners' sugar

¼

teaspoon

vanilla

3-6

teaspoons

water,

or until you reach desired consistency (I prefer it on the thinner side)
Instructions
BLUEBERRY FRITTER
In a medium bowl, whisk together the flour, sugar, baking powder, salt, and cinnamon. Set aside.

In a separate bowl, combine the eggs, milk, vanilla, and melted butter.

Add the egg mixture to the flour mixture, stirring until combined.

Fill a frying pan halfway with oil. Heat over medium heat until the oil reaches 375°F with a candy thermometer.

Slowly drop ¼ cup of batter into the oil and let fry until golden brown, about 2-4 minutes per side depending on the heat of your oil.

Flip and fry until the opposite side is golden brown. To test for doneness, insert a small knife (or toothpick) into the center. If there's still uncooked batter in the center, fry for a bit longer. Transfer to a paper towel-lined cooling rack and let cool. Repeat with the remaining batter being sure to check the temperature of the oil throughout the process.
GLAZE
Make the glaze by combining the sugar, vanilla, and 3 teaspoons of water. Add more water, 1 teaspoon at a time, until a pourable consistency is reached.

Drizzle the glaze over the cooled fritters and let dry. 
Did you make this recipe?
Thank you for making my recipe! You took pictures, right? Well go ahead and post them on Instagram! Be sure to mention me @iambaker and use the hashtag #YouAreBaker.
Recipe inspired by Blueberry Fritters from Seasons and Suppers.