Blueberry Lemon Scones are bursting with blueberries and a touch of lemon flavor to make this my favorite scone I have made! Be sure to try my White Chocolate Raspberry Scone or Caramel Apple Pecan Scone for other delightful scones!
Blueberry Lemon Scones
I am definitely on a scone kick! And, since I figured out some tricks to make a no-fail scone with the perfect crumb and golden-brown top, I am adding ingredients to make a variety of scones. Blueberries have always been a favorite fruit of mine, and I love using them in sweet recipes, like my Blueberry Crisp. And, if you look at my blueberry recipes, I see a theme of blueberry and lemon recipes galore! It made perfect sense to add a Blueberry Lemon Scone to my list of blueberry lemon recipes.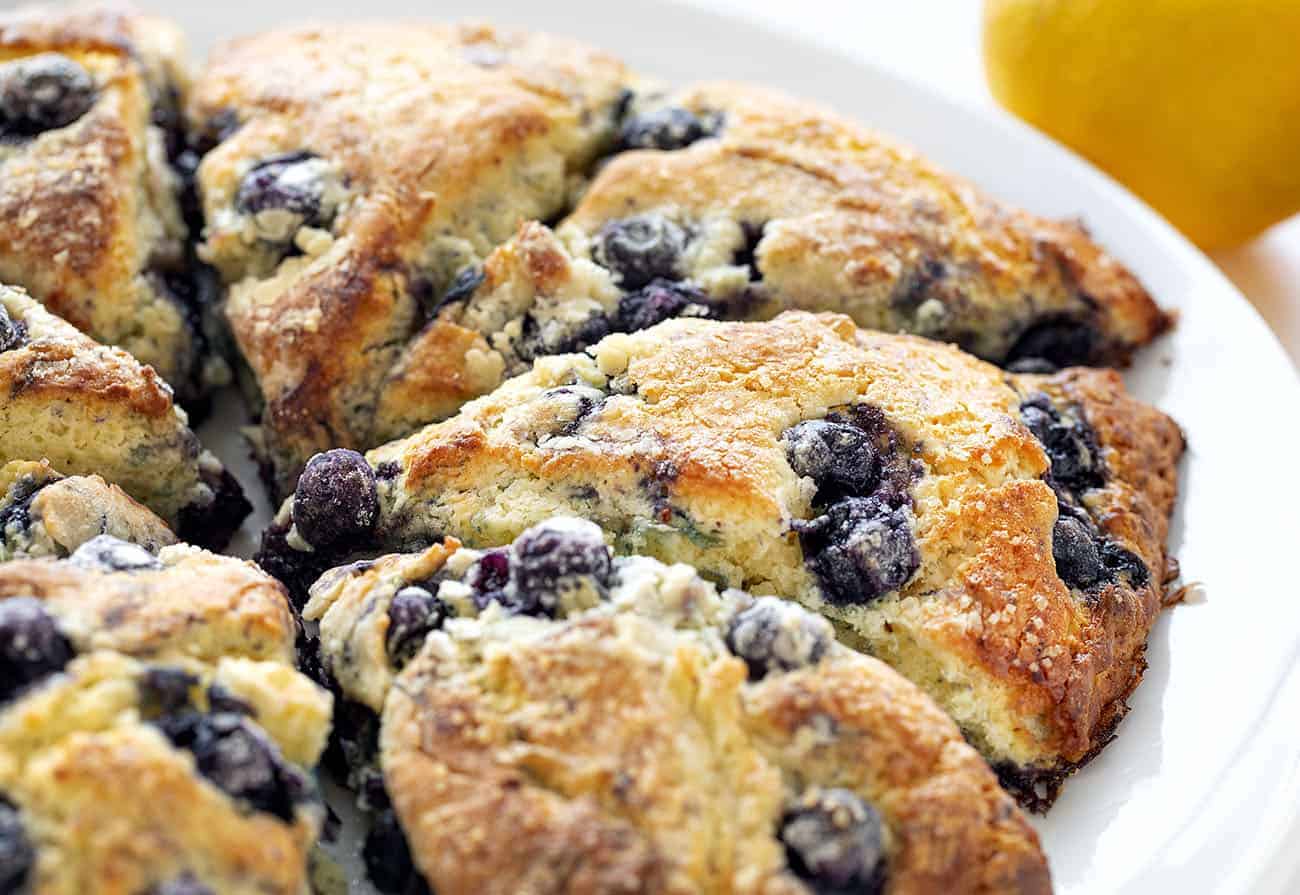 Ingredients
Blueberries: I used frozen blueberries in this recipe. Be sure to coat the frozen blueberries with flour and store them in the freezer until you incorporate them into the dough at the last minute.
Butter: The secret to the scone's success is using cold, grated butter. Use the fine side of the grater and grate over a plate. Be sure to spray the grater with non-stick spray before grating. Then transfer the butter to the freezer, where it only needs a few minutes to firm up. The frozen butter stays cold until baking time, which will keep the scones from spreading out and losing that flaky and moist texture.
Heavy Cream: You will notice I use heavy cream in both the dough and brush over the top of the dough. Using cream adds more moisture and flavor to the scones.
Lemon extract– can also use lemon zest or fresh lemon juice. See this post for detailed substitutions, look under "Lemon Extract".
Turbinado Sugar: Turbinado Sugar is a sugar that would fall between white sugar and light brown sugar in both color and flavor. It has a yellowish-brown color and with some molasses content left in the turbinado sugar (which gives it the color), it will provide a slight butterscotch flavor. If you don't have turbinado sugar, you could use granulated sugar.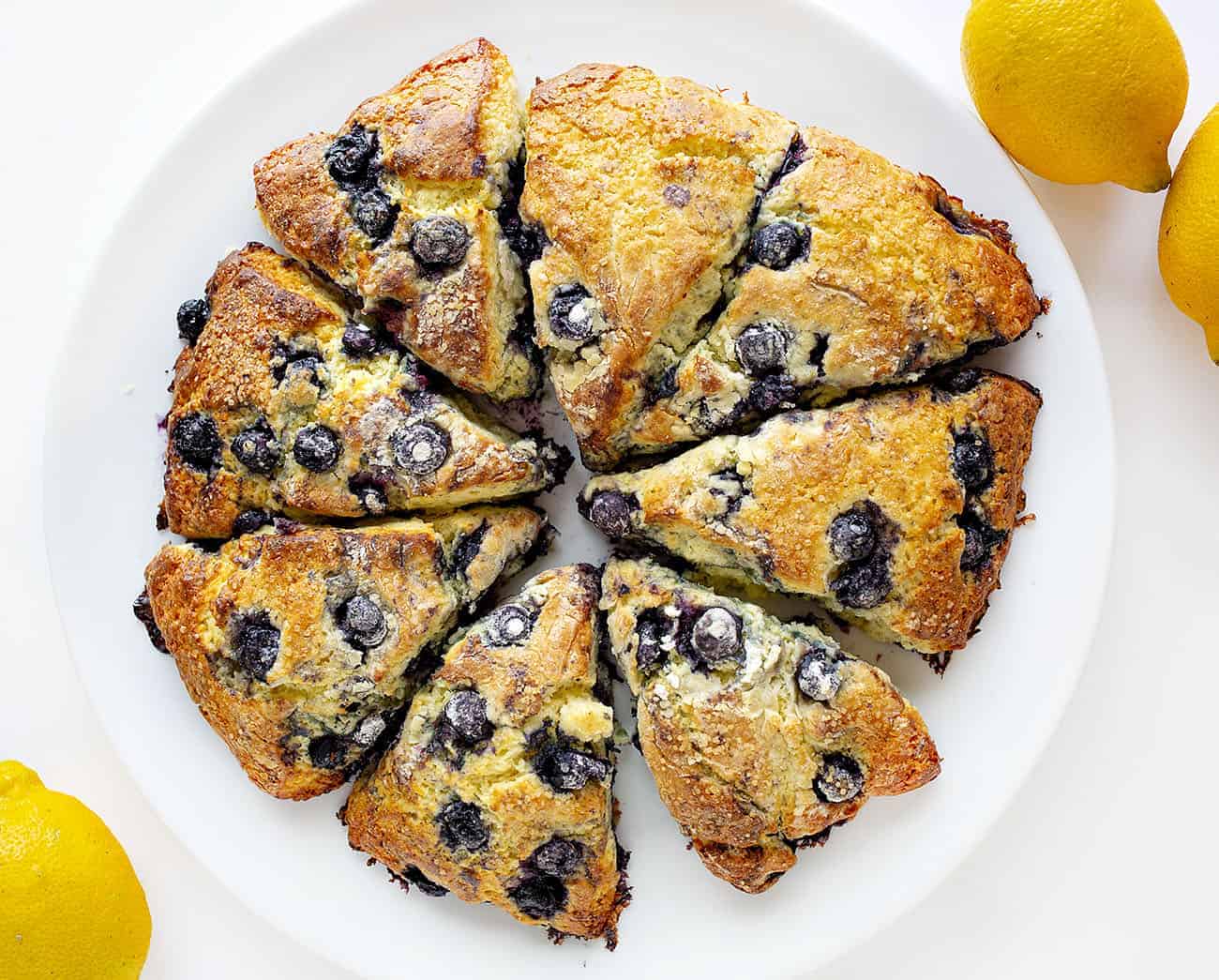 Why Freeze the Dough
You will notice that once the dough has been pressed out, it needs to be chilled in the freezer for at least half an hour, up to an hour. The dough should be chilled completely and hold its shape. Freezing the dough relaxes the gluten in the flour, which makes the scones rise higher. Freezing also chills the fat which gives the scones their signature flaky texture. So, it is an important step that should not be skipped.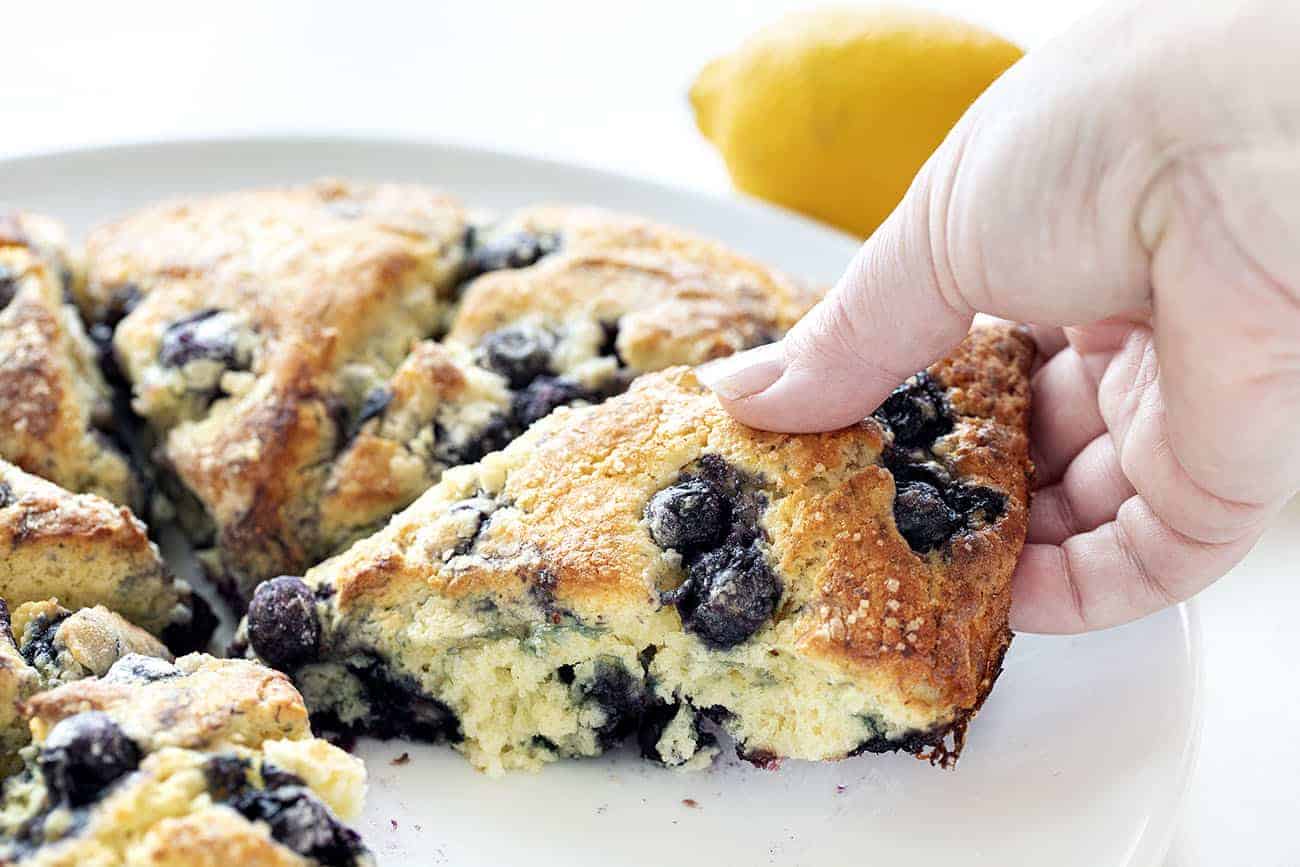 Can I Make Blueberry Lemon Scones Ahead of Time?
Sure! If you decide not to bake the scones after the dough has been chilled in the freezer, just leave it in there! After 60 minutes of chilling time, put the dough in a sealable freezer bag and store it for up to a month! Then, just bake as directed, from the freezer, with maybe a few minutes added to the bake time.
How to Store Scones
Once baked, scones are best stored at room temperature and covered. They will last up to 2-3 days. To reheat the room-temperature scones, just bake them, covered with aluminum foil, in the oven for about 10 minutes at 350°F. Scones can also be frozen for up to 3 months.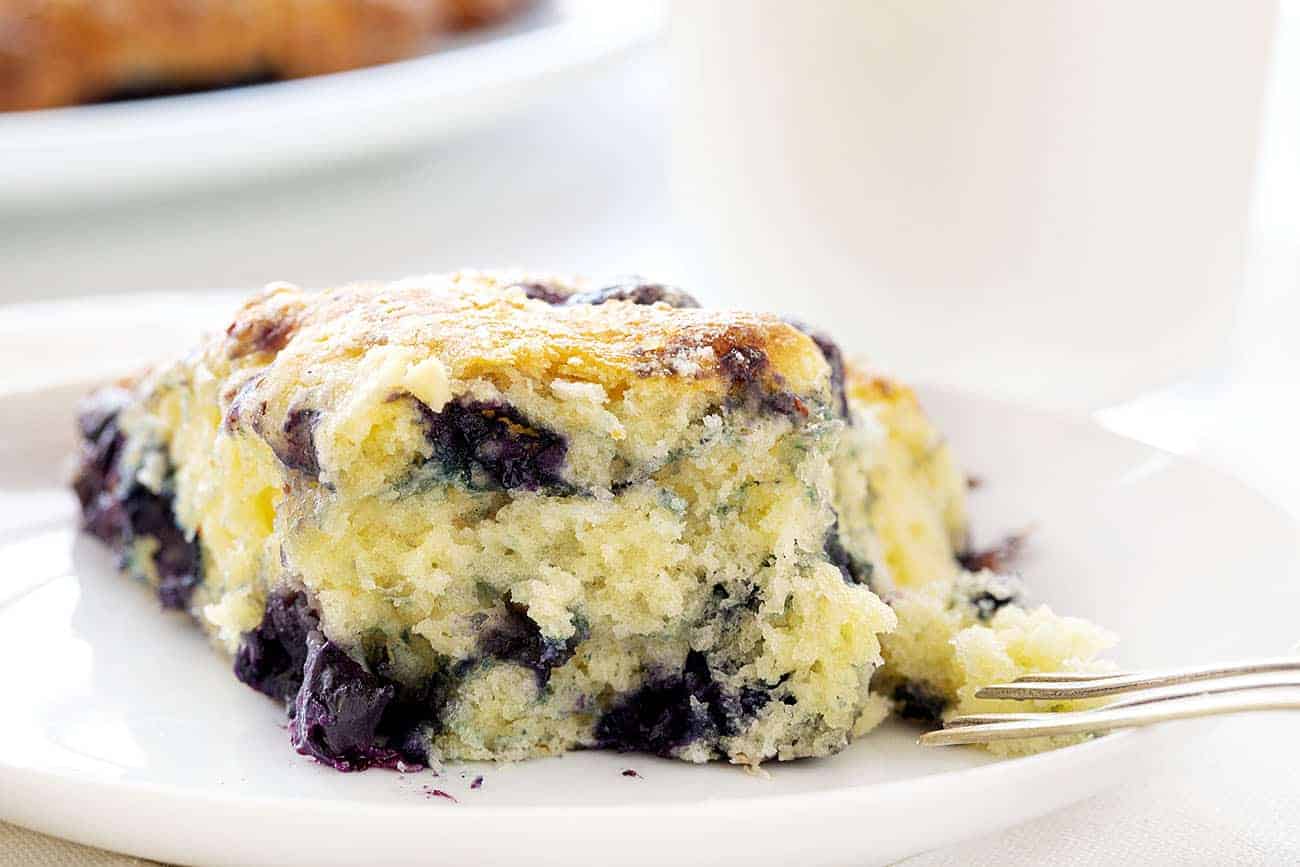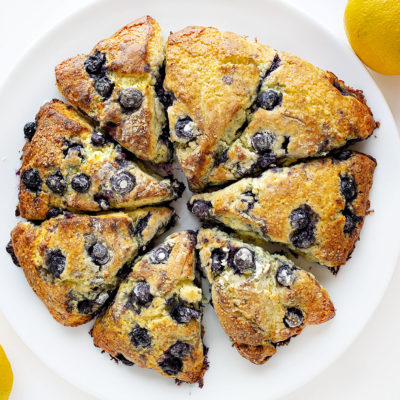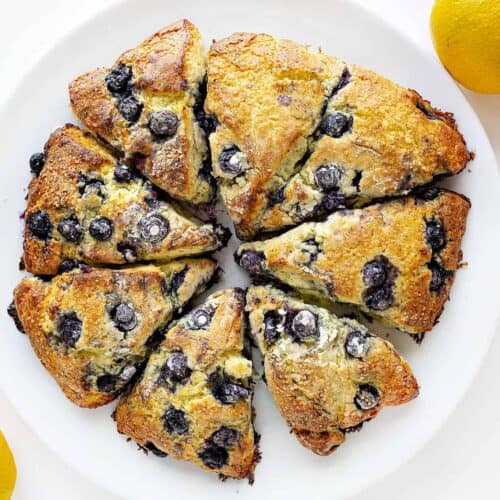 Blueberry Lemon Scones
Bursting with blueberries and a touch of lemon, Blueberry Lemon scones will be your new favorite breakfast treat!
Ingredients
Dough
1

cup

frozen blueberries,

sprinkled with flour

2 ½

cups

(313 g) all-purpose flour

½

cup

(100 g) granulated sugar

¾

teaspoon

kosher salt

1

tablespoon

baking powder

½

cup

(113 g) cold butter,

grated

2

large

eggs

1

teaspoon

lemon extract

½-⅔

cup

(113 g-152 g) heavy cream
Topping
2

tablespoons

heavy cream,

brushed on

2

tablespoons

turbinado sugar
Instructions
Sprinkle the frozen blueberries with flour and put them back in the freezer until you incorporate them into the mixture.

In a large mixing bowl, whisk together the flour, sugar, salt, and baking powder.

Work in the butter just until the mixture is unevenly crumbly; it's okay for some larger chunks of butter to remain unincorporated.

In a separate mixing bowl, whisk together the eggs, lemon extract, and heavy cream.

Add the liquid ingredients to the dry ingredients and stir until all is moistened and hold together.

Gently incorporate the frozen blueberries, folding the dough 3-4 times.

Line a baking sheet with parchment paper. Sprinkle a bit of flour onto the parchment or pan.

Scrape the dough onto the floured parchment or pan and make a circle. The circle should be about 1-inch thick with an 8-inch diameter.

Place the pan of scones in the freezer for 30-60 minutes, uncovered.

Preheat the oven to 425°F.

After chilling, using a knife or bench scraper that you have run under cold water and dried, slice each circle into 6-8 wedges.

Carefully pull the wedges away from the center to separate them just a bit; there should be about a ½-inch space between them, at their outer edges.

Brush chilled scones with heavy cream, making sure to cover all exposed edges. Sprinkle with turbinado sugar.

Bake the scones in the upper part of your oven for 18-23 minutes, or until they are a light golden brown. When you pull one away from the others, it should look baked all the way through. (If there is wet batter but the scones are golden brown, feel free to cover with foil and continue baking.)

Remove the scones from the oven, and cool briefly on the pan. Serve warm or at room temperature.
Did you make this recipe?
Thank you for making my recipe! You took pictures, right? Well go ahead and post them on Instagram! Be sure to mention me @iambaker and use the hashtag #YouAreBaker.