These Brussels sprouts in Maple Bourbon Sauce are packed with a glorious combination of bacon and candied pecans! Amazing enough to be served on their own yet perfect with a big hearty dinner. Once you try this recipe, you will want to check out my Balsamic Roasted Brussels Sprouts, too!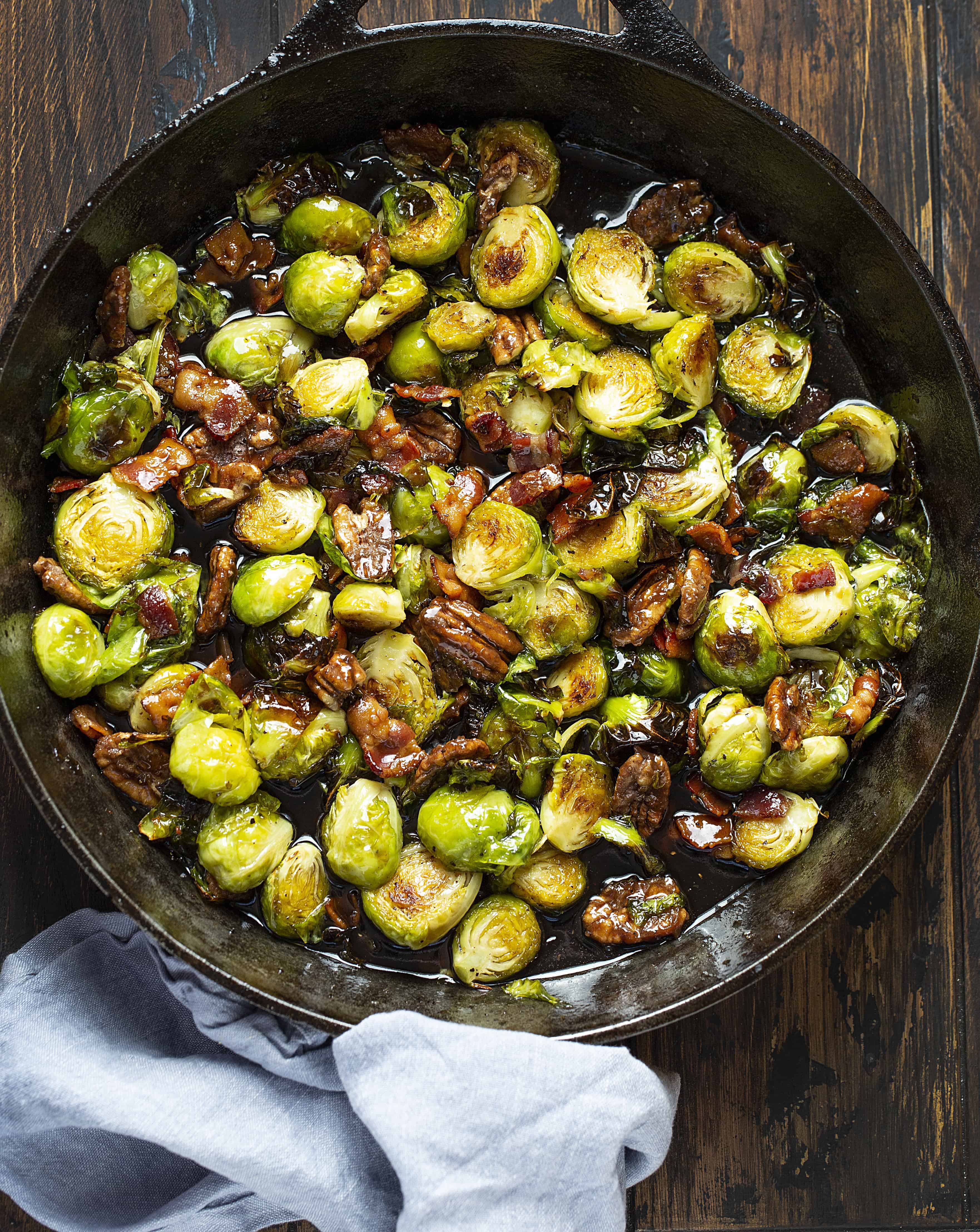 Brussels Sprouts in Maple Bourbon Sauce
If you are anything like me, you don't think of Brussels sprouts recipes as decadent. But I am here to tell you, these are just that. There is something magical about the combination of Brussels sprouts, bacon, pecans, maple syrup, and bourbon. We can't get enough of this recipe and make it often! I also have more Brussels sprouts recipes you may want to try, like Parmesan Roasted, Bacon Wrapped, Brown Butter, Shredded, and Gruyere Roasted Brussels Sprouts. They are all the rage right now, for sure!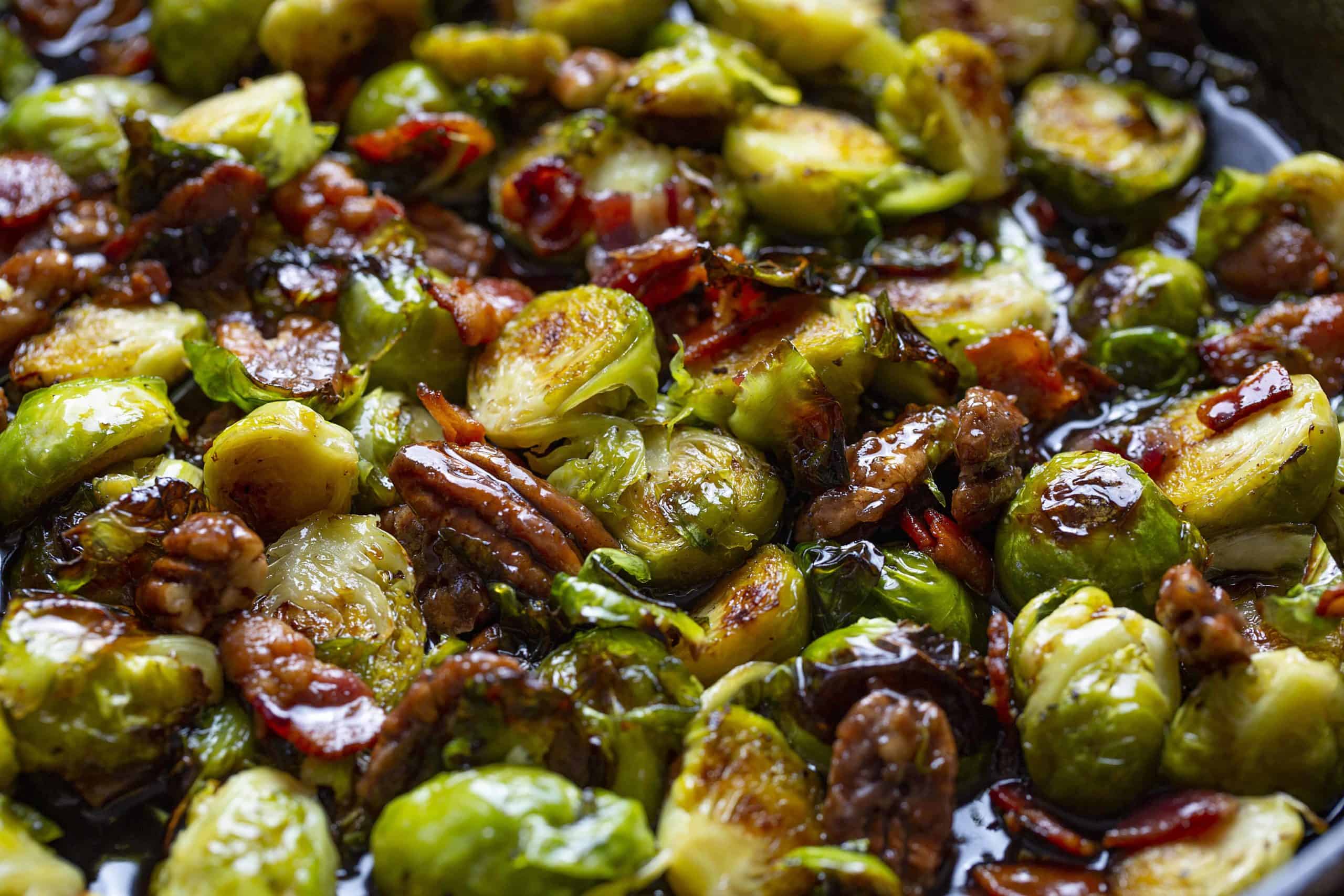 Ingredients & Substitutions
Brussels Sprouts: Brussels sprouts are full of nutritional benefits, including lots of nutrients, and antioxidants, and are high in fiber, among other things. The more recipes to use Brussels sprouts, the better!
Bacon: After you have cooked the bacon, remove it, along with the bacon grease, but leave the brown bits in the skillet.
Bourbon: When cooking with bourbon, you want to choose a bourbon that you would also enjoy drinking. But, it doesn't need to be an expensive or high-end bottle since the flavors will change during cooking. The alcohol will cook off during the process, leaving behind the bourbon's distinctive flavor. When you're ready to add the 2 ounces of bourbon, remove the pan from the heat, pour in the bourbon, and then return it to the heat to continue cooking as specified in the recipe. This precaution ensures both safety and flavor retention.
Candied Pecans: Candied pecans elevate the dish, making it more balanced and interesting. If preferred, you can leave out the pecans; the dish will still be delicious and stand on its own!
How to Pick Balsamic Vinegar (excerpt from Gourmet Blends)
Make sure you examine the ingredients. Does it say red wine vinegar and grape must? This is not pure balsamic vinegar; it is Red Wine Vinegar, not Balsamic.
If it says 6% percent acid this also disqualifies it from being Balsamic. It should read 4.5 percent.
Balsamic Vinegar is produced from white grapes (typically, Trebbiano grapes) and must be aged at least 12 years. This grape is grown in Northern Italy. True balsamic vinegar will have a thick pouring consistency.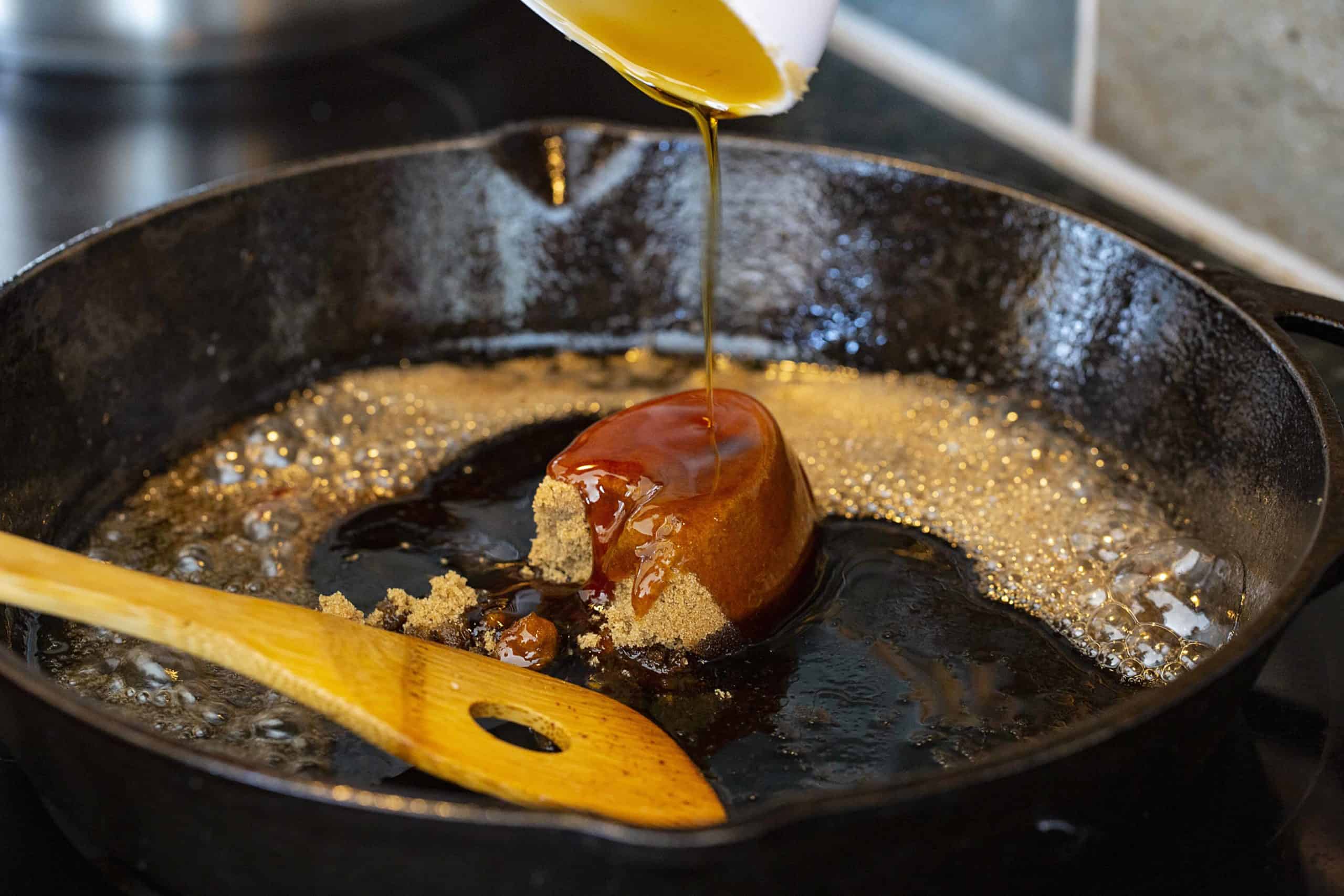 Preparing Brussels Sprouts
This couldn't be easier!
Remove from stems, if necessary.
Remove any browned edges or imperfections. (Peel back any leaves that have spots or are discolored. We give these to our chickens!)
Rinse well in cool water.
Dry completely before adding to the skillet.
Pro Tip: You can prepare your Brussels sprouts ahead of time and store them in the refrigerator for 1-2 days. If not using them within a couple of days, wait to wash and cut them until ready to make the dish.
When preparing dishes with Brussels sprouts I take a couple of things into consideration:
Size– If they happen to be large, I will cut them in half before roasting. If they are smaller, like the ones we harvested from our garden, I will roast them whole. (These are also the best tasting in my opinion!)
Freshness– The vegetables should be green, not yellow, or have black spots. They should also be very firm. If you can find Brussels sprouts still attached to the stem they will last much longer if stored in a cool, dry place.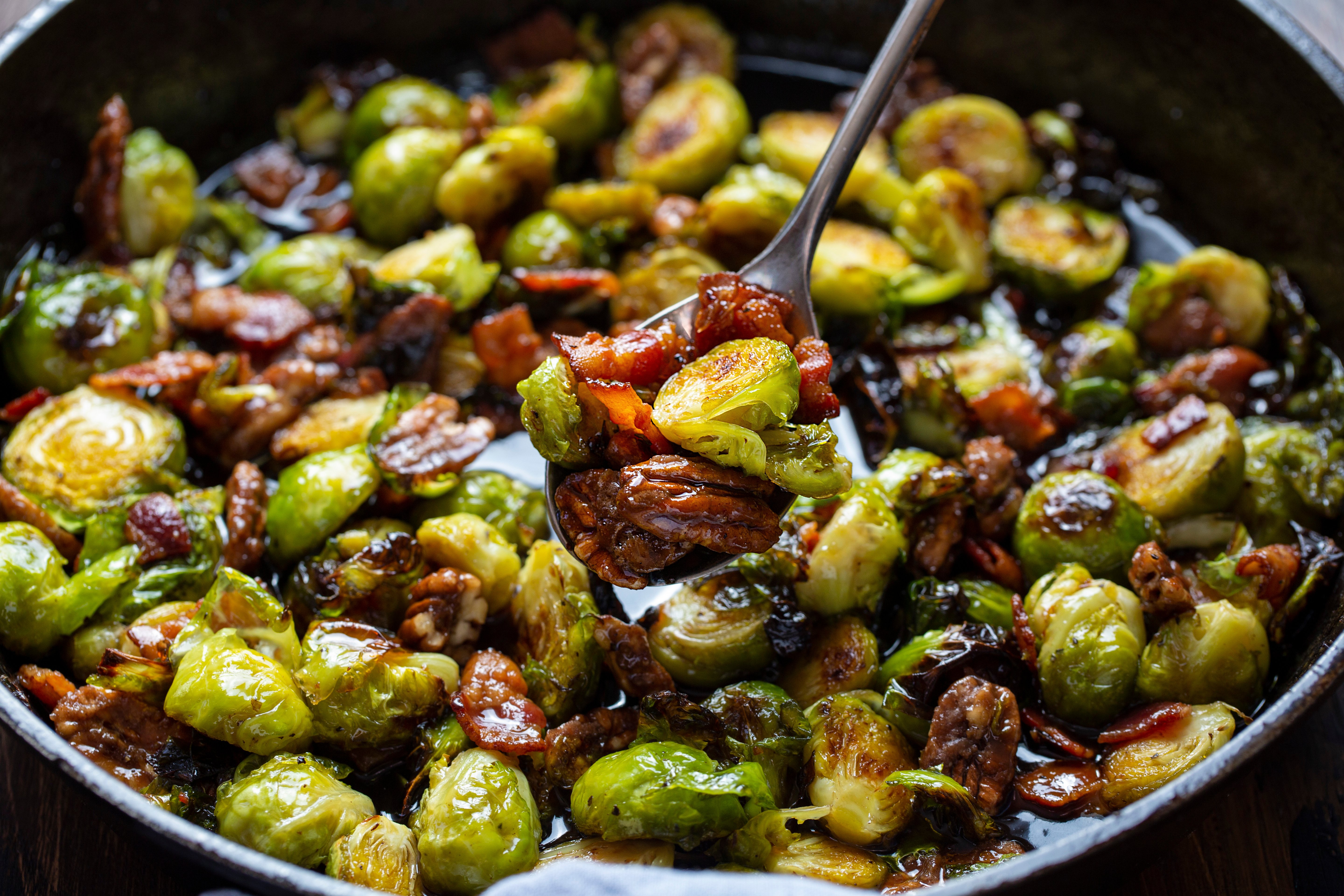 How to Store Brussels Sprouts in Maple Bourbon Sauce
Cooked Brussels sprouts can be stored in an airtight container, in the refrigerator. They will last up to 4 days or so.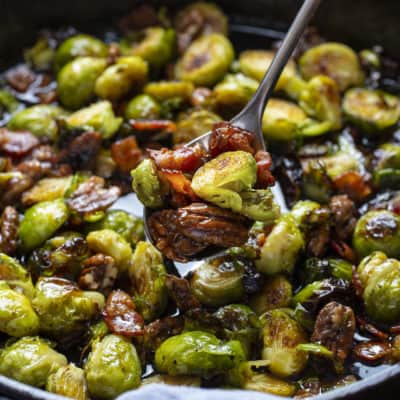 Brussels Sprouts in Maple Bourbon Sauce
These Brussels sprouts in Maple Bourbon Sauce are packed with a glorious combination of bacon and pecans! Amazing enough to be served on their own yet perfect with a big hearty dinner.
Ingredients
2

pounds

Brussels sprouts,

rinsed, trimmed, halved

2

tablespoons

olive oil

¼

teaspoon

kosher salt

¼

teaspoon

pepper

4

slices

bacon,

diced

2

ounces

bourbon

1

tablespoon

balsamic vinegar

½

cup

(157.5 g) maple syrup

½

cup

(100 g) brown sugar

½

cup

(99 g) candied pecans,

chopped
Instructions
Preheat oven to 425°F. Line a baking sheet with parchment paper.

In a large bowl, combine Brussels sprouts, olive oil, salt, and pepper. Toss until they are evenly coated.

Place the Brussels sprouts onto the prepared baking sheet in a single layer.

Bake for 20-25 minutes, or until fork tender.

While the sprouts are baking, cook the bacon. To a 10-inch non-stick skillet over medium-high heat, add bacon and cook for 7-8 minutes or until crispy. Using a slotted spoon, remove bacon bits to drain on a paper towel. Set aside.

Remove the excess bacon grease from the skillet, making sure to leave browned bits in the bottom.

Remove the skillet from the heat. Add the bourbon and balsamic vinegar. Return the skillet to the heat, scraping up the browned bits from the bottom while stirring the sauce.

Bring the bourbon to a boil. Add the maple syrup and brown sugar, stirring constantly for 2-3 minutes or until the sauce begins to thicken. Be cautious, as the mixture can bubble up.

Remove from heat. Add in the cooked Brussels sprouts, bacon, and candied pecans. Stir to combine and serve.
Did you make this recipe?
Thank you for making my recipe! You took pictures, right? Well go ahead and post them on Instagram! Be sure to mention me @iambaker and use the hashtag #YouAreBaker.