Buffalo Chicken Deviled Eggs are like buffalo wings with a twist, or should I say, with an egg!? These will be your new favorite game day appetizer and your guests will flock (get it?) to this tray to fill up on the eggs! Try my Skillet Buffalo Chicken Dip to keep with the theme.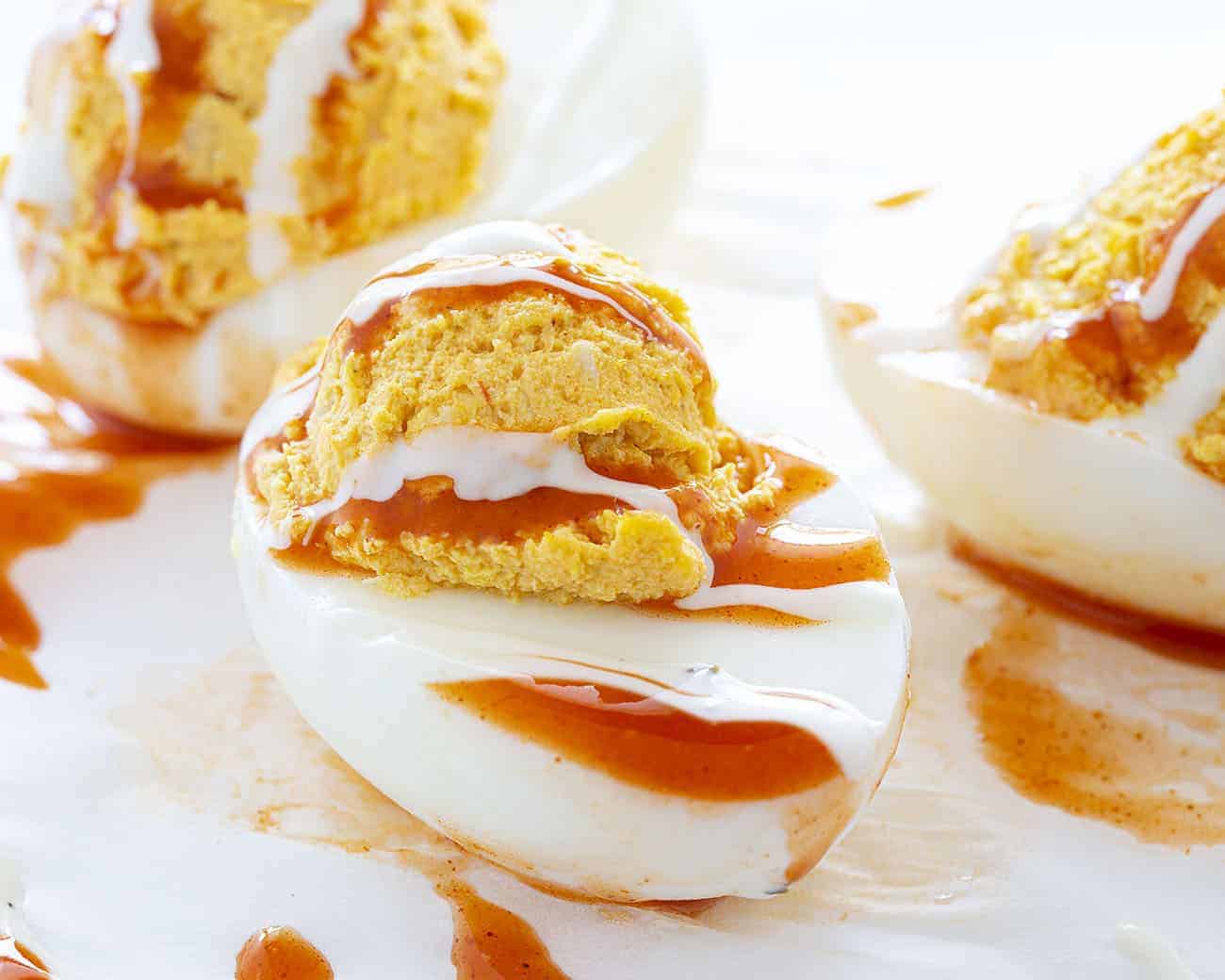 Buffalo Chicken Deviled Eggs
Before you think… "ummmm, no." I want you to just give these a chance. I know it is hard to get your head around, but I promise it doesn't taste funky or weird. The texture is still smooth and the egg white (arguably tasteless) is the perfect vessel for this funky filling!
My love for buffalo chicken started with classic buffalo wings. Even with all the other spices and flavors that are available to choose from, I still find myself sticking with the traditional buffalo sauce. I think we all know how well wings and football go together! Buffalo Chicken Deviled Eggs are a great alternative to the classic buffalo wings that we all know and love! You definitely have to serve these at Super Bowl LIV, and hopefully a few times before and after the big game.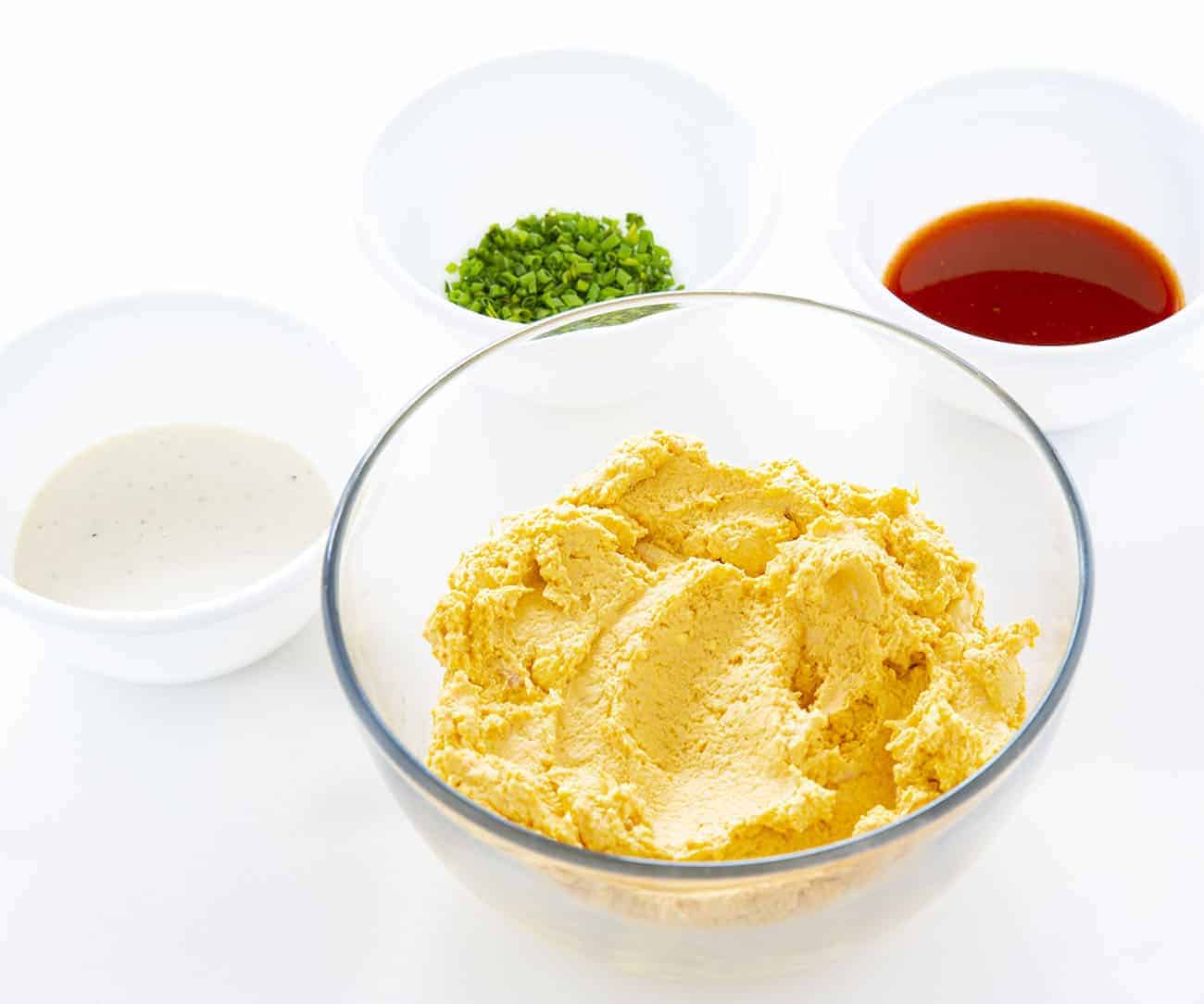 Buffalo Chicken Deviled Eggs Recipe
Buffalo Chicken Deviled Eggs are so easy to make, and your guests may even prefer these to the wings! With five ingredients, you will have a satisfying appetizer with a kick!
Ingredients
Eggs: I prefer our farm fresh eggs, but if you do not have access to those, choose organic or cage-free eggs.
Rotisserie Chicken: If you do not feel like buying the entire rotisserie chicken and shredding it yourself, check the deli section of the grocery store. Many times, they will have the shredding done for you, neatly packaged and ready to eat! Although, there is something to be said about a hot, fresh rotisserie chicken. To get a consistency of chicken that is perfect for deviled eggs, I add it to my stand mixer fitted with the paddle attachment. This breaks the chicken down into small pieces that are perfect for this recipe.
Buffalo Sauce: I used Frank's Hot Sauce.
Ranch Dressing: For this recipe, I used ranch dressing, which I have a recipe for here if you want to make your own. Blue cheese is another popular choice that pairs perfectly with buffalo chicken.
Chives: With their slight onion flavor, chives work really well with eggs!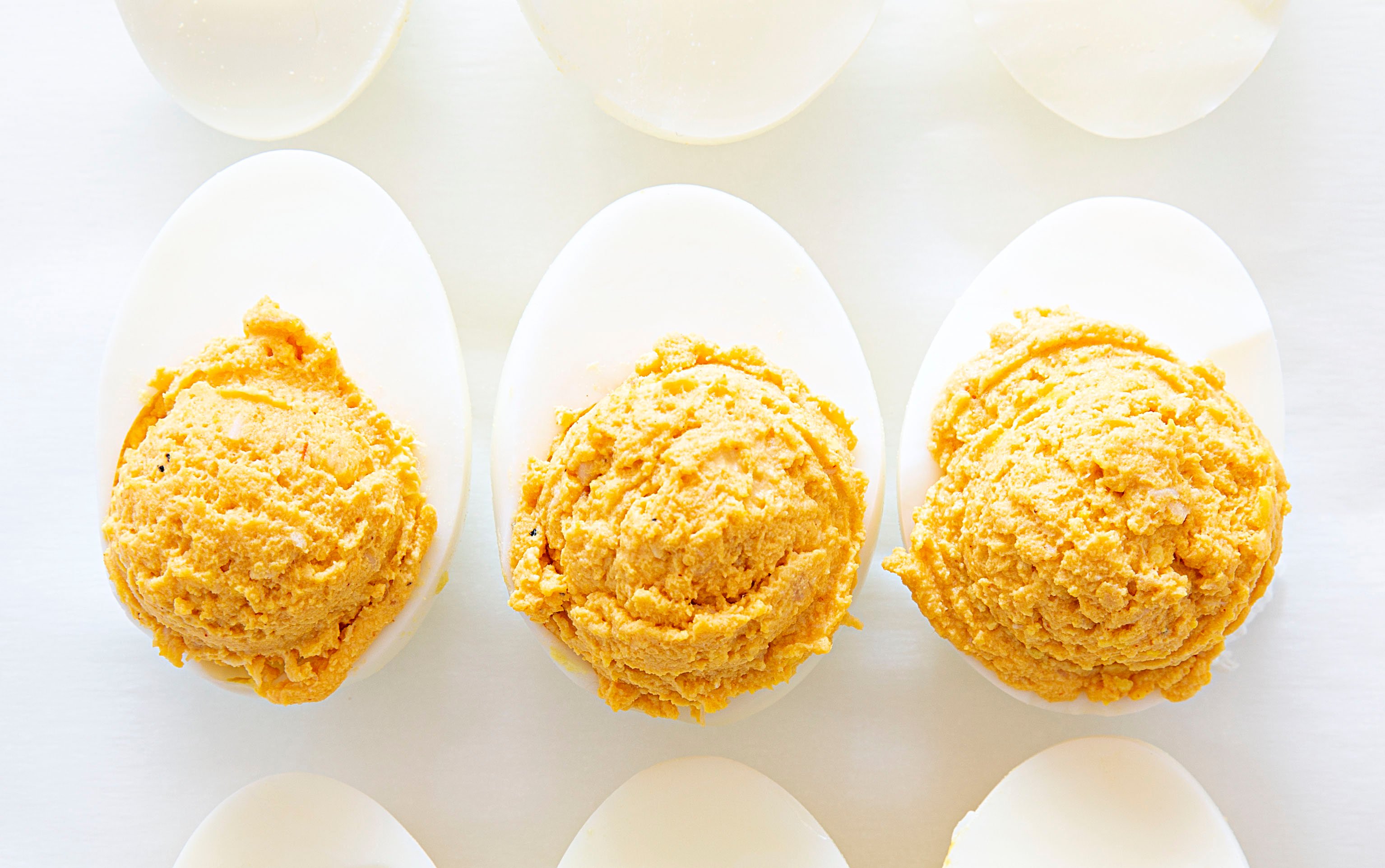 The Perfect Boiled Egg
Love deviled eggs, but hate the process of getting the eggs ready? For easy-to-peel hard-boiled eggs, cover the eggs with cold water (there should be about a half an inch of water on top of the eggshells), bring the water to a boil, stirring occasionally to balance the egg yolks, cover and then remove it from the heat. Let the eggs sit in the hot water for 14 minutes. Pull the eggs out and immediately shock them with an ice bath for about 5 minutes. Voila! Lovely, crater-free deviled eggs. To make the peeling a little easier, run cold water over the eggs as you are removing the shells.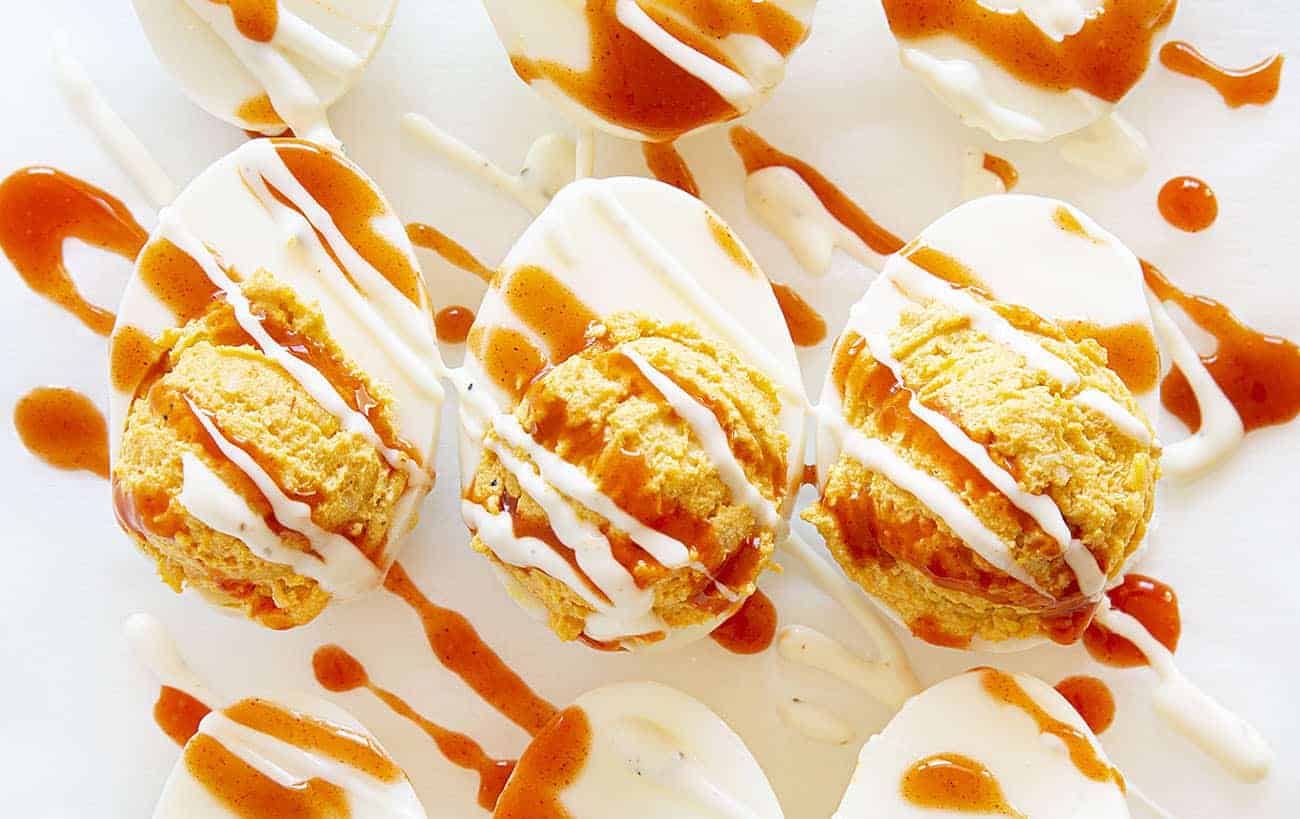 How to Make Buffalo Chicken Deviled Eggs
Using a sharp knife, halve the boiled eggs and gently remove the cooked yolks to a medium bowl using a small spoon. Set the egg whites aside. Mash the yolks with a fork and add the shredded chicken, buffalo sauce, and ranch dressing. Using a wire whisk or handheld mixer, mix together the mixture until you have no, or very few, lumps.
You may have noticed int he pictures already, but I prefer to scoop my buffalo chicken filling onto the egg with a small cookie scoop. It holds about a tablespoon of filling and is the perfect amount of each egg! Just scoop the buffalo chicken and yolk mixture into each egg white half. Garnish the Buffalo Chicken Deviled Eggs with hot sauce and ranch dressing and watch them be devoured!
More Deviled Egg Varieties
There are some fun ways to enjoy deviled eggs, including this buffalo chicken recipe. Be sure to try my French Onion Deviled Eggs and Bacon Deviled Eggs!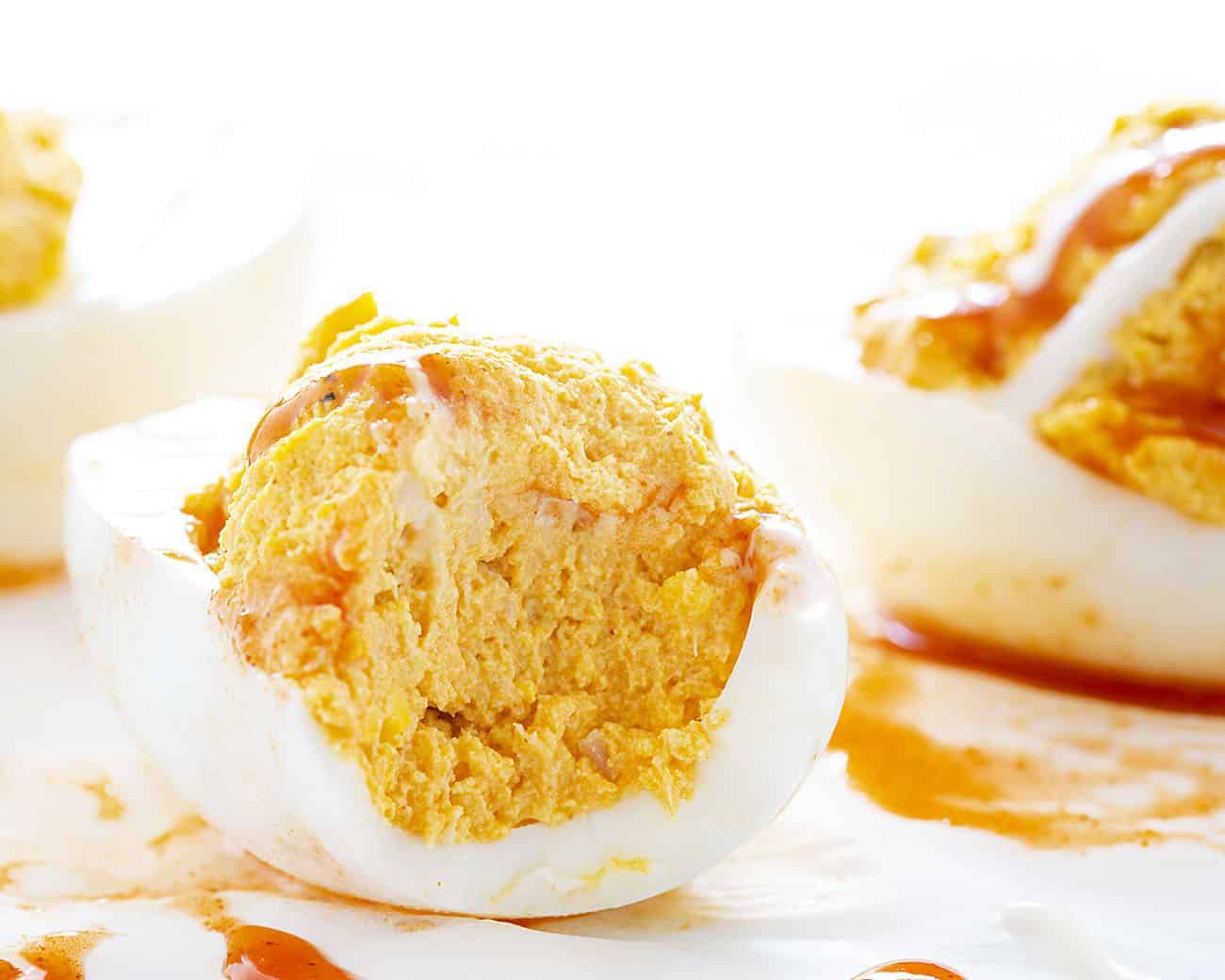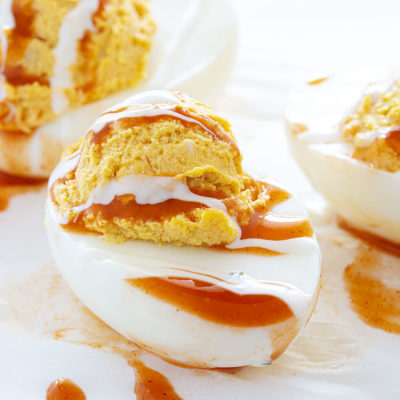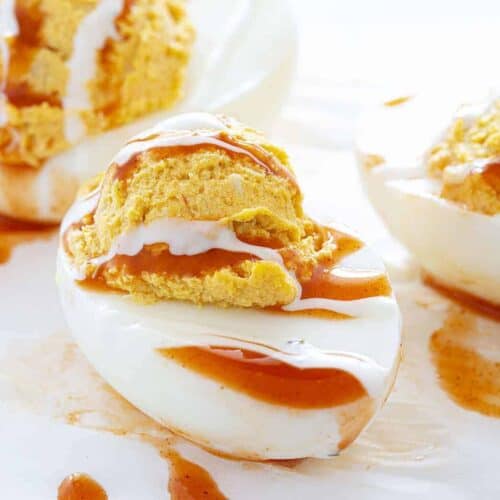 Buffalo Chicken Deviled Eggs
A Deviled Egg with a buffalo chicken twist!
Ingredients
12

large

eggs

1

cup

rotisserie chicken,

finely shredded

¼

cup

(68 g) buffalo sauce

½

cup

(120 g) ranch dressing

chives,

finely diced (optional)
Instructions
In a large pot, arrange the eggs in one layer. Fill with cold water until it is about ½-inch above the tops of the eggs.

Turn the heat to medium-high, stirring occasionally to balance the yolk (so it doesn't set in the middle of the egg).

Bring the pot to a boil, cover and shut off the heat. Let sit, undisturbed for 12 minutes.

Place the cooked eggs in an ice bath and let cool for about 5 minutes.

Under cool running water, gently peel the eggshell away from the egg. Set aside and repeat with remaining eggs.

Cut each egg in half lengthwise and gently remove and place each yolk in a medium-sized bowl.

Place chicken into the bowl of a stand mixer with the paddle attachment. Turn in on high for 2-3 minutes. (This helps break down the chicken into smaller, more manageable pieces.)

To the bowl with the chicken, add the egg yolks, buffalo sauce, and ranch dressing. Blend the mixture well, removing most lumps.

Pipe the yolk mixture into each egg white well. (We used a star tip size 827.)

Right before serving, drizzle with hot sauce and ranch dressing. Green chives optional, but recommended.
Did you make this recipe?
Thank you for making my recipe! You took pictures, right? Well go ahead and post them on Instagram! Be sure to mention me @iambaker and use the hashtag #YouAreBaker.