I am in love with this flavor combination. I have made the Butterscotch Peanut Butter Cake and the Peanut Butter Marshmallow Butterscotch Pizza. And this Butterscotch Peanut Butter Bark just added to my list of recipes using this butterscotch and peanut butter combo.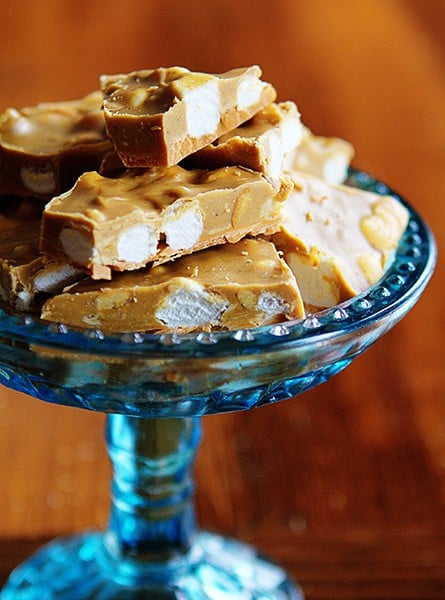 This is one of the best 'chocolate' barks I have had, and the fact that it never stays around longer than a day in our house is another good indicator of its deliciousness.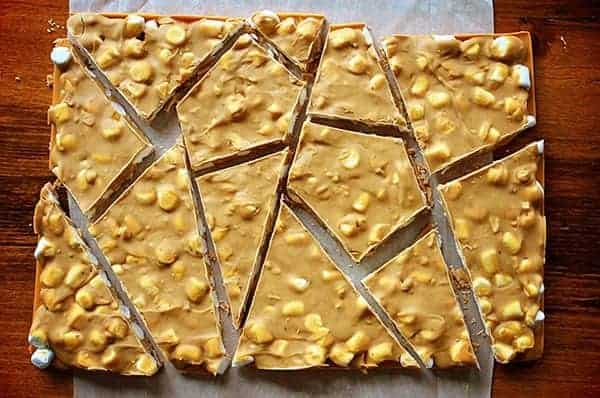 I tend to not make a ton of chocolate bark because, gasp, my hubby doesn't like chocolate so it means I will have to eat it all.
Which is not a problem, per say.
Just that I am on a constant mission to eat healthier and slim down. I have a daily battle with myself, waking up in the morning and saying, "Today I will make good choices! Today I will eat less sugar and exercise more."
Then I realize I have to write a blog post so I dream up the most over-the-top and ridiculously fattening recipe known to man.
Then I eat it.
Tomorrow I will eat healthier.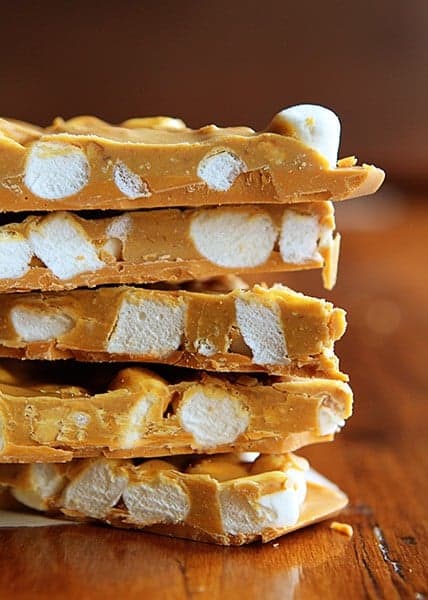 Here's why you should make this:
1. It's super easy and quick.
2. It tastes amazing and is not your typical chocolate bark.
3. If you bring it to the kid's school or work or church people will want to be your best friend.
4. If you share it at cookie exchanges you will be the most popular person in ALL THE LAND and someone might even produce a crown for you to wear.
It could happen.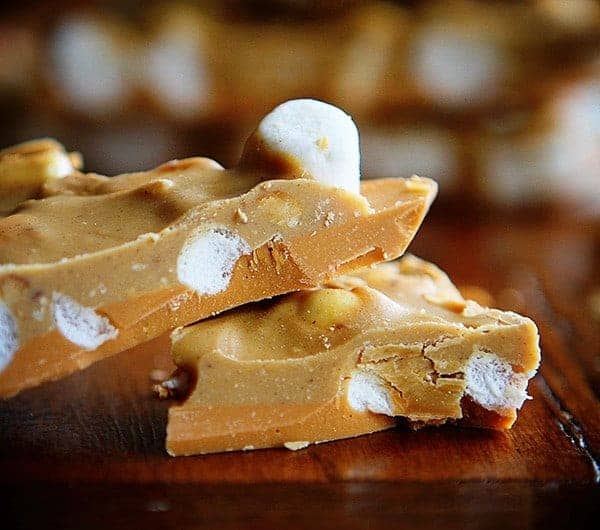 Here you can see the beautiful bronze butterscotch bottom layer and the chunky peanut butter layer on top.
Le sigh.
Tips & Tricks
Peanut butter and butterscotch chips do not melt quite as nicely as a high quality chocolate bar and can even be stiff and thick. I added the oil to help bring the chips to a more spreadable consistency. You can use more or less depending on what consistency you prefer.
I really prefer the double boiler method for this bark and do not recommend the microwave. In the end it doesn't save time and can often result in your chips being ruined.
You can divide up the recipe between 3 loaf pans and create a giant butterscotch peanut butter bandy bar! This would be a fun gift or treat for teachers or someone deserving. 🙂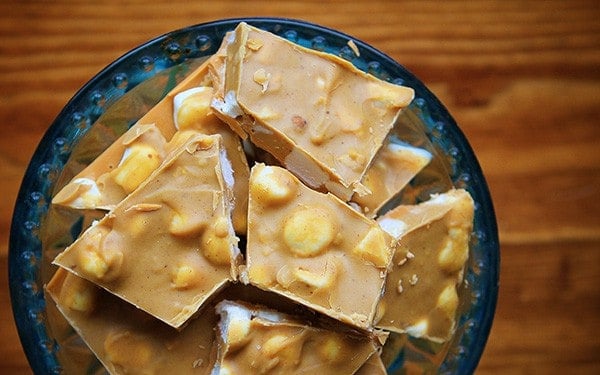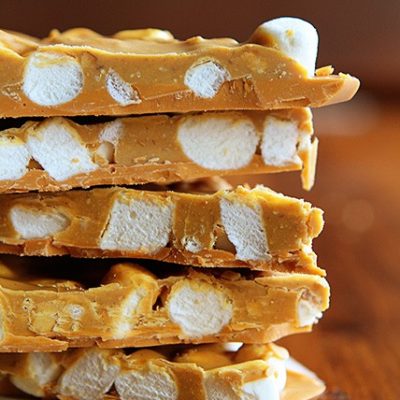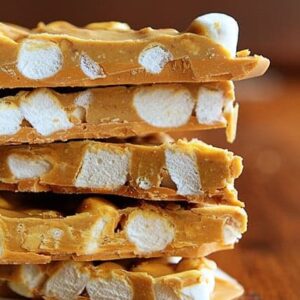 Butterscotch Peanut Butter Bark
I am in love with this flavor combination. I have made the Butterscotch Peanut Butter Cake and the Peanut Butter Marshmallow Butterscotch Pizza.
Keyword:
Butterscotch Peanut Butter Bark
Ingredients
1

bag butterscotch chips

12 ounces

1

bag peanut butter chips

12 ounces

2

c

mini marshmallows

2

tbsp.

vegetable oil

divided

1/4

c

chunky peanut butter
Instructions
Over a double boiler (medium sauce pan with about an inch of water set to simmering and a bowl placed on top of the saucepan) pour in 1 bag of butterscotch chips and 1 tablespoon oil.

Stir occasionally until mostly melted and then remove from heat. (about 2 minutes) Continue to stir until all melted then pour butterscotch into a parchment lined 9x13 pan.

Using an offset spatula, smooth out butterscotch until even and flat.

Gently pour marshmallows onto butterscotch and make sure they are evenly covering bottom.

Place in freezer for about 10 minutes.

Place peanut butter chips, peanut butter and oil on bowl over double broiler.

Stir occasionally until mostly melted, remove from heat. You want to peanut butter chocolate mixture to be easily spreadable. (If it is not, add more oil in 1 teaspoon increments)

Remove butterscotch marshmallow mixture from freezer and pour peanut butter mixture over top. Using offset spatula, spread peanut butter mixture evenly over marshmallows.

Place in refrigerator to set.

When ready to serve, remove from refrigerator and lift up sides of parchment to dislodge from pan. Cut into chunks (using a knife works best) and serve at room temperature.
Man is this delicious… and quite sweet so you will eat less!
At least, I keep telling myself that.