This dessert pizza is amazing. If you only ever make one thing from my blog ever… please let it be this. I am a huge fan of peanut butter desserts and this one is at the top of the list!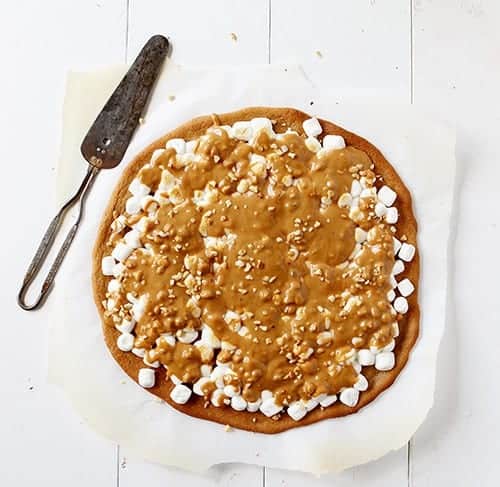 My first bite of this sweet (oh so sweet) peanut butter dessert pizza was bliss.  Pure bliss.
I had visions of world peace.  Kids getting along.  Hour-long pedicures.  Laundry done.  Basically, everything was right in the world for just a moment.
And it is amazing.  The flavor combination is based on this Butterscotch Peanut Butter Cake I made.  (That cake is amazing as well!!)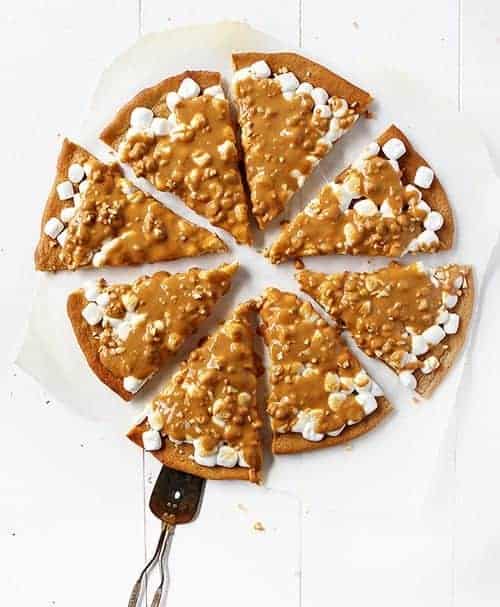 Dessert Pizza
Making a dessert pizza is actually one of the easier desserts. You prepare the cookie base (or brownie!) of your choice and then embellish with all sorts of toppings.
This dessert pizza has a peanut butter cookie crust, a layer of melted ooey gooey marshmallows, and then the best ever sauce known to man. Peanut butter, butter, and butterscotch. BUTTERSCOTCH! While the peanut butter cookie is baking you assemble the peanut butter sauce and then pour it over the hot cookie covered in marshmallows. It's truly simple.
But the flavor and presentation are FAR from simple… it's spectacular!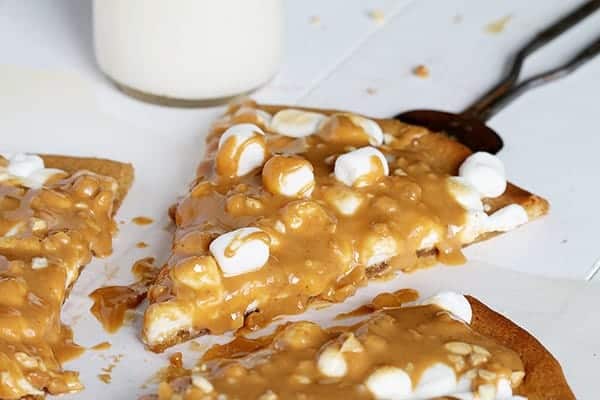 Peanut Butter Cookie
The base for this dessert pizza is my favorite peanut butter cookie recipe. The recipe is just a few ingredients but does not contain any flour! Which means this peanut butter dessert pizza is gluten-free! (Just make sure you read the label on your marshmallows as some might contain gluten.)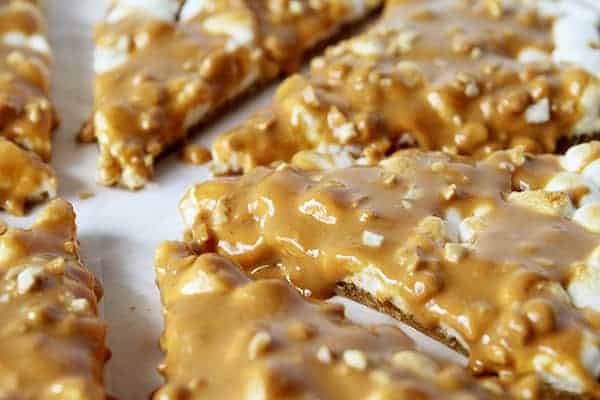 I think the real testimony was my husband.  I asked him what he thought and he said,
"That is probably one of the best desserts I have ever had in my life."
(unlike me, he is not prone to exaggeration, so this was a big statement.)
He then went on to say, "I don't even like marshmallows.  Or peanut butter desserts.  But there is something about this that once all together, is very good."
I am sure he meant to say AMAZING, AWESOME, FANTASTIC, PHENOMENAL.  Also, did you know he doesn't use exclamation marks with wild abandon like I do?!?!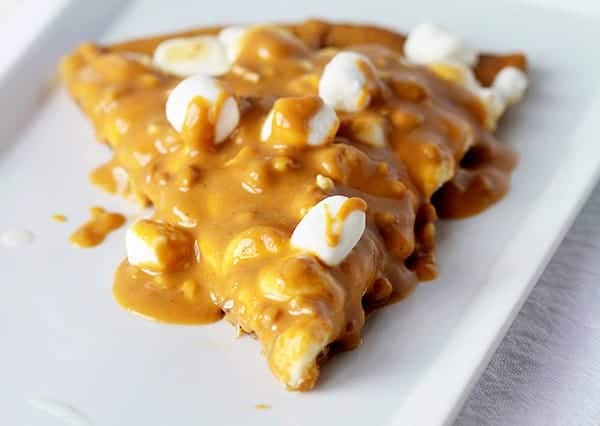 This entire dessert pizza took less than 30 minutes to prepare, bake and eat! 😜