Butterscotch Peanut Butter Snickerdoodles are snickerdoodles with added peanut butter and butterscotch chips and rolled in cinnamon and sugar. To take the popular cookie to new heights, be sure to check out my Colossal Snickerdoodle Cookie Sandwich.
Butterscotch Peanut Butter Snickerdoodles
Snickerdoodles are cookies that are chewy with a crinkly top. In fact, the snickerdoodle is loosely translated into 'crinkly noodles'. And, you can't forget about the dusting of cinnamon and sugar on top! With this batch, I kicked the cookie up a notch by adding both peanut butter chips and butterscotch chips to the mix!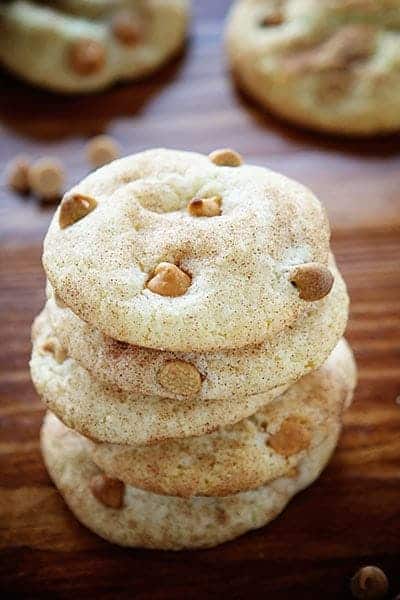 Butterscotch Peanut Butter Snickerdoodle Ingredients
Even with the added ingredients and flavor to these cookies, you still get the perfect crispy outside and soft and chewy inside, all covered with cinnamon and sugar. But, in this case, you have the added bonus of extra peanut butter and butterscotch chips.
Room Temperature Ingredients: Using room temperature ingredients (especially butter and eggs) will help you get the best results when baking these cookies. Butter is at room temperature at 65°F. Don't put it in the microwave to soften it; simply cut it up into small pieces and let it sit out if you forgot to take it out of the refrigerator.
Cream of Tartar: Cream of tartar adds a very distinct tanginess that snickerdoodles are known for. It also aids in the chemical reaction with the baking soda to make the chewier texture. Fun fact: You can replace cream of tartar with fresh lemon juice! One teaspoon of cream of tartar equals 2 teaspoons of fresh lemon juice.
Baking Soda: Baking soda reacts with the cream of tartar to cause the cookies to rise quickly and then fall a bit (giving them the crinkly tops).
Baking chips: There is something so tasty and perfect about the combination of peanut butter and butterscotch. In fact, I have used the combination in Butterscotch Peanut Butter Bark, Cookie Dessert Pizza, and even a cake, to name a few.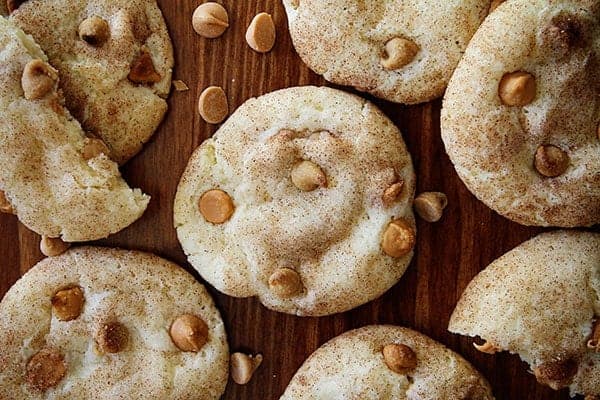 How to Make Butterscotch Peanut Butter Snickerdoodles
I used peanut butter chips and butterscotch chips to add flavor to classic snickerdoodle cookies. Quite frankly, that was all it took to make these the best cookies known to man. To get started, first, cream together the butter and sugar. You can use a stand mixer or a handheld mixer.
Next, add in the eggs, one at a time, followed by the vanilla. Mix well. Then, with the mixer on low or off, add the flour, cream of tartar, baking soda, and salt. Finally, fold in the peanut butter and butterscotch chips. Once the dough is made, mix together the cinnamon and sugar in a wide bowl.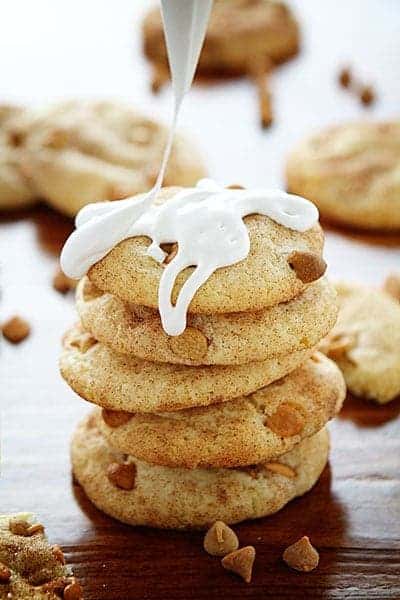 Assembling the Butterscotch Peanut Butter Snickerdoodle Cookies
When the dough is ready and cinnamon and sugar are mixed, it's time to get the cookies baked! Using a tablespoon scoop, place balls of dough on a cookie sheet. I highly recommend scooping out all the dough balls first. I simply lined a baking sheet with parchment paper and then started scooping.
Once all of the dough balls are made, it is much easier to start dropping them into the cinnamon-sugar mixture. Roll each ball of dough in the cinnamon-sugar mixture and place it on the prepared cookie sheets. Leave a couple of inches between cookies to allow them to spread. Bake for 6-8 minutes.
After you remove the baking sheet from the oven immediately get the cookies onto a cooling rack. But, be careful! It's a hot pan and a delicate cookie. They will fall a bit and that's okay.
Can I Freeze Butterscotch Peanut Butter Snickerdoodles?
Absolutely! We like to freeze the dough when making double batches. I also prefer to freeze them already preportioned out. I have noticed that adding the cinnamon sugar right before baking makes a more flavorful cookie, but you could add the cinnamon sugar before freezing if you prefer.
How to Freeze Snickerdoodles: To freeze in pre-portioned cookies, prepare your dough, then scoop the cookies onto a parchment-lined cookie sheet. They can be placed close together. Set the cookie sheet in the freezer just until the dough is cold, about two hours. Then transfer the dough balls to an airtight freezer bag or airtight container that fits into your freezer.
A day before you are ready to bake the cookies, take them out of the freezer and place them in the refrigerator overnight. When ready to bake, roll the cookies into the cinnamon-sugar mixture and bake as directed in the recipe below.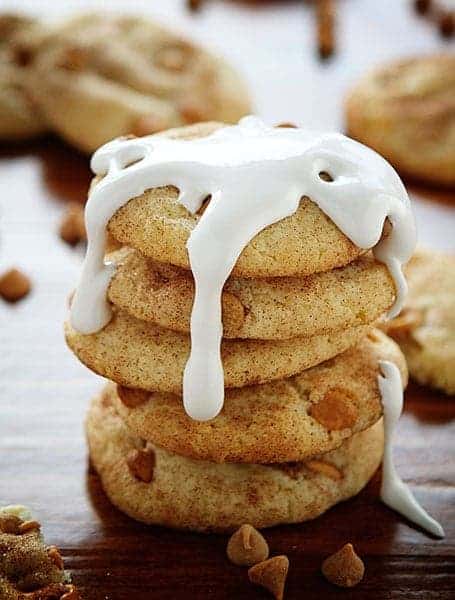 Love everything Snickerdoodle?
Snickerdoodle Rice Krispy Bars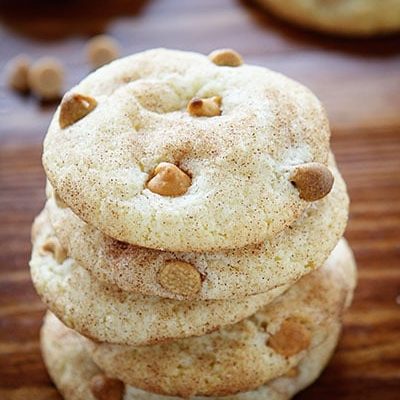 Butterscotch Peanut Butter Snickerdoodles
Kick up your classic snickerdoodle cookie recipe a notch by adding peanut butter and butterscotch morsels to the mix!
Ingredients
Cookie Dough
1

cup

(2 sticks, 226g) unsalted butter,

softened but not melted

1½

cups

(300g) granulated sugar

2

large

eggs,

room temperature

1

tablespoon

vanilla extract

2¾

cups

(352g) all-purpose flour

1

teaspoon

cream of tartar

1

teaspoon

baking soda

¼

teaspoon

salt

⅓

cup

peanut butter chips

⅓

cup

butterscotch chips
Cinnamon Sugar Topping
3

tablespoons

granulated sugar

3

teaspoons

ground cinnamon
Instructions
Cookie Dough
Preheat oven to 375°F. Prepare three cookie sheets by lining each with parchment paper.

In the bowl of a stand mixer (or using a hand-held mixer on the highest setting) cream together butter and sugar (about 2-3 minutes).

Add in the eggs, one at a time. Then, add vanilla. Mix until fully incorporated.

With the mixer on low (or off) add in the flour, cream of tartar, baking soda, and salt.

Fold in the peanut butter and butterscotch chips.

Using a 1-tablespoon scoop, scoop out rounded balls and place close together on one of the cookie sheets.
Cinnamon Sugar
Mix the 3 tablespoons of sugar with the three tablespoons of cinnamon in a wide bowl. I like to use a fork but a small whisk also works.
Assembly
Roll balls of dough in cinnamon and sugar mixture. Place 2 inches apart on the parchment-lined baking sheets.

Bake 6 to 8 minutes. Carefully remove immediately from baking sheets and place on a cooling rack.
Did you make this recipe?
Thank you for making my recipe! You took pictures, right? Well go ahead and post them on Instagram! Be sure to mention me @iambaker and use the hashtag #YouAreBaker.