Re-creating the delicate and unique texture of a cable-knit sweater on a cake can be an easy process. By mastering just a few easy piping steps you can enjoy this comforting cold weather tradition!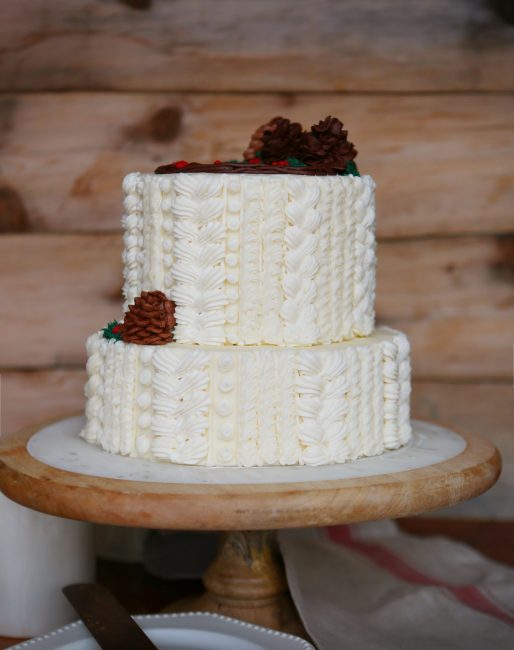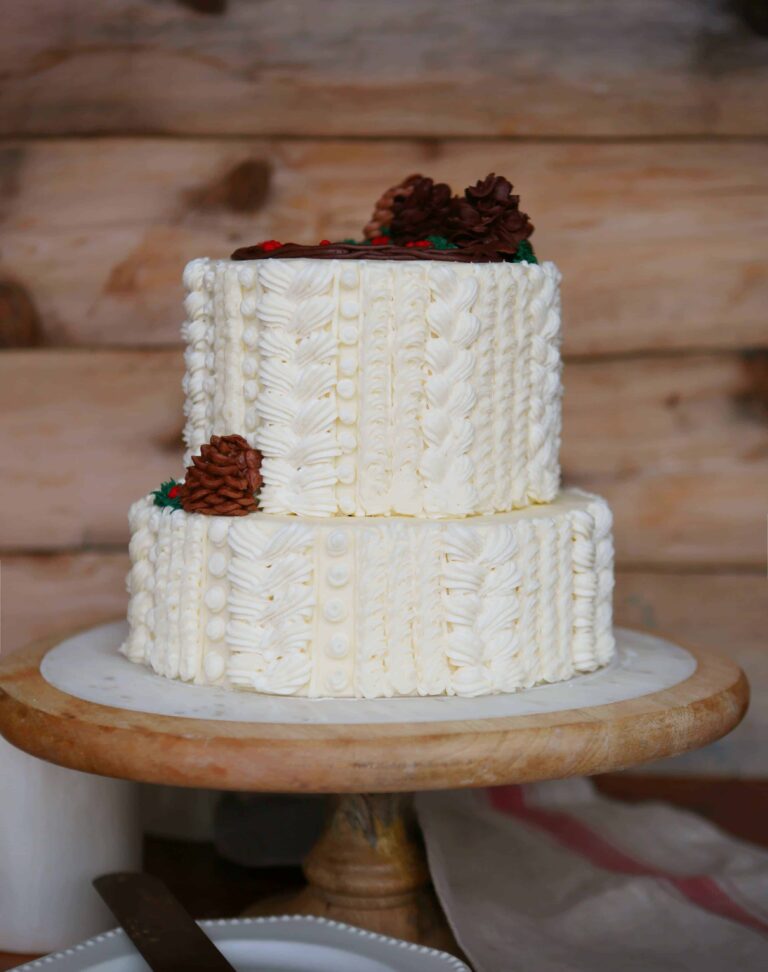 To make this cake you will need:
2 chocolate cake recipes – you can use box mixes or from scratch. One recipe will be baked in two 8-inch round cake pans and the other in two 6-inch round cake pans. You should have 2 layers of 8-inch chocolate cake and 2 layers of 6-inch chocolate cake.
2 batches of whipped buttercream
red and green food color
6-inch round cake board (cardboard)
coupler set
piping tips – #3, #5, #13, #22, #102, #233 (see how I store my tips here)
pastry bags (at least 12)
small offset spatula
straws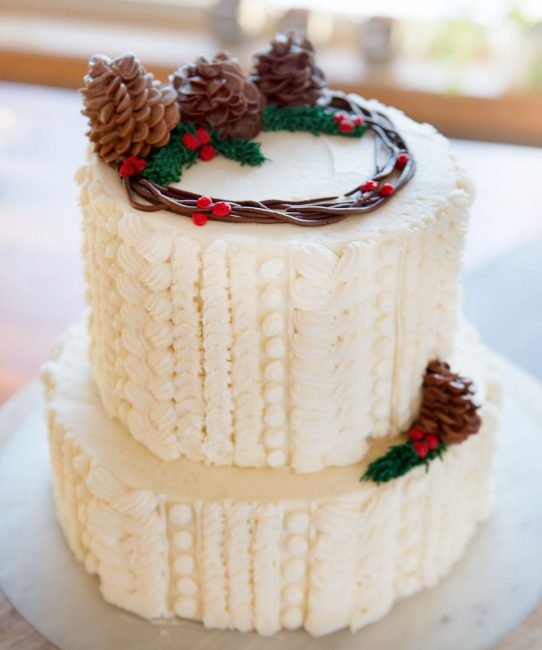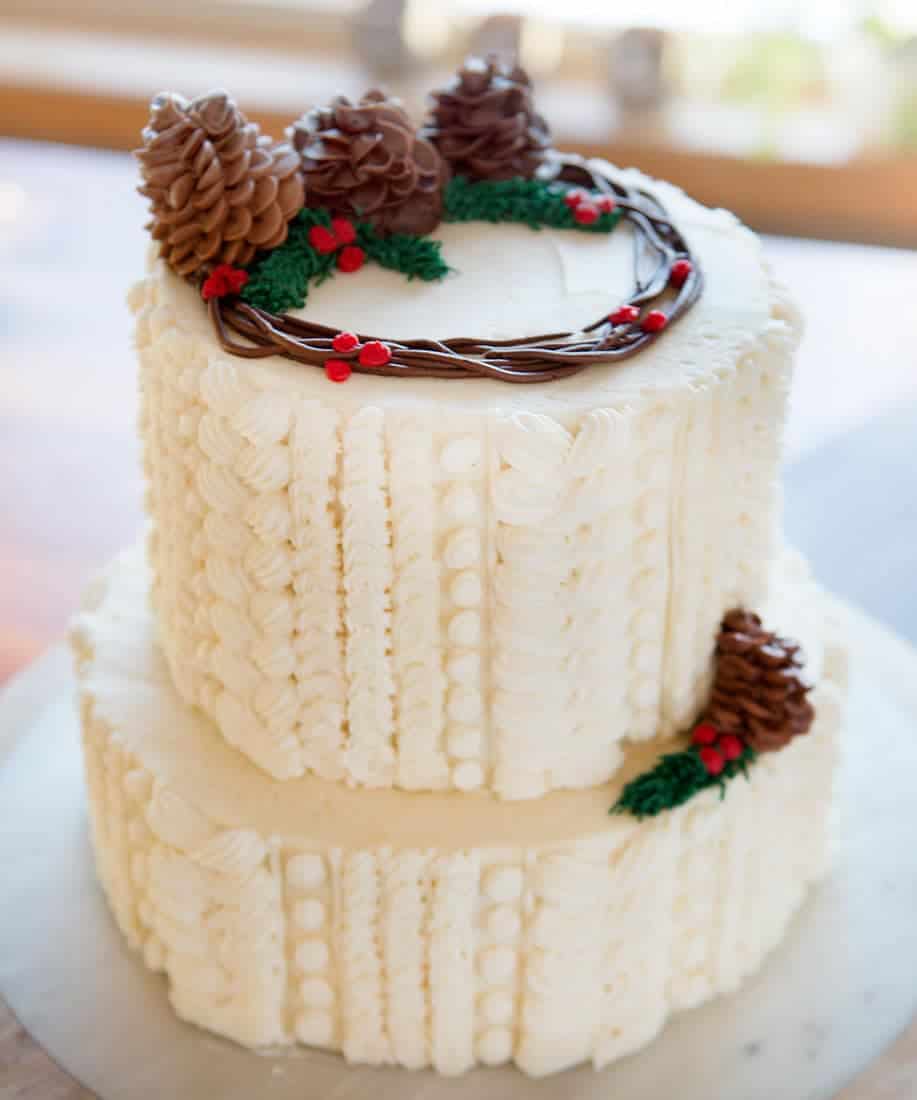 This cake works best if made over the course of 2 days. You want to chill your cakes before assembling. The sheer amount of piping will require you to take a few breaks as well. Plan on baking cakes and doing crumb coat in one day and then tackling the piping on another day.
Please note that you can pipe out the pine cones at any time, as they will need to be frozen before you can place them on the cake.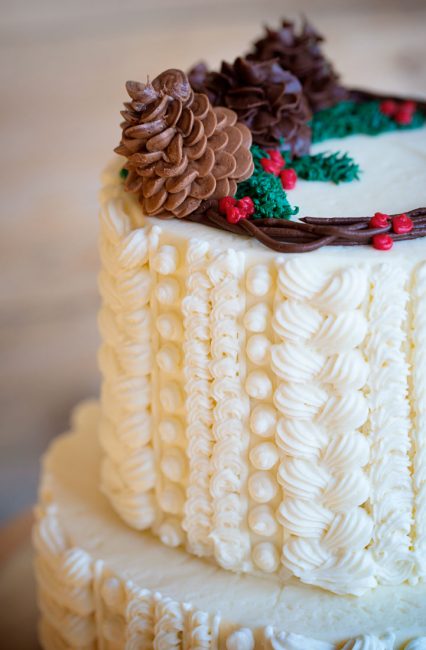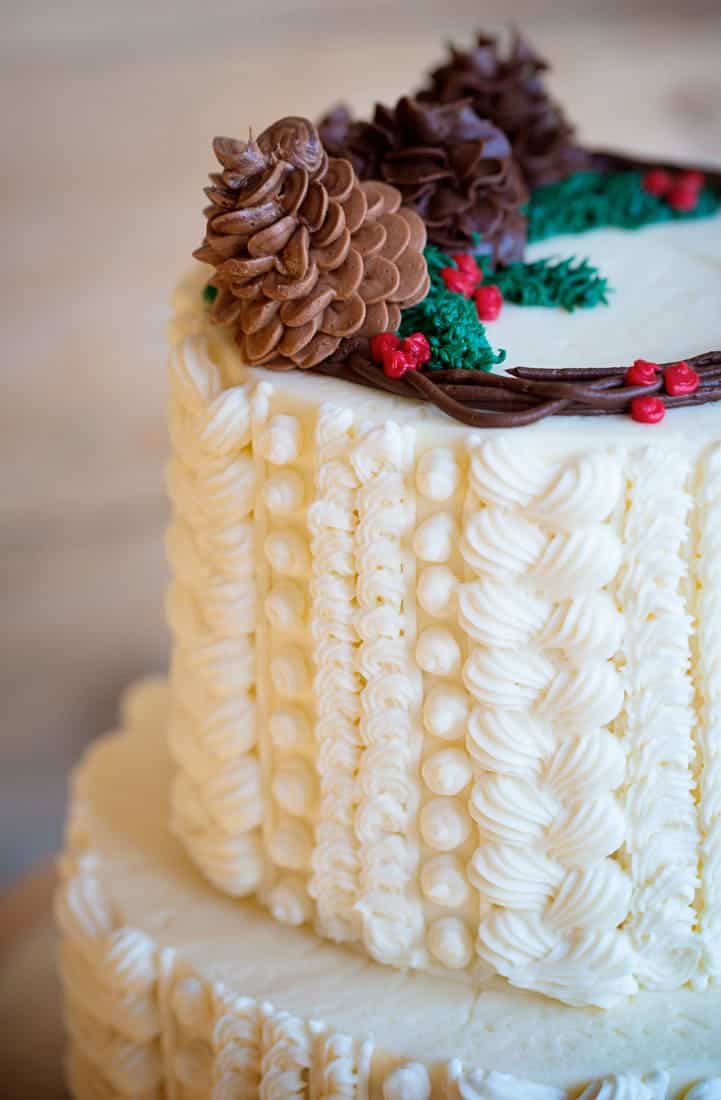 Begin by making the cakes. One recipe will be baked in two 8-inch round cake pans and the other in two 6-inch round cake pans. You should have 2 layers of 8-inch chocolate cake and 2 layers of 6-inch chocolate cake. Once cakes are cooled, level them. The 8-inch cakes should be level to the same height and the 6-inch cakes should be leveled to the same height. It is ok if the height of the 6-inch cake layers are higher than the 8-inch.
Once leveled, cover each layer in plastic wrap then place cakes in the freezer. (At least for 2 hours, fine if overnight)
Prepare buttercream. Set aside 1 cup of buttercream and tint it green. Put it in a pastry bag, remove most of the air, twist bag, and then seal with rubber band. (you can add a hint of brown or black to make it more "evergreen") Set aside 1/2 cup of buttercream and tint it red. Put it in a pastry bag.
Once done, place remaining buttercream in pastry bags. I store my buttercream right in the pastry bag. If you would prefer to fill your pastry bags as needed, just place buttercream in an airtight container until ready to assemble cake.
Prepare chocolate buttercream. Place in pastry bags. (or an airtight container)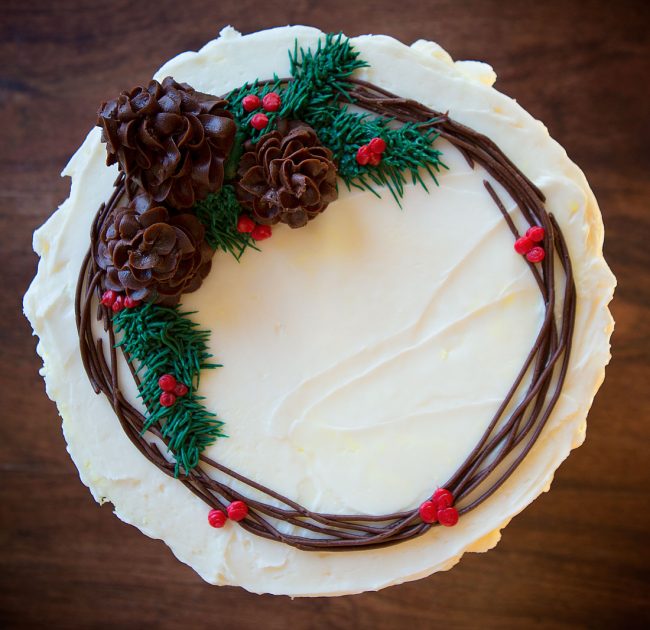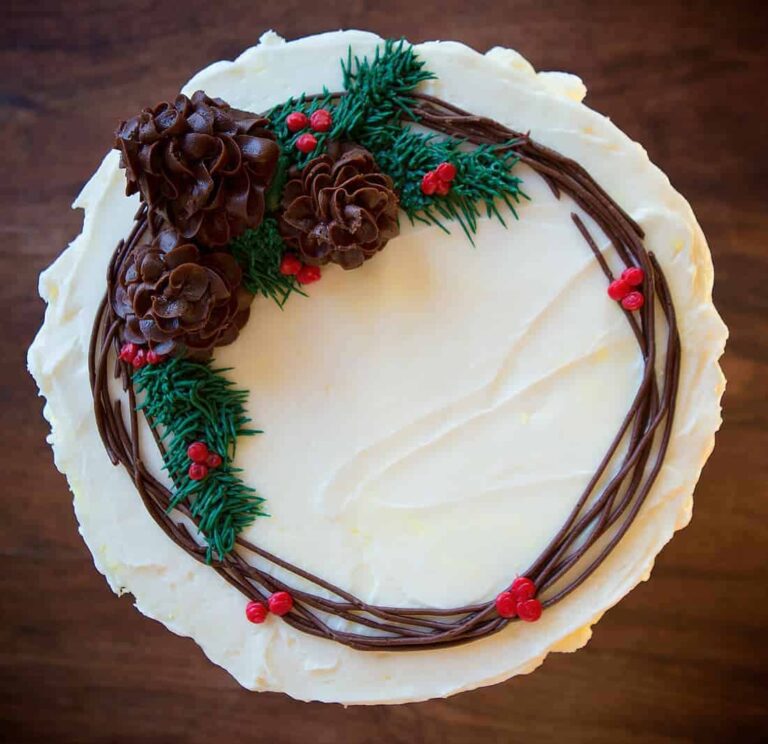 When ready to assemble cake:
Place one 8-inch cake on cake stand. Cover with 1/2 cup – 1 cup of buttercream. Smooth out. Place remaining 8-inch layer on top. Smooth buttercream over entire cake. Set aside. Set cake board on the counter. Place a dab of buttercream in the center. Set one 6-inch cake layer on the cake board. Cover with 1/2 cup of buttercream and smooth it out so that frosting spills out the sides. Place other 6-inch layer on top. Cover entire cake with buttercream and smooth out as evenly as possible.
If you have lots of crumbs showing through, wait about 15 minutes and then cover the cake with another layer of buttercream.
Hold a straw next to the 8-inch cake. Cut it to be the same height as the cake. Cut three portions so that you have 3 straws the same height. Insert the straws into the cake spaced out around the center. Carefully set 6-inch cake on top of the 8-inch cake.
Pick up your bench scraper. Hold it perpendicular to the cake and gently press it into the cake. You have just created a guideline. This like will tell you where to pipe. You can do any pattern that you like, but my pattern when something like this: IIII I I IIII I I IIII I I IIII.
Four lines close together, space, line, big space, line, space, like, then four lines close together again. I eyeballed this design and did it around both the bottom and top layer of cake. I tried to line of the big space for the top and the bottom… sometimes the close together lines got cut, as in I only did 2 or 3.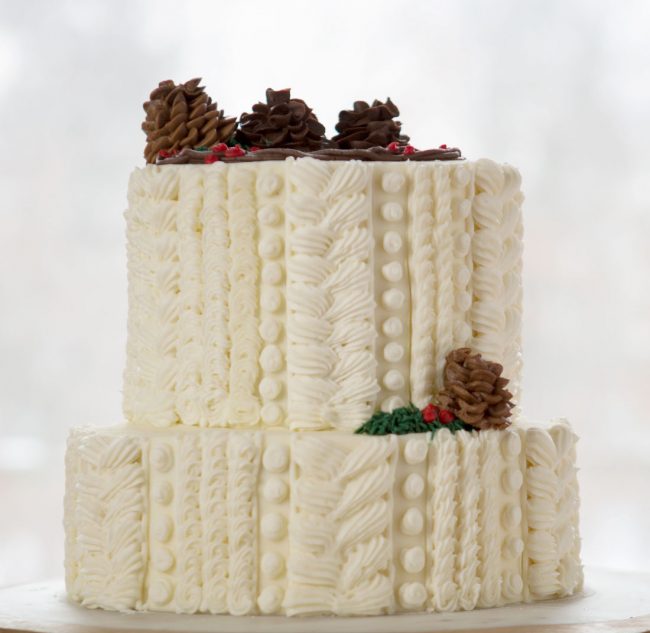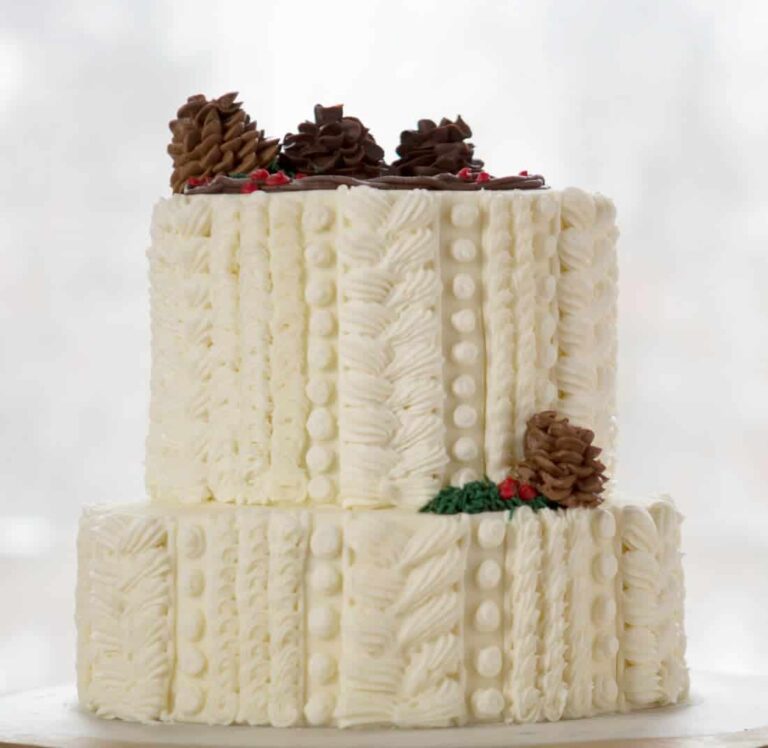 If you look closely at this image you will see that the top pattern does not match the bottom pattern. Because they are different size cakes, they won't ever match perfectly. I just tried to make sure that the largest piping rows lined up.
For sake of the explaining, I will refer to each section as the small section, the medium section, and the large section.
I started by placing a coupler set in a pastry bag and adding a #5 tip. I added the plain buttercream to the bag and started piping along my guidelines. Do this around both layers of cake.
Next, I switched out the #5 tip for the #13 tip, the small star tip. Starting at the top edge of the bottom layer of cake and in the small section, I piped circles moving down. When piping, be sure to overlap frosting slightly. Repeat this so that you fill all of the small sections. Do this on both layers of cake.
I now moved to the #22 tip. This will be used in the largest section. Starting at the far left, I applied pressure and piped in, towards the center, then released pressure half way through. I moved my tip to the right-hand side of the large section, applied pressure the piped in towards the center again, releasing pressure near the center. It's a horizontal shell pattern. I repeated this same technique down the entire section and then in all the large sections around the cake.
The last piping technique is done with the #5 tip again. I found the medium section and piped out a dot at the top. I wanted this to look like a knotted thread, so I made a circle with the frosting then piped another circle on top and the released pressure. The best way to make this consistent is to start at the top, then pipe one at the bottom, then the middle, then fill in if more are needed.
Next we will create the pine cone. This is really simple! Using the #102 tip with chocolate frosting, pipe out a petal on a nail head with a parchment square. Repeat around the bottom, then start building up the leaves. Make the petal layers shorter than the layer before. (just think of a pine cone shape)
Here is a little video on how I did it:
Once you have finished piping, carefully move the chocolate buttercream pipe cone to a baking sheet and freeze until ready to use; 30 min. or up to overnight. I piped some small, some medium, and some big. You only need 4 for the cake, but I liked having extra just in case.
While the pine cones are chilling, I started piping the rest of the top decorations.
Put the #5 tip on the bag with the chocolate frosting. Pipe out circles around the top of the cake. This can be very uneven and rough. Pipe out a couple lines, or what will be "branches".
Get your green buttercream and put it in a pastry bag fitted with the #233 (grass) tip. Pipe out pine needles on the "branches".
If your pine cones are cold enough to be moved, you can now grab them and set them on the cake. You can either pile up some extra frosting under the spot you want the pine cone or simply just set it on the cake near the "branches". Once you have set the pine cones, go back and fill in any dead space with the green buttercream.
Now put the #3 tip on a pastry bag filled with red buttercream. Pipe out "berries" in odd amounts around the top of the cake and near the pine cones. I used groups of 3, but you can also do a group of five.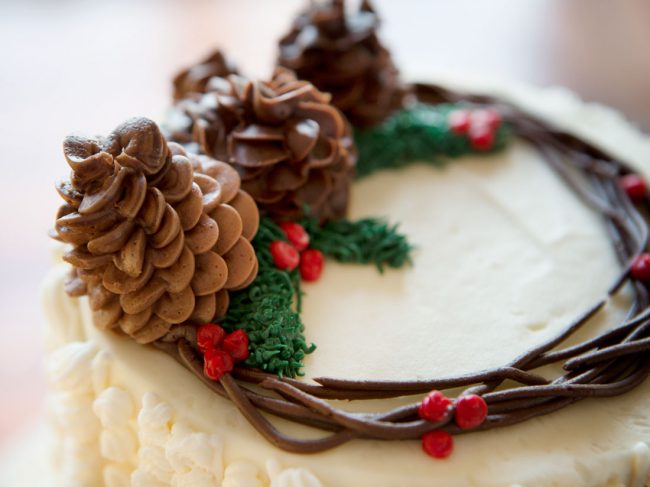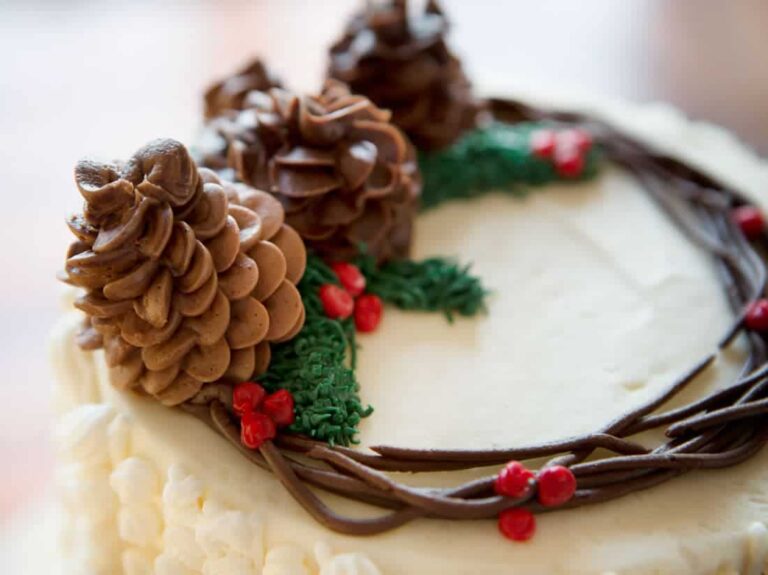 Now move to down to the visible top edge of the 8-inch cake. On the opposite side of where you placed the pine cones on the top of the cake, pipe out a line. (branch) Pipe green "pine needles" on top. Set your smallest size pine cone on top of that. Now finish with a berry or two.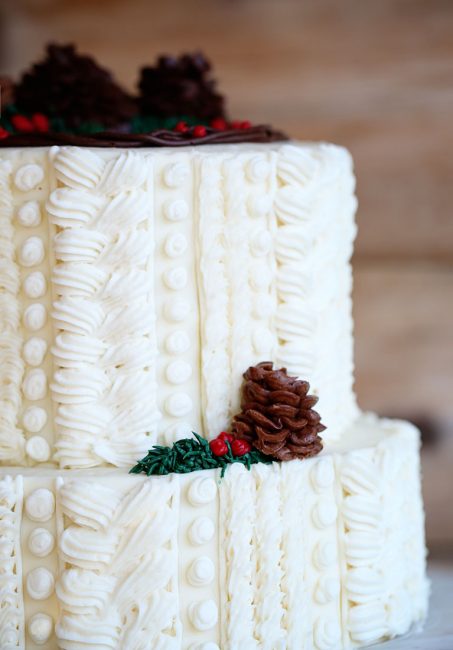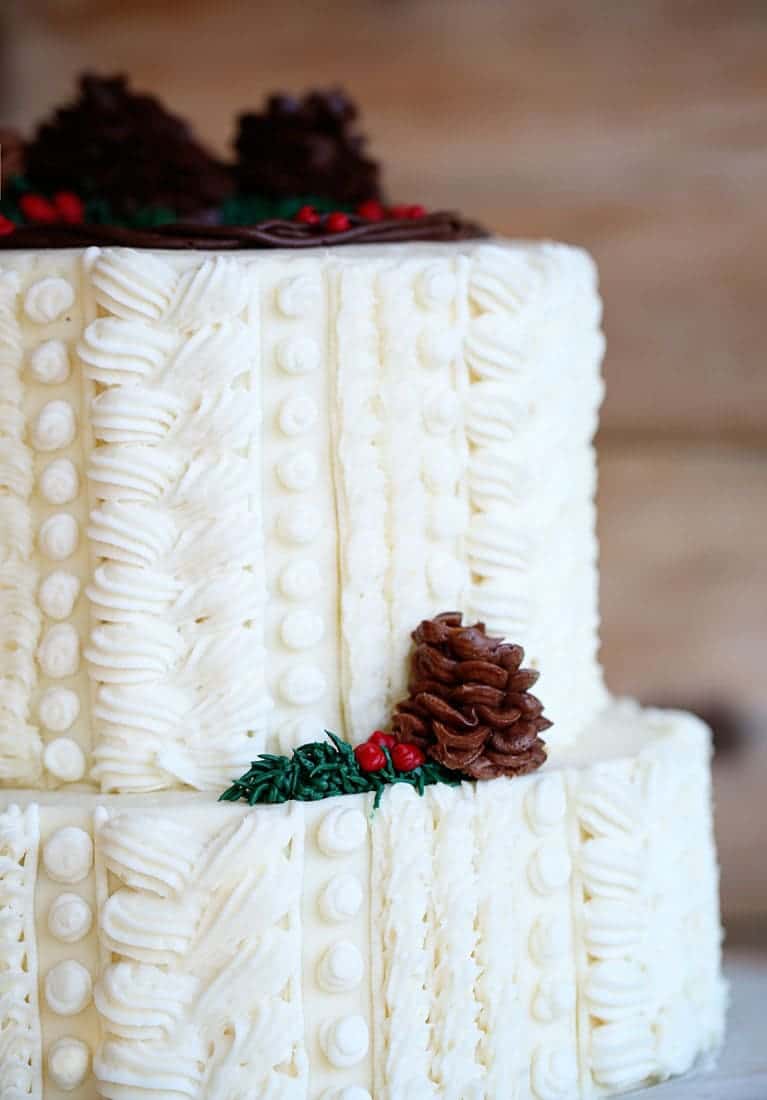 While this cake is a bit time consuming, it is actually really easy to do! And fun. I had fun piping… but I think that's cause I was listening to my favorite podcast while doing it. 🙂
I was inspired to make this cake when I saw this post over on Country Living. All of these cakes were amazing, but all done in fondant! So I decided to come up with my own buttercream version. I used this Burberry sweater as my pattern inspiration. I hope you liked it!