Making a simple creamy Caesar Dressing from home is ridiculously easy. If you love caesar salads as much as I do, you will want to make this homemade dressing. It is the perfect balance of flavors! If you are inspired to make your own dressings at home, make sure to check out my homemade ranch dressing and my homemade jalapeno ranch dressing!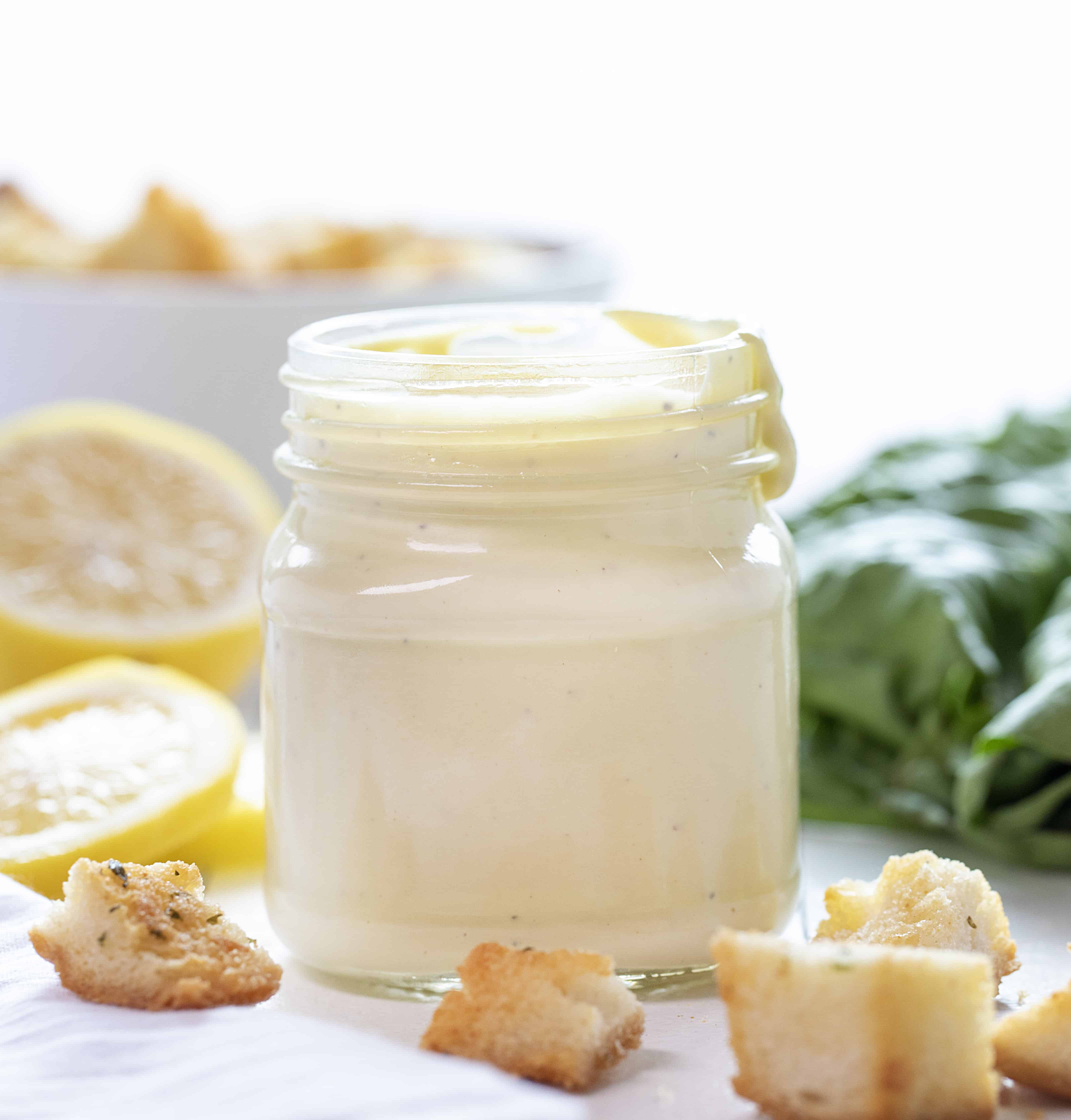 Homemade Caesar Dressing
Making dressings at home never really occurred to me until recently. I have been making a solid attempt to rid or at least lower my families exposure to unnecessary preservatives. It is a tough goal when you consider how much we are inundated with so much extra "junk" in our foods. Homemade dressings are one of those areas where I can make an impact. For starters, it is not very difficult to make homemade dressings. Most of the time you just throw the ingredients together and blend (as is the case in this recipe). Also, I have learned that I really enjoy the flavor of my foods so much more when I make them myself.
One important aspect to homemade Caesar dressing is the color. It should not be white! Because of the egg, dijon mustard, and Worcestershire sauce (which are important ingredients), there should be some color to it. And, depending on the color of the egg yolk and quality of your mustard, it will be yellow. This is a good thing!, and a great indicator of a truly homemade, and therefore delicious, Caesar dressing.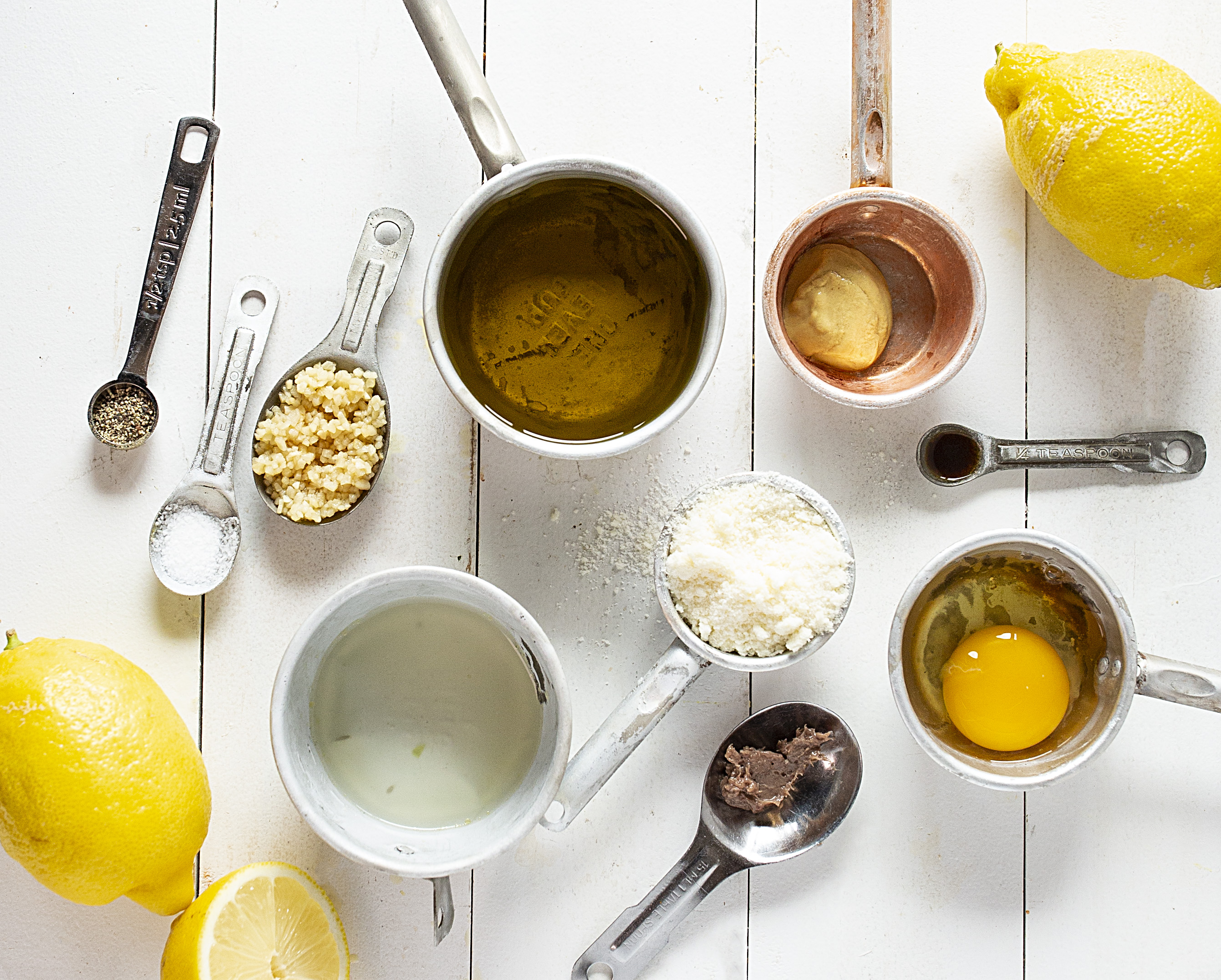 Homemade Caesar Dressing Ingredients
The ingredients for homemade caesar dressing are really simple too. Most of the ingredients are likely already in your kitchen. Well, the exception of the anchovies, but as I will explain, those are optional. Here is what you will need:
Egg
Extra Virgin Olive Oil
Parmesan Cheese (freshly grated – you will need extra if you are making a salad)
Garlic
Worcestershire Sauce
Lemon Juice – fresh or bottled (fresh is always better)
Dijon Mustard
Salt
Pepper
Anchovies or Anchovie Paste (optional)
Anchovies in Caesar Dressing
So, let's talk about these optional anchovies. There is a debate about whether or not anchovies were even included in the original Caesar dressing recipe. At some point, we do know they were eventually introduced. Some people love them, some people hate them, and some people don't pay enough attention to care either way. So what will anchovies do to the flavor of Caesar dressing? Anchovies, contrary to popular opinion, should not give off a "fishy" taste. They should be briny and meaty and add texture to the Caesar dressing. You can skip them if you want, but I have another surprise for you! One ingredient included in this dressing is Worcestershire sauce. Have you have taken the time to inspect the bottle? Worcestershire sauce made from a base of vinegar and, wait for it…anchovies. So even if you leave out the anchovies, you will step benefit from their flavor if you use Worcestershire!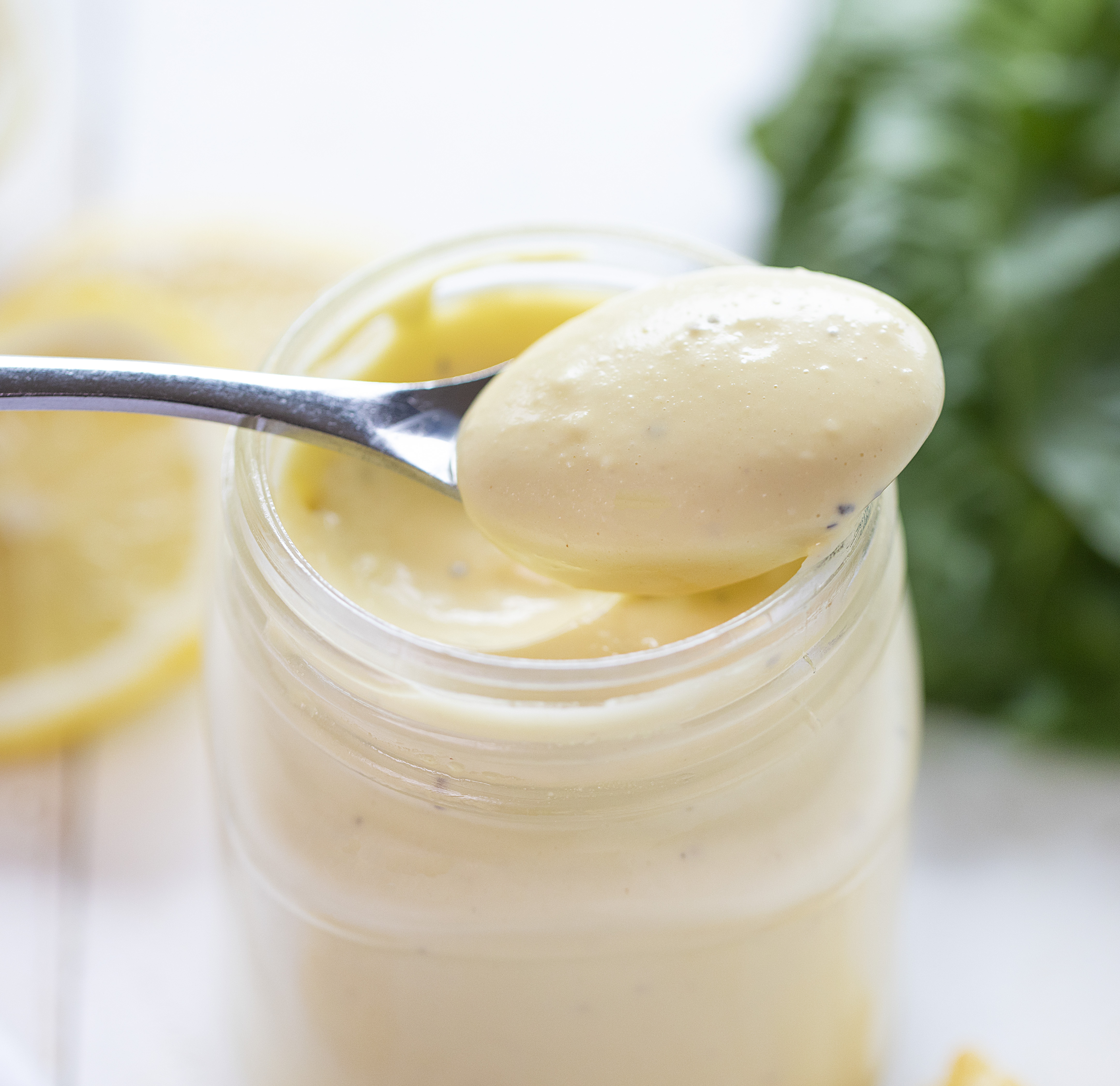 How to Make Homemade Caesar Dressing
Start by grabbing a mason jar. The reason I choose a mason jar is that I am going to blend it with an Immersion Blender. Having a good emulsifier handy is a great asset but it can get a little messy if the walls of the container are not high enough. The mason jar works perfectly. Add all of the ingredients to the jar and drop the immersion blender in and let it do all of the work for you. Everything will be incorporated within 1-2 minutes of blending. Put a lid on the jar and place it in the refrigerator for 30 minutes before using it.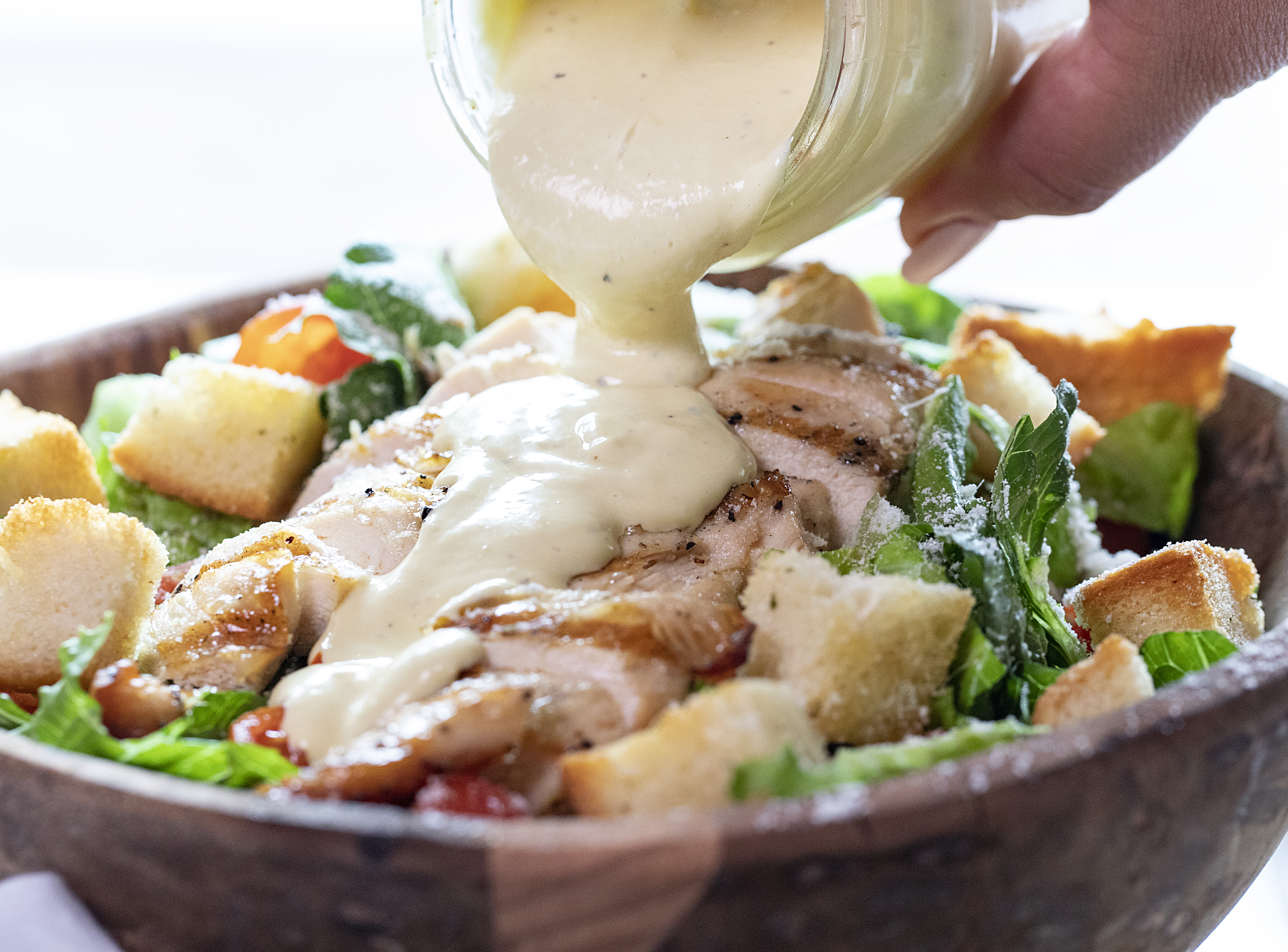 How Long will Homemade Caesar Dressing Stay Fresh?
From scratch Caesar dressing doesn't contain the preservatives of the store-bought stuff, so, unfortunately, it won't last as long. Homemade Caesar dressing will stay fresh for 3-5 days, so use it quickly! This is why you make small batches, just enough to cover the amount of salad you have. If you are looking for other ways to use up your Caesar dressing, you could make chicken caesar wraps or Chicken Caesar Pasta!
Looking for More Salad and Dressing Recipes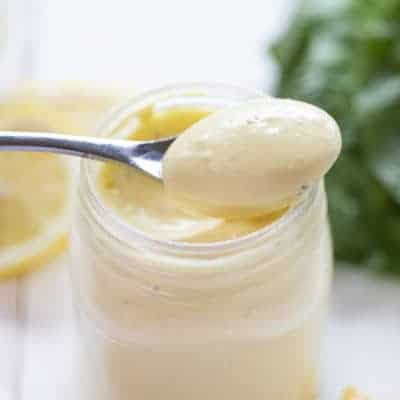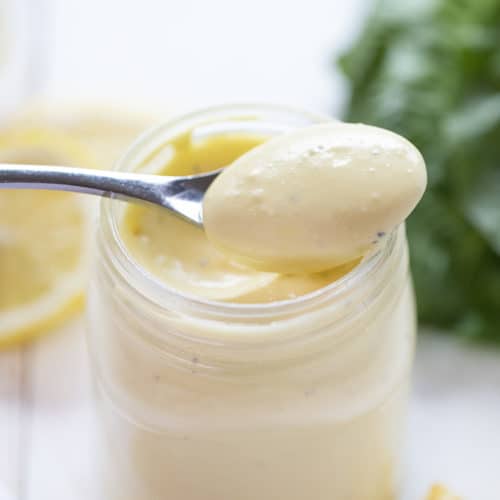 Caesar Dressing
Making a simple creamy Caesar Dressing from home is ridiculously easy.  If you love caesar salads as much as I do, you will want this homemade dressing.  It is the perfect balance of flavors, and I let you pick if you want to include the anchovies or not. 
Ingredients
1

egg,

room temperature

1 1/2

tsp

Dijon mustard

1

cup

extra virgin olive oil,

room temperature

1/2

cup

Parmigiano cheese,

grated

1

tablespoon

garlic,

minced

1/2

tsp

Worcestershire sauce

4

Tbsp

fresh lemon juice

1/2

tsp

salt

1/2

tsp

black pepper

2

anchovy fillets,

mashed (optional)
Instructions
Put all the ingredients in a large mason jar.

Blend using an immersion blender until the dressing has emulsified (1-2 minutes)
Notes
Keep refrigerated and eat within a few weeks.
Did you make this recipe?
Thank you for making my recipe! You took pictures, right? Well go ahead and post them on Instagram! Be sure to mention me @iambaker and use the hashtag #YouAreBaker.