This Chicken Caesar Salad recipe is on my go-to weekday lunch menu. This salad is so easy to whip together once you have the basics prepped. It is a great way to fit those greens in on a regular basis and feel good about what you are eating! If you are looking for more delicious salads, make sure to check out my buffalo chicken salad and my cheeseburger salad.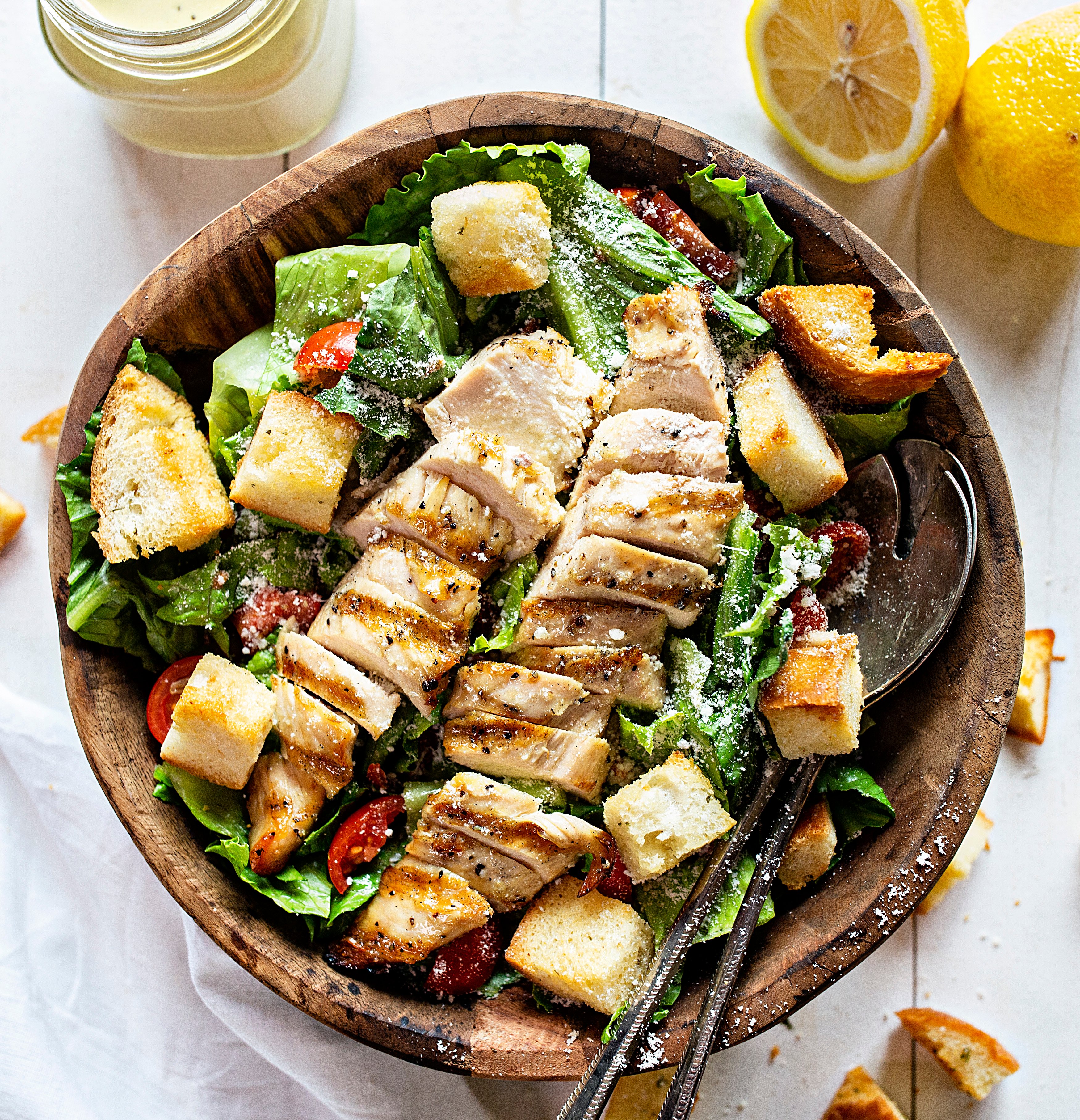 Chicken Caesar Salad
Serious question, who doesn't love a fresh and crispy Caesar salad?
I could eat them every day. This is what you will see me ordering at restaurants too, I just love the tang of the dressing mixed with the simple ingredients including the fresh greens. I like to dress mine up with a few more veggies when I make them at home too. (i.e. tomatoes) My kids will even this too.
Do You Need Anchovies in Caesar Dressing?
Let's talk about anchovies. There is a debate about whether or not anchovies were even included in the original Caesar dressing recipe. At some point, we do know they were eventually introduced. Some people love them, some people hate them, and some people don't pay enough attention to care either way. So what will anchovies do to the flavor of Caesar dressing? Anchovies, contrary to popular opinion, should not give off a "fishy" taste. They should be briny and meaty and add texture to the Caesar dressing. You can skip them if you want, but I have another surprise for you! One ingredient included in this dressing is Worcestershire sauce. Have you have taken the time to inspect the bottle? Worcestershire sauce made from a base of vinegar and, wait for it…anchovies. So even if you leave out the anchovies, you will step benefit from their flavor if you use Worcestershire!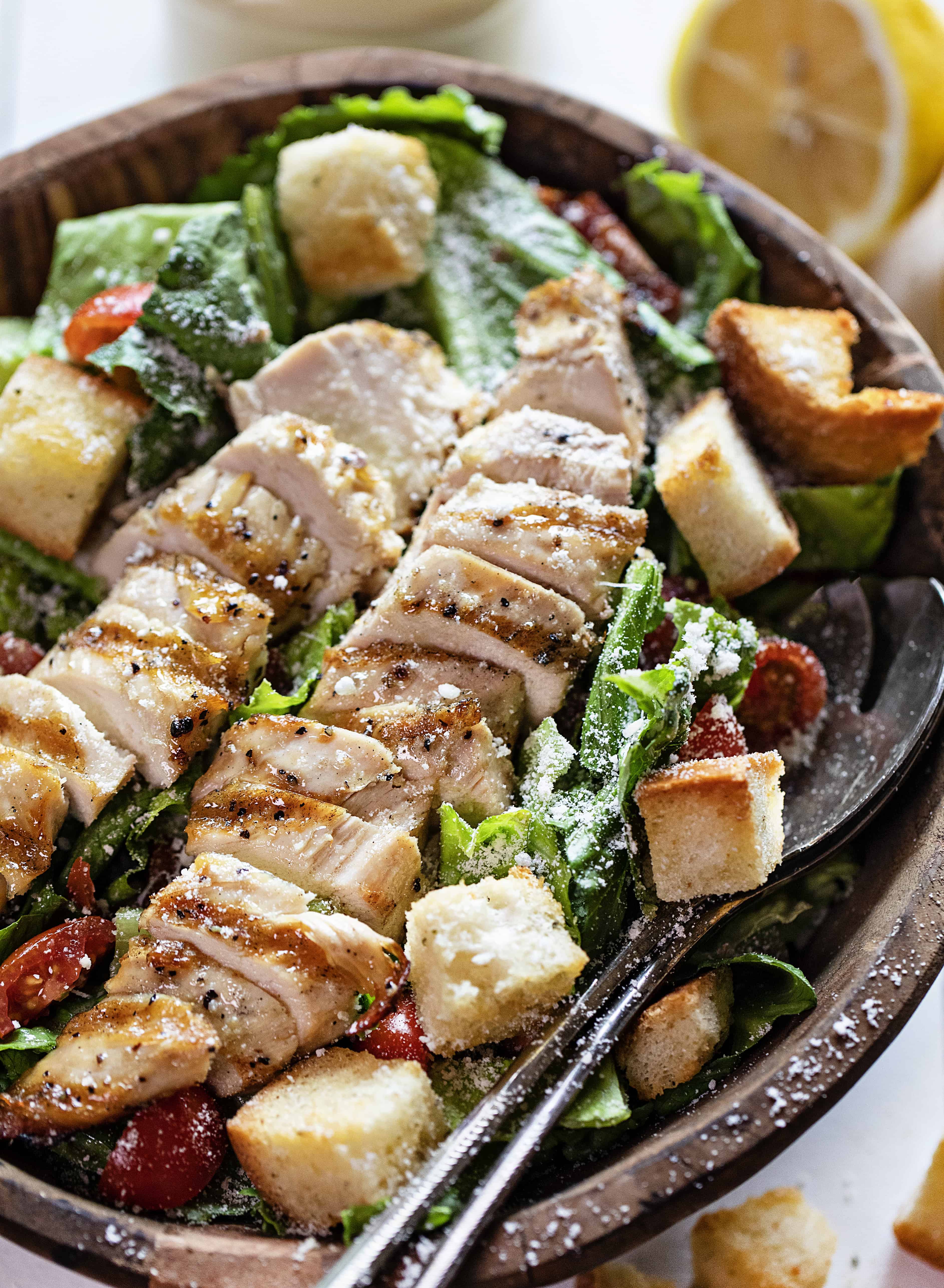 Homemade Chicken Caesar Salad
Sure, you could go to the supermarket and purchase chicken, croutons, and Caesar dressing. Let me inform you of the reward you will give to your taste buds if you take just a few extra minutes on the front end to prepare things from scratch.
Homemade Croutons
Making croutons at home is super simple.  You basically cut up a french loaf into small cubes and then toss them in a melted garlic butter sauce and then bake until they are golden brown and crispy.  These will keep up to two weeks if stored in an airtight container and are the perfect complement to a fresh Caesar salad.
Homemade Caesar Dressing
I actually thought this would be way more complicated than it is.  Making homemade caesar dressing is as easy as putting your ingredients in a mason jar and dropping them in an immersion blender to put everything together.  The recipe calls for anchovies, which I know freaks people out.  I tried it both ways and the difference is subtle enough that you could skip that part if you wanted.
Homemade Grilled or Shredded Chicken
This is something I usually do on Sundays or Mondays. Having a batch of grilled chicken or shredded chicken around is perfect for quick and easy meal planning. If you make a big batch you could whip up some buffalo chicken wraps or make some skillet chicken nachos. The sky is the limit! The process is super simple too. Just lightly season the chicken, and if grilling, cook on each side four 6-8 minutes. If shredding, brown it on both sides in a pan and then let it simmer in chicken stock for about 8 minutes. It comes out perfectly juicy every single time.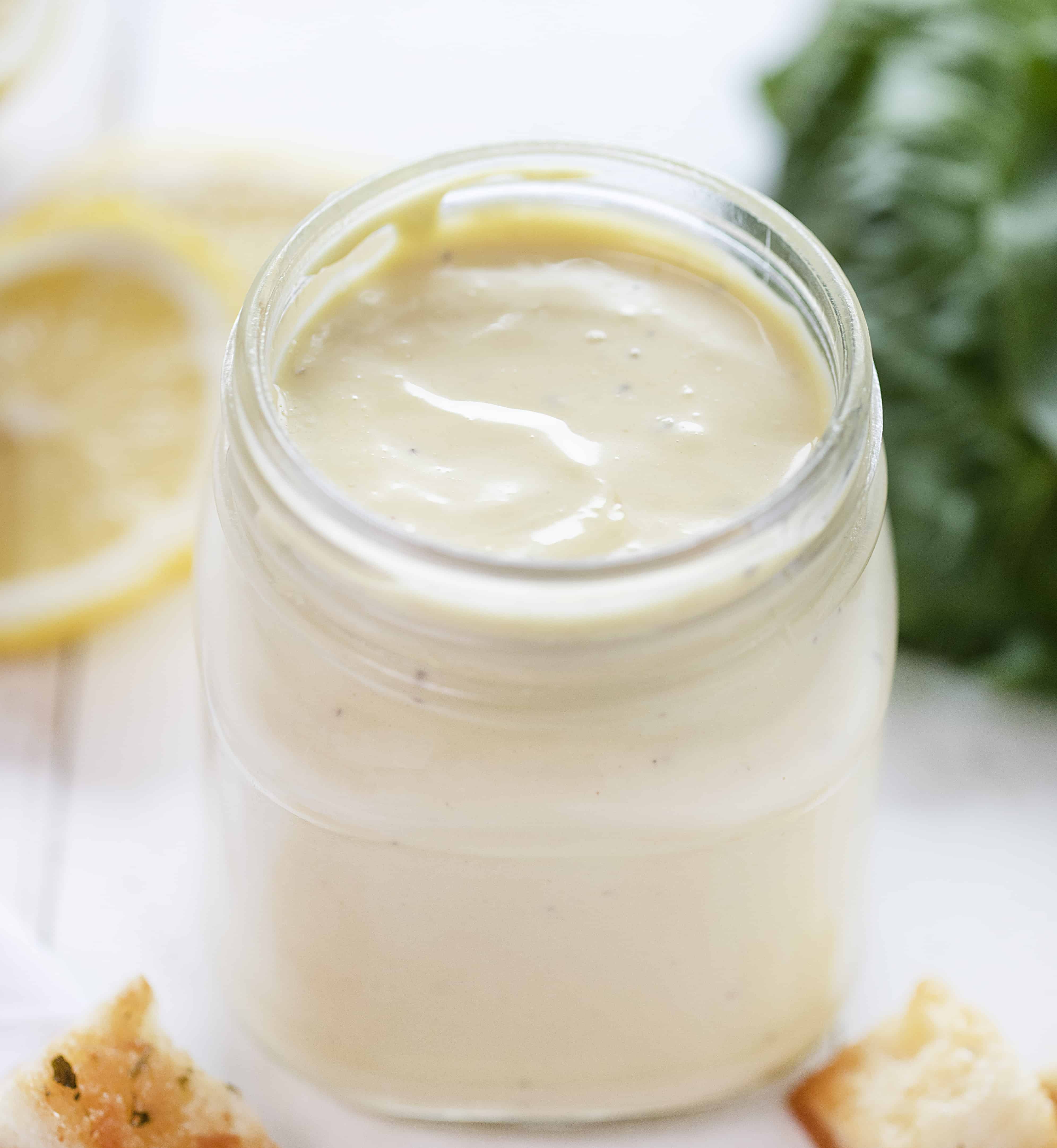 How to Make Homemade Caesar Salad
It really doesn't get more simple than this. If you have all of your ingredients ready to go, you will be enjoying this salad in under 5 minutes.
Start by making the dressing. Put all dressing ingredients into a mason jar and drop in an immersion blender and blend. I like to chill it in the fridge for about 30 minutes to give the flavors time to combine.
For the salad, you can either mix it all together in one bowl or you can set out individual bowls.  This will serve between 4-6 people, depending on how big you want the salads.  If you like a larger salad or are eating this as a primary meal, it will probably feed 4.  If you are using this as more of a side salad then it can stretch to 6.  All you need to do is equally divide the lettuce, chicken, parmesan, and tomatoes.  Top with caesar dressing (to your liking) and then toss it all together.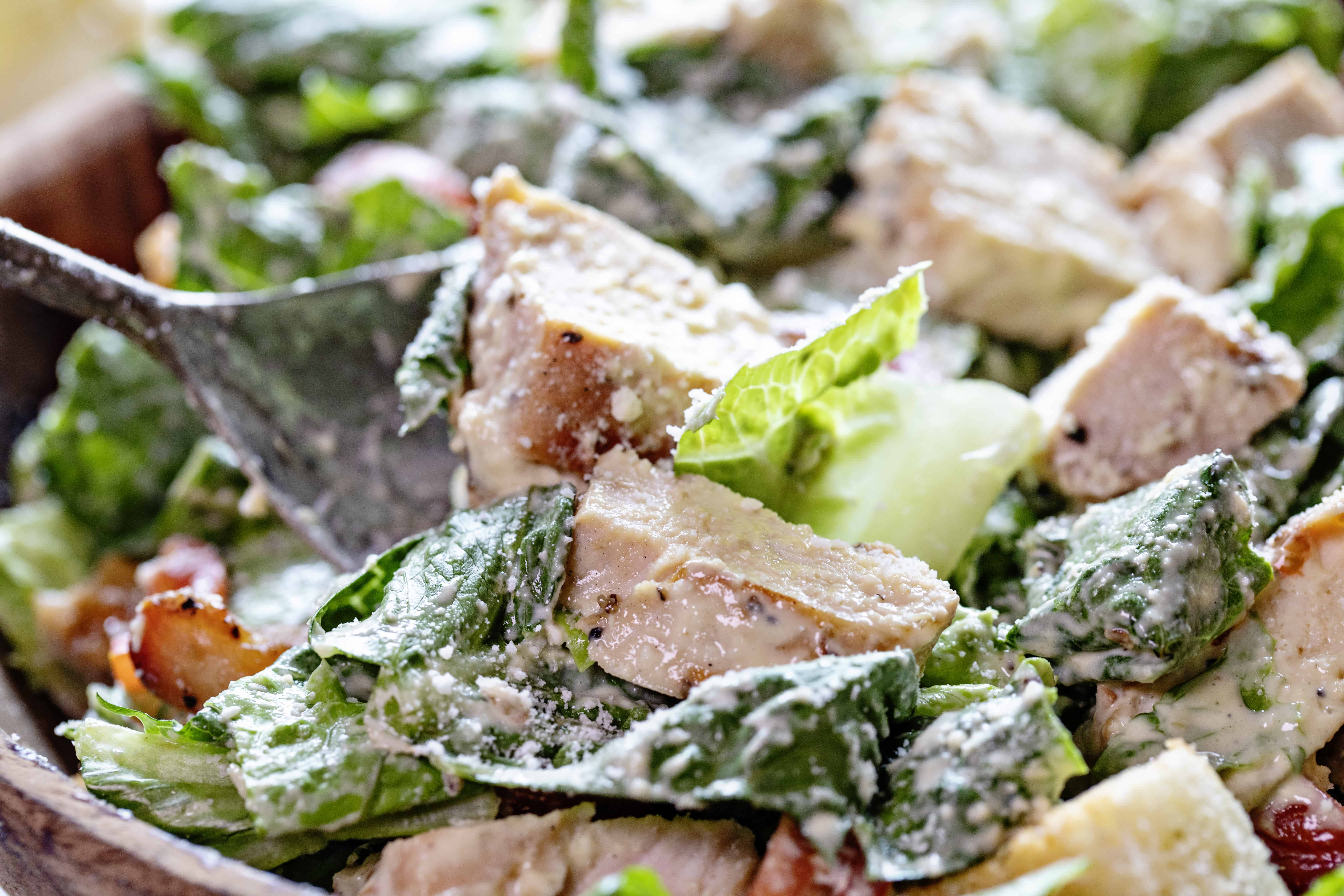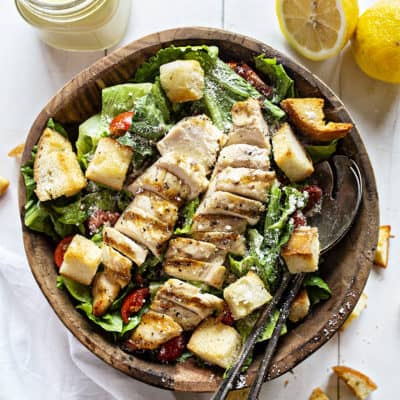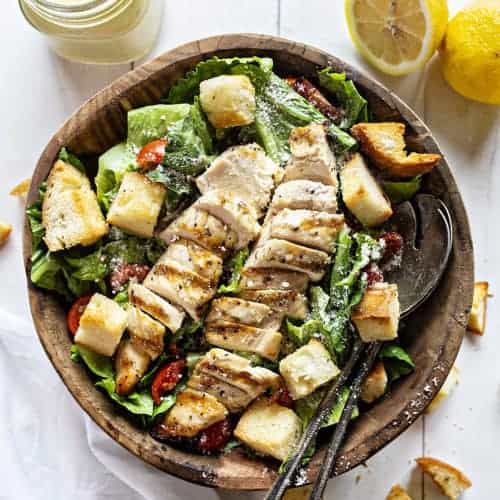 Chicken Caesar Salad
This Chicken Caesar Salad recipe is on my go-to weekday lunch menu.  This salad is so easy to whip together once you have the basics prepped.  It is a great way to fit those greens in on the regular and feel good about what you are eating!
Ingredients
Caesar Dressing
1

egg,

room temperature

1

cup

extra virgin olive oil,

room temperature

1/2

cup

Parmigiano cheese,

grated

1

tablespoon

garlic,

minced

1/2

tsp

Worcestershire sauce

4

Tbsp

fresh lemon juice

1 1/2

tsp

Dijon mustard

1/2

tsp

salt

1/2

tsp

black pepper

2

anchovy fillets,

mashed (optional)
Salad
2

cups

grilled chicken,

sliced

1

large

head romaine lettuce,

cleaned and cut into 1 inch pieces

1/4

cup

parmesan cheese,

grated

1/2

cup

tomatoes,

diced
Instructions
Caesar Dressing
Put all the ingredients in a large mason jar.

Blend using an immersion blender until the dressing has emulsified. (1-2 minutes) If you do not have an immersion blender you can use a standard blender but may need to add more oil.
Salad
In four large bowls, equally divide lettuce, chicken, parmesan, and tomatoes. Add caesar dressing to your liking.
Notes
Keep refrigerated and eat within a few weeks.
Did you make this recipe?
Thank you for making my recipe! You took pictures, right? Well go ahead and post them on Instagram! Be sure to mention me @iambaker and use the hashtag #YouAreBaker.