Making Homemade Croutons is easier than you would think. And they are SO DELICIOUS you will never want store-bought again! Follow my quick tips to make sure your croutons are packed with flavor and melt in your mouth! They are perfect to top off a Wedge Salad!
Croutons
When I was a kid we would go to a buffet in our town. I remember that my parents would encourage us to visit the salad section first, to make sure we got some good food into us before hitting up the chicken nuggets and mashed potatoes. Inevitably, my plate would be 4 pieces of lettuce and 87 of those mini croutons that were so hard they would break a tooth. I loved those things. As I grew older I realized that they were more like cardboard than toasted bread, but hey. Live and learn. 😉
This recipe is based on my love for a big delicious crouton. Big, butter-soaked, and garlic flavored croutons. Just toasted enough to be crunchy but still soft on the inside. They are, if you don't mind me saying so, the perfect crouton!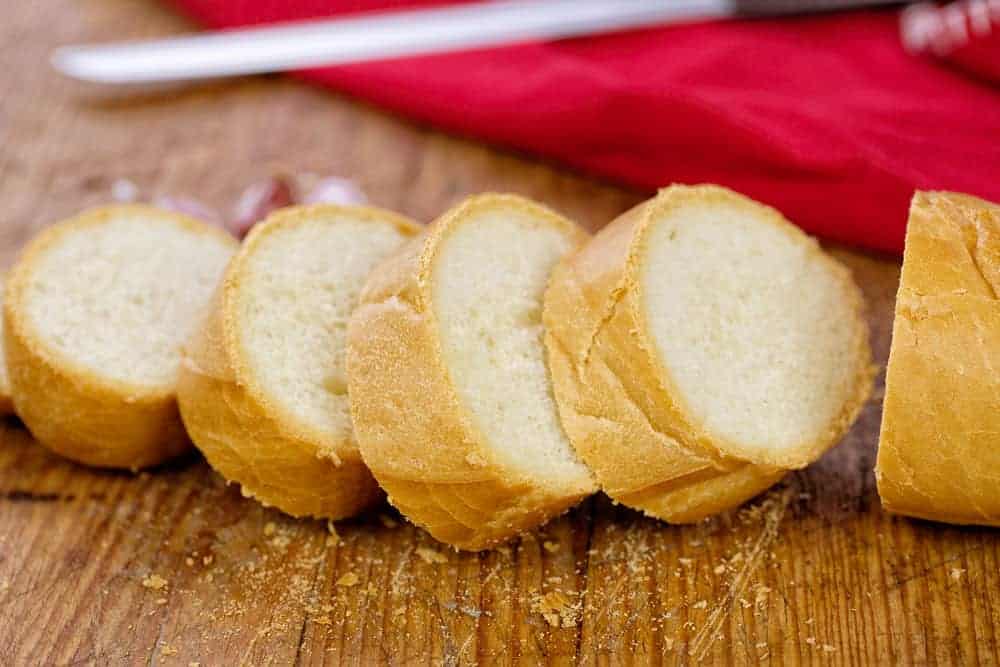 How to Make Homemade Croutons
I like to use a French baguette to make homemade croutons. I have made them with my favorite homemade Artisan bread like ciabatta or sourdough, but my favorite is the baguette. You want the bread to have a solid crust and have minimal sugar. I have seen some family members cut off the crust when making croutons, but that is a no-go in this house. (Not to mention I am all about doing things the easy way!)
Start making your croutons by cutting the bread into slices. I like to them cut each slice into about 9 pieces, sometimes less. Size varies when you are making croutons, but the best rule to follow is to make sure you can fit it in your mouth in one bite.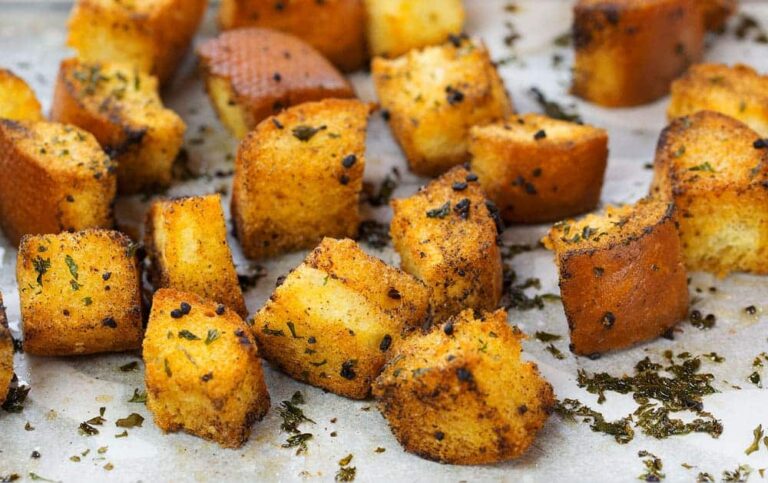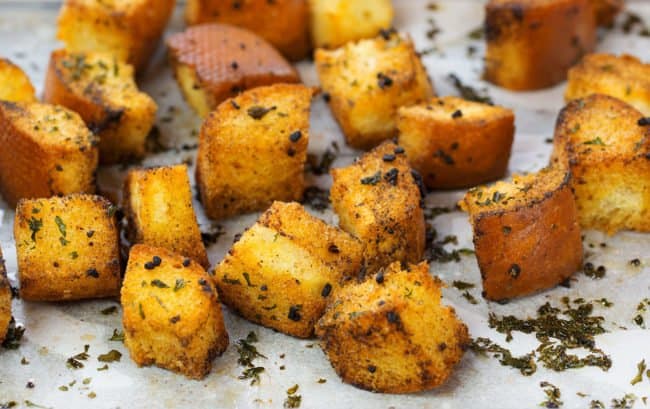 How to Serve this Crouton Recipe
I will be honest, the idea of making homemade croutons didn't occur to me until later in life. I really don't know why. Maybe I didn't have a good crouton recipe, or maybe I was just so unsatisfied with the rock hard version that I was avoiding them. Who really knows. What I do know is that when I did eventually make the decision to give this homemade crouton recipe a try, I also decided never to go back. I will literally never buy store bought croutons ever again.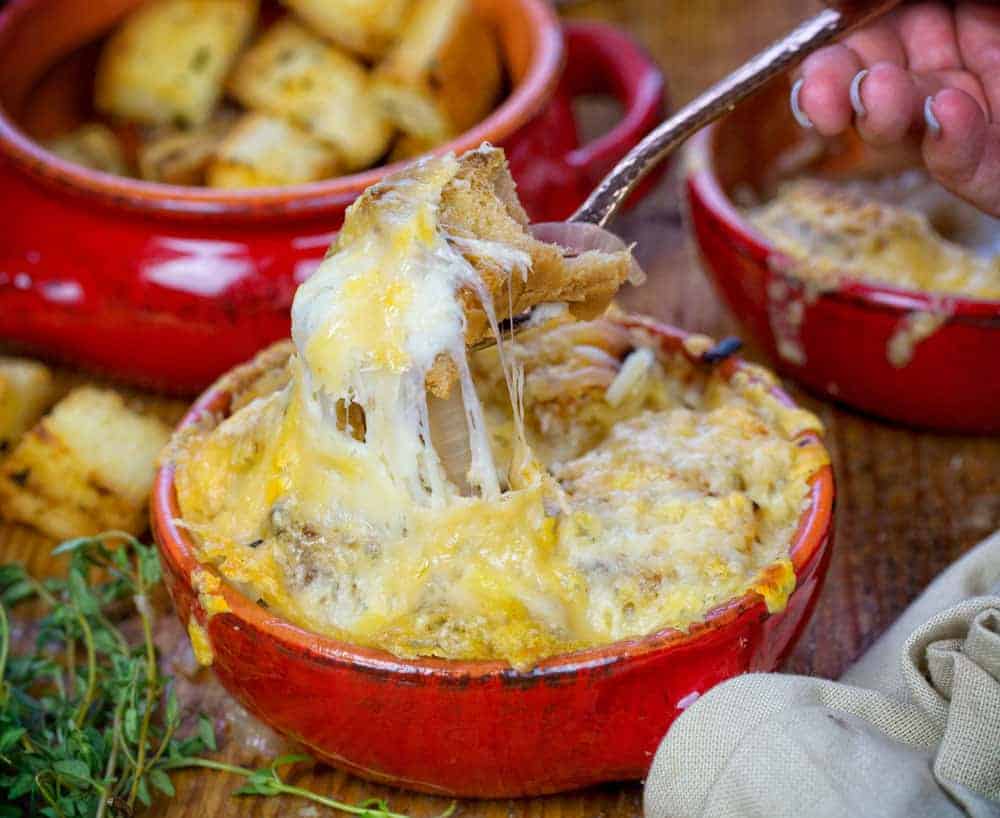 Homemade Croutons in French Onion Soup
So, what exactly do we pair these croutons with? Soup, salads, and side dishes are a perfect compliment. Here are a few soup recipes that could use a good hearty, buttery, garlicky, crouton.
Tools Used to Make This Crouton Recipe
This recipe comes together in under 15 minutes making it one of my easier recipes. However, there are a few tools that I use to make the whole process even more simple. Whenever I can, I use my skillet. I find that it cuts cooking time down and also evens out heat in a way that makes everything I cook taste just a little better. Since this recipe calls for French Bread, I would recommend using a good bread knife. You might think that a knife is a knife. There is a difference though. Using the wrong knife in this situation could really impact the final result. A dull blade or even a straight blade could "squish" the bread and the final result will be a crusty square of bread. Just a reminder, we want the outside crunch and the inside a bit chewy.
Bread for Croutons
There are a few things you can do to make this crouton recipe more unique. A simple change in your choice of bread could impact the flavor. We use french bread, but some variations would be to use a marbled rye bread, a hearty whole grain bread, or a sourdough bread. You can also make changes to the flavor by adding different seasonings, like rosemary, oregano, thyme, or even some parmesan. Maybe you want to try them all! Feel free to play around with this recipe until you get the flavor you love.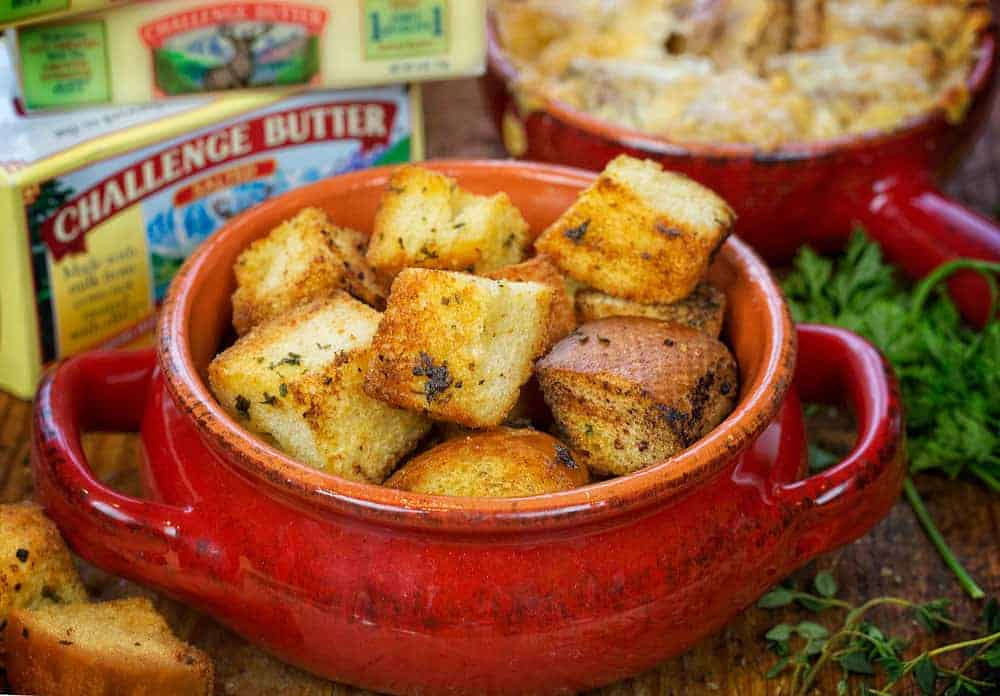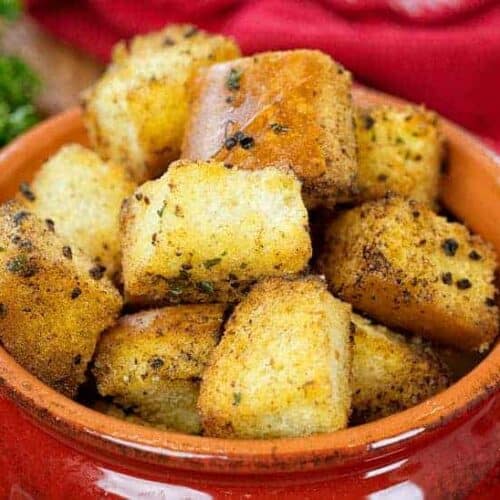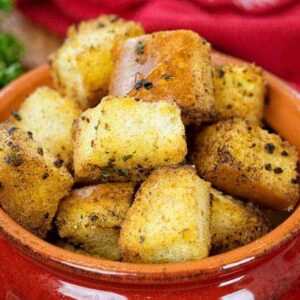 Homemade Croutons
Seriously the best... you will never want store bought again!
Ingredients
9

(1 inch) slices of French Bread,

cut into cubes

12

tablespoons

salted butter

1

clove

garlic,

minced

1

tablespoon

dried parsley
Instructions
In a large skillet, melt butter over medium heat.

Stir in garlic, cook 1 minute until fragrant.

Add bread cubes and toss to coat. Place directly on baking sheet. Depending on the size of your skillet you may need to work in batches.

Bake for 15 minutes, or until crisp and lightly browned. (We removed the second batch at 9 minutes, so be sure to keep an eye of these so they don't burn!)
Recipe Video
[brid autoplay="true" video="385447" player="16518" title="Homemade Croutons" description="The BEST Homemade Croutons" duration="83" uploaddate="2019-02-27 12:28:58" thumbnailurl="//cdn.brid.tv/live/partners/13014/thumb/385447_t_1551270495.png"]
Don't be shy with the butter when are making these! Even though it seems like I used a lot of butter, these croutons don't have an overwhelming butter flavor. When possible, use the best butter you can find!