What's for dessert?  Cupcakes.  Glorious dual-toned, frosting piled high, covered in an obscene sweet glaze decadent Candy Corn cupcakes.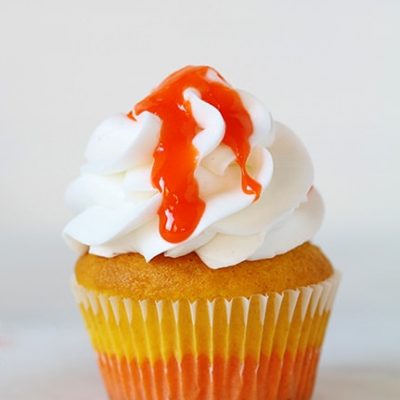 Candy Corn Cupcakes
What's for dessert? Cupcakes. Glorious dual-toned, frosting piled high, covered in an obscene sweet glaze decadent Candy Corn cupcakes.
Ingredients
Cupcakes
1

package white cake mix

or use your favorite from-scratch recipe

2

tsp.

McCormick® Pure Vanilla Extract

Yellow & Red McCormick® Food Coloring
Candy Corn Glaze
1

bag candy corn

11 ounce size

1/4

c

water
Instructions
Prepare cake mix as directed on package, adding vanilla.

Divide batter in half.

Tint one batch yellow with 1/3 teaspoon yellow food color. Tint second batch orange with 1/4 teaspoon yellow food color and 1/8 teaspoon red food color.

Fill each paper-lined muffin cup 1/3 full with orange batter. Gently add yellow batter on top of orange batter, filling each muffin cup 2/3 full. Bake as directed on package for cupcakes. Cool cupcakes on wire rack.
Candy Corn Glaze
Reserve 1/4 cup of candy corn then place the remainder of the 11-ounce bag in a medium saucepan. Pour in 1/4 cup water and heat on low for about 10-15 minutes. You will want to candy corn to be melted completely.

Remove from heat and allow to cool slightly. (You will want to cover cupcakes while glaze is still warm, but not hot.)

Using a spoon, drizzle glaze over frosting.

Decorate tops of cupcake extra candy corn pieces. (not shown in picture)

Can be done 1-2 days in advance.
Did you make this recipe?
Thank you for making my recipe! You took pictures, right? Well go ahead and post them on Instagram! Be sure to mention me @iambaker and use the hashtag #YouAreBaker.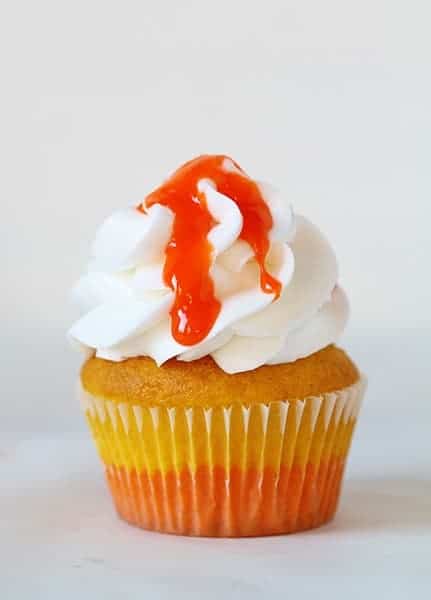 Imagine if you are in grade school, and have been sitting in class all morning.  The tick-tock of the clock is constant, and you are full of energy, waiting so impatiently for the lunch bell to ring.
Consonants and pronouns and quizzes and tests are just another thing keeping you from a cold milk, peanut butter & jelly and being able to talk with your friends about whatever you want.
Finally!  Lunch time.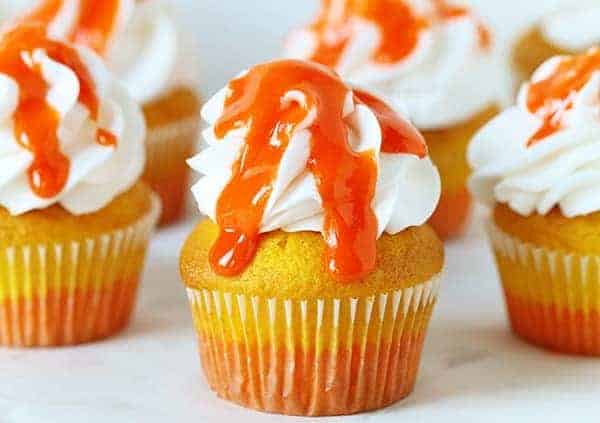 Opening your lunch box yields the greatest surprise of all time… a CUPCAKE!  And not just any cupcake, a cupcake covered in more frosting than you have ever seen!  On top of that frosting is a sweet sticky orange glaze.  Without hesitation, you stick your finger into it, as knowing what it tastes like suddenly becomes the most important thing in the world.
The first taste is utterly sweet… and confusing.  What is it?  Familiar, but hard to place.  You pull the entire cupcake out of your lunch box and see all the glorious color.  Candy Corn!  That glaze tastes just like candy corn!
Everyone is oohing and aahing.  They all want some, but it's all yours.
You sit back, revel in being the coolest kid at the lunch table and think to yourself, "I am totally going to clean my room when I get home. My mom rocks."
At least, that is what I envision would happen.  More likely than not, the cupcake would get schmooshed on the way to school and frosting would be all over the lunchbox, the sandwich, the milk, the apple.  My precious little darling would have her lunchbox held up to her face unabashedly licking every last bit of frosting from every last surface.  She would then have frosting in her hair, on her eyelashes, all over her face and hands.
Maybe this is better suited as an after school snack!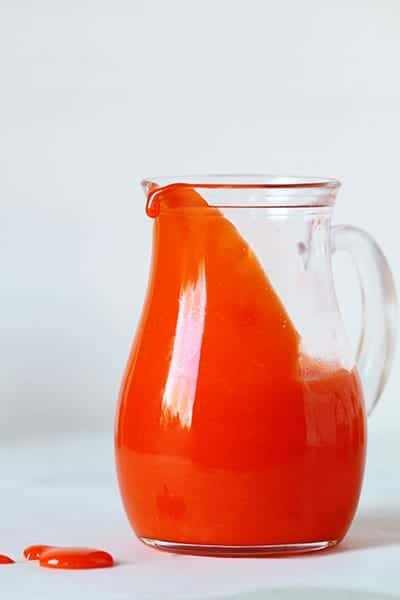 A couple things:
The first time I made this glaze (candy corn schootcharoo bars) I played around with it quite a bit.  I think it works best at a lukewarm temperature for drizzling over cupcakes.  The cooler it gets the more firm it gets and therefore harder to drizzle.  Once you are done covering the cupcakes I would place an remaining glaze in an airtight storage container and clean out the pan.
I did my candy corn cupcakes in opposite color order.  This was entirely for vanity purposes!  I just liked how it looks with the orange on top and bottom and the yellow breaking it up a bit.  The recipe is written how I did it, but if you want a traditional candy corn cupcake, be sure to put the yellow batter on the bottom.
While this recipe is written to use a box mix, you can most certainly use your favorite white cake or yellow cake recipe.
I love this buttercream recipe for bright white frosting.
If you want to use a bit less frosting I think this style of cupcake decorating would be lovely and would allow the glaze to pool just beautifully on the cupcake. (and would be more lunch box friendly!)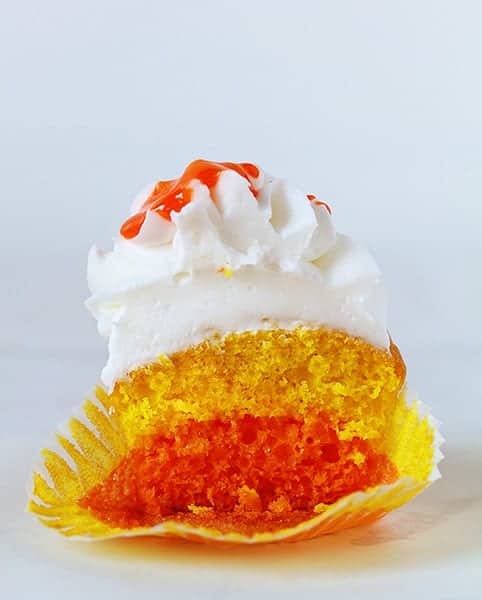 These sweet little treats are definitely perfect for the occasional seasonal indulgence.  The bright colors and billowing frosting take 'eating with your eyes' to a whole new level!  And of course, are the ideal treat for anyone who loves candy corn!
It was an absolute delight to create these Candy Corn Cupcakes with McCormick. Thank you so, so much for supporting the brands that support this blog. I only work with the best, and am thankful that McCormick is willing to partner with me! <3