Caramel Apple Cheesecake gives you the taste of a freshly dipped caramel apple without the mess! With Fall upon us and leaves changing to glorious colors, it just seems like the right time to serve this sweet and delicious cheesecake. I also have a traditional Cheesecake Recipe you may enjoy.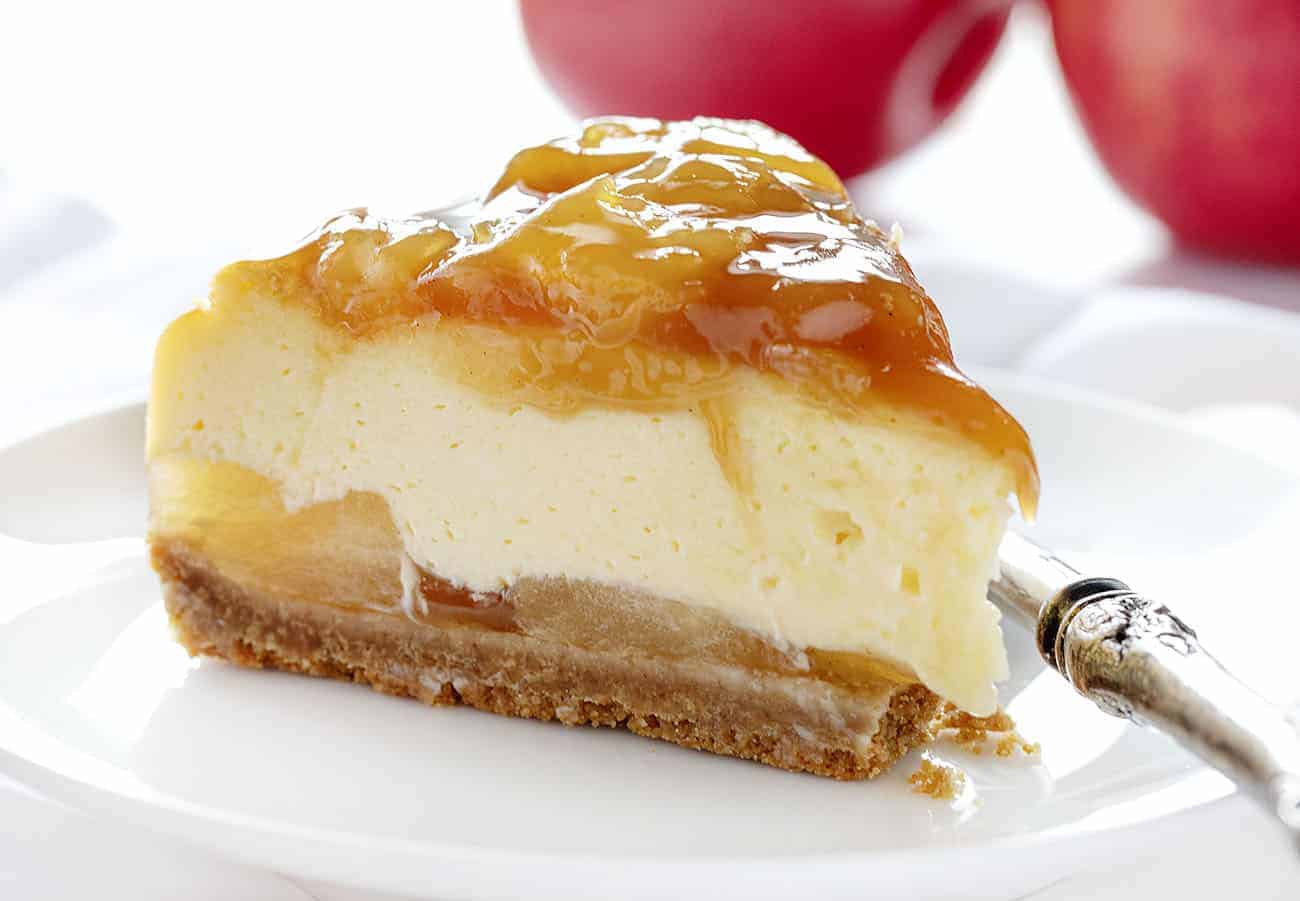 Caramel Apple Cheesecake
As a kid, I absolutely loved Caramel Apple Pops! I would go through quite a few of these suckers if they were available to me. I still love them as an adult, but sometimes growing up means not sucking on a sucker all day. Apples dipped in lots of gooey caramel is another favorite treat, but they can be a bit cumbersome to eat and leave a sticky mess! Caramel Apple Cheesecake satisfies my taste for both Caramel Apple Pops and Caramel Apples but is much more refined. The fact that I love cheesecake, too, means that this recipe is right up my alley!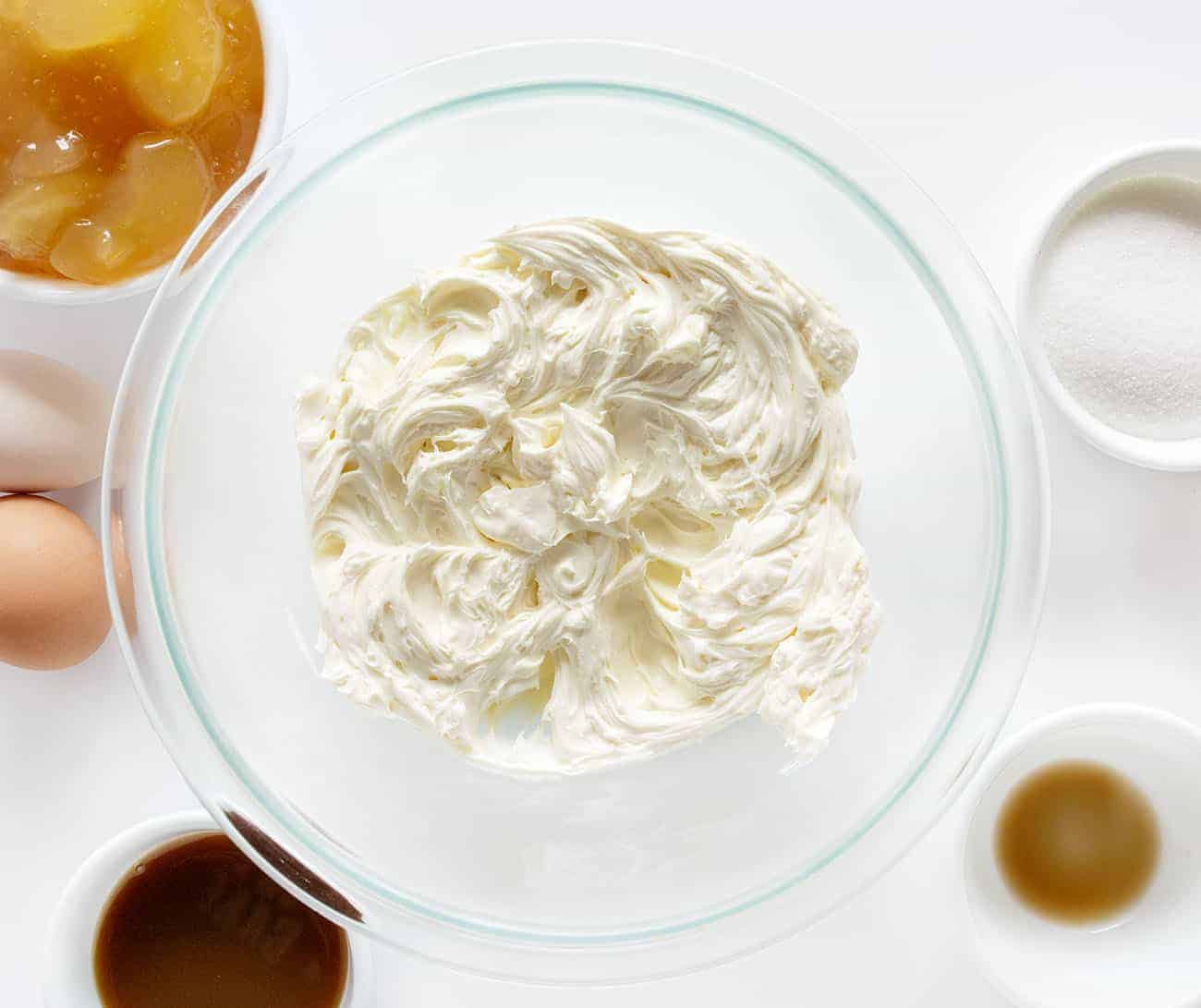 Caramel Apple Cheesecake Recipe
Caramel Apple Cheesecake is really quite simple, and the ingredients are easy to find at your local grocery store. There are three main parts to this recipe: the crust, the cheesecake filling, and the topping. I am going to start with the crust. Be sure to preheat your oven to 350°F before you start preparing the cheesecake.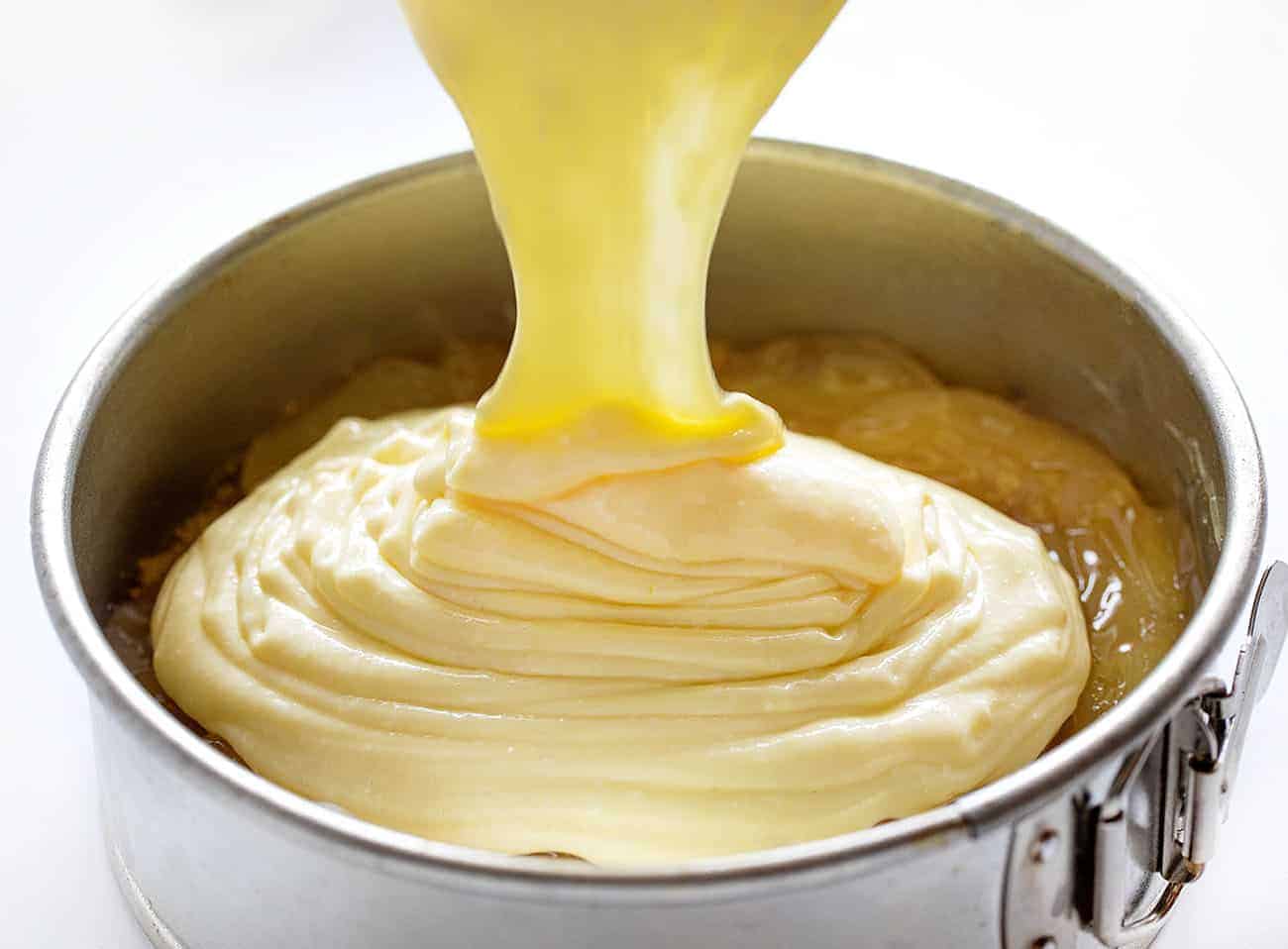 How to Get the Perfect Crust
When mixing together the ingredients (with a fork) I like to make sure every single graham cracker crumb is coated in butter. The butter acts as the binding agent, so when you see cheesecake recipes that have piles of graham crackers left on the plate, it is usually because they were not coated with butter.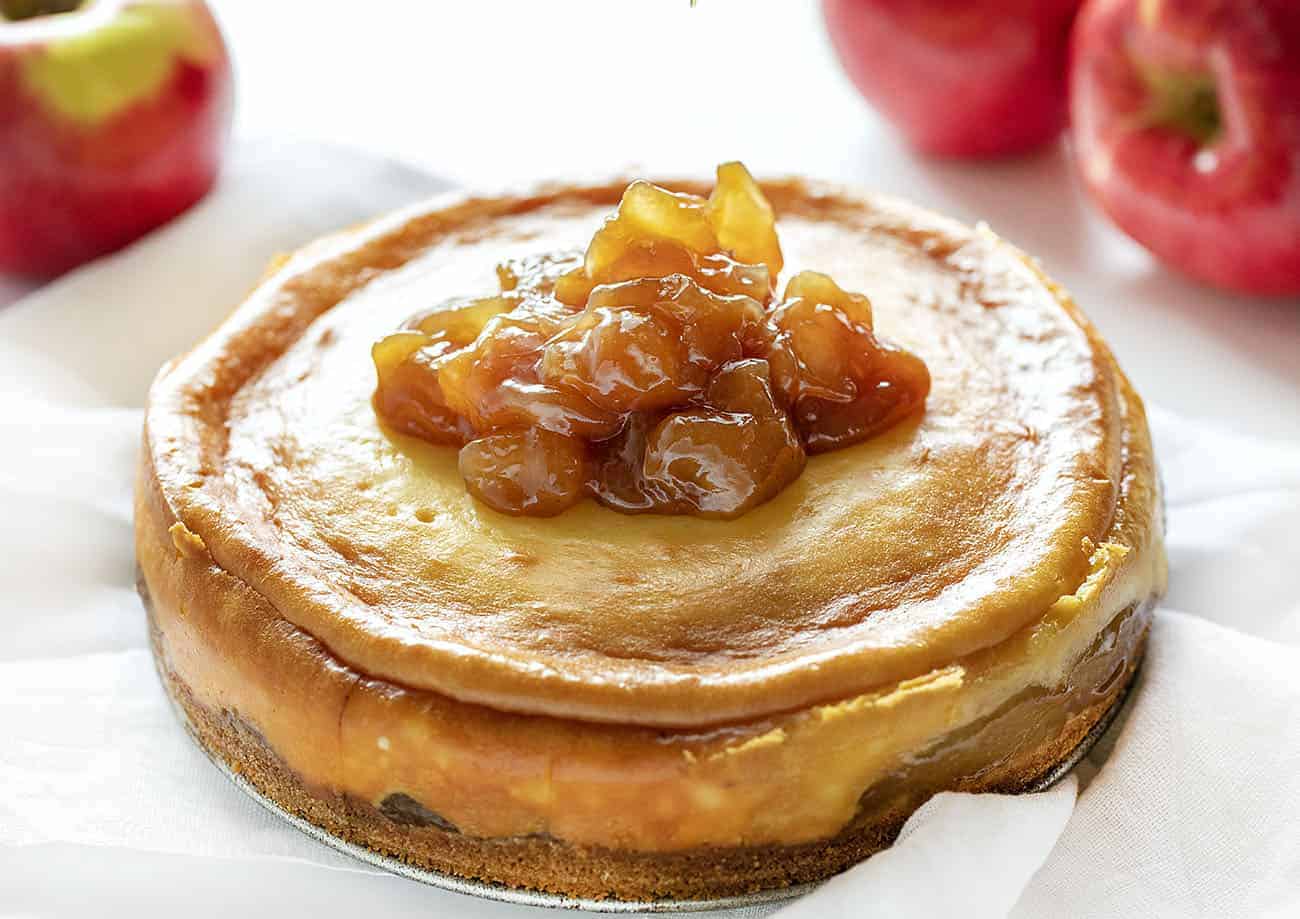 What is a Springform Pan?
Press the graham cracker mixture into a 7-inch springform pan. A springform pan is the right choice for cheesecake because it has removable sides. You won't have to mess up your dessert by trying to get the cheesecake out of the pan! If you do not have a springform pan, I recommend using a disposable pan that you can cut off after your cheesecake is done. A second option would be to line a pan with parchment paper, leaving plenty of paper hanging over the side.
Please note, if you use a size other than a 7-inch springform pan, the cooking time may need to be adjusted. You will know when the cheesecake is done when it is set and not jiggly in the middle.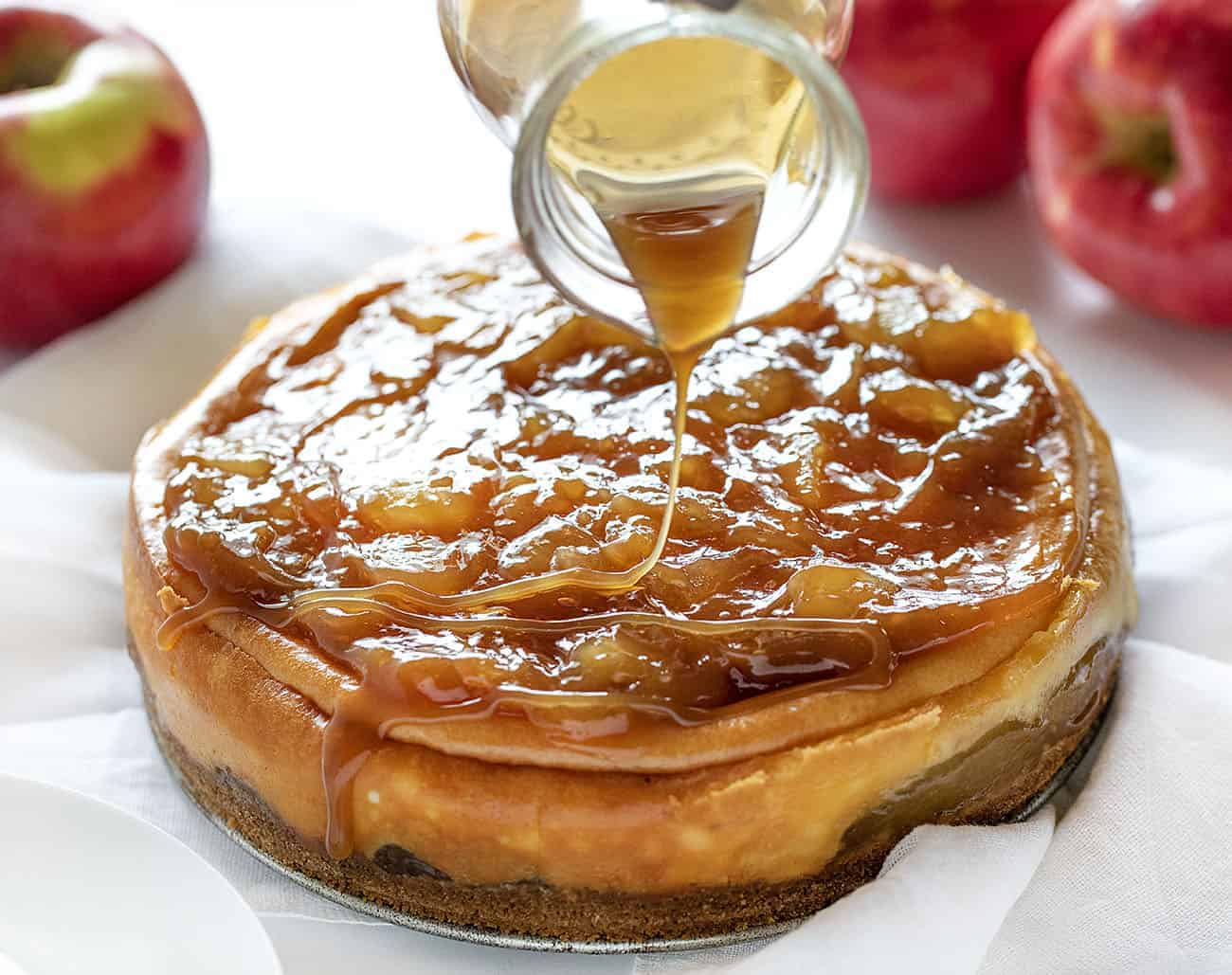 Do I Have to Use Room Temperature Cream Cheese?
Yup. This is one of the most important steps in making sure you have no lumps in your cheesecake. Try these methods:
Removing the cream cheese from the refrigerator and allowing it to come to room temperature. Four hours should be plenty.
Heat cream cheese in a microwave. If you have to heat your cream cheese in a microwave be sure to whisk it smooth (or pop it into a food processor) before using not only to ensure there aren't lumps but that there are no "hot spots" throughout.
Food processor. This is a phenomenal way of ensuring smooth cheesecake. You can add. it to the food processor directly from the refrigerator.
Let cream cheese, still in the package, sit in warm water for 10-15 minutes.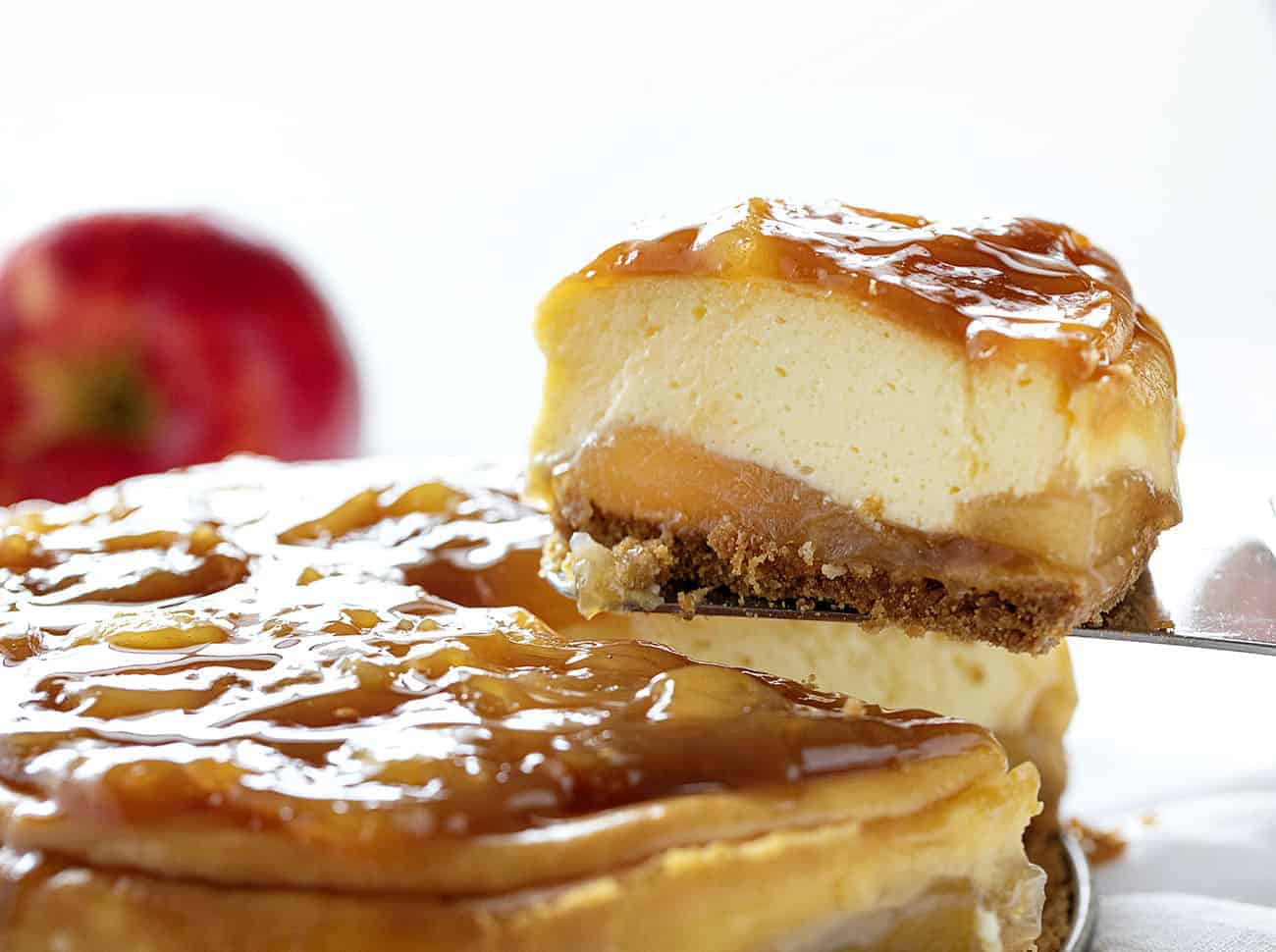 How to Make Caramel Sauce
The sauce has 2 ingredients; caramels and evaporated milk. I have also used half & half, heavy whipping cream, and whole milk in place of the evaporated milk and found them to work just as well.
Simply place caramels and evaporated milk into a saucepan over medium heat and stir until the caramels are melted and the evaporated milk is incorporated. This takes anywhere from 5-10 minutes. Once the sauce is creamy and smooth remove it from the heat.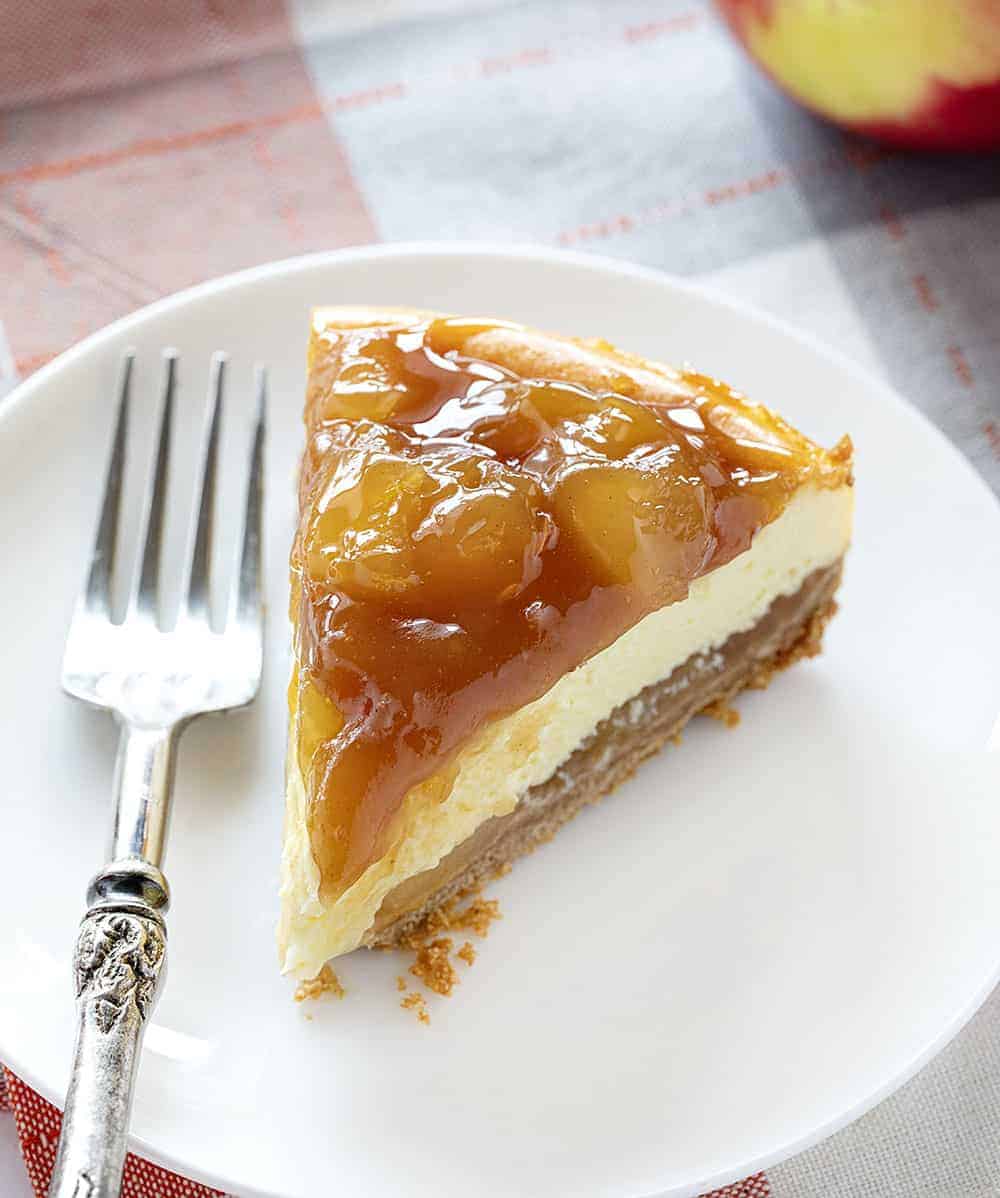 How to Store and Freeze Cheesecake
Cheesecake absolutely needs to be refrigerated. I prefer to use an airtight container to store cheesecake. (The less air it is exposed to, the longer it may last.) Cheesecake usually lasts about 3 days when stored correctly. If you do not have an airtight container, wrap it tightly in plastic wrap.
Freezing cheesecake is a great option as it holds up well, but not for long. To freeze, either cut into individual pieces or freeze what is leftover. Wrap it tightly in plastic wrap and then place in a freezer-safe plastic bag or wrap in aluminum foil. Be sure to label and date. It should last about 1 month.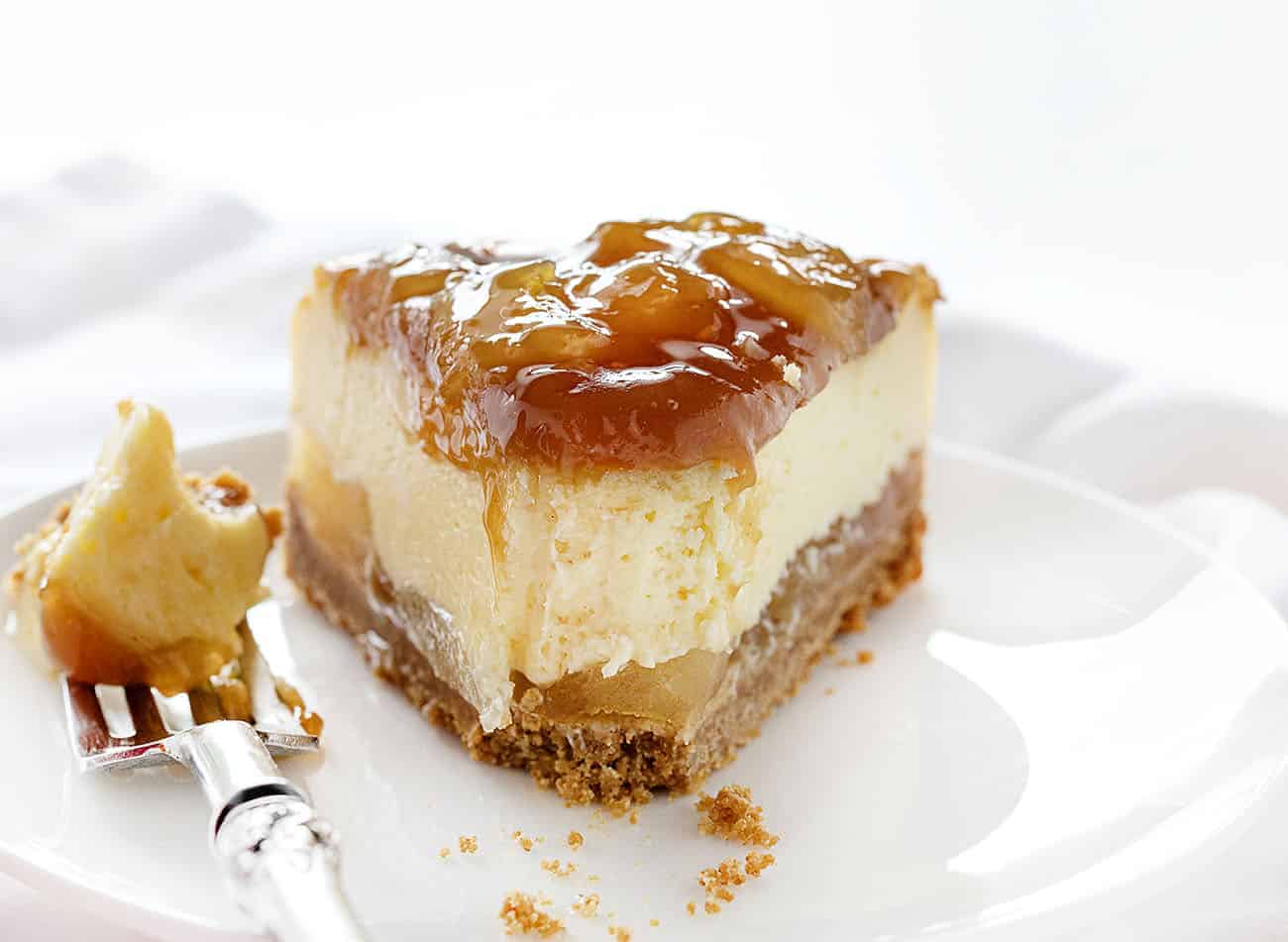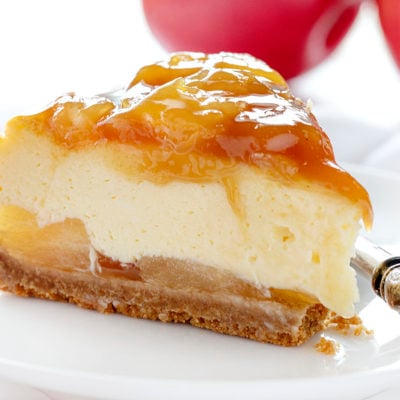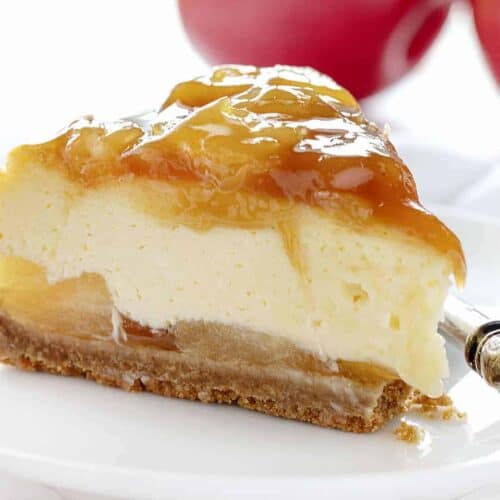 Caramel Apple Cheesecake
Caramel Apple Cheesecake is the perfect fall dessert with a caramel apple flavor!
Ingredients
CRUST
2

cups

(168g) graham crackers,

crumbled fine

2

tablespoons

butter,

melted
FILLING
1 ½

cups

canned apple pie filling

2

(8-ounce) packages cream cheese,

room temperature

½

cup

(100g) sugar

¼

teaspoon

vanilla extract

2

eggs,

room temperature
TOPPING
¼

cup

caramel topping

½

cup

apple pie filling,

canned or homemade
Instructions
Preheat the oven to 350° F.
CRUST
In a medium bowl, mix together crushed graham crackers and melted butter until all of the crackers are fully coated.

Press the cracker mixture into a prepared 8" springform pan.
FILLING
Spoon apple pie filling into the crust and carefully spread.

In a large bowl, whip the cream cheese until fluffy. Add the sugar, vanilla, and eggs and beat until smooth, a few seconds. Pour this over the pie filling.

Bake until the center of the cake is set, about 50-55 minutes.

Cool to room temperature.
TOPPING
In a small saucepan over medium heat add apple pie filling and caramel topping. Heat over low heat about 1 minute.

Spoon the apple-caramel mixture over the top of the cheesecake and spread evenly.

Refrigerate the cheesecake until ready to serve.
Did you make this recipe?
Thank you for making my recipe! You took pictures, right? Well go ahead and post them on Instagram! Be sure to mention me @iambaker and use the hashtag #YouAreBaker.