Pumpkin cheesecake is a delectable dessert that combines the rich and creamy goodness of cheesecake with the warm and comforting flavors of pumpkin spice. It's a delightful blend of creamy, spiced pumpkin goodness, with a sweetened buttery graham cracker crust and a deliciously indulgent topping of whipped cream and chopped pecans. It's a dessert that's sure to impress and satisfy anyone with a sweet tooth. I also have a delicious Pumpkin Crisp that you will want to add to your list of pumpkin recipes.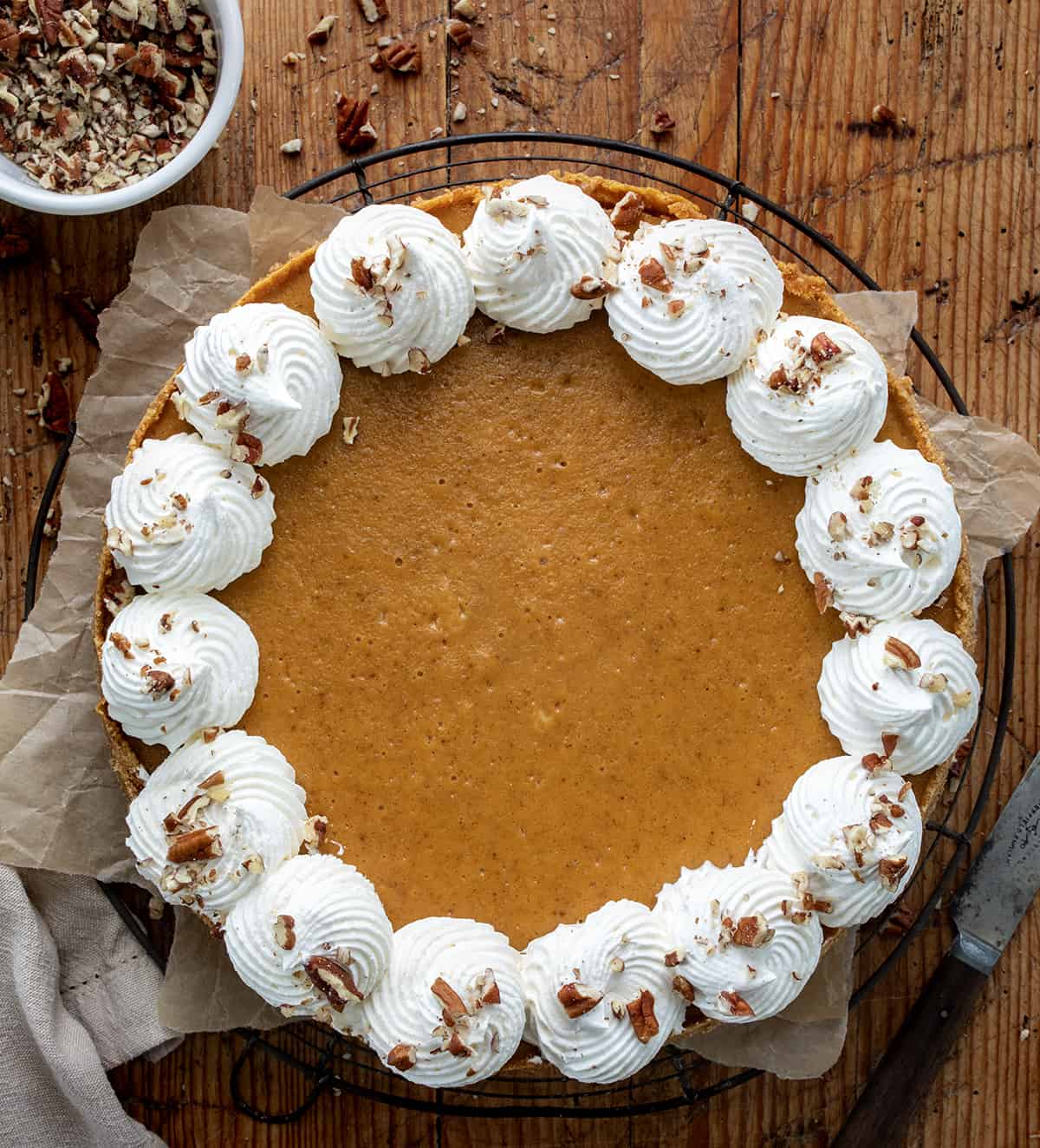 Ingredients & Substitutions
Crust: The decadent graham cracker crust has plenty of melted butter to coat all of the crumbs. And, I added some granulated sugar to sweeten it a bit. You could also use a store-bought crust.
Cream Cheese: You will need four, 8-ounce blocks of cream cheese. Be sure it has come to room temperature and softened before you are ready to make the cheesecake.
Sour Cream: Sour cream in the filling helps give the cheesecake a smoother texture with just a hint of tartness. As with the cream cheese, be sure it is at room temperature before using.
Pure Pumpkin: Look for pure pumpkin (also known as pumpkin puree), not pumpkin pie filling. Pure pumpkin is cooked pumpkin that is blended or mashed into a smooth texture. There should be no seasoning, spice, flavoring, or sugar added.
Spices: Ground cinnamon, ground ginger, and ground cloves give warmth to the pumpkin cheesecake. If you don't have the individual spices on hand, substitute pumpkin pie spice.
Toppings: For the finishing touch to the cheesecake, offer whipped cream and chopped pecans for toppings.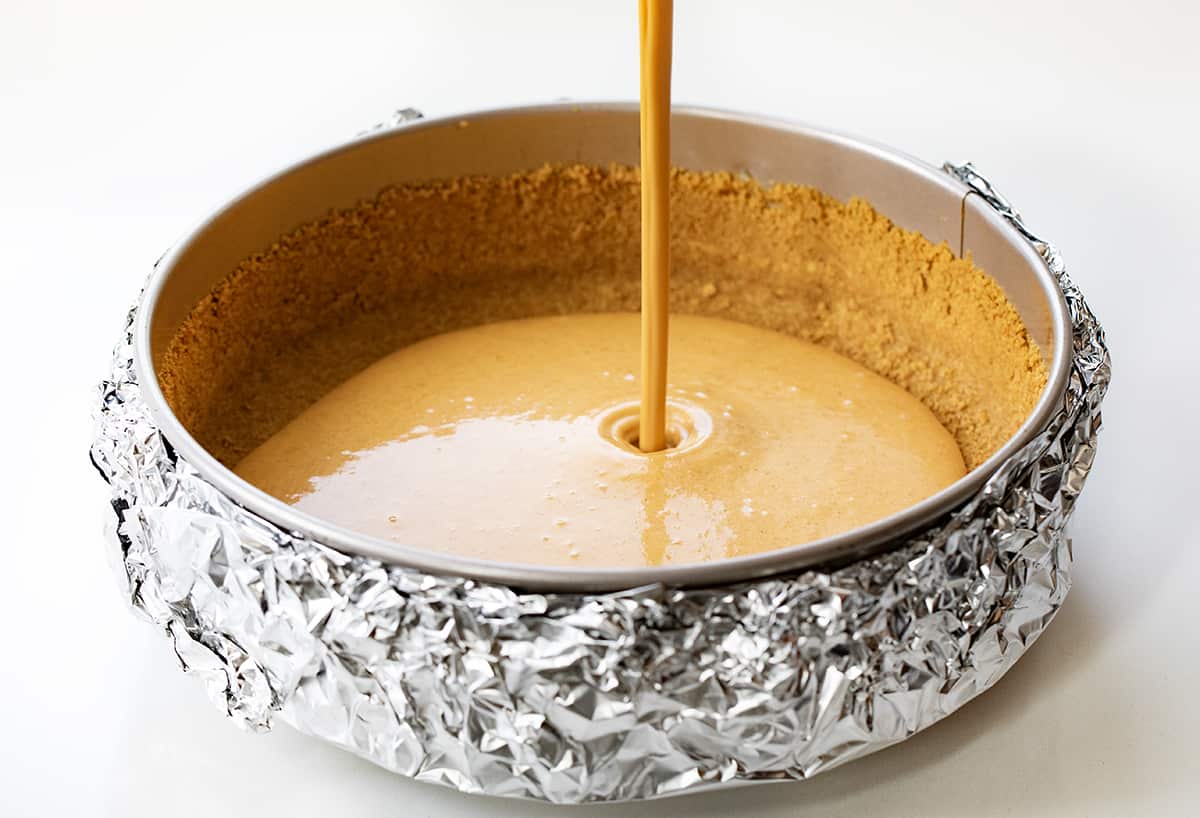 Is The Water Bath Important?
Yes, using a water bath when baking cheesecakes helps prevent the edges from overcooking. It also results in the cheesecake being more even colored without cracks. The reason is all about science. The water cannot get hotter than 212°F since this is when it turns to steam. This means the heat is distributed more evenly and the water is like a buffer protecting the edges from overcooking. The steam also helps with the smooth top of the cheesecake, adding moisture while the cheesecake is baking.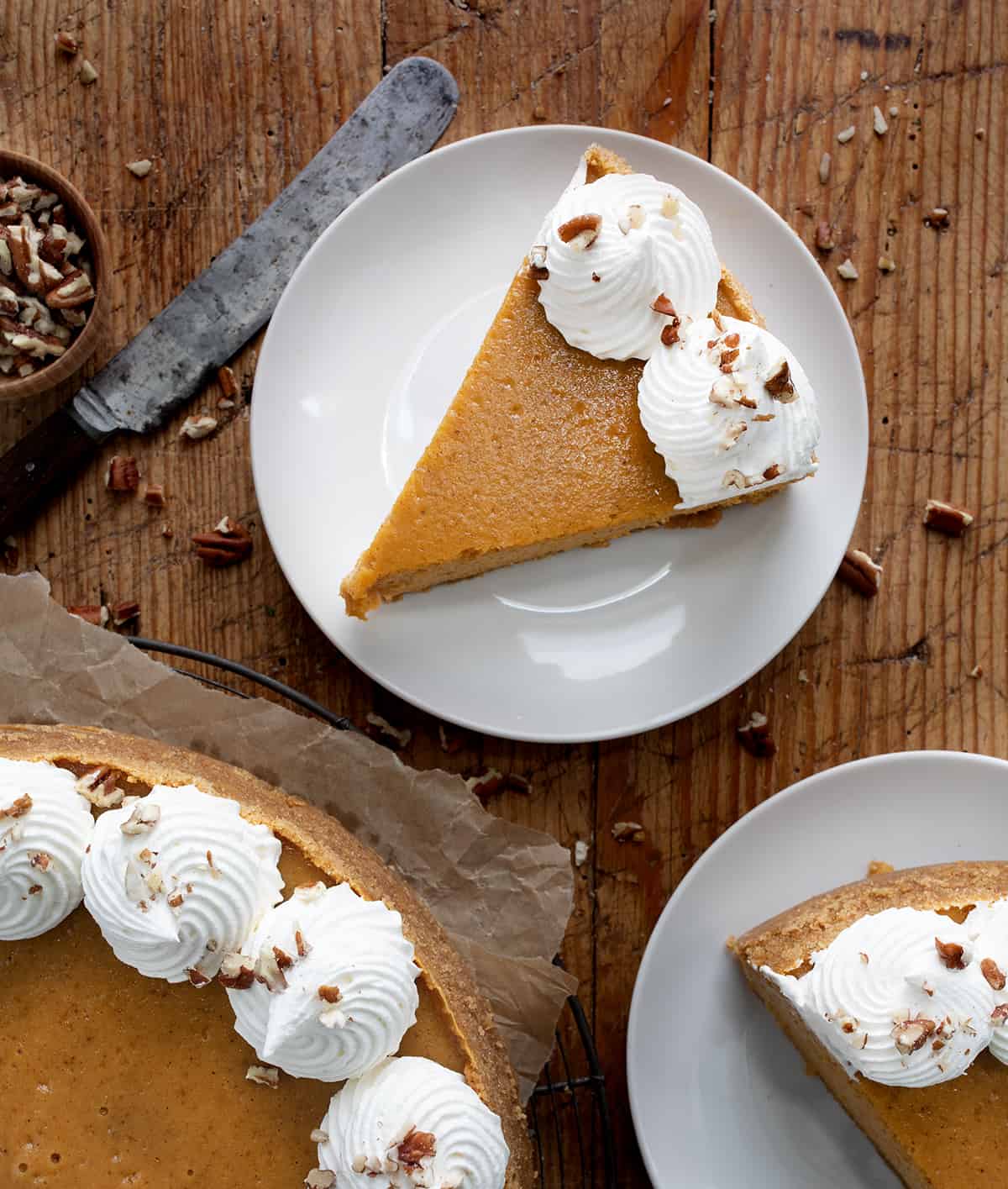 How To Tell If Cheesecake Is Done
Cheesecake is done when the sides are set, but the middle is still a bit jiggly. You can check the internal temperature of the cheesecake to check for doneness (150°F). If you make a hole, just add a dollop of whipped cream over it! Another option to check for doneness would be to take a wooden spoon and tap the outside of the pan. If there is a slight jiggle, it's done!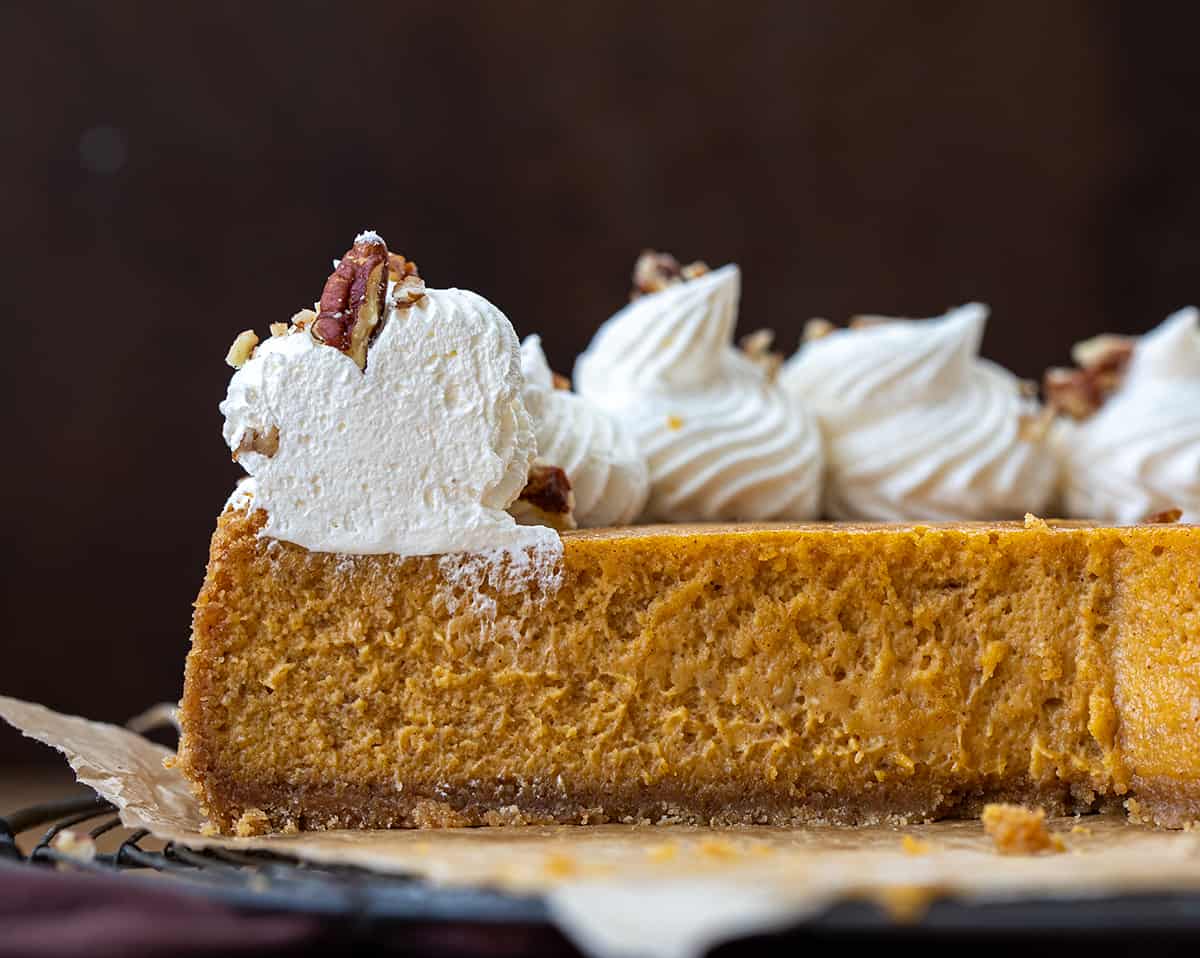 How To Store Pumpkin Cheesecake
To store cheesecake, you can store it in the refrigerator or in the freezer.
To Refrigerate: Cover the cheesecake and store it in the refrigerator for a day or two. If you tightly wrap the cheesecake in plastic wrap or store it in an airtight container, it will last up to 3 days in the fridge.
To Freeze:
Let the cheesecake cool completely.
Place the cheesecake (uncovered) in the freezer for about an hour. If you are keeping the cheesecake pie in the springform pan, remove the sides of the pan.
After the hour in the freezer, take the cheesecake off the pan (you may have to pry it off with a knife), and wrap it tightly in plastic wrap.
Place the wrapped cheesecake into a zipped freezer bag or wrap it in aluminum foil. Be sure to label and date the cheesecake. It should last up to 3 months.
When ready to enjoy, let the cheesecake thaw in the refrigerator.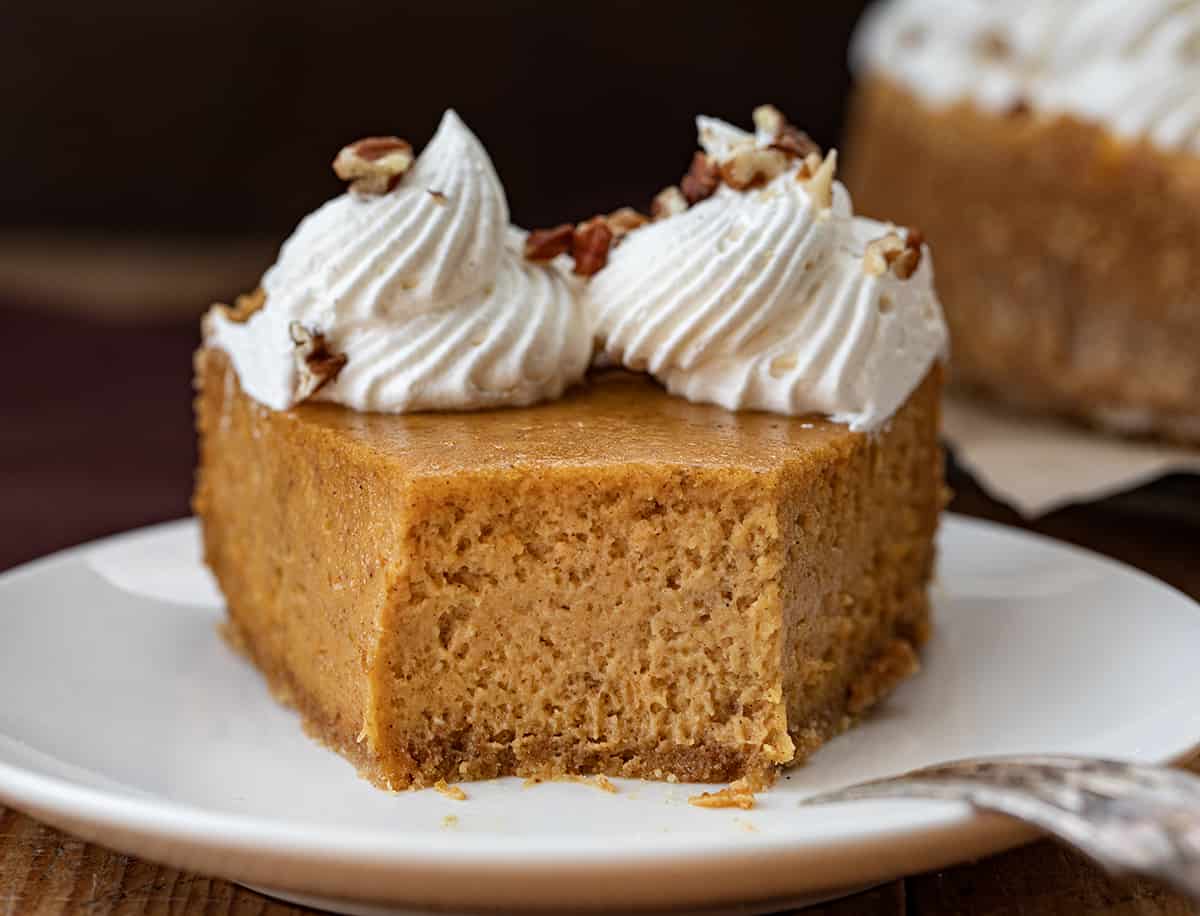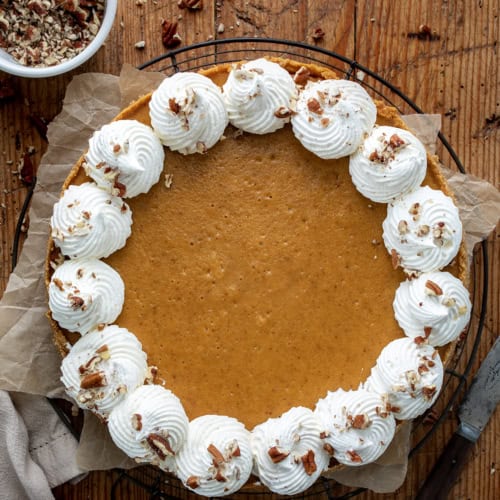 Pumpkin Cheesecake
Pumpkin cheesecake is a delectable dessert that combines the rich and creamy goodness of cheesecake with the warm and comforting flavors of pumpkin spice. It's a dessert that's sure to impress and satisfy anyone with a sweet tooth.
Ingredients
Crust
2 ½

cups

graham cracker crumbs,

about 16 sheets graham crackers, crushed

10

tablespoons

unsalted butter,

melted

¼

cup

(50 g) granulated sugar

½

teaspoons

kosher salt
Pumpkin Cheesecake
4

blocks

(8 ounces each) cream cheese,

softened

2 ½

cups

(500 g) granulated sugar

¼

cup

(57.5 g) sour cream,

room temperature

1

can

(15 ounces) pure pumpkin

6

large

eggs,

room temperature, lightly beaten

1

tablespoon

vanilla extract

2 ½

teaspoons

ground cinnamon

1

teaspoon

kosher salt

1

teaspoon

ground ginger

¼

teaspoon

ground cloves

whipped cream,

for topping

chopped pecans,

for topping, optional
Instructions
Crust
Preheat the oven to 325°F.

Spray a 10-inch springform pan with non-stick cooking spray and line the bottom with parchment paper. Wrap 2 pieces of aluminum foil around the bottom and sides of the pan. Set aside.

In a large bowl, mix together the graham cracker crumbs, melted butter, sugar, and salt.

Press the crumb mixture into the bottom and up the sides of the pan. Bake for about 15 to 20 minutes. As the crust is baking, make the cheesecake filling.
Pumpkin Cheesecake
To the bowl of a stand mixer with the paddle attachment, add cream cheese. Beat until smooth and creamy.

Add the sugar. Continue to beat until the mixture is smooth and creamy, stopping to scrape down the sides of the bowl as needed.

Beat in the sour cream. Then, add the pumpkin, eggs, vanilla, cinnamon, salt, ginger, and cloves. Mix until just combined.

When ready, pour into the baked crust.

Place the foil-wrapped springform pan with the cheesecake in it into a slightly larger pan and carefully place it into the oven. Pour hot water into the larger pan, 3-4 inches deep, or about halfway up the side of the springform pan. Using a teapot with hot water works very well, as it is easy to pour and the water is already hot.

Bake for about 1 hour 45 minutes. The center will still be slightly jiggly.

Remove from the oven and out of the roasting pan. Let it cool on a wire rack to room temperature.

Transfer the cheesecake to the refrigerator to chill for at least 8 hours, up to overnight.

When ready, remove the cheesecake from the springform pan. Serve topped with dollops of whipped cream and chopped pecans (optional).
Did you make this recipe?
Thank you for making my recipe! You took pictures, right? Well go ahead and post them on Instagram! Be sure to mention me @iambaker and use the hashtag #YouAreBaker.
What the Test Kitchen had to say about this recipe: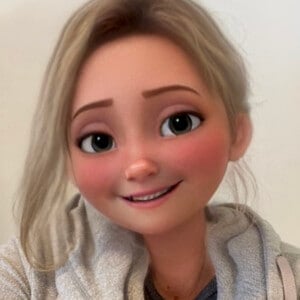 Autumn
I loved how much flavor was packed into this delicious pumpkin cheesecake. I might even like this better than pumpkin pie!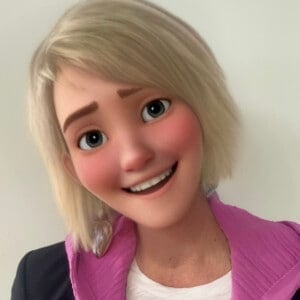 Elizabeth
Oh, my…THIS IS SO GOOD! Yes, I am shouting this because I am shocked I love it so much. I don't like pumpkin pie, but I couldn't get enough of this cheesecake. This would be such a delight to share over the Fall and Winter holidays, for sure!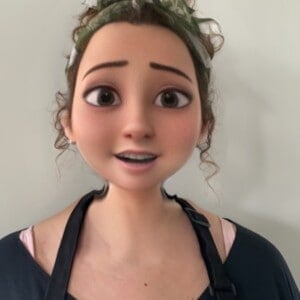 Rachael
This is like a delicious airy mousse pumpkin cake flavor. I love pumpkin cheesecake because I love pumpkin pie flavors so much!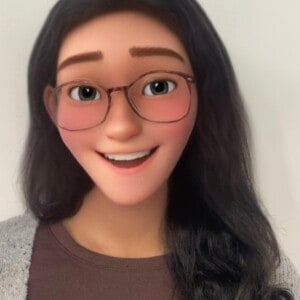 Bella
I went in thinking that it would be like pumpkin pie (which I don't like), and I was in for a shock! This was so delicious and way better than I had expected. The pumpkin flavor shines through. The texture is light and creamy!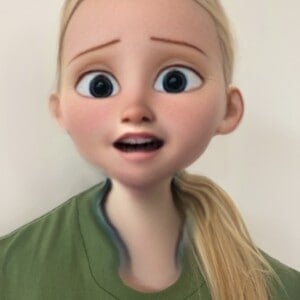 Annabelle
This cheesecake is crazy good!! It has a great texture and an incredible flavor, this is perfect for any pumpkin lover!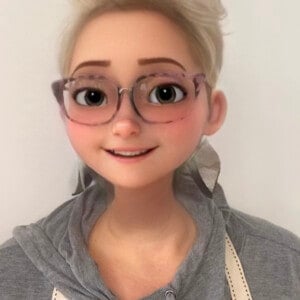 Selena
This is the perfect cheesecake to make if you don't like cheesecake! It's more like a pumpkin pie or mousse than heavy like a cheese. Really light and delightful with all the warm spices you would expect!