Snickerdoodle Cheesecake is a creamy cheesecake with a snickerdoodle cookie crust and a generous sprinkle of cinnamon sugar on top. For another snickerdoodle recipe, try my Apple Pie Snickerdoodles!
Snickerdoodle Cheesecake
I created this Snickerdoodle Cheesecake recipe because we are obsessed with all things snickerdoodle! When trying to replicate the amazing flavor of a snickerdoodle cookie in a cheesecake I knew I wanted it to have two things–amazing creaminess and tons of cinnamon! This recipe does all that and then some.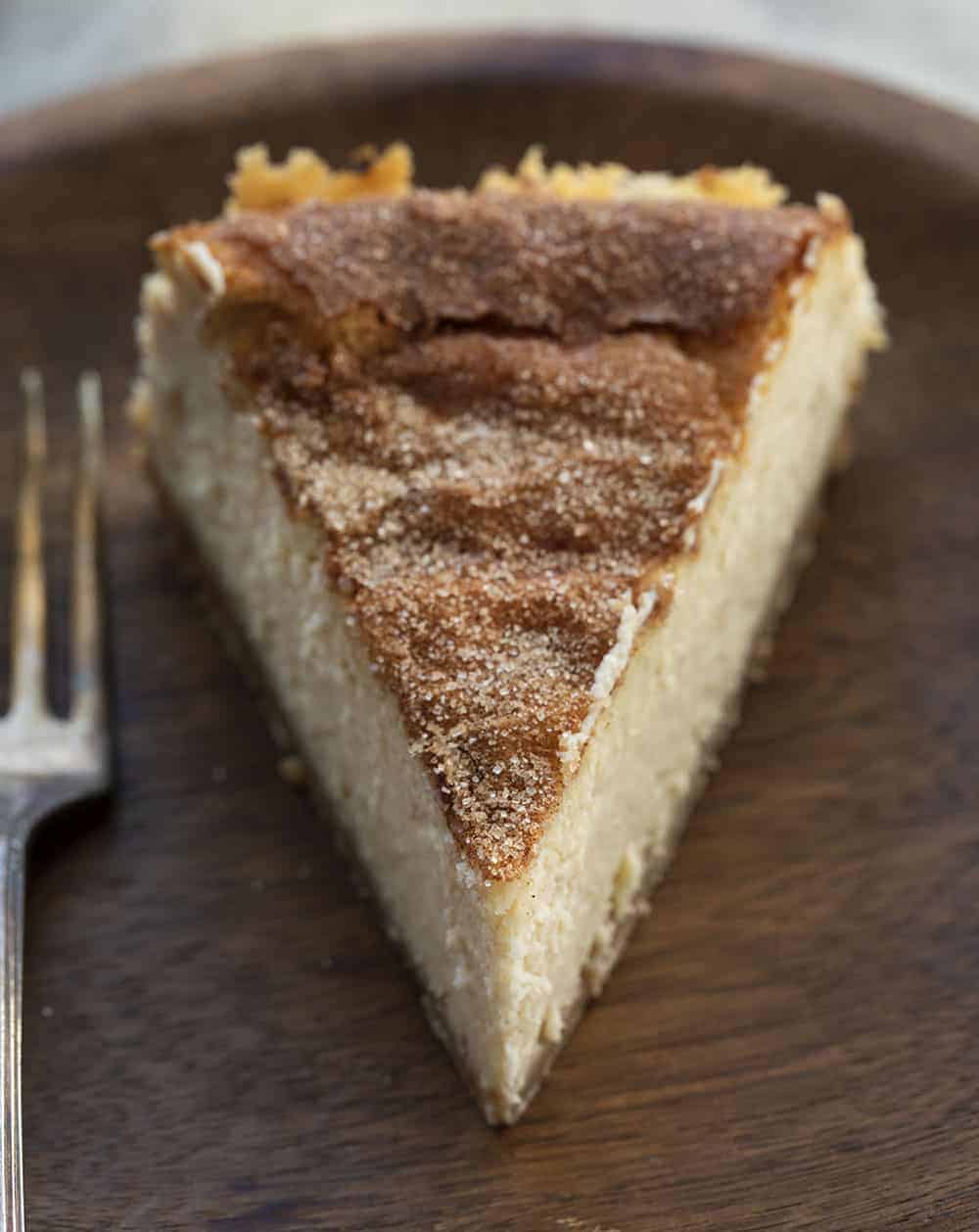 Snickerdoodle Cheesecake Recipe
Because cinnamon was the star of this recipe I wanted to make sure I was using the best quality cinnamon I could get my hands on. And it just so happens that the best cinnamon is one that is easily available at every grocery store! You guessed it, McCormick.
The aroma of pure cinnamon is intensely warm; tasting it delivers a punch of red-hot cinnamon heat. The flavor of pure cinnamon brings warmth to sweet dishes, complexity to savory dishes, and makes every dish a reason to celebrate.
Crust Ingredients (full recipe below)
Snickerdoodle Cookies

–I encourage you to make your own

snickerdoodle cookies

for this recipe. You could half the recipe and use 12 of the cookies. Plus, you would still have a dozen cookies leftover to eat on their own!
Butter
Cheesecake Ingredients
Cream cheese
Sour cream
Granulated sugar
All-purpose flour
Vanilla extract
Ground cinnamon
Eggs
Topping
Granulated sugar
Ground cinnamon

How to Make the Crust
Remember, you can always start by making a homemade batch of snickerdoodle cookies to use for this crust. You will have leftover cookies, but I don't see how that is a bad thing! For fewer leftovers, cut the recipe in half. If you do make the cookies, be sure to let them cool completely before making the crust.
When you crush the cookies, add them to a food processor and process until you have a fine crumb. You could also use a rolling pin to roll over the cookies that are in sealed plastic baggies to get them into fine crumbs. A hammer also works, but just gentle taps!
Combine the crushed cookies and melted butter in a medium bowl until the mixture is combined. When mixing together the ingredients (with a fork), make sure every single bit of the cookies is coated in butter. The butter acts as the binding agent. If using store-bought cookies, you may need to add more butter.
Press the crust into a 9-inch springform pan with your hand or the bottom of a glass to get the crust flattened across the bottom of the pan. Set that aside as you make the snickerdoodle cheesecake filling.

How to Make the Cheesecake Filling
Once you have your cookie crust in the springform pan, it's time to make the filling.
In a large bowl, beat the cream cheese, sour cream, sugar, flour, vanilla, and cinnamon with an electric mixer until smooth.
Stir in the slightly beaten eggs.

How to Make Snickerdoodle Cheesecake
Pour the cheesecake filling into the crust-lined pan, spreading it evenly. Next, in a small bowl, stir together the cinnamon and sugar for the topping. Sprinkle that on top of the cheesecake.
Bake the cheesecake for 40-50 minutes, or until the cheesecake is dark brown. Let it cool in the pan on a wire rack for 15 minutes. Cover the cheesecake and let it chill in the refrigerator for at least 4 hours before serving.

How to Store Cheesecake
Cheesecakes are rich and filling, so even though you may want to eat the entire cheesecake in one sitting, it's not always (if ever) possible. So, how do you store it to eat when you are craving a bite later? One easy way is to cover the cheesecake and store it in the refrigerator for a day or two. If you tightly wrap the cheesecake in plastic wrap or store it in an airtight container, it will last up to 3 days in the fridge.
To freeze a cheesecake:
Let the cheesecake cool completely.
Place the cheesecake (uncovered) in the freezer for about an hour. I suggest that if you are keeping the cheesecake pie in the springform pan, remove the sides of the pan.
After the hour in the freezer, take the cheesecake off the pan (you may have to pry it off with a knife), and wrap it tightly in plastic wrap.
Place the wrapped cheesecake into a zipped freezer bag or wrap it in aluminum foil. Be sure to label and date the cheesecake.

Love Everything Snickerdoodle? Try these Recipes.
Butterscotch Peanut Butter Snickerdoodles
Snickerdoodle Rice Krispy Bars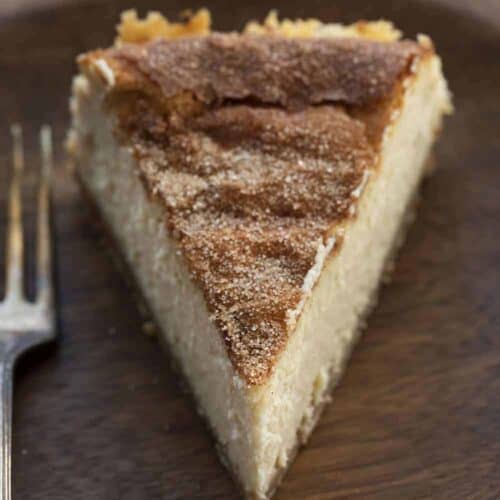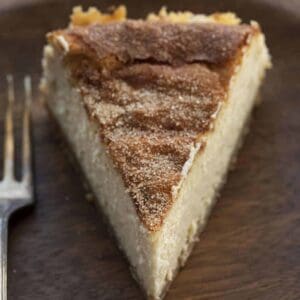 Snickerdoodle Cheesecake
Your favorite cookie in a cheesecake! This Snickerdoodle Cheesecake is a family favorite!
Keyword:
snickerdoodle cheesecake
Ingredients
Snickerdoodle Crust
1 1/2

cups

snickerdoodle cookie crumbs,

about 12 cookies

2

tablespoons

butter,

melted
Snickerdoodle Cheesecake
2

packages

(16 total ounces) cream cheese,

room temperature

8

ounces

sour cream

1

cup

(200g) granulated sugar

2

tablespoons

all-purpose flour

2

teaspoons

vanilla extract

1/2

teaspoon

ground cinnamon

3

large

eggs,

lightly beaten
Cinnamon Sugar Topping
1

tablespoon

granulated sugar

1/2

teaspoon

ground cinnamon
Instructions
Snickerdoodle Crust
Add the melted butter to the snickerdoodle cookie crumbs and, using a fork, mix well. You want every crumb coated in the butter as this will be the glue that holds it together. If you are using store-bought cookies, you may need to add more butter.

Pour the coated snickerdoodle crumbs into a 9-inch springform pan. Pat them flat with your hand and then use a kitchen glass to press flatter. Set aside.
Snickerdoodle Cheesecake
In a large mixing bowl beat cream cheese, sour cream, sugar, flour, vanilla, and 1/2 teaspoon cinnamon with an electric mixer on medium speed until smooth. Stir in the beaten eggs.

Pour the cream cheese mixture into the crust-lined pan, spreading evenly.
Cinnamon Sugar Topping
In a small bowl stir together 1 tablespoon sugar and 1/2 teaspoon cinnamon. Sprinkle with cinnamon-sugar mixture.

Bake for 40 to 50 minutes or until cheesecake is dark brown. Cool in pan on a wire rack for 15 minutes. 

Cover and chill for at least 4 hours before serving.
It was an absolute joy to learn all about the intricacies of cinnamon from my friends at McCormick. I am thankful to partner with a brand that takes quality so seriously!
I recently attended an event that was hosted by the amazing staff and team over at McCormick Spice, I was able to see for myself just how much time and energy goes into making cinnamon. It was fascinating, to say the least!
(Check out this fun video to see how it all comes together)
Thank you for supporting the brands that support us here at iambaker.
This recipe was updated in November of 2020. I changed the crust to be a Snickerdoodle Cookie Crust instead of the cinnamon sugar crust. This small change has made the most AMAZING cheesecake even more amazing!! These are the images from the previous recipe. 🙂