Cheesecake Stuffed Chocolate Chip Cookies take my chocolate chip cookies recipe to a new level of perfection, if I may say so myself. Not only are you getting a soft and chewy cookie, but the sweet cream cheese center makes these cookies over the top good and a perfect snack or dessert. A note from my kids: They said this is the BEST cookie mom has ever made. Hubby said it's on his top list 5 of all cookies… and there are no other chocolate chip cookies on that list!
Cheesecake Stuffed Chocolate Chip Cookies
There is nothing like biting into a warm chocolate chip cookie to make me happy. Imagine my delight after biting into this chocolate chip cookie with a cream cheese center! Yep, I am super happy now! Filled with a sweet creamy center, the combination just makes sense and is SO delicious. It's almost like you get two desserts in one. I can handle that!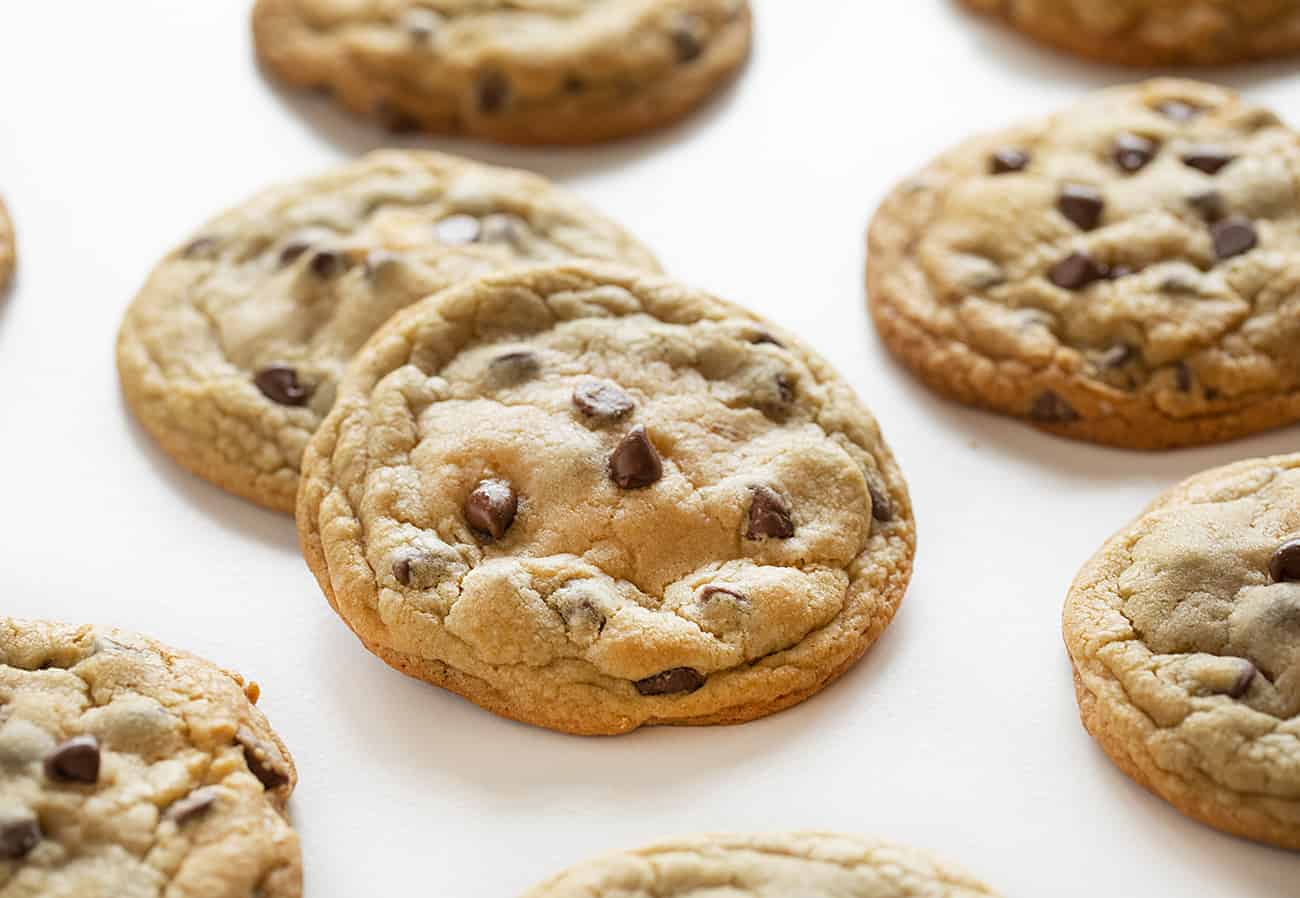 Cheesecake Stuffed Chocolate Chip Cookies Recipe
The only addition I made to my original chocolate chip cookies was to add a cream cheese center. It's like a surprise inside, and I mean a good kind of surprise!
Cookies Ingredients
Cake flour–If you don't have cake flour, you can make your own with my recipe here. It's a matter of taking a cup of all-purpose flour, minus 2 tablespoons that should be replaced with corn starch.
Bread flour
Baking soda
Baking powder
Unsalted butter–Room temperature
Salt
Granulated sugar
Light brown sugar
Eggs–Farm fresh is best, and room temperature for baking. Out of eggs? No problem. Try one of my Egg Substitutes for this recipe!
Vanilla extract
Chocolate chips or chunks
Filling Ingredients
Cream cheese–Room temperature
Confectioners' sugar

How to Make Cheesecake Stuffed Chocolate Chip Cookies
Year after year Chocolate Chip Cookies are rated the most popular by people all over the world. There is something magical about a rich and buttery dough packed with perfect chocolate morsels. Not only does it taste amazing, but it often takes us back to the wonderful memories of childhood. Now, let's step it up a notch by adding a cream cheese center. (I can picture your mouth watering already…) The trick is to make sure the cookie dough seals in the cream cheese center.
Once you have the cookie dough made, chill it for a few hours in the refrigerator or freeze it for an hour. Remove it when you are ready to bake the cookies, making sure to get the dough to room temperature. Meanwhile, preheat the oven to 350°F and mix the cream cheese and confectioners' sugar together in a small bowl. After the dough is at room temperature, take a 1/4 cup ice cream scoop of dough for each cookie and repeat the following for each scoop:
Divide each scoop of dough in half.
Flatten half of the dough onto the prepared baking sheet.
Drop a teaspoon of the cream cheese mixture into the center of the dough.
Place the other half of the dough on top of the cream cheese.
Seal the halves together to keep the cream cheese in the center, but here is the tricky part…be sure to form a hockey puck shape, or tuna can shape, with the dough so the edges don't burn while baking the cookies.
Repeat with the rest of the cookie dough. You should be able to get 14-16 cookies made from this recipe. Bake them for 15-17 minutes, and let them cool before you indulge in your new favorite version of a chocolate chip cookie.

Can You Make These Cookies Ahead of Time?
Yes! There are a couple of options you have for getting ahead of schedule with these cookies. You can make the cookie dough and store that in the refrigerator for up to 3 days. You could also freeze the cream cheese mixture for 3 days before using it. If you want the cookies assembled, that would work, too! Just follow the instructions up to baking the cookies and freeze them for up to 3 months!
Be sure to let them get back to room temperature before baking them. Once baked, store the cookies in a covered container to keep them fresh for three days. If you refrigerate the baked cookies, they are good for up to a week. But, I warn you…once you set these cookies out, they will be gone before you have to worry about storing them.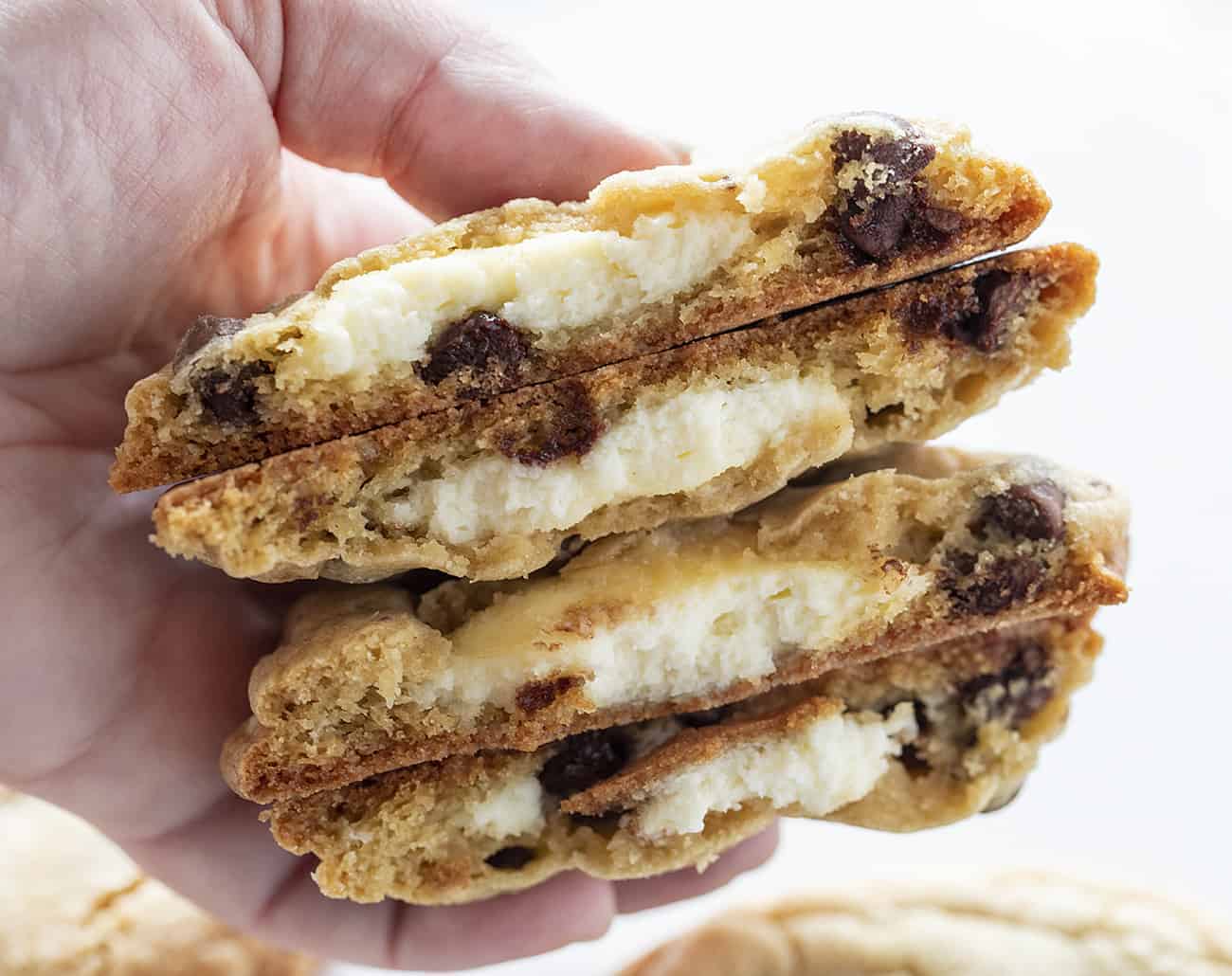 Looking for More Cookie Recipes?
Peppermint Patty Stuffed Chocolate Cookies
Pumpkin Spice Chocolate Chip Cookies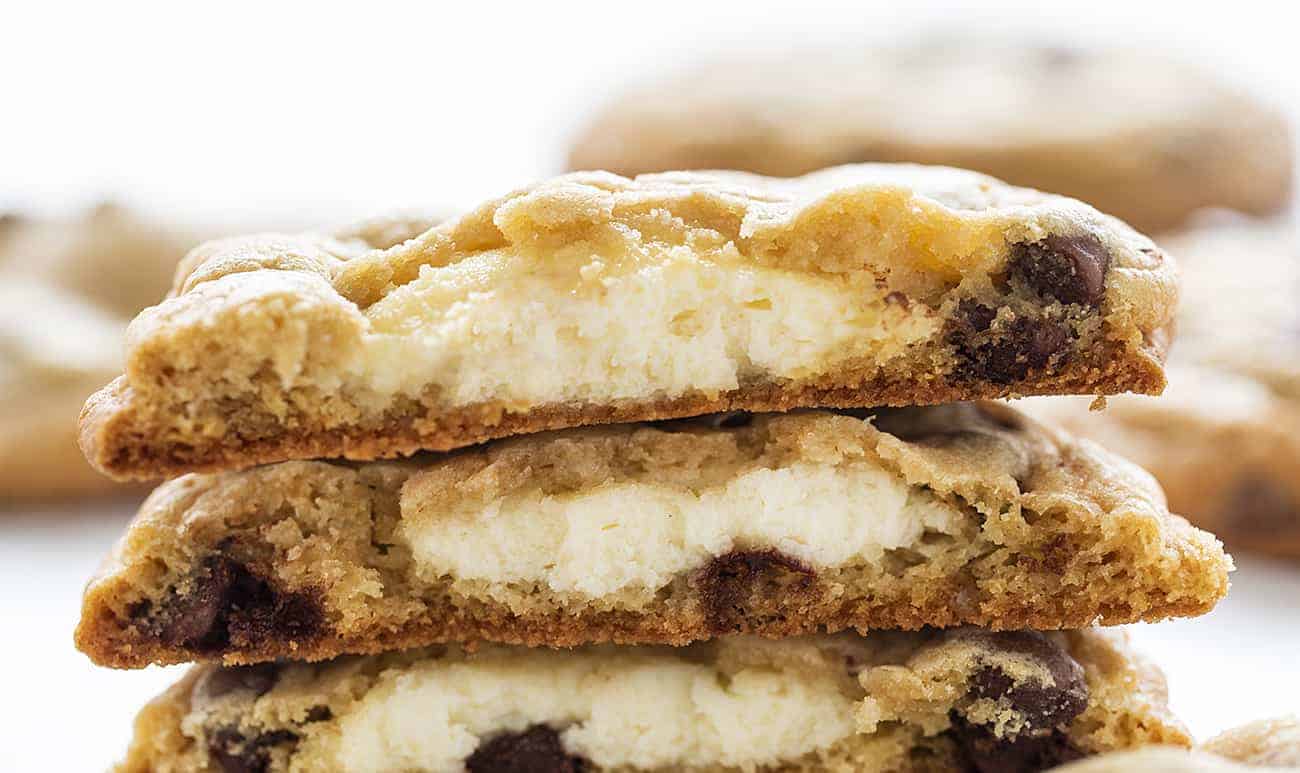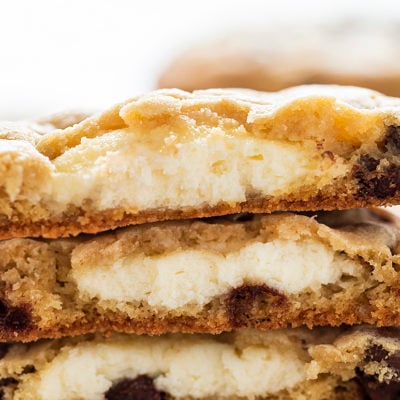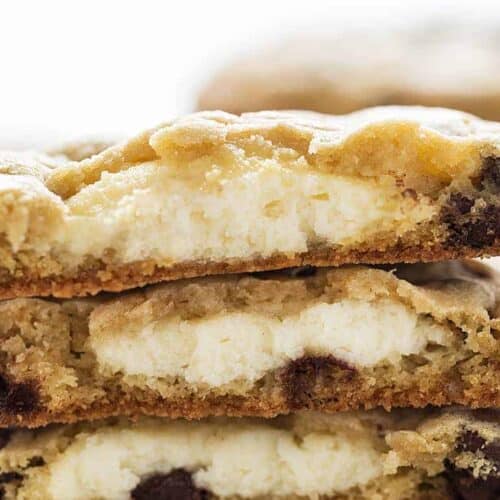 Cheesecake Stuffed Chocolate Chip Cookies
Cheesecake Stuffed Chocolate Chip Cookies are a perfect chocolate chip cookies filled with a cream cheese center.
Ingredients
COOKIES
1 2/3

cups

(208 grams) cake flour

1 2/3

cups

(208 grams) bread flour

1 1/4

teaspoon

baking soda

1 1/2

teaspoon

baking powder

1 1/4

cups

(284g) unsalted butter,

room temperature

1 1/2

teaspoon

coarse salt

1

cup

(200g) granulated sugar

1 1/4

cups

(10 ounces or 225g) packed light brown sugar

2

large

eggs,

room temperature

2

teaspoons

McCormick vanilla extract

16

ounces

(about 3 cups) chocolate chips
FILLING
8

ounces

cream cheese,

room temperature

1/4

cup

confectioners' sugar
Instructions
Sift flours, baking soda, baking powder, and salt into a bowl and set aside.

Using a mixer with a paddle attachment, cream butter and sugars until light and fluffy, 3 to 5 minutes.

Reduce speed and add eggs one at a time, then add vanilla.

Slowly add dry ingredients, mixing until just combined.

Fold in chocolate chips by hand. Refrigerate dough for 4 hours or freeze for one hour.

When ready to bake, preheat oven to 350°F. Remove dough from refrigerator or freezer and allow to come to room temperature.

In a medium bowl, beat the cream cheese until smooth. Add in confectioners' sugar and beat until well combined.

Scoop 1/4 cup of the dough for each cookie, dividing each in half.

Put about a teaspoon (sometimes I use more!) of cream cheese filling on the bottom half of each cookie.

Layer the top part of each cookie over the filling, sealing the edges. Keep the cookies in more of a hockey puck shape so the sealed edges don't get too thin and burn while baking.

Bake for 15-17 minutes. The cookie should not appear shiny (wet) on top.

Cool on wire rack.
Did you make this recipe?
Thank you for making my recipe! You took pictures, right? Well go ahead and post them on Instagram! Be sure to mention me @iambaker and use the hashtag #YouAreBaker.