Creating a decadent Chocolate Caramel Cheesecake Cake has never been easier or tastier! Looking for the world's best from-scratch Cheesecake Recipe? <— Here you go!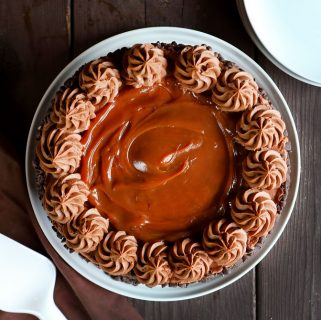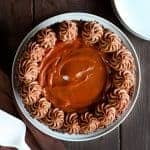 The Perfect Chocolate Cake
Creating a decadent Chocolate Caramel Cheesecake Cake has never been easier or tastier!
Keyword:
Chocolate Caramel Cheesecake Cake, Perfect Chocolate Cake
Ingredients
1 3/4

c

210g all-purpose flour

2

tsp.

McCormick pure vanilla extract

2

extra-large eggs

at room temperature

1/2

c

112g vegetable oil

1

c

240g buttermilk (room temperature)

1

tsp.

kosher salt

1

tsp.

baking powder

2

tsp.

baking soda

3/4

c

90g good unsweetened cocoa powder

2

c

400g granulated sugar

1

c

237g freshly brewed hot coffee (I use decaf)
Instructions
Sift the flour, sugar, cocoa, baking soda, baking powder, and salt into the bowl and mix until combined.

In another bowl, combine the buttermilk, oil, eggs, and vanilla.

With the mixer on low speed, slowly add the wet ingredients to the dry. With mixer still on low, add the coffee and stir just to combine, scraping the bottom of the bowl with a rubber spatula. Pour the batter into two 8-inch round prepared pans and bake for 30 to 40 minutes at 350°F, until a cake tester or toothpick comes out mostly clean (not wet).

Cool in the pans for 30 minutes, then turn them out onto a cooling rack and cool completely.
Recipe Video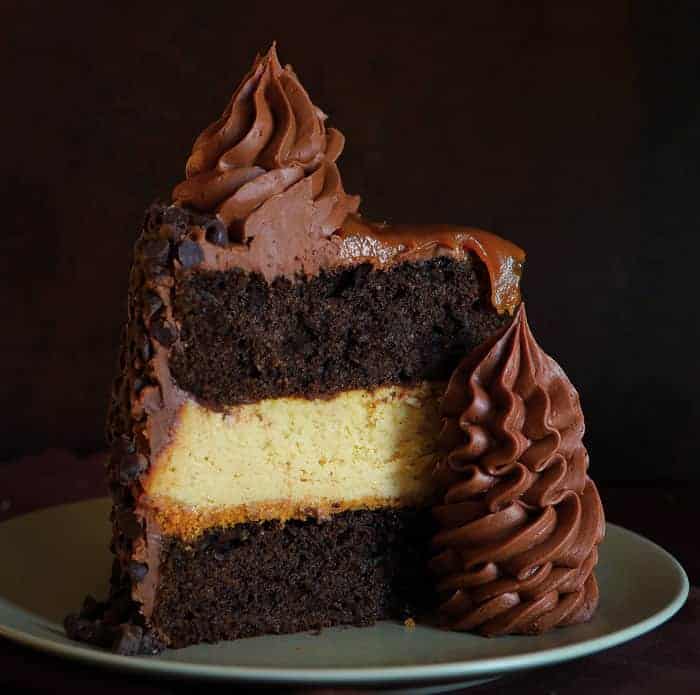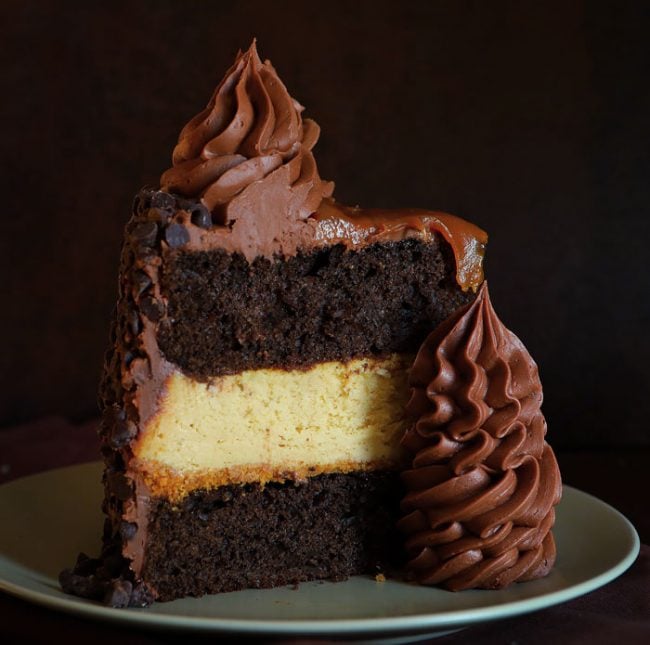 Chocolate Caramel Cheesecake Cake
Look familiar? I took not only my inspiration for the design from the famous Cheesecake Factory cheesecakes but the flavor as well. This was made using the new Cheesecake Factory at Home Cheesecake Mix. But you could use the same idea to make it from scratch too!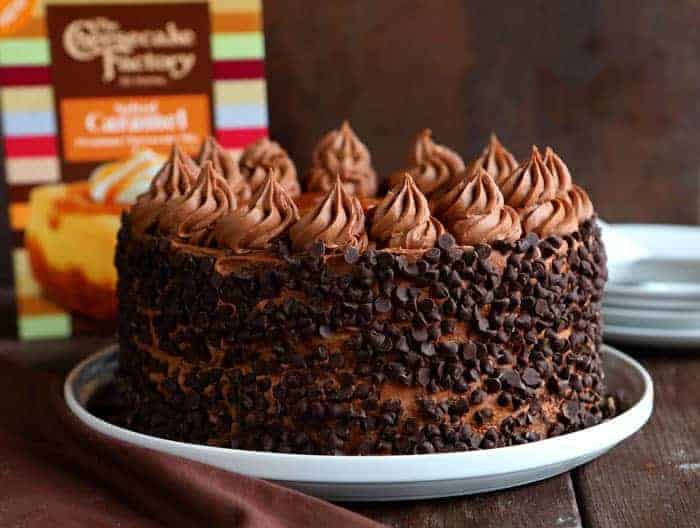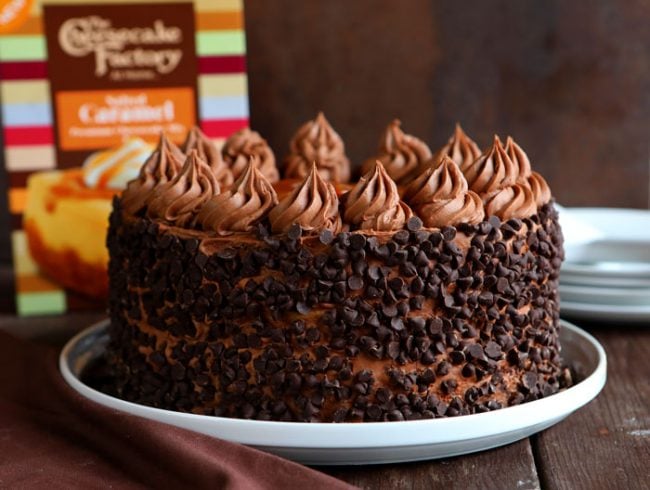 While I have seen the more common pairings of Carrot Cake Cheesecake Cake and Red Velvet Cheesecake Cake (which are my go-to desserts when I go to The Cheesecake Factory!) I wanted to try something a little different. This combination of flavors is not currently on their menu, but maybe it will be!
To make this cake you will need:
The Cheesecake Factory at Home Salted Caramel Cheesecake mix
chocolate cake recipe (below)
1-2 cups mini chocolate chips
pastry bag and 1M (open star) tip
small offset spatula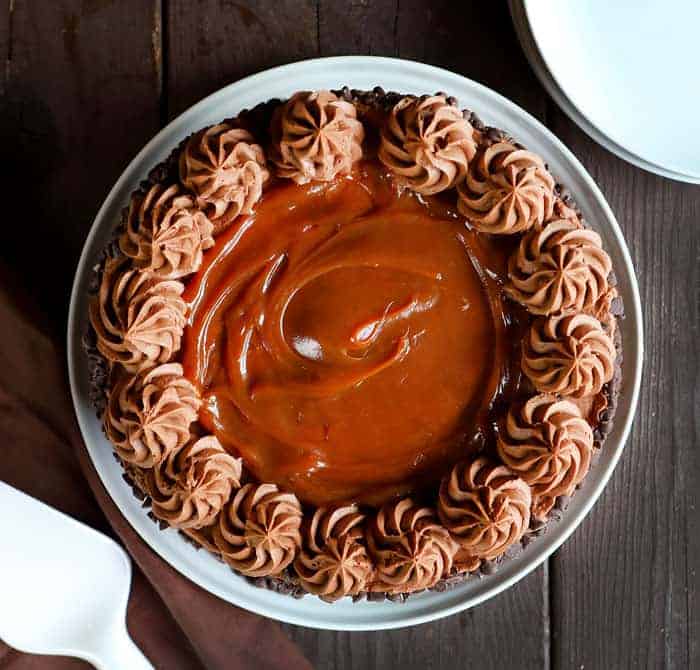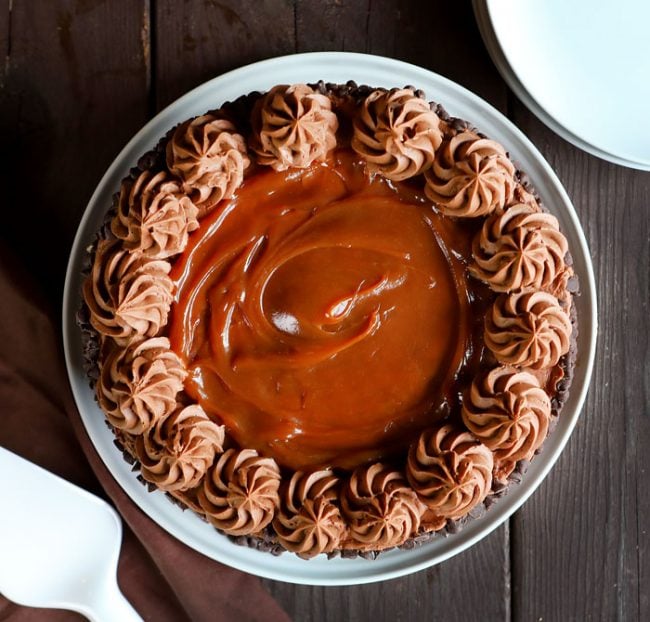 Begin by preparing Salted Caramel Cheesecake according to directions. (Reserve the caramel sauce until after the cake is assembled.) I did follow the Chef's Notes to make an EXTRA creamy cheesecake, however, both versions are seriously delish. I chose to make it in a 7-inch round springform pan. Allow cheesecake to chill for at least a few hours before assembling the cake.
Prepare chocolate cake in two 8-inch round cake pans. I used a large ring (a 7-inch round cookie cutter) to trim off edges of the cakes and make sure the cheesecake and cakes were exactly the same size.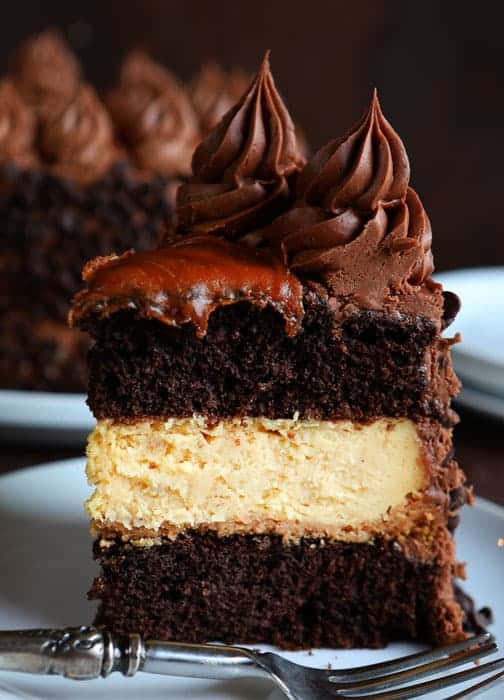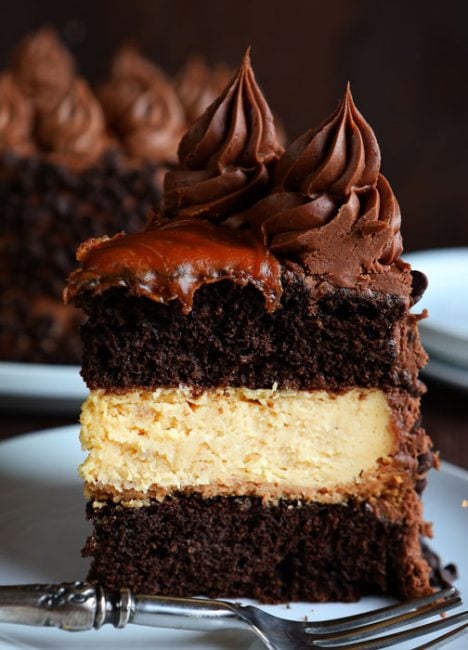 Prepare chocolate buttercream.
Place one layer of chocolate cake on cake stand. Set the salted caramel cheesecake cake right on top. Place the final layer of chocolate cake on top of that. You should now have 3 layers.
Cover cake with a crumb coat of chocolate buttercream.
Press mini chocolate chips into the side of the cake making sure to cover the sides completely.
Pipe out dollops on top of the cake around the edge.
Open the caramel pack from The Cheesecake Factory at Home Cheesecake and spread around the top of the cake. (I used an offset spatula)
Chill until ready to serve.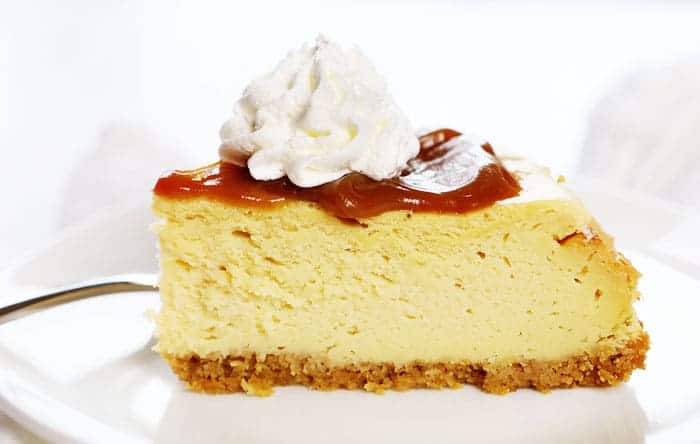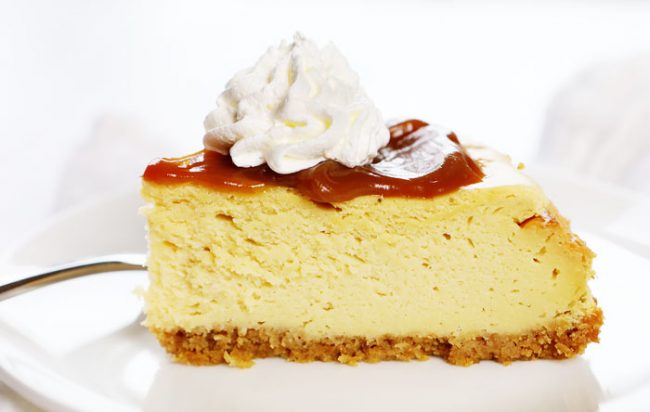 As much as I am obsessed with this Chocolate Caramel Cheesecake Cake, I want you to know that the Salted Caramel Cheesecake is amazing on its own!