"MOM STOP!!!"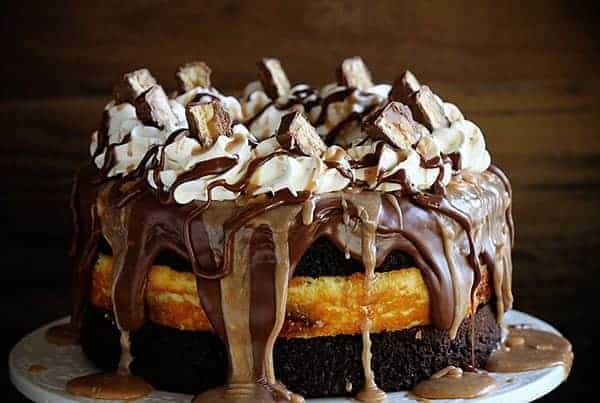 "What? What is it?"
"IT'S SPILLING EVERYWHERE!"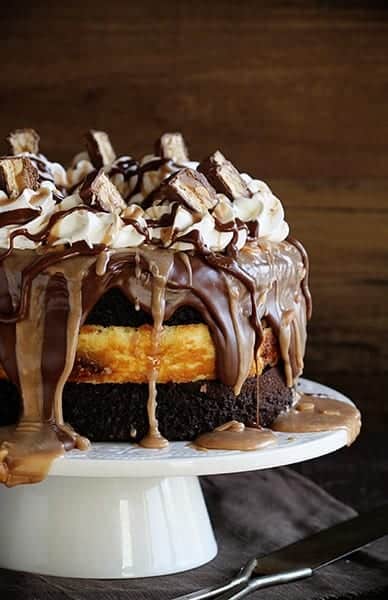 Yes, it most definitely is.
But I could not help myself. It was magical, that spilling forth of sugary sweet rich chocolate ganache and Snickers® frosting.
Yes, I said Snickers® frosting. Poured on a cake. A cake with a Snickers® cheesecake inside.
Sandwiched between layers of dark chocolate cake.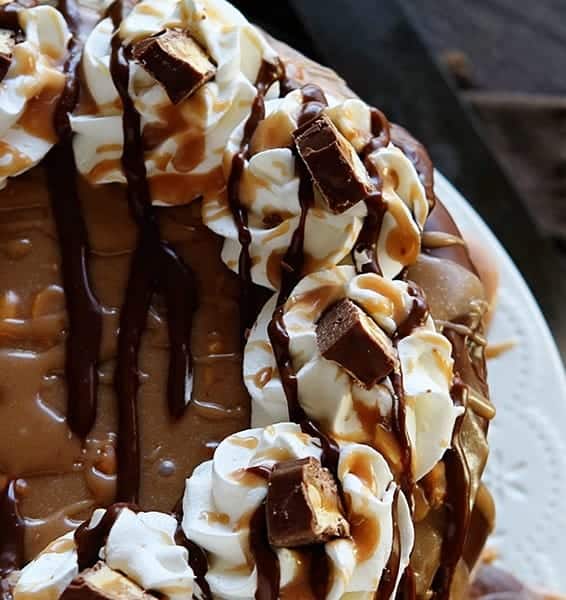 Then topped with whipped cream and more chocolate ganache and Snickers® frosting.
I think this cake ranks right up there with one of the most over-the-top I have ever made. And I have made a few my friends.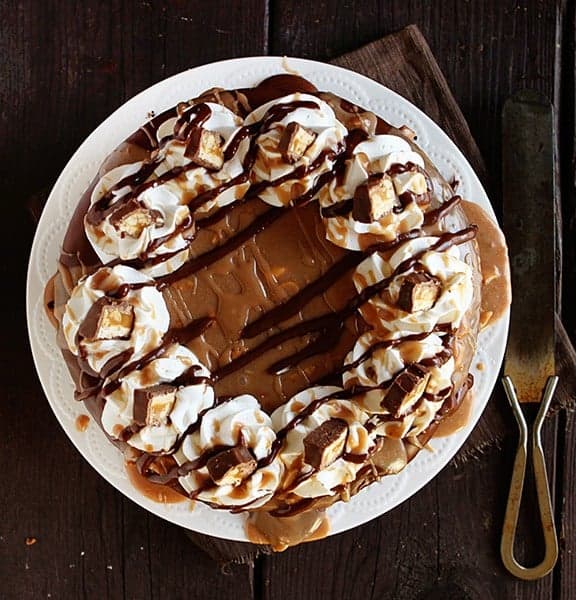 This particular one was inspired by my friend Aimee of Shugary Sweets. She makes the most amazing Cheesecake Cakes! (I believe the first one I ever made was actually more than 2 years ago – White Chocolate Cheesecake Milky Way Cake-, but not nearly as pretty as anything others are making!)
Recipe adapted from Snickers® Bar Cheesecake Pie, Snickers® Frosting, Perfect Chocolate Cake.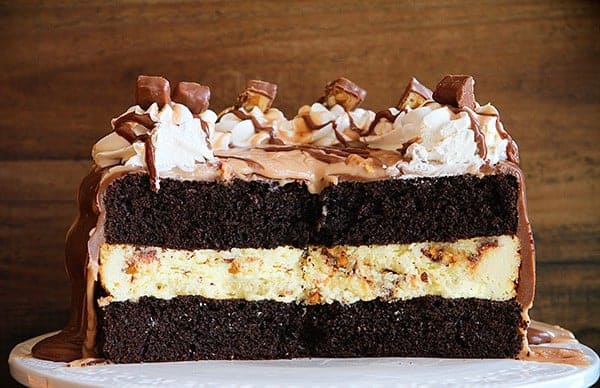 There is a heck of a lot going on with this Snickers® Cheesecake Recipe, but it actually all went pretty smoothly. (Also, feel free to use a box mix for the chocolate cake; I recommend a Dark Chocolate)
Here is how to assemble this cake:
Prepare Snickers® Cheesecake and allow to cool for a couple hours.
Prepare cake and allow to cool for at least one hour. (30 minutes in freezer)
Prepare ganache and immediately after make the Snickers® frosting.
Place one 8-inch layer of chocolate cake on cake stand. Carefully place cheesecake on top of that. Set other layer of 8-inch cake on top of cheesecake.
Pour warm ganache over cake and allow to spill over the sides. This is a THICK ganache: if that bothers you at all feel free to add milk or heavy cream, one tablespoon at a time, to reach your desired consistency.
Right after you have poured the ganache, gently spoon the Snickers® frosting over the cake. This is much thinner and will run over the sides faster, so go slow and get a feel for how you want the cake to look.
Using an open star tip, pipe out dollops of whipped cream around the edge of the cake.
Using a fork (or a piping bag with a very small round tip) drizzle more ganache and frosting over the cake.
Insert a piece of candy bar into the top of each whipped cream dollop. Chill until ready to serve.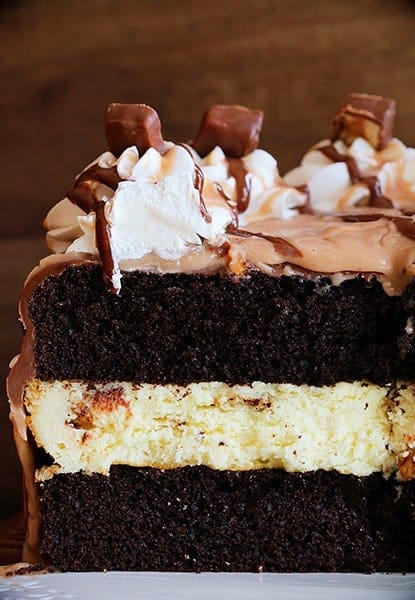 You will have some ganache and Snickers® frosting left over, but I have a recipe coming up that I think will be the perfect use for those leftovers. Just in case I don't get the posted in the next couple of days here are a couple of ways to use it:
ice cream
any cake
with a spoon
I am here to help folks.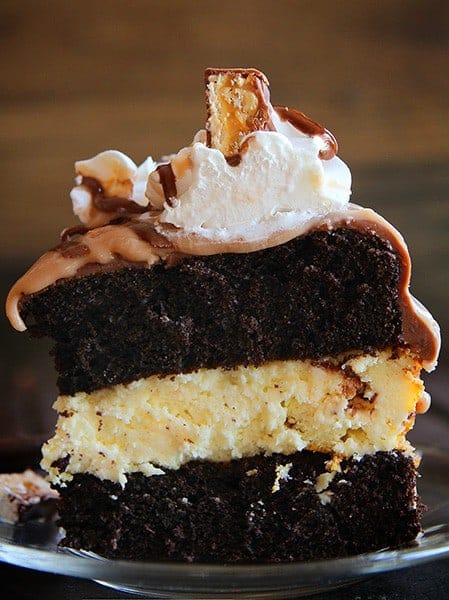 This cake is seriously amazing. I know I say that all the time, but that's because I can't tell a lie. 😉