Chocolate Chip Pancakes are a super fun way to jazz up any breakfast! I love this recipe with fresh fruit as it adds a pop of color and flavor to this super sweet pancake! Looking for other amazing breakfast options? Try these Glazed Donuts, Apple Fritters, or Blueberry Breakfast Cake!
Chocolate Chip Pancakes
This is a fantastic basic pancakes recipe with the chocolate chips mixed right in. I love using a mini-chocolate chip in my recipe but you could certainly use whatever size morsel you have on hand! I chose this recipe very specifically as it does not use buttermilk. We find that when making buttermilk pancakes they rise extra high (which is amazing). But when you are adding chocolate chips to a buttermilk batter, they have a tendency to all fall to the bottom and glop together. This recipe doesn't rise as high and is a thick batter, so the chocolate chips stay in place beautifully!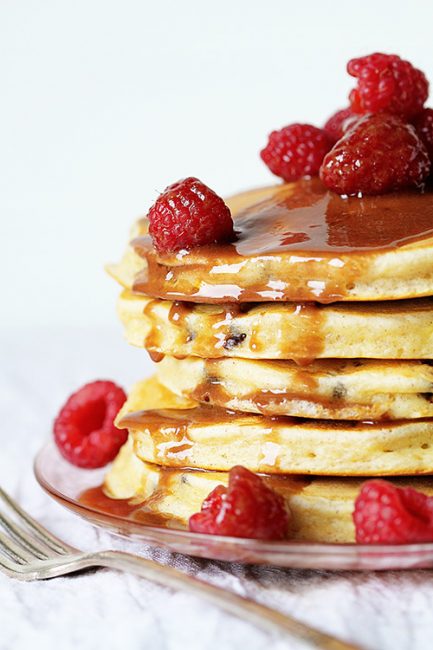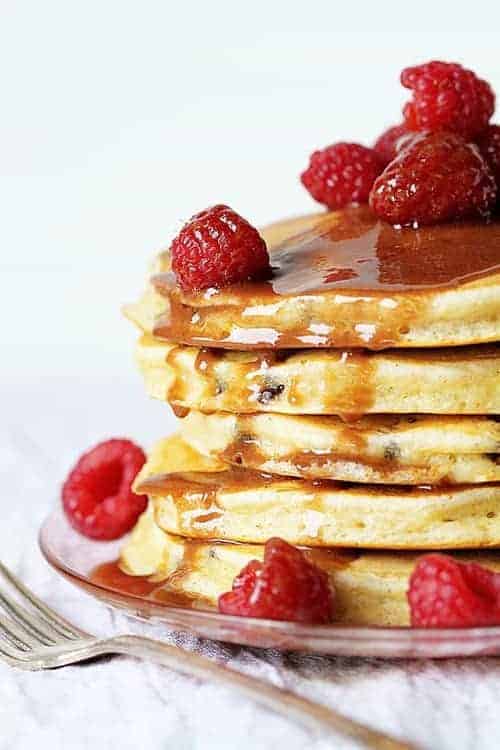 How to Make Chocolate Chip Pancakes
Whisk together your dry ingredients in a medium bowl.
flour
baking powder
sugar
salt
Now melt your butter and set it aside to cool for a moment.
Add your eggs and milk to the flour mixture and whisk until mostly incorporated. Now add in the melted butter. Stir completely. If you need to switch to a spatula you sure can. Finally, add in the mini-chocolate chips.
Prepare a nonstick skillet or griddle with a little butter that has been set to medium-low heat. Add ¼ cupfuls of batter and cook until bubbly on top and golden on the bottom, about 3 minutes. (Be sure to test your first batch as some griddles cook faster than others.) Flip and cook until golden on the bottom, about 2 more minutes.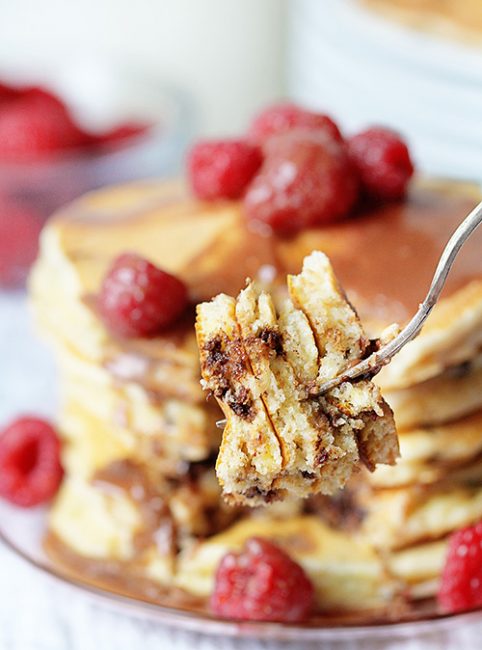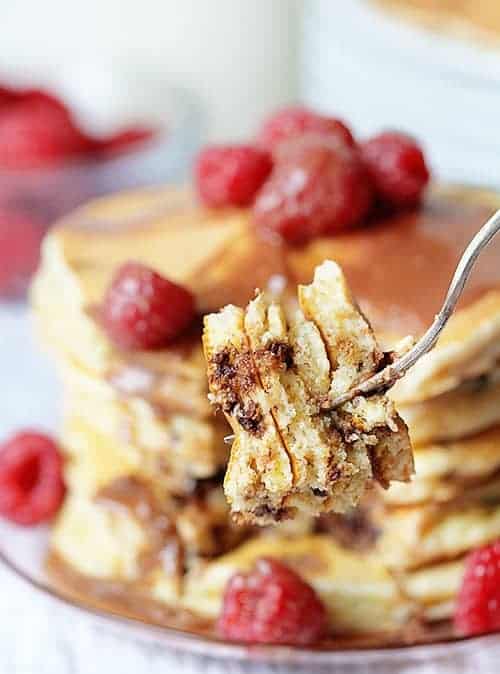 What to Serve with Chocolate Chip Pancakes
My all-time favorite way to eat pancakes is with butter. Lots and lots of butter. The syrup I can give or take… but butter is a must. However, my kids love syrup so that is always on the table during breakfast!
I have not specified the fruit in this recipe at all, but I highly recommend adding something with a bit of acidity in it, or at the very least a fruit with a little tang. Oranges would be ah-mazing, lemon, some apples, some blueberries or blackberries. You can really (and you really should) test to your heart's content.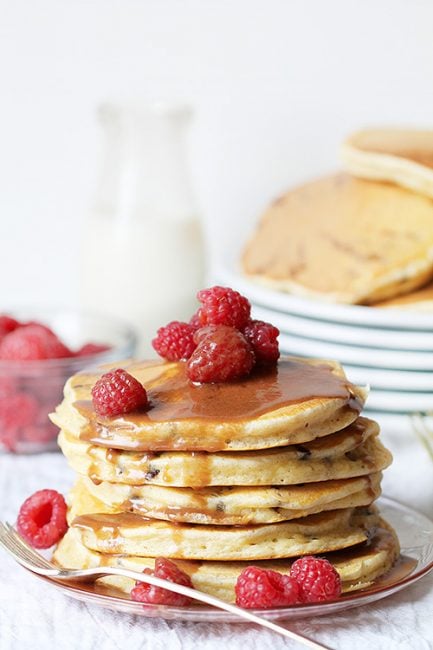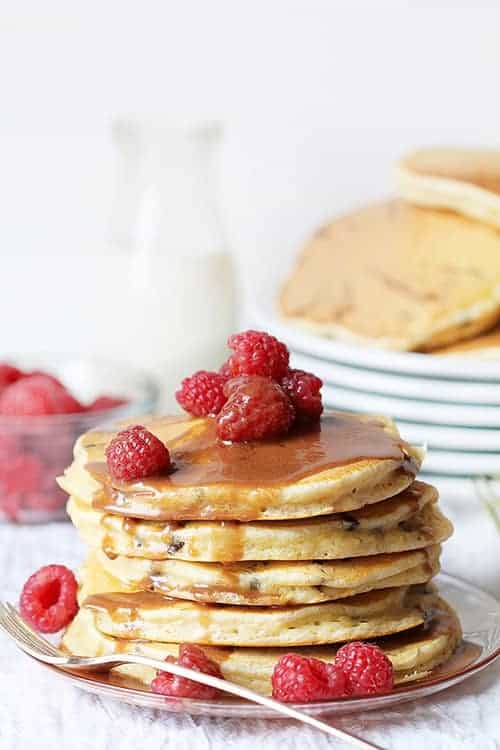 I prefer my chocolate chip pancakes to have fewer chocolate chips. Sounds weird, but I love pancakes so much, I like to be able to taste them! When you have too many chocolate chips the only thing you can taste is chocolate.
Looking for More Pancake Recipes?
Strawberry Cheesecake Pancakes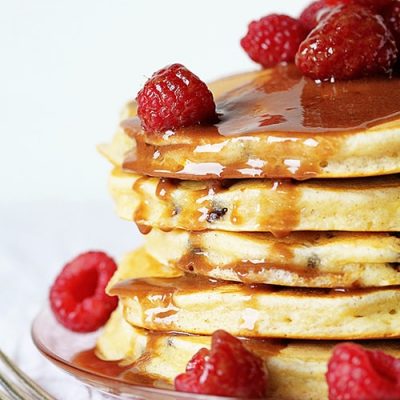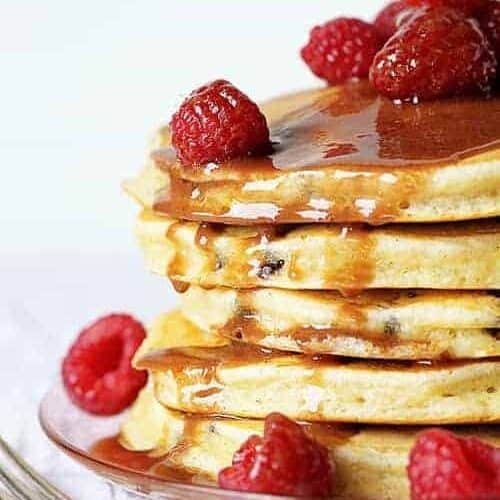 Chocolate Chip Pancakes
Such a fun way to jazz up pancakes in the morning!
Ingredients
Chocolate Chip Pancakes
3

cups

all-purpose flour,

stirred or sifted before measuring

2

tablespoons

baking powder

½

cup

(100g) granulated sugar

1

teaspoon

kosher salt

3

large

eggs,

room temperature

2

cups

milk

¼

cup

melted butter

¼

cup

mini chocolate chips
Instructions
Chocolate Chip Pancakes
Sift together flour, baking powder, sugar, and salt. (Do not skip this step! You do not want lumpy pancakes.)

In a separate bowl, whisk together the eggs and milk; add to flour mixture, stirring only until smooth.

Add in melted butter. If the batter seems too thick to pour, add a little more milk.

Lastly, add in mini chocolate chips. I prefer less, but you can add as many as you prefer.

Cook on a hot griddle (about 300 degrees) for 2-3 minutes. Serve immediately.
Did you make this recipe?
Thank you for making my recipe! You took pictures, right? Well go ahead and post them on Instagram! Be sure to mention me @iambaker and use the hashtag #YouAreBaker.