Using your sourdough starter, you can have light and fluffy Sourdough Pancakes ready to serve for a breakfast that will have everyone jumping out of bed! These pancakes are easy to make and a perfect way to use up that discard sourdough starter! If you need a non-sourdough pancake recipe, try my Buttermilk Pancakes!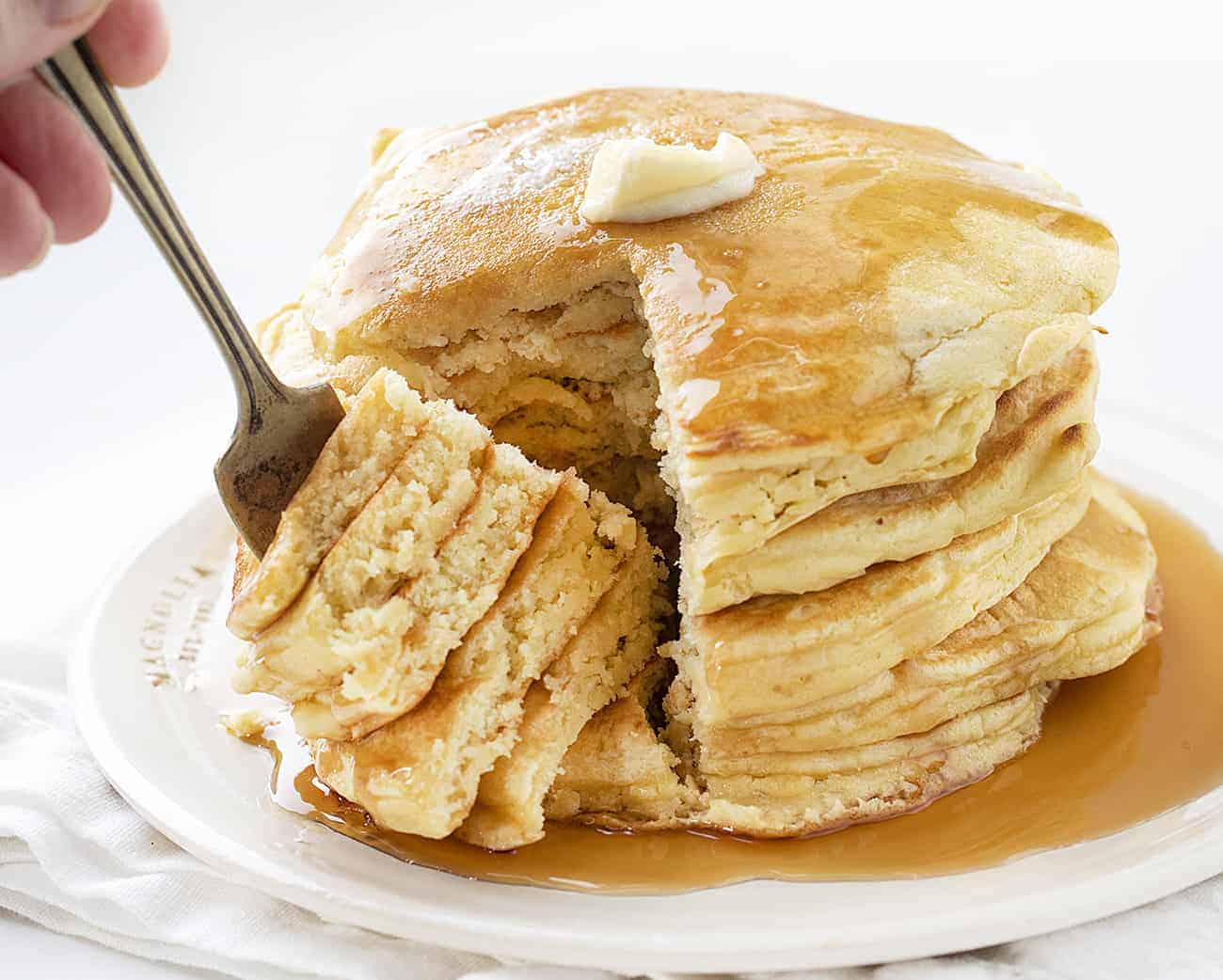 Sourdough Pancakes
Pancakes mean lazy Saturday mornings and family breakfast time. But, these Sourdough Pancakes don't just have to be made on the weekends. The batter is easily put together, and since you probably have sourdough starter discard ready to be used, this would be the perfect recipe for that. Plus, I will tell you how to freeze the extras to enjoy anytime you want! With just a hint of that sourdough tang, these pancakes can be topped with your favorite pancake toppings.
TASTE: Just a word to the wise, these taste like pancakes from your favorite restaurant. Thick, fluffy, soft, and delicious! They do NOT have a sour flavor, and most likely no one would know you used your sourdough starter when making them!

Sourdough Pancakes Recipe
This recipe can be made using either your fed sourdough starter or sourdough discard. So, don't throw away your leftover sourdough starter. Whip up these delicious pancakes in no time!
Butter – Salted or Unsalted will work, but if you are using salted you may want to lessen the amount of salt added.
Milk – Whole milk is best, however, when tested with skim this recipe also worked. If you are using skim I recommend using FED Sourdough Starter
Vanilla extract -If you don't have vanilla you can substitute with an equal amount of maple syrup right in the batter
Sourdough starter -Can start using discard day 3!
Flour -I used unbleached all-purpose but whole wheat and bread flour will also work well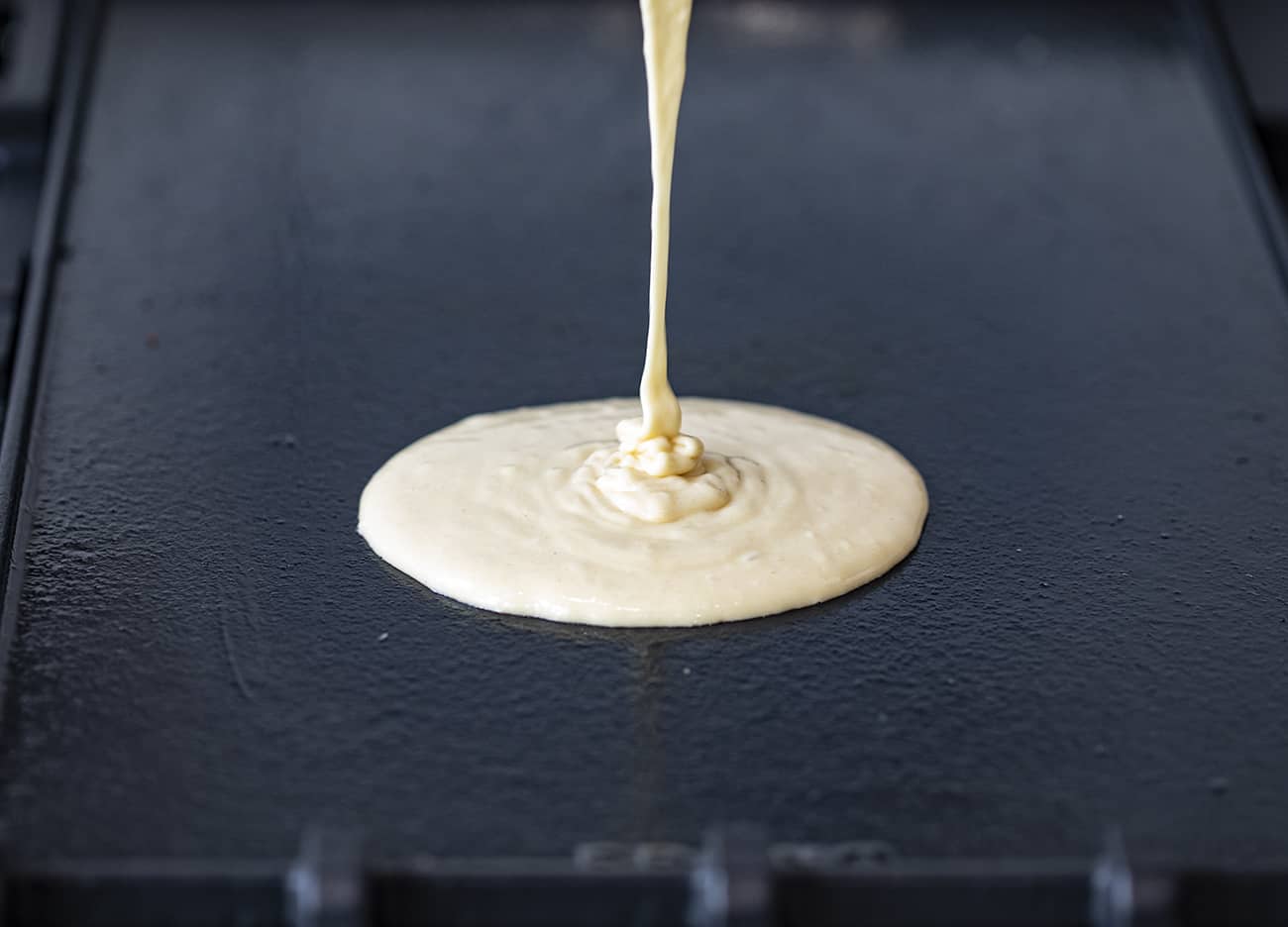 Once you have the batter ready to go, heat up your griddle. If you think the batter is too thick, add one teaspoon of milk at a time until you get your desired consistency. However, I do recommend testing one pancake before adding additional milk.
Use a measuring cup (I used a 1/3 cup) to pour the batter onto the hot griddle and cook for 2-3 minutes on one side. Flip over the pancakes and cook for an additional 1-2 minutes on the other side. You are looking for golden brown, not burnt. (My first pancake is usually burnt, it always takes me a bit to get the perfect temperature and timing.)
Serve warm with your favorite pancake toppings!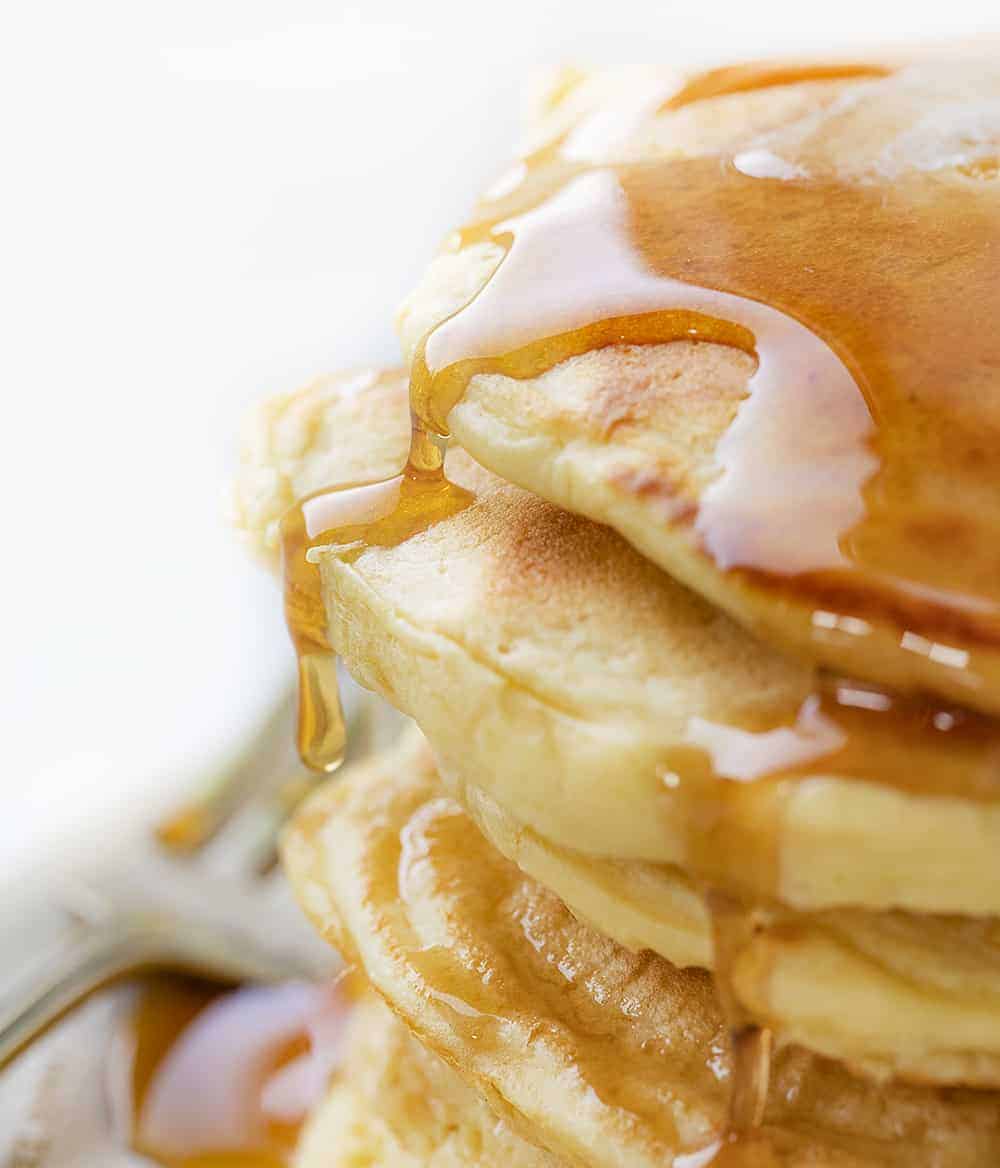 Can I Freeze Sourdough Pancakes?
Yes, you can definitely freeze pancakes. In fact, I like to double or triple the recipe when I have the time just to make extra for the week!
To freeze pancakes, let them get to room temperature. Then, place the pancakes individually on a baking sheet to put in the freezer for about 30 minutes. (This is so they don't stick together when you pack them in a freezer bag.)
After they are slightly frozen, put them in a labeled sealable freezer bag. Be sure to include the date and what kind of pancakes are in the bag. They will last up to three months.
When you are ready to enjoy the pancakes, just take as many as you need out of the freezer and microwave them for about a minute.
PRO TIP: To make the edges a little crisp, pop them in the toaster for a bit. Once you see how easy and tasty this is, you will definitely make extra sourdough pancakes next time!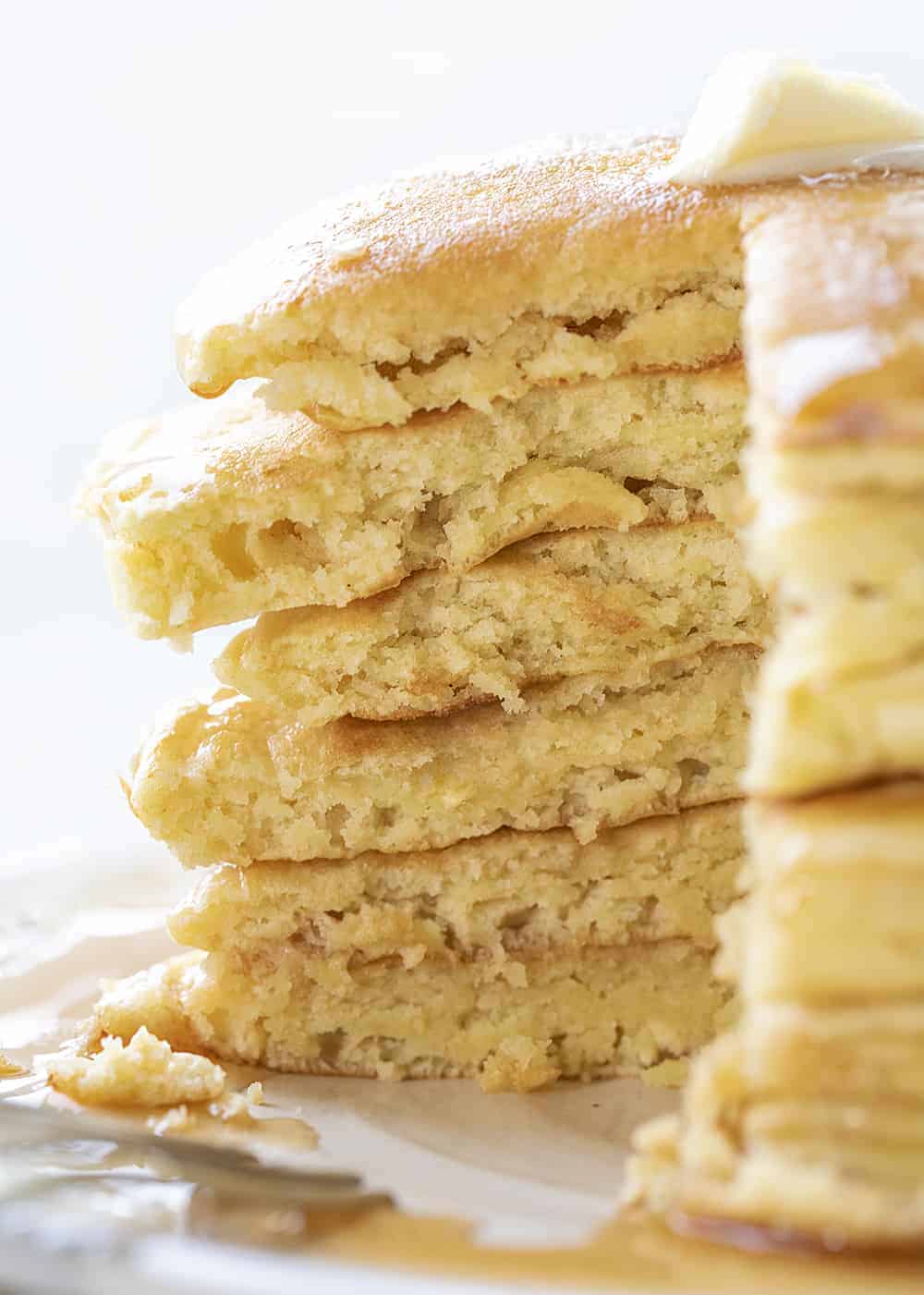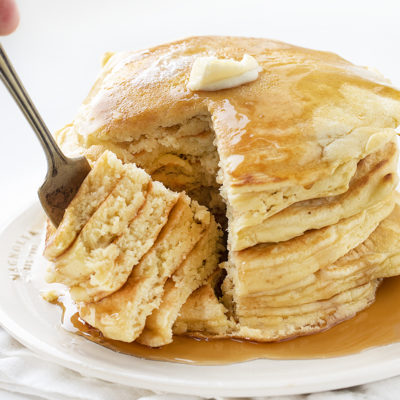 Sourdough Pancakes
Use your sourdough starter to have light and fluffy sourdough pancakes any time!
Ingredients
¼

cup

(4 tablespoons or 57g) butter,

melted and cooled slightly

2

large

eggs,

room temperature

1

cup

(245g) milk,

room temperature (I like whole milk, but any % will work)

1

teaspoon

vanilla extract

1½

cups

(341g) sourdough starter,

discard or fed

1½

cups

(187.5g) all-purpose flour,

(can also use bread or whole wheat flour)

1

teaspoon

baking soda

1

teaspoon

baking powder

1

teaspoon

salt
Instructions
Preheat the griddle. (We like anywhere between 325°F and 350°F)

In a large bowl, whisk together the butter, eggs, milk, vanilla, and sourdough starter until combined.

Whisk in the remaining ingredients one at a time (the flour, baking soda, baking powder, and salt). The batter will be fairly runny. (It will puff up, don't worry!)

Once the griddle is hot, gently stir the pancake batter and use a 1/3 measuring cup to pour the batter onto the grill. (If the batter is too thick, add 1 teaspoon of milk at a time until you reach your desired consistency.)

Cook the pancakes for 2-3 minutes, and then flip them over, cooking them for 1-2 more minutes. Timing will depend on your griddle.

Serve warm with your favorite toppings.
Did you make this recipe?
Thank you for making my recipe! You took pictures, right? Well go ahead and post them on Instagram! Be sure to mention me @iambaker and use the hashtag #YouAreBaker.