Four layers of rich chocolate cake, the ultimate whipped chocolate buttercream, Heath candy bars, and caramel sauce combine for one of the best cakes you will ever try. My Chocolate Heath Bar Cake is a keeper!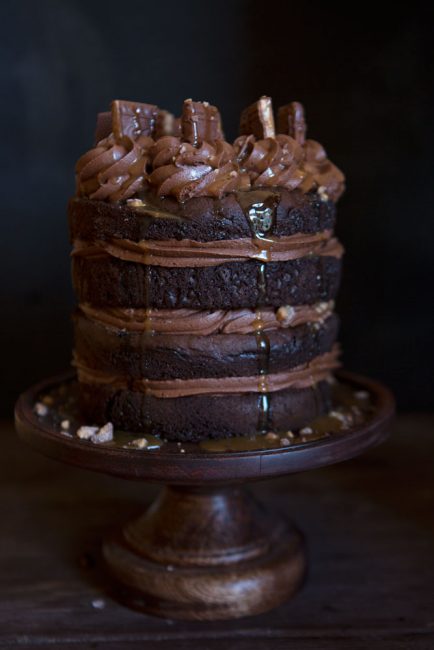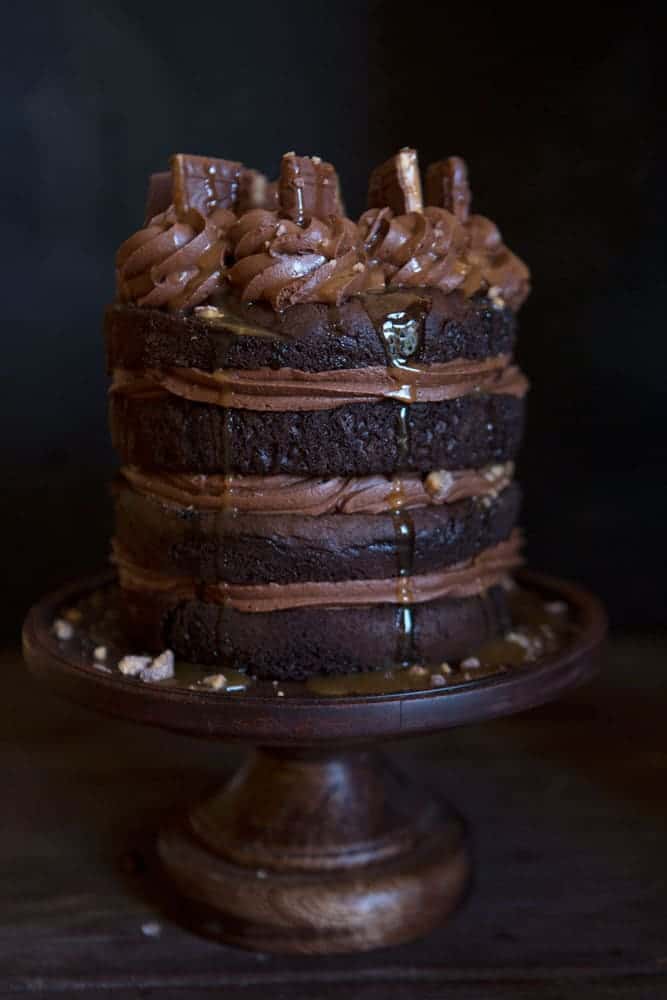 To make this cake you will need:
Chocolate cake recipe – prepare cake in two 6-inch round cake pans
4 Heath candy bars
Heath chips (8-oz bag)
store bought caramel (can use homemade)
pastry bags (my favorite is Fat Daddio)
#808 decorating tip (see how I store my tips here)
cake stand (see my cake stands here and here)
rotating cake stand (optional)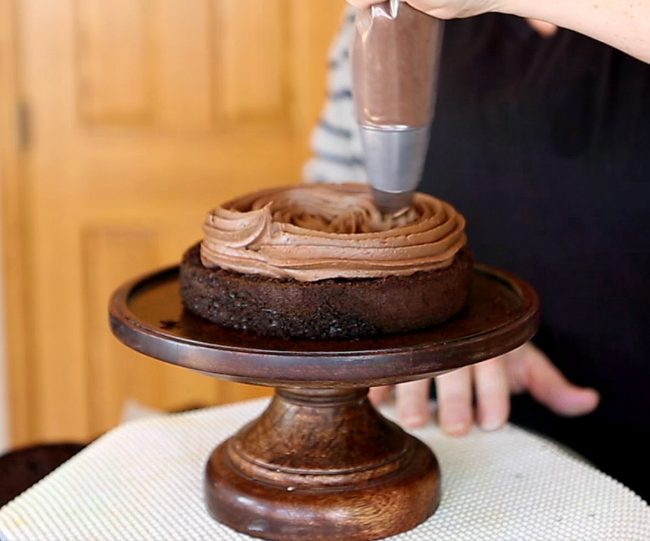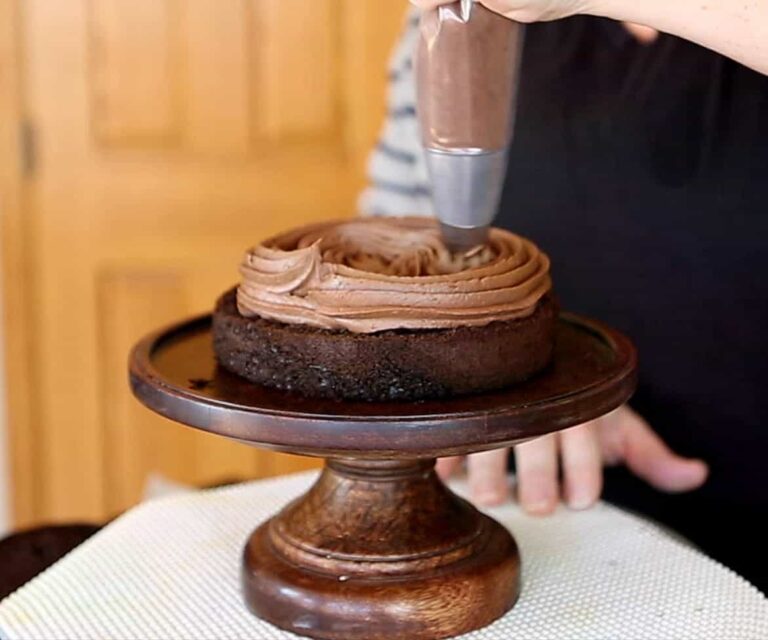 Bake chocolate cake in two 6-inch round cake pans. Cakes will be very tall. (If your cake batter fills the pan more than half way, it MAY spill over while baking. Feel free to divide the batter up between 4 pans.)
Prepare whipped chocolate buttercream. Place all buttercream into pastry bags to store until ready to assemble cake.
Using a cake leveler or a serrated knife, level the cake. (Just remove any dome) Then divide the cake into two layers. Repeat this with other 6-inch cake. You should now have 4 layers of chocolate cake.
Place first layer on the cake stand. Using a #808 pastry tip, pipe chocolate buttercream onto cake.
PRO TIP: When building a naked layer cake, be sure to NOT go all the way to edge of the cake with frosting on the bottom layer. The weight of the other layers will naturally press down on the frosting and it will spill out over the sides if too close to the edge.
Break up one Heath bars into about 5 pieces and press into the frosting. This is going to help stabilize the cake.
Cover with Heath chips.
Add next layer of chocolate cake. Cover with heath chips. (You can also drizzle the caramel on each layer if you want more sweetness!)
Repeat this with all other layers of cake making sure to keep an eye on if the cake is level or not. (If it seems unlevel, just use your hand to press the cake down in high spots.)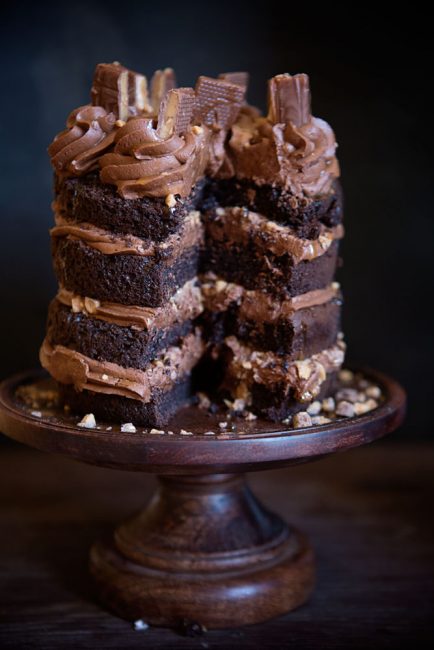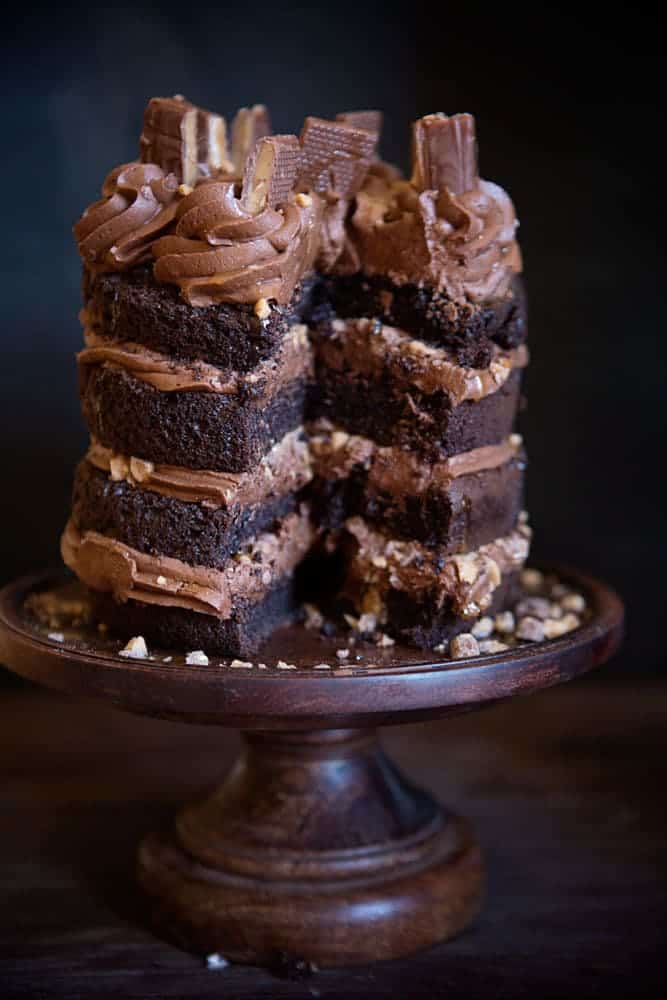 When you are done stacking the cake, you can now pipe the frosting swirls on top. Simply hold your bag fitted with the #808 tip at the edge of the cake and apply pressure. Move your bag around and then release pressure. Repeat around the top of the cake.
Drizzle caramel syrup over entire cake.
Sprinkle with Heath chips. As many as you would like!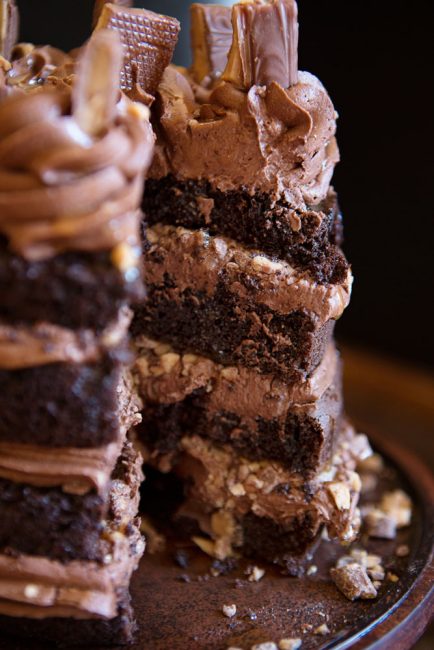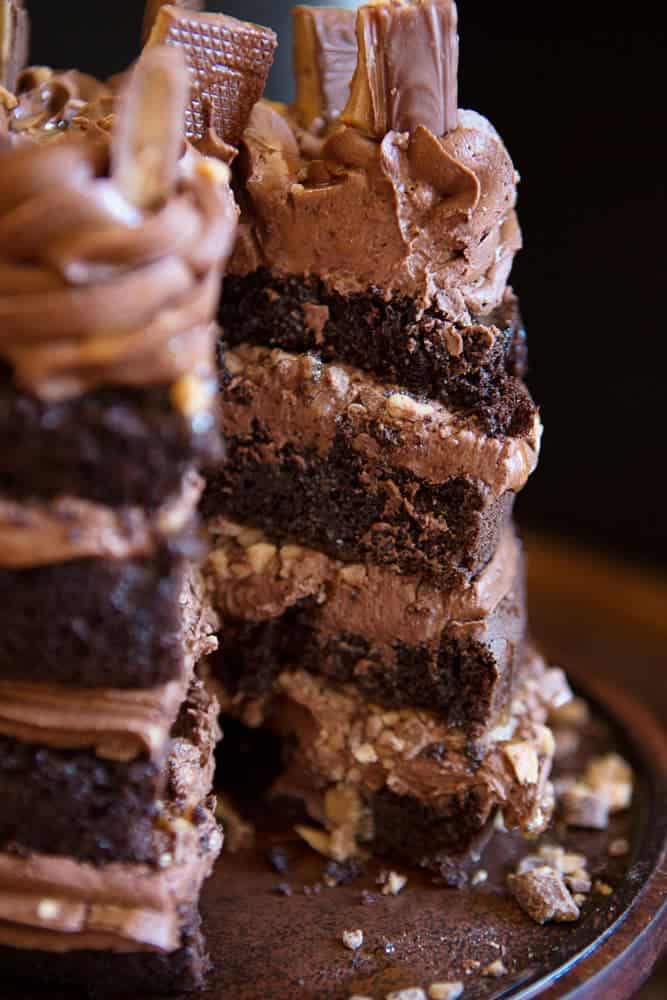 If you happen to love rich chocolate, buttery toffee, and delicious caramel, this is then this Chocolate Heath Bar cake is for you!
This post may contain affiliate links. To learn more about why I have ads and affiliate links see here. Thank you so much for supporting iambaker!