Kick your brownies up a notch with these rich chocolate brownies topped with mint frosting! I used my Brownie Recipe and added some mint buttercream and an easy ganache to create one of our favorite brownie treats!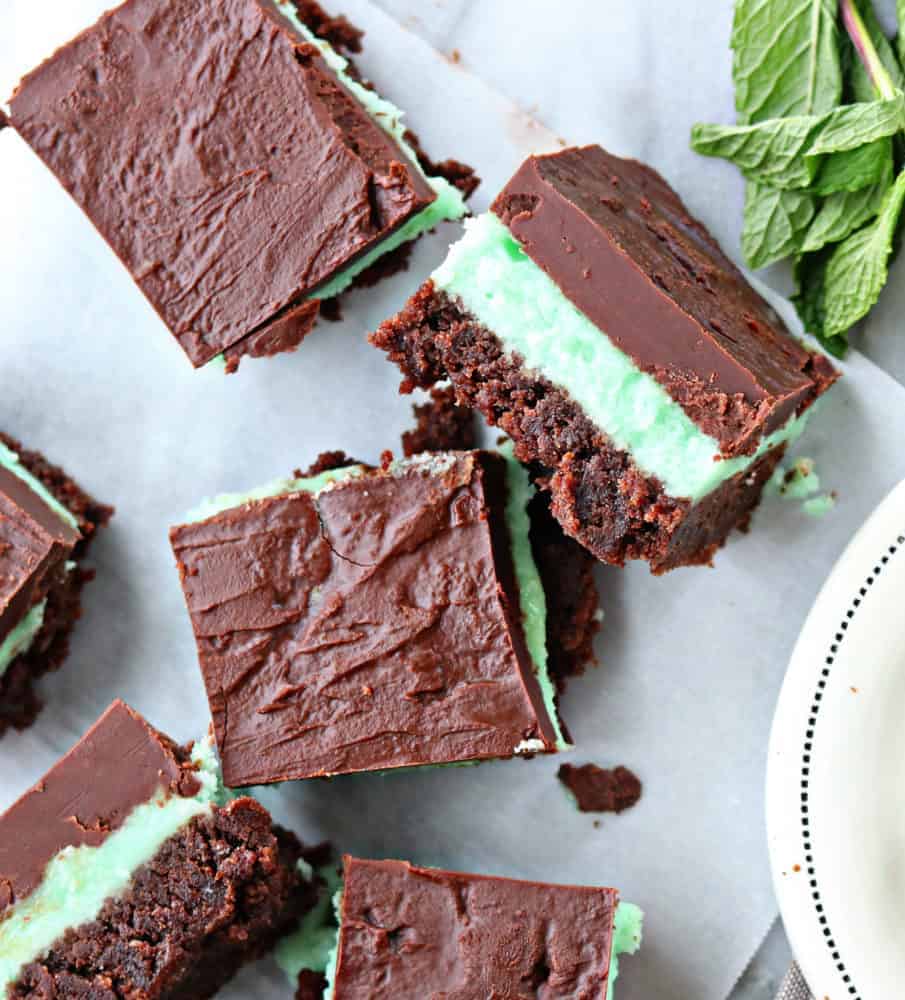 Chocolate Mint Brownies
I think it's safe to say that I am a brownie girl. Put a piece a cake, a brownie, and a cookie in front of me and I will pick the brownie all day long. I have many recipes on my site and we honestly make them all the time! The favorite are; The Best Brownies, Zucchini Brownies, Mocha Brownies, and Blueberry Brownies just to name a few!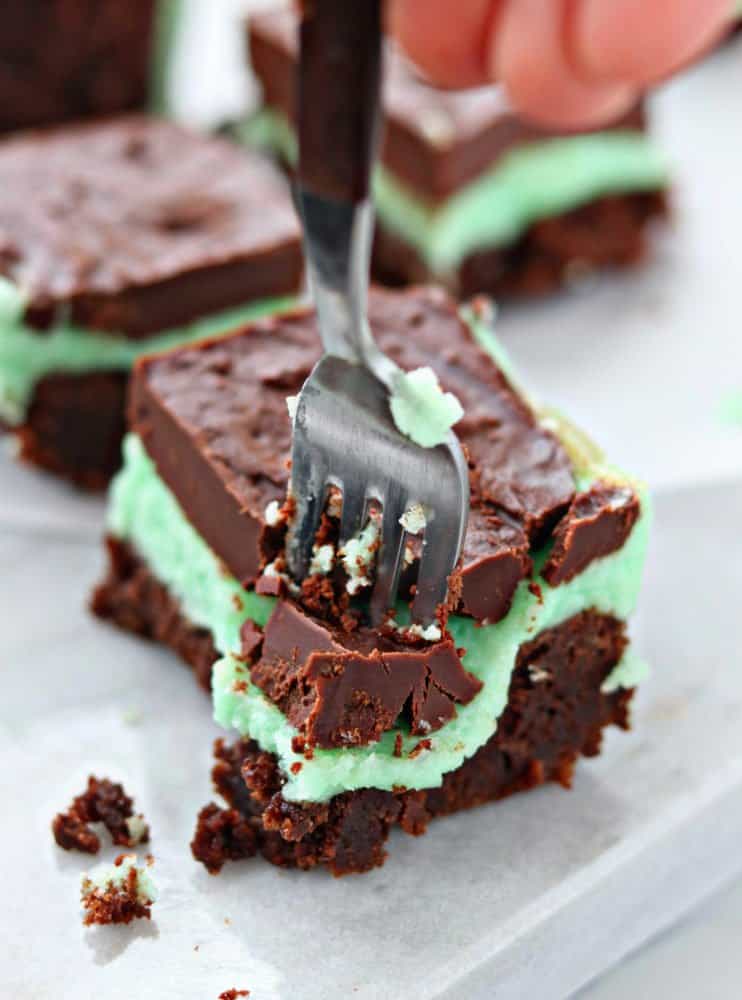 How to Make Chocolate Mint Brownies
Give yourself a few extra minutes for the chilling time in this recipe, as you will achieve the best results when the brownies are properly cooled.
Prepare the brownie recipe below and allow it to cool.
Mix up the mint buttercream and smooth over the cool brownies. I like to use an offset spatula here.
Prepare the ganache and then spread/pour it over the buttercream.
Chill for at least an hour and then serve!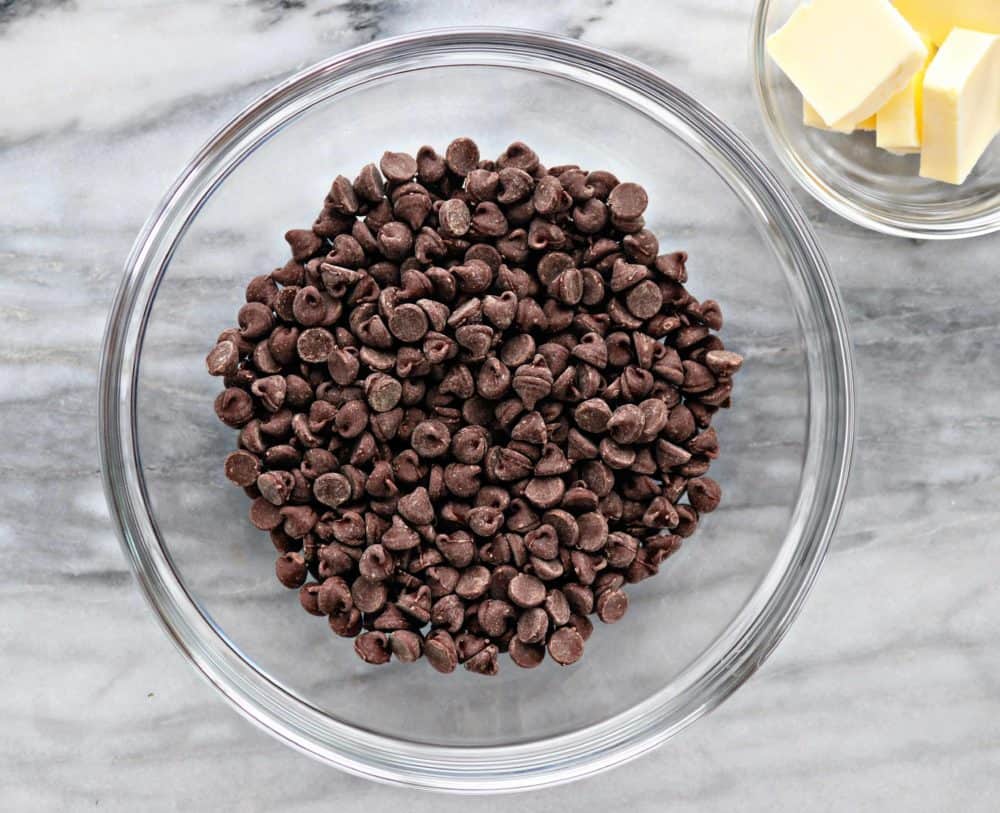 Easy Chocolate Ganache
This ganache is one that does not use heavy cream and could not be easier. I opted to add my chocolate chips to a microwave-safe bowl with the butter. Heat them together until the chips look glossy and the butter is mostly melted. Then stir! If there are a few chips not fully melted when you start stirring that's ok, they will slowly melt and combine beautifully as you whisk the chocolate and butter together. If some of your chocolate is not fully melted you can pop it back into the microwave for 10 seconds, but keep a very close eye on the chocolate as you do not want it to seize. If your chocolate has seized, melt 1 tablespoon more butter and stir vigorously into the chocolate. You should be able to recover it.
Another version of this recipe is to place your chocolate in a bowl and set aside. Heat butter in a small saucepan or microwave until melted. Pour over the chocolate chips and let sit for 30 seconds to 1 minute. Then start stirring!
I like this recipe because it hardens up nicely, tastes yummy, and I like to think I burned enough calories stirring to eat at least two brownies. 😉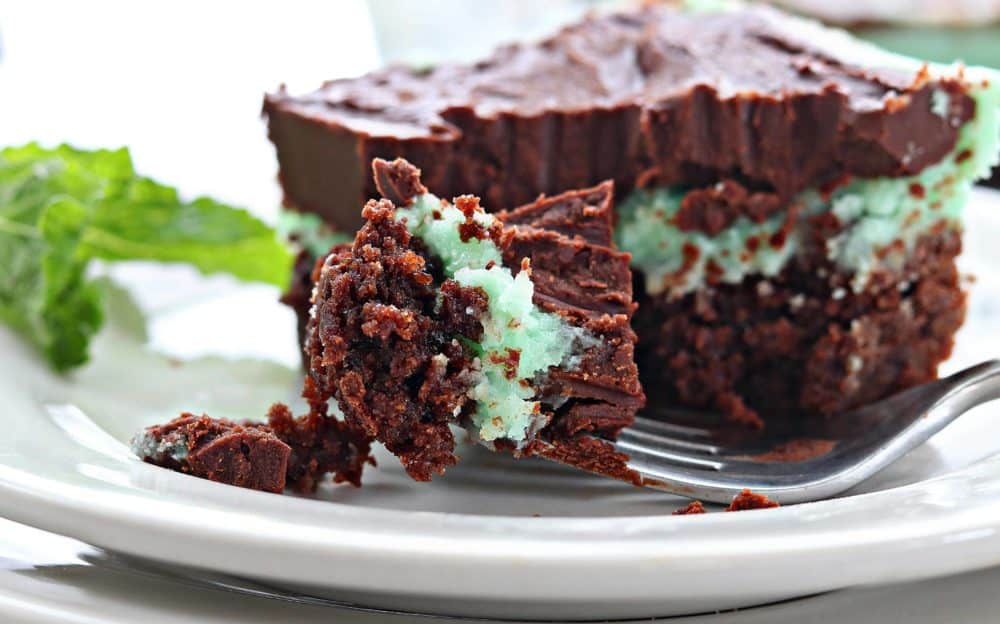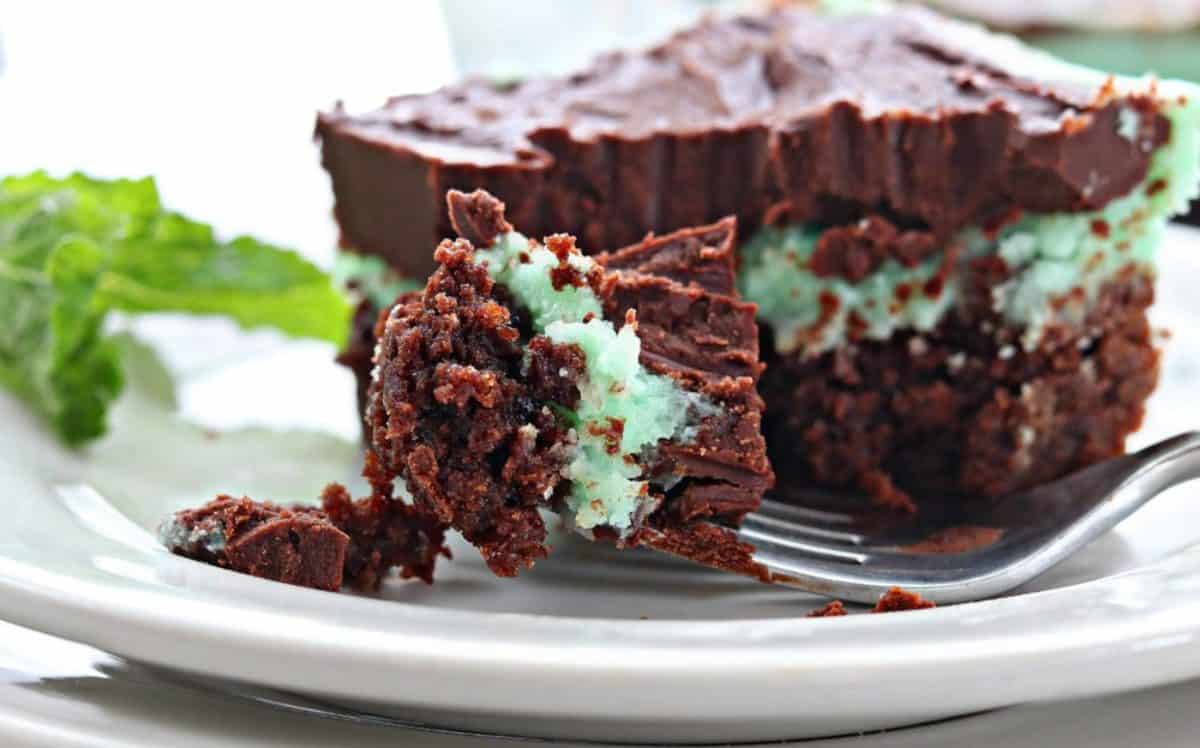 How Long Have Brownies Been Around?
It is said that the brownie originated in America in the 1900s. The myth is that it was a mistake… forgotten baking powder in a cake or the accidental addition of melted chocolate to biscuit recipes, and thank goodness that mistake was made!
Brownies today are meant to be eaten with your hands, more of a finger food than cake. The modern definition of a brownie is a "bar" not technically cake. However, there are so many recipes for brownie bars and cake-like brownies that I think everyone is right. I prefer a fudgy brownie so often need a fork just to get it to my mouth!
Bonus: You can make the filling PINK by simply adding red food color instead of green. A perfect way to celebrate Valentine's Day!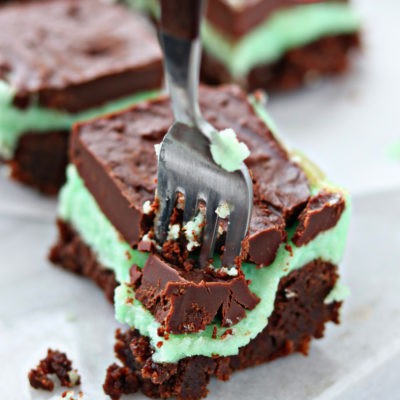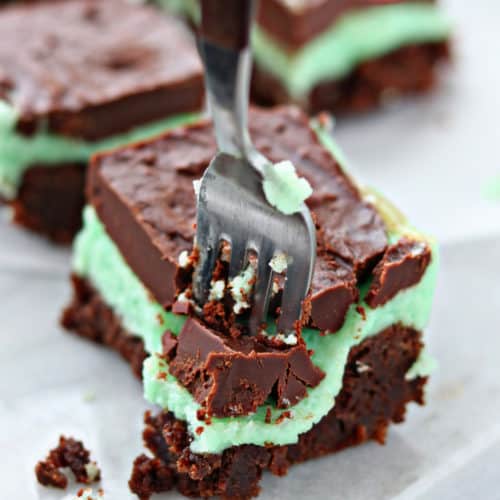 Chocolate Mint Brownies
Kicking up an already amazing Brownie Recipe with mint and more chocolate!
Ingredients
Brownie
1/2

cup

(113g) butter,

melted then cooled slightly

1

cup

(200g) granulated sugar

1/3

cup

unsweetened cocoa powder,

sifted

1/2

cup

(63g) all-purpose flour

1/4

teaspoon

salt

1/4

teaspoon

baking powder

2

eggs,

room temperature

1

teaspoon

vanilla
Mint Filling
2

cups

(250g) confectioners sugar

1/2

cup

(113g) butter,

softened

3/4

tsp

mint extract

2-3

drops

green food color

1-2

tablespoons

water
Chocolate Topping
8

oz

semi-sweet chocolate chips

5

Tbsp

unsalted butter,

diced into tablespoons
Instructions
Brownie
Preheat oven to 350°F.

Melt butter and set aside to cool slightly.

Sift together all dry ingredients in a medium bowl.

In a small bowl, beat two eggs with the vanilla. Pour into dry ingredients and gently stir.

Pour the melted butter into brownie mixture and mix until just incorporated.

Spread batter in a prepared 9-inch cake pan and bake for 22-25 minutes
Mint Filling
In a small bowl, beat the confectioners' sugar, 1/2 cup butter, mint extract, food color, and water.

Spread evenly over the cooled brownies, then chill until set.
Chocolate Topping
In a small bowl over simmering water, or in the microwave, melt 5 tablespoons of butter and the chocolate chips, stirring occasionally until smooth.

Allow to cool slightly, then spread over the top of the mint layer.

Cover, and chill for at least 1 hour before cutting into squares.
Video
Did you make this recipe?
Thank you for making my recipe! You took pictures, right? Well go ahead and post them on Instagram! Be sure to mention me @iambaker and use the hashtag #YouAreBaker.